Music is more than a pastime or form of entertainment for Beth Holladay. Its melodies and rhythms link the 70-year-old Alzheimer's disease patient to treasured feelings and memories the progressive neurological disorder is slowly taking from her.
"I look forward to it," says the Las Vegas, Nevada, resident of the music therapy sessions she participates in through the Cleveland Clinic Lou Ruvo Center for Brain Health. "I like the singing and getting to choose a song from the list Becky created. It makes you feel really pleasant, without any of the woes that are around you."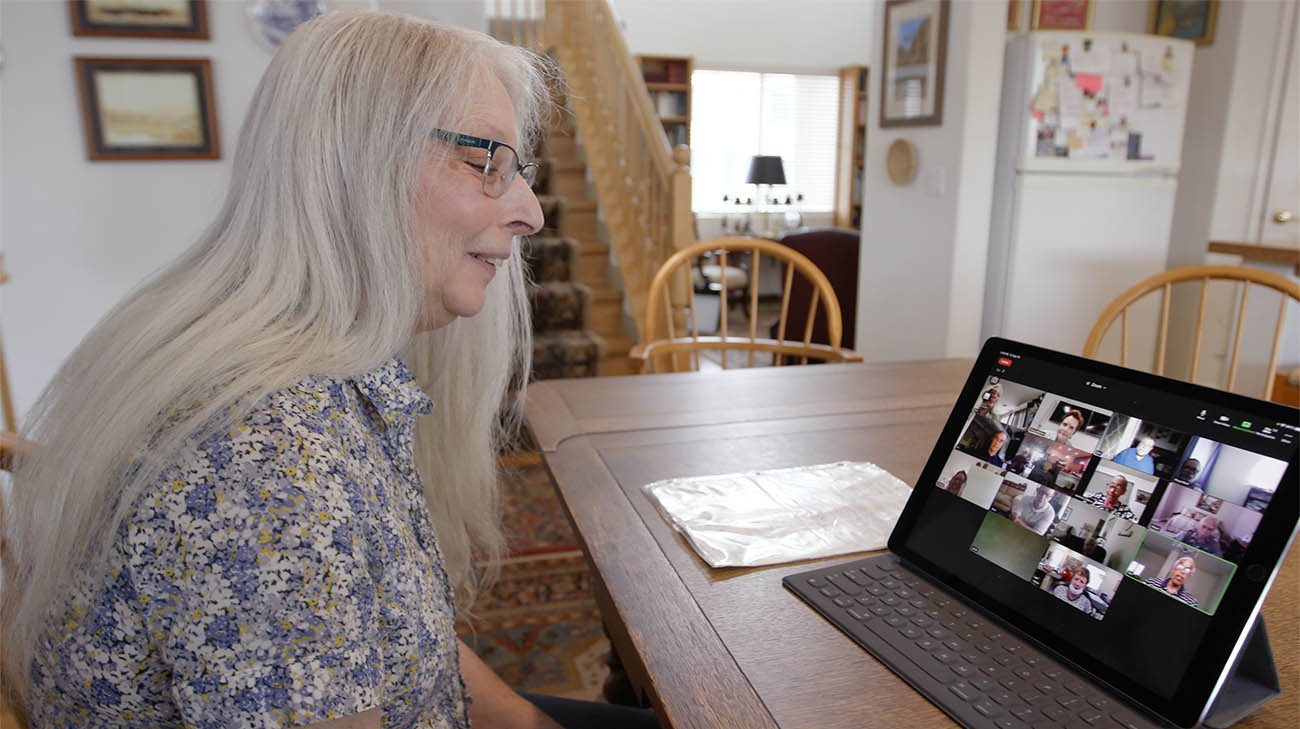 Beth looks forward to music therapy sessions with Dr. Wellman and other patients, with similar or different brain diseases, who she considers friends. (Courtesy: Cleveland Clinic)
"For Beth and other patients, music is a constant. It's a common thread that keeps coming through, even when they (no longer) remember other things," says Becky Wellman, PhD, and music therapist. They can just be themselves and sing songs and laugh and joke and be ridiculously silly. They have the chance to make (song) choices and participate, because a lot of their other choices are taken away by memory loss."
Beth's 90-minute long music therapy sessions are restorative for her husband of 45 years, Jim, as well. Beth's primary caregiver, Jim – who has spent most of his work career in music, including years on production crews for Billy Joel, Neil Diamond and other performers – will often take time during the therapy sessions to make phone calls, complete chores or just relax from his near-constant caregiver duties. He especially appreciates what music therapy does for Beth.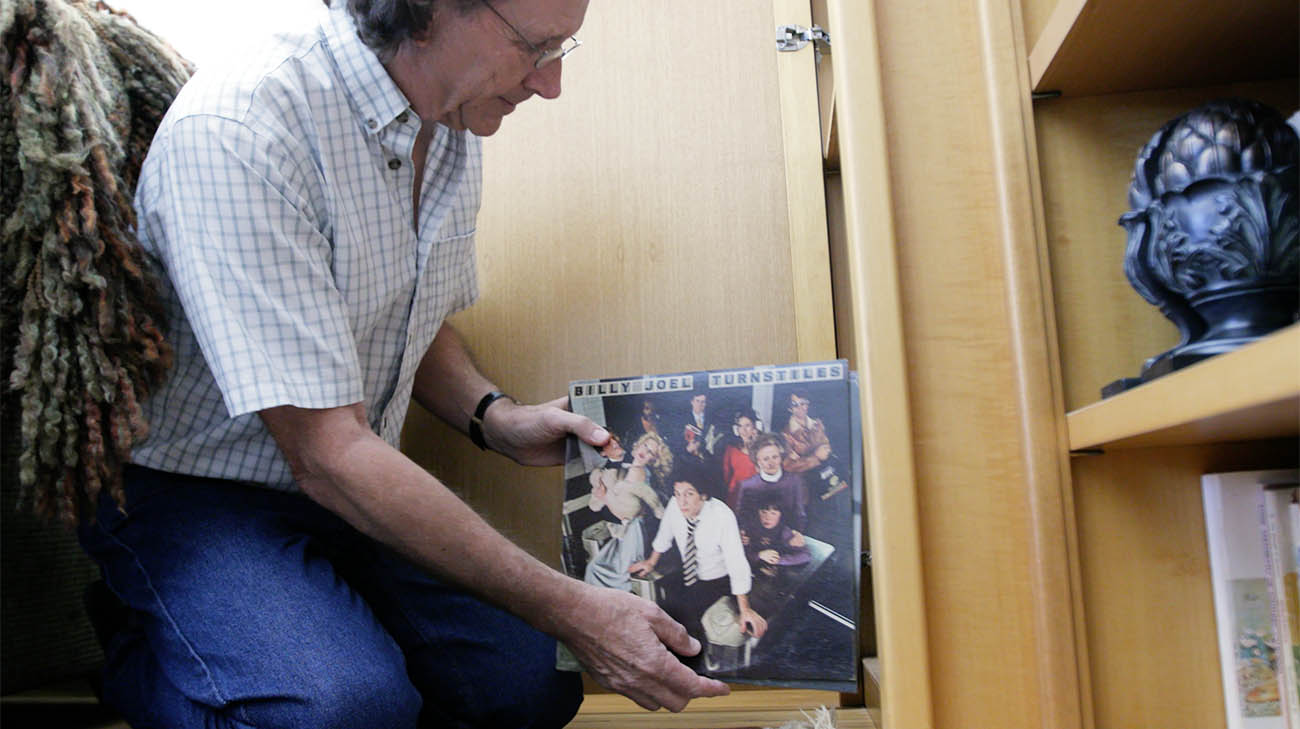 Jim spent years working on production crews, touring with artists including Billy Joel, Neil Diamond and Grateful Dead. (Courtesy: Cleveland Clinic)
"It's certainly one of the highlights of her day. It's helped her meet and get to know people, especially those who are in a similar situation as her," he explains. "It's keeping her active and involved."
According to Aaron Ritter, MD, a cognitive therapy physician specializing in behavioral neurology and neuropsychiatry, the music therapy program is a key component of the Lou Ruvo Center for Brain Health's efforts to treat patients with Alzheimer's disease, dementia and other disorders that can affect how the brain functions.
"Living with a memory disorder is very difficult. Imagine not being able to form new memories. It's very anxiety provoking," says Dr. Ritter, who has treated Beth since she and Jim moved to Las Vegas from California in 2016. "One of the goals of treating Alzheimer's disease is to help a person adjust their environment to more closely align with what their brain is capable of doing. Research has consistently shown that music, and more specifically, music therapy, can help the brain function better."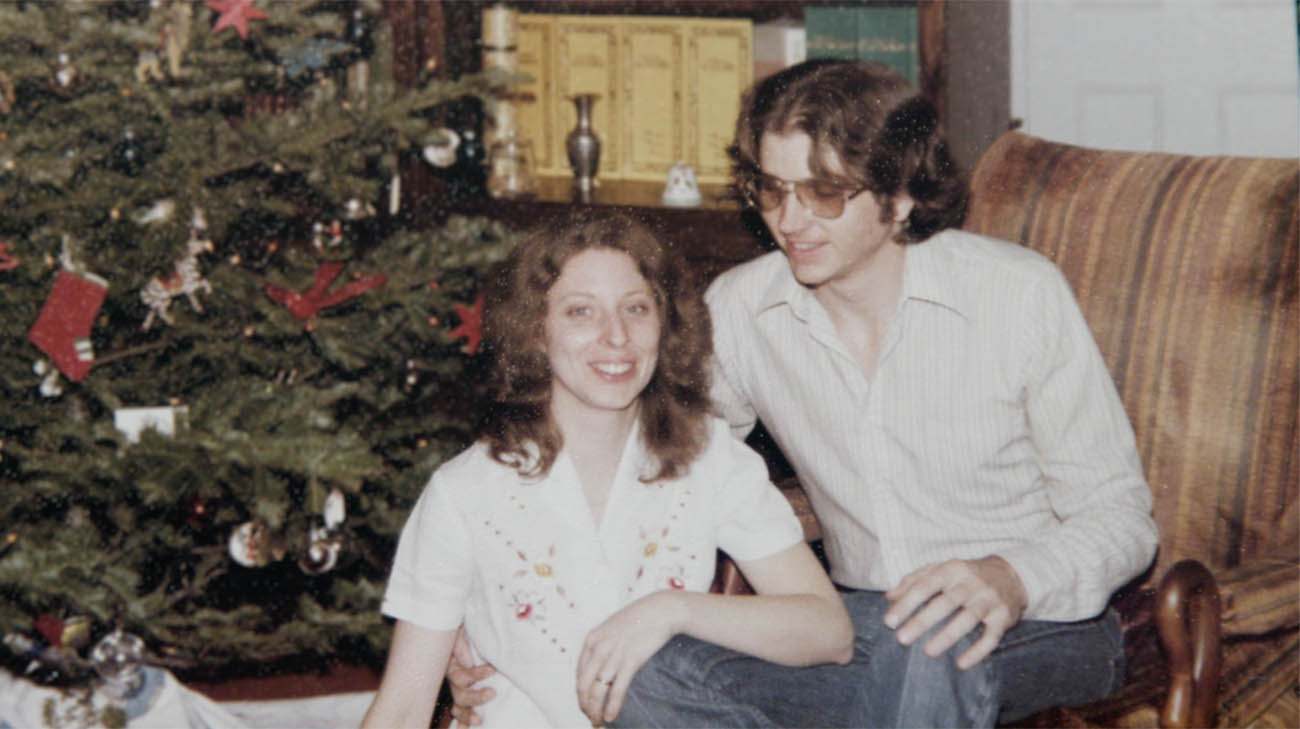 Beth and Jim have been married for 45 years. They've always shared a love of music together. (Courtesy: Cleveland Clinic)
Before her diagnosis, Beth was a longtime teacher in Montessori schools, focused on elementary school-aged children. Her affinity for children prompted Dr. Wellman to suggest she participate in the program's Intergenerational Interludes music therapy class, which is comprised of a mixture of patients and children. She also participates in daily sessions just with other dementia patients.
Before beginning music therapy – which until her disease began to progress, included guitar lessons from Dr. Wellman – Beth often suffered from panic attacks and severe anxiety, both of which are common in patients with Alzheimer's.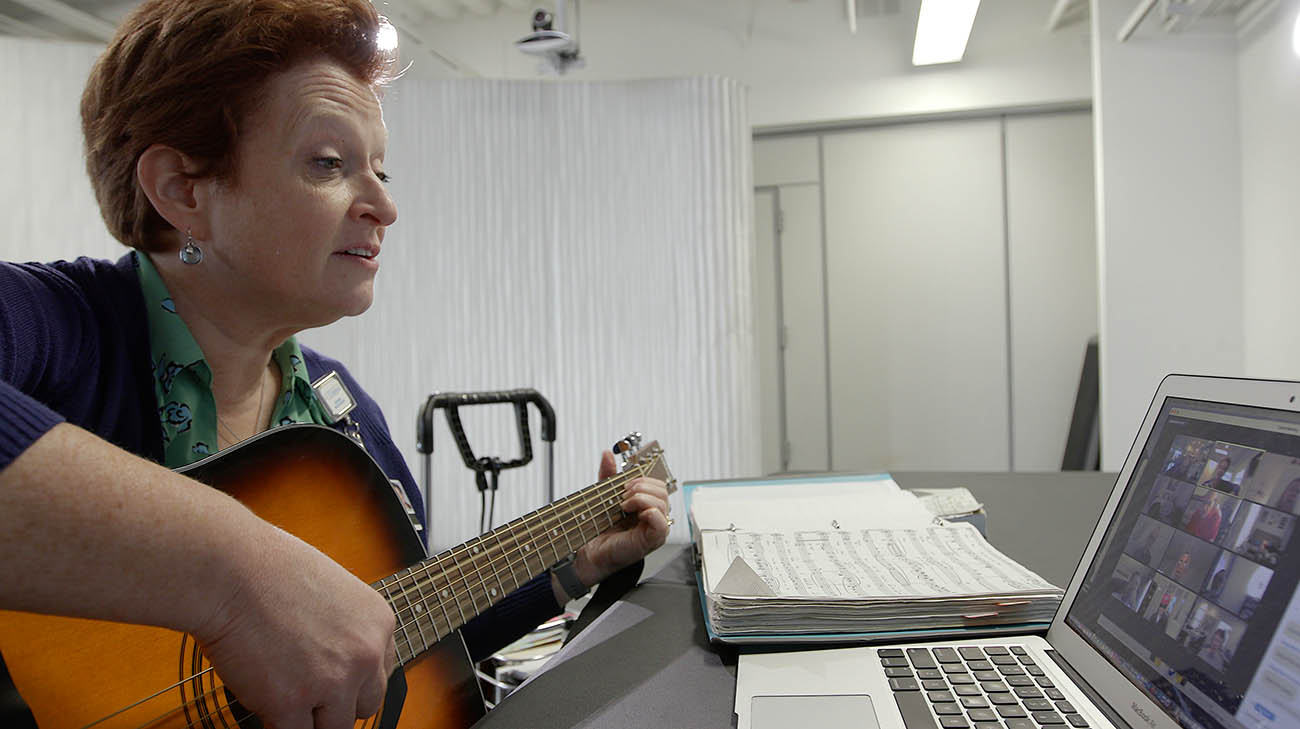 Dr. Wellman leading a music therapy session for Beth and other patients from Lou Ruvo Center for Brain Health. (Courtesy: Cleveland Clinic)
"I'm sure she was an amazing first and second grade teacher because she's very patient and kind," adds Dr. Wellman. "If music makes her life a little less stressful, and her burden a little less overwhelming, then that's what I'm going to do in the hour I have with her."
Among the songs on Beth's music playlist, which she co-created with Dr. Wellman (with input from Jim), are such favorites from her past as Linda Ronstadt's "Blue Bayou," Joni Mitchell's "Both Sides Now" and "On the Road Again" from Willie Nelson.
However, she also takes great joy in singing along to songs chosen by other members of the music therapy group. "We all have (cognitive) issues, and music sort of draws us together," observes Beth. "You don't feel alone and dwell on our (problems)."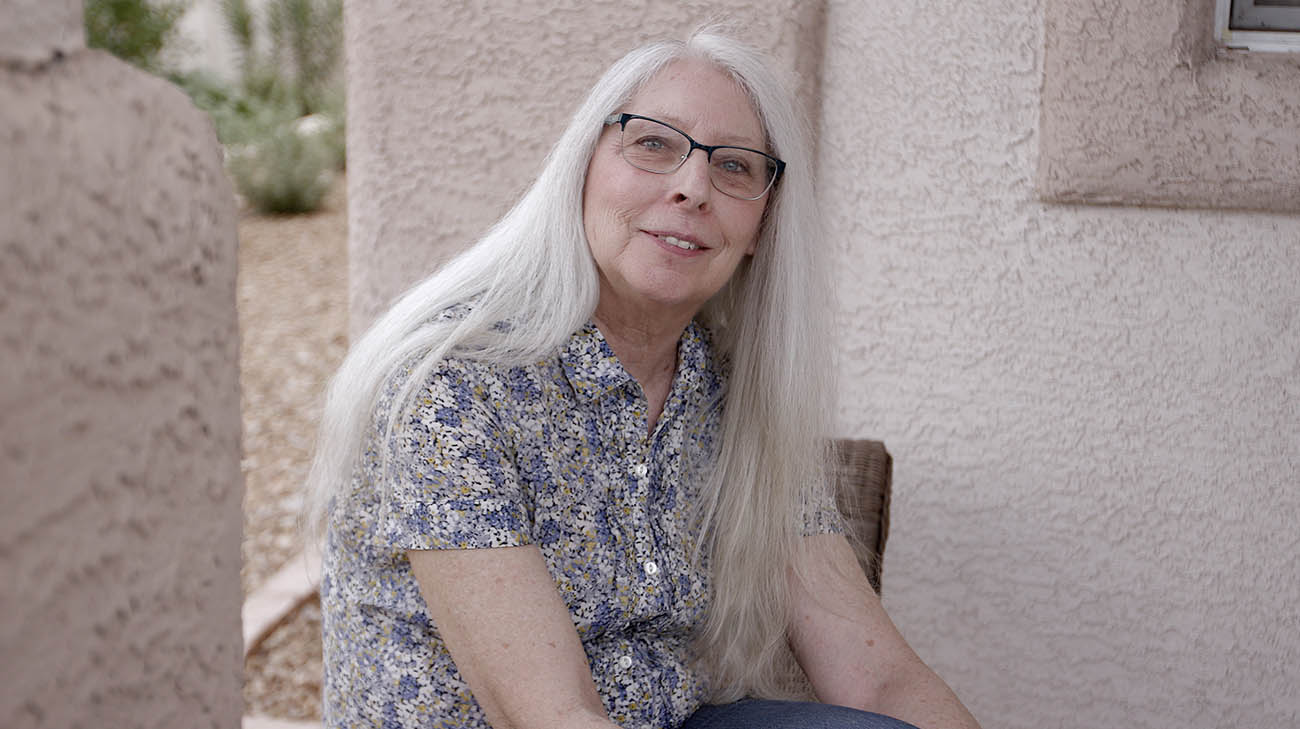 Before being diagnosed with Alzheimer's disease, Beth thought she was suffering from depression. She now finds peace through music therapy sessions. (Courtesy: Cleveland Clinic)
Dr. Ritter believes Dr. Wellman's music therapy program could be a model for all chronic disease patients: "When it comes to managing disease, I think most people don't just want medications. In our field, people want to know the concrete steps they can take to help their brain function better. I tell everyone that it's important to be part of a community, to share experiences and do things to keep them physically and cognitively active. Music therapy is a part of that."
"[Music] is important in general in all facets," adds Beth. "Whether it's classical or rock and roll, music is one of those world things."
"Our hope is that we can put this off or keep it at this level for as long as possible," says Jim. "And I will do whatever I need to do to support her for that."
Related Institutes: Neurological Institute
Patient Stories
Patient Stories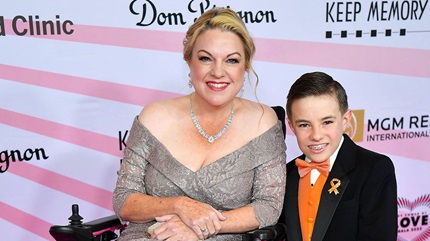 Mar 31, 2023
"I have never felt more embraced, more cared for, more important. And having a 14 year old ask a medical question isn't weird to them."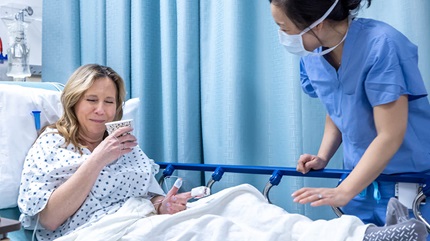 Mar 31, 2023
"I'm just so happy to have my life back."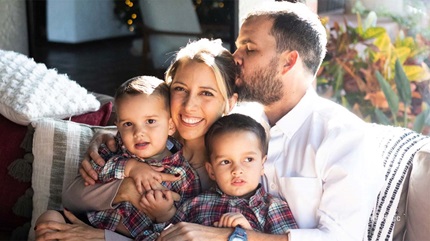 Mar 16, 2023
"Dr. Pieretti took the time to explain how the robotic surgery would work and how quick my recovery would be with this technology. That made me happy because I wanted to get back to my regular life fast."