Overview
Overview
Cognitive disorders, movement disorders and multiple sclerosis challenge families, who rise to the occasion by becoming care partners for a loved one. Patients rely heavily on their care partners, who often suffer tremendous stress, particularly when they lack knowledge and experience.
Supporting the Needs of Care Partners
At Cleveland Clinic Lou Ruvo Center for Brain Health, we hear over and over again, "I was surprised to discover I had become a care partner." Many individuals with a brain disorder need help with daily activities and interactions.
If you're close to someone in this situation, in some way your own life and responsibilities are also being affected — physically, emotionally, socially or economically. The most effective care partners are well-informed and use help and support from all available resources to ensure they don't sacrifice their own well-being during their caregiving journey.
We're here to help as you strive to find a new sense of balance and as you learn to manage different stressors while maximizing quality of life in the face of the new challenges and opportunities caregiving presents. Unanticipated as it might have been, the good news is that many find joy and fulfillment in continuing to care for their loved ones.
View Photos and Videos of Some of Our Caregiver Resources
1 of 10
Our Approach
Our Approach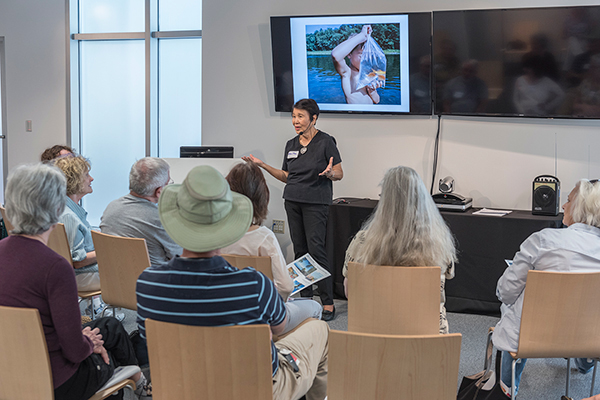 Living with a brain disorder is a journey, and our team at the Lou Ruvo Center for Brain Health is here to guide you along the way. We provide a full range of programs and services that individuals, families and care partners families can access at no cost during their quest to become more informed, connected and supported, thus improving coping skills and quality of life. The most successful patients are those with the most engaged support system.
Ongoing Support
Individuals living with brain disease and their care partners tell us that while their specific, day-to-day needs change as their journey progresses, the needs nonetheless fall into predictable categories.
We've responded with:
SKILL-BUILDING & EDUCATION (group-based programs)
For Care Partners:
Improv for Care®: a fun workshop for building innovative approaches to communication
Powerful Tools for Caregivers: techniques for facilitating the elusive self-care
Dealing with Dementia: skills for making time for self-care while caregiving
For Patients:
Adjustment to Memory Loss: a therapy group providing strategies for reducing worry specific to memory changes
For Patients & Care Partners:
HABIT: tools for achieving the highest possible level of function and independence while living with mild cognitive impairment
SHARE: an approach to getting the most out of today despite early-stage dementia, while planning for tomorrow
Lunch & Learn lectures: Lectures on topics of interest to aging adults and those living with brain disease. View archived programs here.
Lynn Ruffin-Smith Library
On campus: Monday through Friday, 9 a.m. – 4:30 p.m.
Online 24/7: Browse our e-Library
WELLNESS (group-based programs)
Physical Health:
Healthier Living: a workshop for living better while managing chronic conditions
Emotional Health for Patients & Care Partners:
Support Groups
Short-term counseling
ENRICHMENT ACTIVITIES FOR THE COGNITIVELY IMPAIRED (group-based programs)
Remembrance Activities:
Conversations to Remember: Telling stories through art can stimulate distant memories in individuals experiencing memory loss.
Dementia Conversations: a friendly space in which to share experiences living with dementia
Art Making:
Mind in Design: an art making class for everyone
MUSIC THERAPY (group-based programs)
Rhythmic Reminiscence ®: A music- physical therapy collaboration
Intergenerational Interludes: bringing individuals with memory loss and young children together to share singing, movement, instrument play and fun to enhance each other's' lives
Limited one-on-one sessions also available with a board-certified music therapist
CASE MANAGEMENT (one-on-one for patients & care partners)
Guidance to resources at Cleveland Clinic and in the community
Due to demand, these appointments require a referral from a Cleveland Clinic Nevada neurology provider.
Haven't seen a Cleveland Clinic neurologist? Contact us at 702.483.6000 to request a neurology appointment.
Daily Programming
Thanks to generous philanthropic support, most of these free programs are available to the entire community, regardless of where you receive neurological care.
Program Calendar
Program Calendar
We offer free educational, therapeutic and support programs daily.
Most are online, so you can join us through your computer, tablet or smart phone from the comfort of home, or from the office during a lunch break.
When the evidence-based nature of a program suggests better outcomes, we offer in-person options at or near our Las Vegas campus.
How do I sign up for programs?
Arts & Medicine
Arts & Medicine
Thanks to generous philanthropic support, Cleveland Clinic Nevada offers robust arts education programming at no cost to the community throughout the week, spanning art lectures by docents from some of the world's finest arts organizations to music therapy with a board certified music therapist.
Advice from Providers
Advice from Providers
Time and again, patients and families tell us that learning of and living with a diagnosis of a brain disorder is so overwhelming, it's "hard to know where to start," or "difficult to find the desired information" or "impossible to drink from the fire hose of advice."
We invite you to hear directly from Cleveland Clinic Lou Ruvo Center for Brain Health's care team how you can maximize access to resources available through the center. You will:
Learn how to communicate with your medical team between appointments.
Understand how to tap into resources at our center and in the community.
Hear from others who have walked this path prior to you.
Learn how we're here for your family as symptoms and resource needs change.
Learn about opportunities to gain access to potential new treatments by participating in research studies.
Watch this video series to learn more.
Playlist
Philosophy & Overview
Neurorehabilitation – PT, OT
MyChart: What Is It?
MyChart: A Family Testimonial?
Yoga and Self Care
Caregiver & Community Education
Social Work
Support Group Testimonial
Research & Clinical Trials
Advice from Families
Advice from Families
Caregiver Conversations: First-hand Accounts of the Care Partner Journey
You're not alone. Through these videos, you can pick up tips and tricks from others' experiences caring for loved ones with cognitive loss. Care partners share with you what they've learned "on the job" to manage various syndromes commonly associated with dementia.
Our health psychologist and Angie Ruvo Endowed Chair for Caregiving joins these unpaid caregivers in conversation, offering professional insight to help maximize quality of life for both caregivers and care recipients.
Additional resources
Beyond this video series, our team of behavioral health and education professionals offer free educational, therapeutic and support programs daily. Which program might help your family?