Overview
Overview
Cognitive disorders, movement disorders and multiple sclerosis challenge families, who rise to the occasion by becoming care partners for their loved one. Patients rely heavily on their family caregivers, who often suffer tremendous stress, particularly when they lack knowledge and experience.
Supporting the Needs of Care Partners
At Cleveland Clinic Lou Ruvo Center for Brain Health, we hear over and over again, "I was surprised to discover I had become a caregiver." Many individuals with a brain disorder need help with daily activities and interactions.
If you're close to someone in this situation, in some way your own life and responsibilities are also being affected — physically, emotionally, socially or economically. The most effective care partners are well-informed and use help and support from all available resources to ensure they don't sacrifice their own well-being during their caregiving journey.
We're here to help as you strive to find a new sense of balance and as you learn to manage different stressors while maximizing quality of life in the face of the new challenges and opportunities caregiving presents. Unanticipated as it might have been, the good news is that many find joy and fulfillment in continuing to care for their loved ones.
View Photos and Videos of Some of our Caregiver Resources
1

of

9

Programs & Services
Programs & Services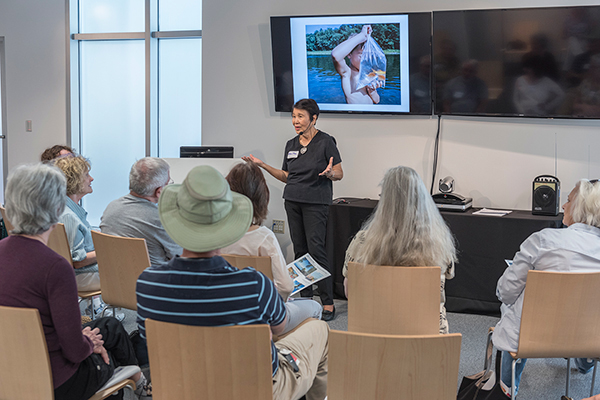 Together, our Caregiver & Community Education and social work teams provide the full range of no-cost programs and services that individuals and families need to become informed, connected and supported, thus improving their coping skills and quality of life.
Lunch & Learn Series
The Wednesday Lunch & Learn series is a great example of our community outreach. Free and open to all families regardless of whether they or their loved one are patients at Cleveland Clinic Lou Ruvo Center for Brain Health, the noontime lunch series covers topics ranging from dealing with stress during the holidays, to preparing healthy meals in minutes, to understanding changes in veterans' benefits, to new developments in the diseases treated at our center.
Missed a program?
Join us from anywhere. All programs are online.
Thanks to robust philanthropic support, we offer no-cost educational, therapeutic and support programs online daily.
Please contact us to be added to our mailing list and receive a monthly events update via email
For Cleveland Clinic Patients and Their Care Partners
The following services are available only by referral from a Lou Ruvo Center for Brain Health neurology team member, who will notify the social work and behavioral medicine teams of your interest in our services.
1. Case Management
Community resource referrals to help identify services available in the community. The following is but a small sample:
In-home care services
Transportation resources
Accessible housing
Home modifications
Disability accommodation for travel
Home safety and monitoring equipment
Workplace accommodations
Veterans' benefits
SSDI/SSI applications
Medicaid and Medicare applications
Advance Care, financial and legal planning
Assisted living, group home and nursing home referrals
2. Counseling
Individual therapy for patients and care partners
Family therapy
Download our brochure: Services for Patients, Care Partners and the Community
Video Resources
Video Resources
Enhancing Care Through Collaboration
Our providers have some recommendations on steps patients and families can take to maximize the effectiveness of their collaboration in care with Cleveland Clinic Nevada.
Watch this video series to learn more.
Playlist
Philosophy & Overview
Neurorehabilitation – PT, OT
MyChart: What Is It?
MyChart: A Family Testimonial?
Yoga and Self Care
Caregiver & Community Education
Social Work
Support Group Testimonial
Research & Clinical Trials