Polyarteritis Nodosa
Polyarteritis nodosa is a rare disease resulting from vasculitis, or blood vessel inflammation. Symptoms are wide-ranging because many different organ systems may be involved.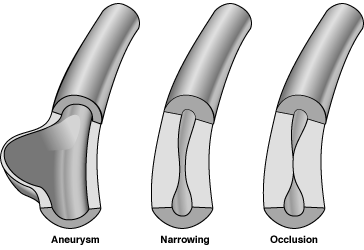 What is polyarteritis nodosa (PAN)?
Polyarteritis nodosa (PAN) is a rare disease that results from blood vessel inflammation ("vasculitis") causing injury to organ systems. The areas most commonly affected by PAN include the nerves, intestinal tract, heart, and joints. PAN can also affect the blood vessels to the kidney resulting in high blood pressure and damage to kidney function.
What is vasculitis?
Vasculitis is a general term that refers to inflammation of the blood vessels. When inflamed, the blood vessel may become weakened and stretch in size, which can lead to aneurysms, or become so thin that they rupture resulting in bleeding into the tissue. Vasculitis can also cause blood vessel narrowing to the point of closing off entirely so that organs become damaged from loss of oxygen and nutrients that were being supplied by the blood.
PAN exclusively affects medium sized blood vessels.
Who is affected by PAN?
PAN can occur in people of all ages, from children to the elderly and appears to affect men and women equally.
What causes polyarteritis nodosa (PAN)?
The cause of PAN is unknown. PAN is not a form of cancer, it is not contagious, and it does not usually occur within families. Evidence from research laboratories strongly supports that the immune system plays a critical role in PAN, causing blood vessel and tissue inflammation and damage. PAN is highly associated with hepatitis B infection. Since the hepatitis B vaccine was established, the rates of PAN have decreased significantly.
What are the symptoms of polyarteritis nodosa (PAN)?
Because many different organ systems may be involved, a wide range of symptoms are possible in PAN. Patients who have PAN may feel generally ill and fatigued, have fevers, or have loss of appetite and weight. They may have symptoms related to areas of involvement such as pain in the muscles and/or joints, skin sores that may appear as hard tender nodules or ulcers, abdominal pain or blood in the stools occurring as a result of intestinal tract involvement, or shortness of breath or chest pain from disease affecting the heart. High blood pressure is common in PAN and usually due to vasculitis decreasing blood flow to the kidneys. PAN may affect nerves and cause abnormal sensations, numbness or loss of strength. Any combination of these symptoms may be present.