Hypertension: Strategies to Control It
About 70 million Americans have high blood pressure. High blood pressure causes your heart and kidneys to work harder than normal. This increases your risk of heart attack, heart failure, stroke, and kidney disease. High blood pressure is the biggest risk factor for stroke.
If you have high blood pressure, it is up to you to take control and lower your numbers! This information will help you learn about important lifestyle changes that will help improve your health and prevent future problems.
Important note: These are general recommendations. If you have been diagnosed with another heart condition, such as heart failure, please talk to your health care provider about changes you need to make.
Reach and stay at a healthy weight
Ask your doctor what a healthy weight is for you. Being overweight is very closely connected to high blood pressure. This is especially true if your body mass index (BMI) is 27 or greater. Your BMI is your weight (in kilograms) divided by your height (in meters) squared. Your doctor can help you figure out your BMI. The way you carry weight also affects your risk of high blood pressure. A waist measurement of 35 or higher (for women) or 40 or higher (for men) is related to high blood pressure, diabetes, increased blood lipid levels, and coronary heart disease.
Weight loss tips:
Keep a food journal (notebook or electronic) to track exactly what and how much you eat.
Eat foods low in saturated fat, cholesterol, and refined sugar. Avoid trans fats (partially hydrogenated fats).
Eat at least 5 servings of fruits and vegetables each day. Avoid juice and canned fruits. These tend to be higher in sugar and may add extra calories to your diet.
Watch your portion sizes. One-quarter of your plate should contain a palm-size portion of lean protein, such as salmon or chicken breast; another quarter should comprise a fist-size portion of unrefined grain, such as brown rice; and one-half of your plate should be filled with a variety of colorful fruits and vegetables. For more information, visit www.choosemyplate.gov.
Do not skip meals. Talk to your doctor or dietarian about how often you should eat throughout the day.
Be active. Spend 30 minutes a day most days of the week doing moderate physical activity (such as brisk walking). Talk to your doctor before you start any exercise program. See more tips in the "Get Regular Exercise" section of this handout.
Eat fiber - 25 to 30 grams of fiber every day. Fiber helps fill you up faster, helps you to eat less and curbs hunger. Soluble fiber can help lower your cholesterol levels. Good sources of fiber are whole-grain, high fiber breads and cereals; whole-wheat pasta and rice; and beans (legumes).
Eat the majority of your calories in the first half of your day. Enjoy portion-controlled snacks during the day to control hunger at night.
Drink plenty of water. Drink 6 to 8 glasses of water each day. Water helps keep you hydrated and can keep you from overheating.
Set realistic goals. Weight loss should be gradual - no more than 1 to 2 pounds per week. You may not lose any weight some weeks. What is important is that you keep moving in the right direction.
Follow the DASH eating plan
The Dietary Approaches to Stop Hypertension (DASH) eating plan is rich in fruits, vegetables, low-fat dairy products, and includes food low in sodium, saturated fat, total fat and cholesterol. It also includes foods high in calcium and potassium.
The DASH diet has been shown to help lower both the top (systolic) and bottom (diastolic) blood pressure numbers.
Your doctor or a registered dietitian can give you more information about the DASH eating plan.
Cut back on sodium (salt)
Ask your doctor how much sodium you can have every day and stick to your limit.
Sodium is found in table salt and many foods, especially preserved foods, canned foods, frozen meals, lunch meats, cheeses and snacks.
Tips to eat less sodium:
Read labels to check the sodium content in foods. Some over-the-counter (nonprescription) medications also contain sodium.
Use herbs and spices instead of salt. Avoid mixed seasonings and spice blends that include salt, such as garlic salt.
Avoid processed and convenience foods (canned and frozen foods, cheeses, pasta and rice mixes, instant cereal and puddings, and luncheon meats).
Use fresh ingredients and/or foods with no salt added.
Ask your doctor if you can use a salt substitute. Some salt substitutes do not mix well with medications.
Eat foods rich in potassium
Ask your doctor how much potassium you should have in your diet. You may need to limit potassium if you have a medical condition like kidney disease.
If your potassium level is too low, your blood pressure may go up. Eating potassium-rich foods may help you manage your blood pressure.
High-potassium foods include spinach, beans, bananas, yogurt, sweet potatoes, beets, oranges and tomato sauce.
If you take a diuretic ("water pill") to control your blood pressure, it is important to have your doctor check your blood potassium level during your regular check-ups. You may need to take a potassium supplement to keep your blood potassium in the normal range.
Get regular exercise
Your exercise should be:
Regular: Spend 30 minutes a day most days of the week doing moderate physical activity (such as brisk walking).
Safe: Talk to your doctor before you start an exercise program. Ask about the best type and amount of exercise for you. You can also meet with an exercise specialist or join a program to help you.
Aerobic: Activities include brisk walking, cycling, water aerobics, swimming and more.
Regular aerobic activity helps you:
Prevent and control high blood pressure
Lose weight/maintain ideal weight
Manage diabetes
Manage stress
Improve blood cholesterol levels
Have more energy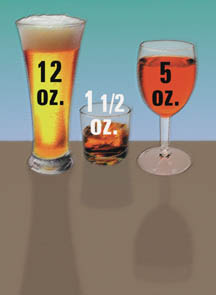 One drink = 12 ounces of beer or wine cooler, 5 ounces of wine or 1.5 ounces of 80-proof liquor.
Limit your alcohol intake
Drinking too much alcohol can raise your blood pressure and affect treatment for high blood pressure.
Most men should not have more than two alcoholic drinks per day.
Most women should not have more than one drink per day.
Control stress and anger
Your blood pressure rises when you are stressed or angry. Uncontrolled stress, over time, can lead to high blood pressure and heart disease.
Tips to control stress and anger:
Manage your time
Set realistic goals of what you can do each day
Take time each day to relax
Learn and practice relaxation techniques
You may find it helpful to work with a therapist to help manage stress and anger. Take all medications as prescribed
Your doctor may prescribe medications to help you reach your blood pressure goal. There are many different types of blood pressure medications. You may need to try different medications to see which one works best for you.
Tips when taking high blood pressure medications:
Carefully follow your doctor's instructions on how and when to take your medications
Do not stop taking any medication without first talking to your doctor
Follow-up with your health care team
An important part of your plan of care is regular follow-up visits with your healthcare team. This team includes your doctors, nurses and other providers. Ask your doctor how often you need to be seen. You may have visits every one to four weeks until your blood pressure is under control.
You may also need to keep track of your blood pressure at home by checking it one or more times a day.
Bring a list of all the medications you take, your blood pressure record and a list of any questions you have to each visit.
Make other recommended lifestyle changes
Stop using all tobacco products. Smoking and tobacco seriously increase your risk of many healthy problems, including heart and blood vessel disease. Ask your doctor about medications and tools to help you quit. Ask your family and friends for support as you quit. You may also find Cleveland Clinic's Tobacco Treatment program helpful. Call 216.448.4325 for more information or to schedule an appointment.
Lower your cholesterol and triglyceride levels. Your total cholesterol should be under 200 mg/dl. Your low-density-lipoprotein (LDL/ "bad") cholesterol level should be:

Under 130 mg/dl or
Under 70 mg/dl if you have cardiovascular disease or
Under 100 mg/dl if you have a very high risk of cardiovascular disease
Your triglyceride levels should be less than 150 mg/dl. Your healthcare provider can give you information about how to lower your cholesterol levels and will tell you how often to have your levels checked.
Raise your high-density-lipoprotein (HDL/ "good") cholesterol level. The ideal HDL level for men is higher than 40 mg/dl. The idea HDL level for women is higher than 50 mg/dl.
Follow a Mediterranean diet. Eat plenty of whole and plant-based foods. These include fruits, vegetables, whole grains and nuts. Fats should be heart-healthy (monosaturated, Omega 3). Good sources of monosaturated fats are olive oil, olives, nuts and avocados. Omega 3 fats are found in tuna, salmon, flaxseed and walnuts. Avoid foods that are high in sodium, saturated fat and cholesterol. Ask your doctor or a registered dietitian for more information about the Mediterranean diet.
Manage other health conditions especially if you have diabetes.
Cleveland Clinic is a non-profit academic medical center. Advertising on our site helps support our mission. We do not endorse non-Cleveland Clinic products or services. Policy