The Impact of Your Gift
The Impact of Your Gift
Every single gift to Cleveland Clinic helps make a difference to our patients and their families, and it's important to us that you know how grateful we are. We know that you could give your charitable dollars to other nonprofit organizations, and we're thankful that you've chosen to support Cleveland Clinic – and here's why:
Your gift helps fund innovation. More than 4,000 studies are underway at Lerner Research Lab. Our scientists work hard every day to test new theories, discover new pathways to treatment, prevent illnesses and seek cures for devastating diseases.
Your gift furthers compassion. With your help, we offer cancer patients personal care services not covered by insurance, such as wigs, massage and facial treatments, and yoga. Charitable giving supports diabetes education programs and funds new therapies to help patients with Parkinson's improve their vocal abilities. And Cleveland Clinic Children's School Based Health Care Program provides health and wellness services in a convenient mobile unit.
Your gift enhances medical education. From providing diversity scholarships at the Lerner College of Medicine, to addressing the need for more internal medicine physicians, to once-in-a-lifetime gifts that fund medical education technologies, your contribution helps prepare the next generation of caregivers.
You can read more about how your gift affects medical care, research, and discovery, and the future of healthcare in our Impact Report.
The Impact of Annual Giving
Because every gift matters, we launched a brand-new annual giving program in 2018 that will hasten the impact of your gift.
The combined power of gifts to the Cleveland Clinic Annual Fund provides grants to Cleveland Clinic caregivers who are leading innovative projects that serve our patients and local communities. Any caregiver can apply, but to qualify, proposed projects must demonstrate impact within one year.
Over 260 caregivers applied for the first round of grants. A Caregiver Review Board led by our Chief of Staff, Herbert Weidemann, MD, reviewed and evaluated applications. In December, 29 projects were approved for funding, and progress updates soon will be reported.
The Impact of Community Benefit
Cleveland Clinic is a nonprofit, multispecialty academic medical center with a proud history of serving the needs of our surrounding communities and the nation. We were founded in 1921 as a group practice with a mission of caring for the sick and improving patient care through research and education. And we remain a community asset with no owners, investors or stockholders. Any and all extra funds from operations go back to the health system to fund new research and education initiatives and to continue our long-standing charitable efforts.
In 2017 Cleveland Clinic provided $906.5 million in community benefit – the largest amount in our reporting history. This includes financial assistance, Medicaid shortfall, subsidized health services, outreach programs, education, and research.
Thank You
At Cleveland Clinic, we strive to provide the best care, investigate the most promising research and educate the brightest medical minds in the world, all while working to help the most vulnerable in our community. Your support helps us fulfill the inherent promise of these guiding principles. During this season of hope and giving, we thank you.
Cleveland Clinic Unveils Top 10 Medical Innovations For 2019
Cleveland Clinic Unveils Top 10 Medical Innovations For 2019
Top doctors and researchers present advancements with the power to transform healthcare
Learn more about the innovations that will enhance healing and change healthcare in 2019.
Will Personalized Medicine Help Cure Alzheimer's?
Will Personalized Medicine Help Cure Alzheimer's?
Alzheimer's research has entered an era that will reclassify the loss of memory and other cognitive abilities from 'terminal disease' to 'chronic disease,' write two Cleveland Clinic neurologists.
Cleveland Connection Inspires Gifts
Cleveland Connection Inspires Gifts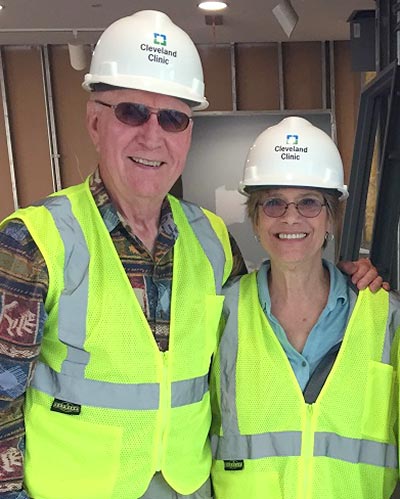 When Sandy Stacy's uncle passed away from cancer on New Year's Day 2016, leaving her and husband, Doug, to manage his estate, they decided to honor his memory by giving to Cleveland Clinic Children's. The couple chose Cleveland Clinic because of the excellent heart care Doug received there in 2007, and they selected Children's because of her uncle's lifelong "soft spot" for children and those in need.
One of their gifts is to Children's Healing Services for cancer patients and their families, providing parking passes and care packages containing medical supplies that help offset the incidental costs of treatment. Another gift supports a caregiver position in the Child Life program dedicated to educating children and their parents about upcoming medical procedures, which helps alleviate their fears.
Although Sandy Stacy's uncle, Ronnie Van Sweringen, never lived in Cleveland, he was related to the city's famed Van Sweringen family, best known for brothers O.P. and M.J. Van Sweringen. His father was a cousin of the brothers, who were land speculators and railroad barons in the early part of the 20th century. They built the Cleveland Interurban Railroad and Terminal Tower and developed the affluent community of Shaker Heights, Ohio. The brothers grew wealthy from these endeavors, but they lost their fortune during the Great Depression.
Ronnie Van Sweringen was a real estate investor and an accomplished painter. Some of his Impressionist works were purchased by Nancy Reagan and hung in the private presidential residence at the White House. Others were exhibited in national and international collections and at the Corcoran Gallery of Art in Washington, D.C. He was proficient in oil painting, acrylics, watercolor and sketches.
After living in Virginia most of his life, he retired to Vero Beach, Florida.
"He was a unique personality and very frugal," Doug Stacy says. "He wasn't super wealthy, but he always thought about the poor and the needy and didn't mind sharing with people who needed it. He might hand someone on the street a $20 bill to get something to eat. Once, he went into a soup kitchen, where a guy offered him food. Instead, Ronnie asked him how they got their funds, and then he wrote them a check for $1,000."
Doug Stacy says he feels good about contributing to Children's and thinks that Ronnie Van Sweringen would, as well. "Ronnie and I talked a lot in the last few months of his life, and I got an understanding of what he wanted to do," he says.
The couple's gifts also represent something they wanted to do.
"Sandy is a very benevolent person, and Cleveland is dear to my heart," he says. "Since my mitral valve surgery, I've enjoyed a longer life. I've had 11 more years because of Cleveland Clinic and will always have a fondness for it."