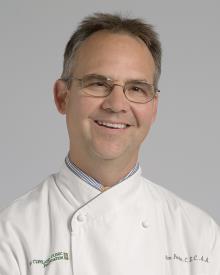 Jim Perko, CEC, AAC
Jim Perko is the Executive Chef for Cleveland Clinic Wellness & Preventive Medicine's Center for Integrative and Lifestyle Medicine. Jim is a 1977 graduate of The Culinary Institute of America in Hyde Park NY and one of four apprentices to the American Culinary Federation (ACF) 1976 US Culinary Olympic Team.Jim was a member of the 1977/78 US Antarctic Expedition cooking for scientist in Antarctica, executive sous chef for Marriott Hotels, executive chef for Bond Court Hotel in downtown Cleveland and in 1985 started his healthcare career as executive chef of Lakewood Hospital in Lakewood, OH.
In 1988, Jim founded the National award winning Food is Knowledge program that is now a signature part of the Cleveland Clinic community outreach wellness programs. In the 2014/2015 School year Food is Knowledge reached 6,846 children in 89 schools, 10 School Districts, 8 community organizations and 20 early learning Head Start Centers.
In 1990 Jim became a member of the ACF 1992 US Culinary Olympic Team winning five gold medals from the United States tryouts, and competitions in England, Ireland and Germany. Jim and his teammates finished third out of 52 teams from 30 countries in the 1992 Culinary Olympics in Frankfurt, Germany.
Jim now serves as the Executive Chef for Cleveland Clinic's Wellness & Preventive Medicine collaborating with physicians and dietitians to develop evidence based Culinary Medicine, educating patients and the community how foods can be powerful medicine and still taste great. Whether you're trying to lose weight or are newly diagnosed, Jim will take the time to personalize your diet restrictions with your taste desires and culinary abilities so you won't compromise the taste of your meals or your health.
He is one of 114 current ACF certified Judges, 1991 ACF National Chef and Child Award winner, 1991 ACF Cleveland Chapter Chef of The Year, 2002 and 2012 recipient of ACF Cleveland Educator of The Year Award and 2006 ACF National True Spirit Award Recipient. Chef Jim Perko was Drs. Oz & Roizen's YouBeauty.com's culinary expert columnist for 4 years and creator of hundreds of delicious healthy recipes, many of which can be found in the Dr.Oz's and Dr. Roizen's YOU book series.
He is married 38 years to his wife Debbie; they have two married children and two grandchildren.
Gabrielle Shipta, Sous Chef