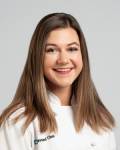 Biography
Gabrielle Shipta is the Sous Chef for the Cleveland Clinic's Center for Integrative and Lifestyle Medicine. Gabrielle graduated from Ohio University in 2017 with a Bachelor of Science Degree in Applied Nutrition and is a Delta Zeta Sorority alumna. Beginning in high school and throughout her college years, she realized her passion for wellness through working in different retail and food service jobs and seeing the food choices people were making. Gabrielle wanted to make an impact in educating others through food and nutrition and improving people's health.
Currently, she is enrolled at Cuyahoga Community College pursuing an Associate's Degree in the Hospitality Management Program with a focus in Culinary Arts. This further schooling is to improve and enhance her knowledge and skill level in classical culinary training so that she may serve others better. Gabrielle is the 2020 scholarship winner of the Les Dames d'Escoffier Cleveland Chapter, which is an organization dedicated to professional women in the food and beverage field.
She believes food is medicine and that you should love the foods that love you back! Gabrielle is grateful to work in wellness at the Cleveland Clinic every day to improve the lives of others through the art and hospitality of cooking by working with Chef Jim Perko and the Centers for Integrative and Lifestyle Medicine physicians in developing technique-driven, evidence-based Culinary Medicine curricula. She assists patients and guests during Shared Medical Appointments and special events ensuring they are able to learn about Culinary Medicine efficiently and joyfully.
Education/Training
Bachelors
Ohio University - Athens, OH
B. S. F. N. S.
Additional Training
Cuyahoga Community College - Cleveland, OH
Associate of Applied Business Degree in Hospitality Management with a concentration of Culinary Arts
Certifications
ServSafe
Professional Culinarian/Cook
Professional Leadership
Locations