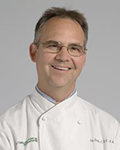 Biography
Chef Jim Perko has been a part of Cleveland Clinic for over 36 years. During his time at Cleveland Clinic, Chef Jim has collaborated with numerous physicians to develop the first evidence-based, technique-driven culinary medicine initiatives for the Cleveland Clinic. He has developed culinary curricula and recipes for six patient programs including Culinary Medicine for Chronic Disease. He is the creator and provider of the first Cleveland Clinic Culinary Medicine patient consult program to help patients execute prescribed nutritional plans and find true enjoyment in their new and tailored culinary plan. Chef Jim provides culinary medicine education for physicians, residents, medical students, nurses, patients, caregivers and numerous community initiatives. Chef Jim has participated in studies on Cooking and Nutrition Education for Health among Adults with Diabetes at Cleveland Clinic's Stephanie Tubbs- Jones Health Center, Blending Lifestyle Education & Nutrition Demonstration for senior citizens in the Warrensville Heights Ohio Community and is also currently involved in a large ground breaking Cleveland Clinic patient study on reducing seizures in patients with Epilepsy through integrative approaches.
He has also presented numerous times during his career which includes speaking at conferences such as the National Society of Integrative Oncology, American Culinary Federation (ACF) national conferences, dietetic and medical conferences and the first Culinary Medicine workshop for a Cleveland Clinic Medical Conference. He has given lectures and demonstrations to four other Cleveland Clinic system hospitals, the Ohio cities of Medina, Brecksville, Broadview Heights, Strongsville, Lyndhurst, Independence and fire departments of Seven Hills, Brunswick and University Heights. Chef Jim has appeared on local television networks, numerous Facebook Live sessions and has partnered with Emeritus Chief Wellness Officer Dr. Michael Roizen recording over 54 episodes of "In the Kitchen with Chef Jim and Dr. Mike" that are on-going
Jim is a 1977 graduate of The Culinary Institute of America in Hyde Park NY and one of four apprentices to the American Culinary Federation (ACF) 1976 US Culinary Olympic Team. Jim was selected as a member of the 1977/78 US Antarctic Expedition cooking for scientists in Antarctica. Returning from the Antarctic, Jim was selected as the executive sous chef for Marriott Hotels and three years later at age 26 he became the executive chef for the 489 room Bond Court Hotel in downtown Cleveland Ohio. In 1985 Jim started his healthcare career as executive chef of Lakewood Hospital in Lakewood, Ohio overseeing all food production for patients, employees and hospital events. He was the presenter for ten consecutive Women's Fairs, Diabetes Day, Children's Fairs and numerous community events.
In 1988, Jim founded the National award-winning Food is Knowledge program that integrates food and nutrition with required academic subjects that eventually became a signature part of the Cleveland Clinic community outreach wellness programs.
In 1990, Jim became a member of the ACF 1992 US Culinary Olympic Team winning five gold medals from the United States tryouts, and competitions in England, Ireland and Germany. Jim and his teammates finished third out of 52 teams from 30 countries in the 1992 Culinary Olympics in Frankfurt, Germany.
In 1998, Chef Jim was appointed as Executive Chef of Cleveland Clinic's Foundation House, overseeing all food production servicing the Board of Governors and senior leadership.
He is one of 114 current ACF certified Judges and the recipient of the 1991 ACF National Chef and Child Award, 1991 ACF Cleveland Chapter Chef of The Year, 2002 and 2012 ACF Cleveland Educator of The Year and 2006 ACF National True Spirit Award along with numerous others.
Chef Jim Perko was Drs. Oz & Roizen's YouBeauty.com's culinary expert columnist for 4 years, creator of hundreds of delicious and healthy recipes, and is a co-author with Michael F. Roizen. M.D., and Michael Crupain M.D., M.P.H., in the groundbreaking lifestyle guide What To Eat When Cookbook.
Jim's passion is to implement culinary medicine that's evidence-based in both clinical and culinary disciplines to educate how foods can be powerful medicine without compromising the flavor of your meals or your health. Learn first-hand from Chef Perko during a private Culinary Medicine appointment or shared medical appointment.
Education/Training
Associates
The Culinary Institute of America - Hyde Park, NY 1977
Additional Training
1976 - USA Culinary Olympics Apprentice
1992 - USA Culinary Olympics Team Member
International Competitions

1976 - Frankfurt, Germany
1991 - Dublin, Ireland
1992 - London, England
1992 - Frankfurt, Germany
Certifications
American Culinary Federation (ACF)
ACF Certified Executive Chef - Cleveland, OH, 1987
ACF American Academy of Chefs - New York, NY, 1994
Locations