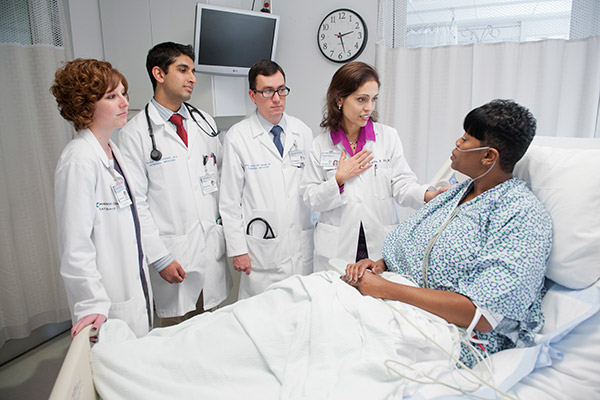 The use of hospitalists has grown significantly in the last decade. Their focus on wide-ranging, general medical care and their 24/7 presence make them a benefit for both patients and providers. However, the complexities of an inpatient setting coupled with a patient population who are often sicker than normal and whose condition is exacerbated by anxiety and stress, requires specific rounding behavior and communication skills.
The R.E.D.E. to Round eLearning course features best practices on how to establish, develop, and engage in a genuine relationship, especially in a setting where patients struggle with the loss of control and interacting with strangers can become a barrier.
Communication that Transforms Care
The patient-provider relationship can be a vital therapeutic agent, and hospitalization poses unique challenges to establishing meaningful, relationship-centered interaction. Using effective communication and rounding behavior will increase both the patient-provider relationship and benefit other caregivers on the treatment team resulting in an enhanced experience for everyone.
This eLearning course focuses on how to apply the R.E.D.E.® Model of relationship centered communication to the inpatient setting and the benefits of doing so through video and transmedia resources.
As a result of this course, you will be able to:
Describe the benefits of applying relationship-centered communication skills to patients, providers and teams in the inpatient setting
Practice integration of relationship-centered communication skills in the inpatient setting
Use a structured approach when giving and receiving feedback
This course will take a little over an hour to complete.
Learn from the Leader
In pioneering the R.E.D.E.® Model, Cleveland Clinic has emerged as a leader in improving clinician communication. This advanced topic eLearning course will identify communication tools and strategies for providing relationship-centered care in the inpatient setting.
What is it?
Designed specifically for clinical providers
Provide tools you can use in pain management conversations
Based on the R.E.D.E.® Model — a relationship-centered communication approach that applies validated communication skills to three phases of Relationship: Establishment, Development, and Engagement
A self-paced online course featuring brief interactive videos
Conducted at your desktop or laptop via MyLearning
Register Now
MyLearning Shopping Cart Instructions
Registration is $249
This activity has been approved for AMA PRA Category 1 Credits™
For more information or to register email: healthcomm@ccf.org