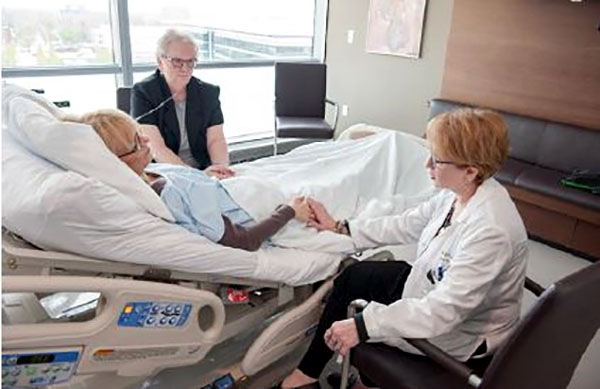 What and how the health care provider discusses Advance Care Planning will determine patients' and families' comfort level and the outcome of the encounter. It can be awkward if the exchange is negative and focuses on suffering. But it doesn't have to be.
Communication that Transforms the Experience
Advance Care Planning (ACP) conversations can be some of the most rewarding conversations in healthcare. And yet, many providers haven't been taught the most effective ways to talk to patients about their values and wishes.
In this course, you will learn the definitions that often accompany these conversations, how to start the conversation as well as how the communication skills taught in R.E.D.E. apply in ACP. More specifically, we will review talking to a patient about prognosis, about their values and wishes and about code status. Throughout the course, you will hear from patients who have lived through the experience of a family member with a serious illness.
As a result of this course, you will be able to:
Recognize the similarities and differences in Advance Care Planning, Advance Directives, Goals of Care, Palliative Care and Hospice
Utilize communication tools, such as reflective listening, empathic statements and dialog during ACP conversations
Select three value questions that you can ask your patients during ACP conversations
Learn from the Leader
In pioneering the R.E.D.E.® Model, Cleveland Clinic has emerged as a leader in improving clinician communication. This advanced topic eLearning course will identify the common challenges with ACP conversations and help you develop the skills necessary for relationship-centered communication.
What is it?
Designed specifically for clinical providers
Provide tools you can use in pain management conversations
Based on the R.E.D.E.® Model — a relationship-centered communication approach that applies validated communication skills to three phases of Relationship: Establishment, Development, and Engagement
A self-paced online course featuring brief interactive videos
Conducted at your desktop or laptop via MyLearning
Register Now
MyLearning Shopping Cart Instructions
This activity has been approved for AMA PRA Category 1 CreditsTM
For more information or to register email: healthcomm@ccf.org