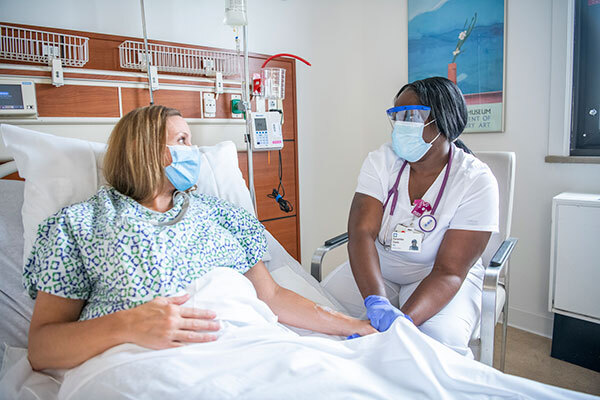 To deliver on its commitment to enhance the patient experience, Cleveland Clinic was the first major academic medical center in the U.S. to prioritize patient experience as a strategic goal and establish an Office of Patient Experience. Programs and tactics developed at Cleveland Clinic are used in healthcare organizations around the world.
Delivering an outstanding level of care that is founded in empathy, compassion, and service is a goal every healthcare system aims to achieve; however there are unpredictable interactions with patients and colleagues that challenge this goal regularly. While changing cultures is not always easy, Cleveland Clinic noticed dramatic results in patient experience by training our caregivers with easy-to-remember tools and regular practice. After taking Communicate with H.E.A.R.T. ®, Cleveland Clinic Caregivers reported feeling more confident in their communication skills, in their ability to convey empathy, and in their ability to respond to patients' concerns with empathy.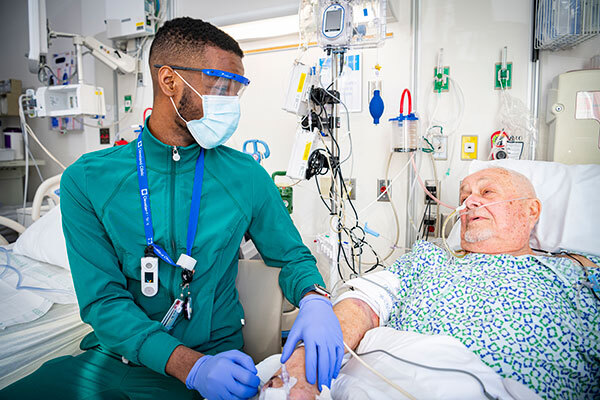 What is Communicate with H.E.A.R.T.®?
Communicate with H.E.A.R.T. standardizes how healthcare workers communicate using consistent, sustainable, and evidence-based training. It empowers everyone who touches a patient's life—providers, nurses, clinicians, administrators, EVS, dietary, etc.-- to provide outstanding service to patients, visitors, and coworkers. Employees understand their role in creating positive patient experiences is greater than the tasks associated with their job.
S.T.A.R.T. with Heart® is an easy way to remember the key ingredients to meaningfully connect with others using a personal touch during everyday conversations. These behaviors may be done in the order that feels most natural.
Mnemonic

Behaviors

In action

Smile and greet warmly

Make pleasant eye contact, genuinely smile, and greet the person.

Smile and make comfortable eye contact

Tell your name, role, and expectations

Introduce yourself professionally by sharing your full name, role, and how you will assist them.

"Hi, I'm Megan Thompson, a pharmacy technician. How may I help you with your prescription?"

Active listening and assist

Hear their entire story without interruption, attend to verbal and nonverbal cues, reflect back what you heard, and allow them to clarify details, if needed. Provide some appreciation for what was shared and express empathy. Then, assist them yourself or find someone who can help.

Listen to their story without interruption.

"Yes, your medication has been refilled. I'm glad we were able to fill it for you. Let me get it for you."

Rapport and relationship building

Show interest in the other person in a culturally appropriate manner by engaging in brief social interactions and connecting with them empathetically.

"I've heard it's getting colder outside today. Is it raining too?"

Thank the person

Express appreciation for them or what they did, acknowledge their effort, and sincerely express what it means to you.

"Thank you for choosing our pharmacy to fill your medication order. We appreciate your trust in us. What else I may do for you before you go?"
Respond with H.E.A.R.T.® provides employees with steps to help them consistently and compassionately address concerns at the point of service. These steps need to be completed in order.
Mnemonic

Behaviors

In action

Hear

Hear the entire story without interruption, attend to verbal and nonverbal cues, reflect back what you hear, allow time for clarification, and summarize what you heard.

"You called us to order your prescription and didn't know there weren't any refills left. You weren't notified about the delay. Now you're here and your medicine isn't ready for you."

Empathize

Imagine yourself in the other person's place to understand their perspective, feelings, desires, and ideas. Use verbal and nonverbal cues to express compassion.

"That's frustrating! I'd be upset too if I made the trip here for nothing."

Apologize

After empathizing, acknowledge the concern and express sincere regret for what the person is experiencing.

"I'm sorry we didn't notify you ahead of time."

Respond

Take ownership of the situation, address what you realistically can do, and set expectations and time frames. When appropriate, give options and follow up.

If you are unable to resolve the situation or if it escalates, bring in your manager to assist.

"I will contact your physician by phone right now and see if I can obtain their permission to refill it right away. Would you like to wait for a few minutes or would you rather I call you back once I have an answer?"

Thank

Remember, it's a privilege to take care of each other and thanking communicates what we value. Express appreciation for them or what they did, acknowledge their effort, and sincerely express what it means for us to receive this information.

"Thank you for trusting us with your care."
Resources
Documents