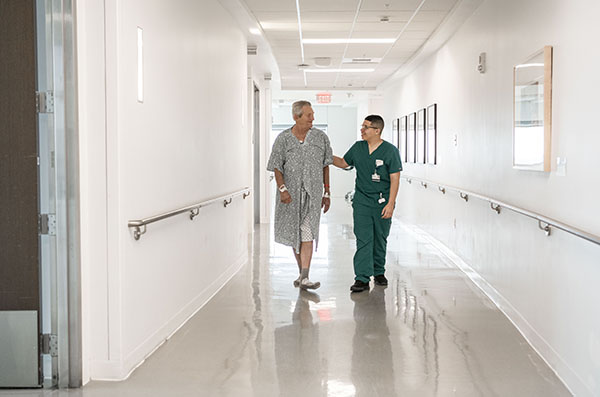 The way we communicate with patients, visitors, and each other define our institution and impacts patient and caregiver experience.
Communicate with H.E.A.R.T is intended to create a culture of compassionate, relationship-centered communication and service excellence. Developed by healthcare professionals, this innovative program helps employees understand that their role in creating positive patient experiences is greater than the tasks associated with their job. Using interactive training and easy-to-remember tools, Communicate with H.E.A.R.T. empowers caregivers to provide an exceptional patient and employee experience at every point of interaction.
There are three modules in this course:
Start with H.E.A.R.T.® : provides a framework for service excellence that enables caregivers to deliver exceptional healthcare with a personal touch
Respond with H.E.A.R.T.® : provides a framework to make service recovery easier for our caregivers
Team with H.E.A.R.T.® : presents communication strategies to develop cohesive, supportive, and collaborative healthcare teams
At the end of this course, the learner will be able to:
Describe expected service behaviors
Apply expected service behaviors to case scenarios
Describe expected service recovery behaviors
Apply expected service recovery behaviors to case scenarios
Recognize signs of stress and strategies to promote resilience
Identify behaviors that strengthen personal resilience and team communication
List behaviors to maintain a respectful and successful workplace
This course will take less than 45 minutes to complete.
What is it?
Designed specifically for clinical and non-clinical roles
Provide tools you can use to create a culture of compassionate, relationship-centered communication, and service excellence
Applies evidence-based communication skills
A self-paced online course
Conducted at your desktop or laptop via MyLearning
Register Now