Head & Neck Institute Outcomes
Head and Neck Surgery and Oncology
Rethinking the 10-Pack-Year Rule for Favorable Human Papillomavirus-Associated Oropharynx Carcinoma
2006-2017
De-intensified treatment strategies for early human papillomavirus–positive (HPV+) oropharynx cancer (OPC) rely on selecting patients with an excellent prognosis. The criterion for enrollment in current de-intensification trials is ≤10 pack-years. More nuance to the pack-year criteria may expand enrollment, improve patient outcomes, and prevent overtreatment. It was hypothesized that patients with more than 10 pack-years may experience favorable outcomes if smoking cessation has been achieved.
Progression-Free Survival Assorted by Smoking Status and Pack-Years (N = 506)
2006-2017
Progression-Free Survival by Recursive Partitioning Analysis Class
2006-2017
Time Since Cessation and Progression-Free Survival
2006-2017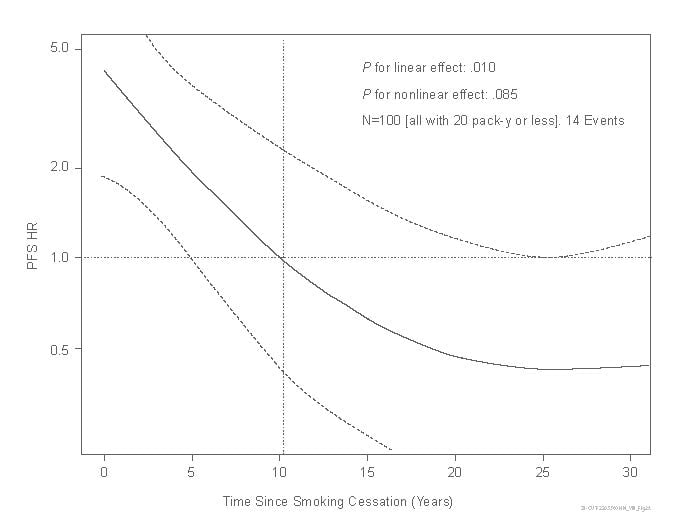 Pack-Years and Progression-Free Survival
2006-2017
The 10-pack-year rule may not apply to all early HPV+ OPCs, particularly for former smokers. Future randomized de-intensification trials should consider a broader and more nuanced approach until the predictive role of smoking status is established.