Overview
Overview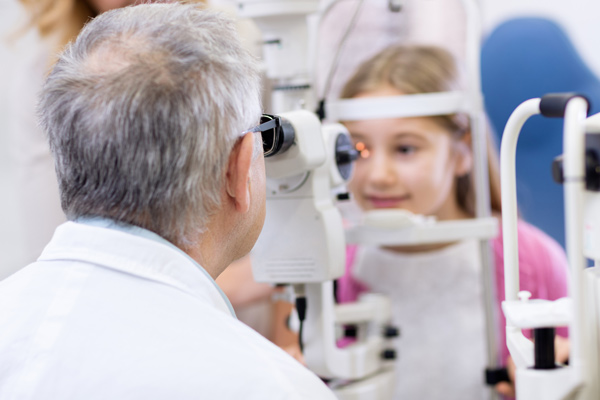 Like every other part of the body, your eyes grow and change quickly in the first few years of life. Regular eye examinations are important to make sure that your child's eyes and vision are developing normally. It is also important for the doctor to find any problems, such as lazy eye or cataracts, as early as possible, so they can be treated before any lasting damage is done to your child's vision.
The American Academy of Ophthalmology (the medical society for eye doctors) recommends that children have eye examinations at these intervals:
Once before a child is 3 months old.
Once between the ages of 6 months and 1 year.
Once at about 3 years of age.
Once at about 5 years of age.
Why choose Cleveland Clinic?
Cleveland Clinic specialists in our Department of Pediatric Ophthalmology offer care for children and adolescent eye diseases, including strabismus, retinopathy of prematurity (ROP), congenital cataracts, nearsightedness/farsightedness and genetic eye diseases.
Our pediatric surgeons annually perform hundreds of strabismus procedures — a surgery used to loosen or tighten the muscles that affect the alignment of the eye — for conditions including esotropia, exotropia, thyroid eye disease, cranial nerve palsies, dissociated deviations, hypertropia and hypotropias, Duane and Brown syndromes, nystagmus and related conditions.
Cleveland Clinic is recognized in the U.S. and throughout the world for its expertise and care.
What We Treat
What We Treat
Our pediatric ophthalmologists treat a number of eye conditions in infants and children, including:
What to Expect
What to Expect
What happens in a child's eye examination?
Eye examinations vary depending on the age of your child:
Newborns: Newborn babies are examined to make sure each part of the eye has developed without any problems. There is also a special instrument that shines light all the way to the back of the eye. Your doctor will look at the structures inside the eye and also check to make sure that nothing is blocking light from entering the eye. The way the eyes move will also be checked.
6 months - 1 year: For children this age, the examination is similar to newborns. It is performed to make sure that the eyes are still developing without any problems.
3 years: It is usually possible to test visual acuity for the first time. Visual acuity is the "sharpness" of vision. It is what is measured by the familiar eye chart in the doctor's office. Although 3-year-olds might not be ready to read the letters of a chart yet, there are other ways to test visual acuity. The chart might have shapes, for example, or pictures of objects that a child can name. The examination will also include special tests to make sure that each eye can move in the correct way. This is also an important time to check the alignment of the eyes. Both eyes should work together in order to give the best vision possible.
5 years: The examination at about age 5 will also be similar to their exam at 3. Most children will be able to cooperate better in the testing, so this examination will reveal more about how the eyes and vision are working. It is especially important to make sure your child can see well before starting school.
What kinds of problems is the doctor looking for?
The examinations performed before age 3 are mainly to make sure the structures of the eye are healthy. The examiner will look for anything that seems too small, too large, or the wrong shape. Some parts of the eye should be clear to let light pass through, and other parts should be a certain color. If any of these things appear unusual, more tests will be performed to find out if there is a problem.
Starting when a child is 3 years old, the examinations will also test the function of the eyes. Visual acuity tests are important to make sure both eyes can focus well. If not, it might be necessary for your child to get glasses.
Young children don't read or go to school — why would they need glasses?
Usually, the eyes and the part of the brain involved in eyesight develop together as a child grows. Both must be working well, however, in order for the whole visual system to develop. If the eyes are out of focus, they will not send the right kinds of signals to the brain. This can cause headaches and eye strain. It might even lead to more serious vision problems.
It is especially bad if one eye can focus much better than the other. The brain might start to ignore the signals from the eye that is out of focus. This can actually cause the eye to stop developing. If it is not corrected, the loss of vision in the eye can become permanent.
The medical term for this condition is amblyopia, and it is known more commonly as "lazy eye." It can happen because one eye is out of focus or because the eyes are not moving together in the usual way.
When the eyes do not align and move together well, the condition is called strabismus. One of the most important reasons to examine a child's eyes is to check for strabismus. It is actually hard to notice whether a child's eyes are aligned and moving together well. That is why it is important to have children's eyes examined regularly by a doctor.
Not only can strabismus harm vision, but it could also be a sign of some other health problem. Sometimes it is necessary to treat the other problem in order to correct the strabismus. In other cases, the strabismus must be corrected by a surgical procedure to align the eyes.
The procedures used to correct strabismus are very successful, especially when they are performed early in life. The longer strabismus goes uncorrected, however, the more likely it is that vision will be lost. That is why it is important to follow the schedule for routine children's eye examinations, even if there are no obvious problems.
Our Ophthalmologists
Appointments & Locations
Appointments & Locations
To make an appointment with one of our ophthalmologists, please call 216.444.2020.
Locations
Community Outreach
Community Outreach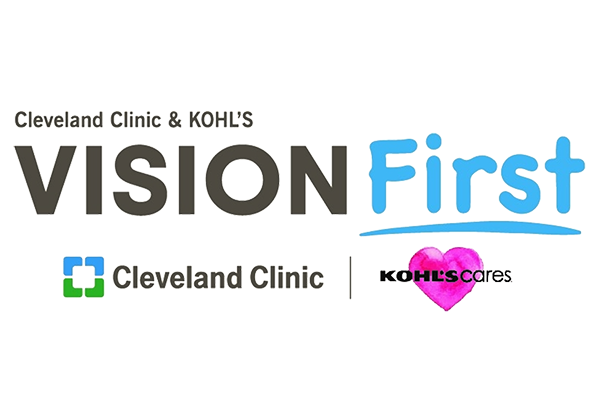 Cleveland Clinic & KOHL'S Cares Vision First Program
Vision First was launched in 2002 through collaborative efforts of the Cole Eye Institute, Cleveland Metropolitan School District and Cleveland's philanthropic community. A new partnership with KOHL'S Cares was established in 2013. Cole Eye Institute manages the day-to-day operations of the Cleveland Clinic & KOHL'S Vision First program and with its partners jointly promote the community activities and benefits of the Cleveland Clinic & KOHL'S Vision First throughout the year.
Together we will help Northeast Ohio students in need of eye treatment, seek and gain the advanced care to correct their vision. The investment will benefit the entire community by building the confidence of our youngsters to grow into bright stars in the community.
Preventing Blindness in Children
Amblyopia, also known as lazy eye, is the most common cause of vision problems in children. Left untreated, it can lead to vision loss in adults, but the condition is completely reversible when it's caught early in childhood.
Cleveland Clinic & KOHL's Vision First provides eye examinations for 4- to 6-year-olds enrolled in the Cleveland Metropolitan School District. The centerpiece of the program is a customized van with two examination spaces. The van makes stops at all elementary schools in the Cleveland school district and can be found at one of these schools each day during the school year. Staffed by an ophthalmic technician, the Cleveland Clinic & KOHL's Vision First van is equipped to provide screenings for a variety of eye diseases and conditions. For children that fail this initial screening, an optometrist is available to perform complete ocular examinations, write prescriptions for those who require corrective lenses, and provide referrals to local pediatric ophthalmologists for further care.
Based on studies up to 13.8 percent of the children tested may be diagnosed with vision ailment. The majority will simply require eyeglasses to correct the problem. It is estimated that only 40 percent of all children under the age of 5 undergo an eye examination. It is anticipated that a high percentage of children will have vision problems detected for the first time by our Cleveland Clinic & KOHL's Vision First program since all Cleveland school children are provided the opportunity to receive an eye exam free of charge.
If your child is not in the Cleveland school district, call 216.444.2020 today to schedule an eye exam at one of the 12 Cole Eye Institute offices throughout Northeast Ohio.
Vision First accomplishments
Through Cleveland Clinic & KOHL's Vision First program, the Cole Eye Institute has set the benchmark in vision screenings in Ohio and nationally since this is the first and most comprehensive program of its type. Several cities have replicated the program including Philadelphia and Baltimore. Screening over 5,000 children annually, and more than 55,000 children over the past ten years, there is an immediate and future impact on the lives of the children, families, the county and the state of Ohio.
Almost 15 percent of students receiving eye exams are in need of additional attention to correct their vision, allowing them to become better students and future leaders. Cleveland Clinic & KOHL'S Vision First provides eyeglasses to all the students in need of corrected lenses. The Cleveland Clinic & KOHL'S Vision First program has become an invaluable community benefit to the young students since most do not have the means to receive quality health care and annual eye exams.