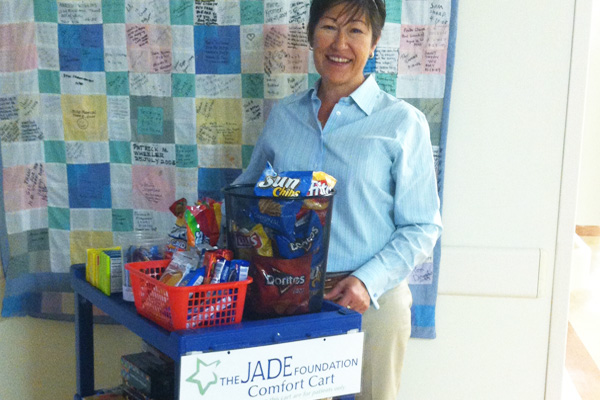 The JADE Foundation works closely with Cleveland Clinic Cancer Center to provide a Comfort Cart that brightens the days of hospitalized cancer patients. JADE (Jeffery Alexander Dobay Entertainment) is a 501c3 non-profit organization created to honor the memory of Jeffery Alexander Dobay, a Cleveland Clinic patient who passed away from leukemia in 2008 at age 19. JADE is dedicated to enhancing the quality of life of cancer patients by providing entertainment and experiences that offer pleasurable distractions from the emotional and physical effects of long hospitalizations and treatments associated with having cancer.
Through its annual fundraising, the JADE Foundation raises money to purchase snacks, games, DVDs, crossword puzzles, blankets, books and other items to be distributed on the Comfort Cart. The Comfort Cart is stocked by The JADE Foundation and is delivered to patients each week by Cleveland Clinic volunteers, making its rounds through the inpatient cancer units and creating moments of joy for patients who may be hospitalized for weeks at a time.
To learn more about the JADE Foundation, contact Bobbie Dobay at 216.408.3097.