You just found out you have colorectal cancer. How is this possible? Aren't you too young for this?
---
Being diagnosed with colorectal cancer is overwhelming at any age, but if you're in the prime of life, it can be especially scary and very confusing. Your life path has suddenly taken a sharp turn, and you don't know what's ahead. The journey with young-onset colorectal cancer (before age 50) is unique in many ways. It can be hard to stay active and focused on work and family when you're going through treatment.
At Cleveland Clinic, we'll help you face all of your cancer-related challenges and thrive. Our experts are leaders in young-onset colorectal cancer care. We offer personalized, comprehensive, coordinated treatment. And we'll give you the extra special support you need — from the time you're diagnosed, during treatment and for the rest of your life.
Why Choose Cleveland Clinic for Young-onset Colorectal Cancer Care?
Demonstrated expertise:
At Cleveland Clinic we have the specialized knowledge to help guide you through the diagnosis and treatment process. Our experts are at the fore-front of care for young-onset colorectal cancer. We have a unique Center of Excellence for young-onset colorectal cancer at our main campus that's one of the only offerings of its kind. We combine a coordinated team approach to care with research and education to provide the best possible care.
Caring approach:
We know that coping with cancer is hard, especially when you're young. Our specialists are more than just medical experts. They're compassionate, patient and understanding human beings. They'll take time to listen to your concerns, answer your questions and offer support.
Skilled, collaborative providers:
Our colorectal surgeons, medical oncologists and radiation oncologists work as a team so you get the therapies and treatments that best meet your needs. Meet our team.
Convenient care:
You don't have to worry about managing all the details of your care. Our coordinators help arrange the appointments and services you need. Members of our colorectal cancer team share information, when needed, to keep your treatments moving forward.
National recognition:
Cleveland Clinic has earned accreditation from the Commission on Cancer National Accreditation Program for Rectal Cancer (NAPRC). This award recognizes our commitment to the highest rectal cancer care standards. Our treatment methods are proven to help patients become tumor-free.
Innovation and research:
We offer many cancer clinical trials — not widely available elsewhere — that test new therapies. Some people participate in trials if their first treatments aren't successful. In other cases, a trial might be your first treatment.
Quality focus:
We may recommend the latest endoscopic techniques or chemotherapy and radiation therapy instead of surgery. If you need surgery, we use techniques that won't harm your sphincter (muscle around your anus) whenever possible.
Virtual visits:
We know that treatment can be hard, and sometimes you might not feel like going to see your healthcare provider in person. That's why we offer virtual visits where you can talk with your provider from the comfort of home using your smartphone, tablet or computer. Virtual second opinions are also a convenient option.
Early-onset Colorectal Cancer Diagnosis at Cleveland Clinic
If you're young, you probably thought you could dodge getting a colonoscopy for a few years, but there's nothing to fear. Prep isn't that bad — really. And you're asleep for the procedure itself.
If you're under 45 and think you might have colorectal cancer, a colonoscopy is the first thing your provider will want to do. A colonoscopy is also recommended if you have rectal bleeding, bowel obstruction or if colorectal cancer or inflammatory bowel disease (Crohn's or ulcerative colitis) runs in your family.
Knowing if you have a family history of colorectal cancer is very important. If it runs in your family, your provider will most likely recommend you get a colonoscopy early (before you're 45) as a precaution. So talk to your family. Ask them the tough questions. Understand your history. Then let your provider know.
Some early-onset colorectal cancer cases are caused by genetic mutations (changes). We usually recommend a cancer genetics evaluation to check for specific changes. This information helps our team decide which treatments and services are best for you and your family.
Learning that you may have cancer can be an emotional moment. You'll want to make sure you're working with a team of healthcare providers you trust to give you the best possible treatment. At Cleveland Clinic, we encourage second opinions. And we'll do our best to make sure you get an appointment with us quickly. When you come in for your appointment, we'll ask you to bring all of your medical records. Our team of experts will dive in and work together to help you through the process of finding the best personalized treatment plan for you.
Hereditary Colorectal Cancer Care at Cleveland Clinic
If colorectal cancer shows up in your family tree, you'll want experts you can trust to help you. We have one of the first programs in the nation to screen for inherited (passed from parent to child) colorectal cancer (called hereditary colorectal neoplasia). Hereditary colorectal cancer can happen earlier in life. It can also come back after you receive treatment. When you come to see us, you'll work with geneticists who specialize in inherited cancers.
If you have genetic testing that shows you have a higher risk of hereditary colorectal cancer, we'll be right by your side. Keeping a close watch on you means we can find any changes happening in your cells in earlier stages — at point when treatment is more successful. We specialize in hereditary colorectal cancer therapies that lower the chances of the cancer coming back again.
Meet Our Team of Young-Onset Colorectal Cancer Providers
Care doesn't happen in a vacuum. We work as a team throughout your treatment to make sure you get the best care possible. Throughout your journey, you may work with:
Radiation oncologists.
Liver surgeons.
Thoracic surgeons.
Geneticists.
Oncology dieticians.
Fertility specialists (female and male).
Maternal fetal medicine providers.
Nurses.
You may also work with coordinators and hereditary coordinators who will help guide you throughout the entire process.
Providers Who Treat Young-onset Colorectal Cancer
Locations
Our healthcare providers see patients at convenient locations throughout Northeast Ohio and Florida.
Young-onset Colorectal Cancer Treatment at Cleveland Clinic
Being young usually means you're able to handle stronger treatments that may offer better chances of good results. We'll create a personalized care plan that includes leading therapies and ongoing support. Depending on where your cancer is and how far along it is (stage), you may need one or more treatments, including:
Chemotherapy, which uses drugs that find and kill cancer cells.
Immunotherapy, which uses the body's natural disease-fighting abilities to get rid of cancer cells.
Targeted therapies, which use drugs and other substances to attack specific types of cancer cells.
Radiation therapy, which uses beams of radiation to break up cancer cells, while protecting nearby healthy tissues.
Surgery, which removes cancerous tumors using minimally invasive (smaller) cuts whenever possible to help you recover more quickly.
Preventive care
Having colorectal cancer at a young age can put you at a higher risk for getting cancer again. At Cleveland Clinic, we use results from genetic testing to help us make decisions about how often you should be examined or if you should have prophylactic (preventive) surgeries that can keep you from getting other cancers. As part of ongoing trials, we use liquid biopsies (blood tests) after treatment to check for tumor cell fragments in your blood. This information helps us predict how likely it is the cancer will come back so we can give you additional therapies, when necessary, to lower that risk.
Supportive care
If you're a younger colorectal cancer patient, you may need different types of support than older patients. You may want to start a family after treatment or need help balancing the demands of work and cancer treatment. We offer a broad range of services that help you find peace of mind and plan for your future. We offer:
Taking the Next Step
Colorectal cancer can strike at any age, and if you're under 50, it can impact your life in unique ways. But it's also highly treatable. If you've been diagnosed with young-onset colorectal cancer, there's hope. And that hope starts with finding a team of cancer specialists who're at the top of their fields. At Cleveland Clinic, we offer you the best, newest treatments and support to help you through this unexpected turn in your life and set you on the road to recovery.
Request an Appointment
Getting an appointment with Cleveland Clinic experts in young-onset colorectal cancer is easy. We're here to help you get the care you need.
---
Billing & Insurance
Manage your Cleveland Clinic account. Find billing information and financial assistance, plus FAQs.
---
MyChart
Securely access your personal health information at any time, day or night.
---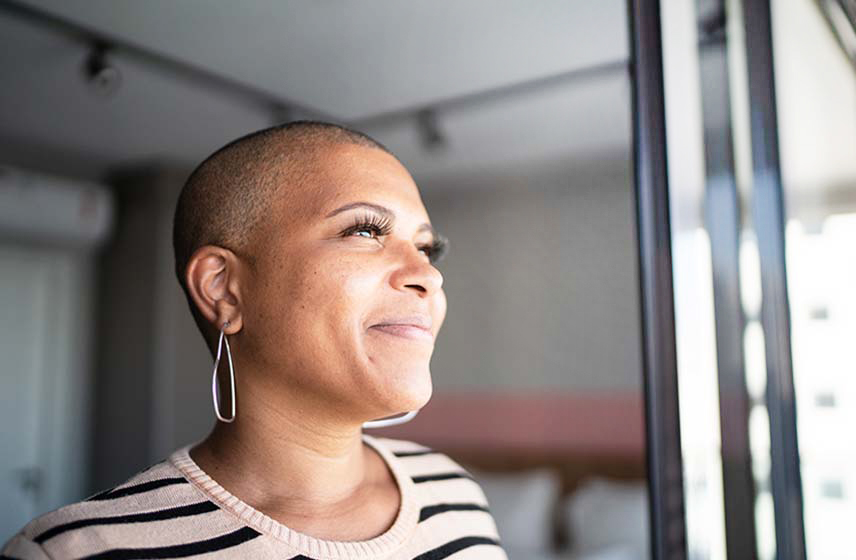 Survivorship
Learning you have cancer can be stressful, shocking and challenging. From the moment you get the news, you're a survivor. As you face the challenges that go along with cancer treatment and recovery — physical and emotional — we'll be right there with you.
At Cleveland Clinic, survivorship care is one part of your journey. We offer a wide range of services, resources, clinics and support groups to help with any physical, emotional, financial and spiritual needs you might have related to your cancer diagnosis. Lending a helping hand along the way, we want you to not only survive, but thrive on this journey and beyond.