You probably never think about your prostate. Until a routine screening test says you might have something to worry about.
---
And if it turns out you might have prostate cancer, life could feel like it's spinning out of control. It's OK (and natural) to have all sorts of emotions when you're trying to process this kind of news.
At Cleveland Clinic, you'll find a cancer care team that you can trust to help you feel more in charge of your health and future. Our expert healthcare providers know what it takes to treat you and your cancer. We focus on you, your needs and your health through every step of your prostate cancer diagnosis, treatment and recovery.
Why Choose Cleveland Clinic for Prostate Cancer Care?
Demonstrated expertise:
Our cancer providers are experts in treating all kinds of urologic (prostate, bladder, kidney, penis and testicles) cancers. We care for thousands of prostate cancer patients each year, which has helped us become a leader in treatment for this type of cancer. Meet our team.
Innovation and research:
Cleveland Clinic has pioneered the latest prostate cancer treatments and leads the nation in advances in robotic and minimally invasive (laparoscopic) prostate surgery. And as an academic medical institution, we're able to offer more access to clinical trials for advanced prostate cancer.
National recognition:
Cleveland Clinic is a trusted healthcare leader. We're recognized in the U.S. and throughout the world for our expertise and care.
Virtual visits:
Sometimes, you won't need to come to the office for an appointment. With our virtual visits, you can talk one-on-one with your providers from the comfort of home. All you need is an internet connection and a smartphone, computer or tablet.
Prostate Cancer Diagnosis at Cleveland Clinic
Early-stage prostate cancer rarely causes symptoms. As the cancer progresses, you might need to pee more often, or find it harder to completely empty your bladder. It might be painful to pee or to ejaculate, and you might have blood in your semen or pee. You might have pain in your lower back, hip and chest and numbness in your feet and legs.
If you have any of these symptoms, it's important to see a healthcare provider right away. We're here to help you figure out what's going on.
Your provider will start off by asking about your symptoms and your medical history. If they suspect you have cancer, they might do a few different tests, like a prostate exam, to confirm your diagnosis and find out how big and how quickly your cancer is growing (what stage it is). Your provider might also do one or more of these tests:
Digital rectal exam
Your provider will check out your prostate bumps or hard areas on your prostate gland. They'll do this by inserting a gloved, lubricated finger (digit) into your rectum to reach your prostate.
Prostate-specific antigen (PSA) blood test:
This test shows if your prostate is making higher-than-normal levels of PSA. Elevated PSA levels could mean you have cancer.
Biopsy
Your provider will use a needle to take a small amount of tissue from your prostate and send it to our lab where a pathologist will look at it under a microscope. A biopsy will tell for sure if you have prostate cancer.
Meet Your Prostate Cancer Team
Choosing Cleveland Clinic for prostate cancer diagnosis and treatment means you'll benefit from our team-based approach. Healthcare providers from different specialties will work closely together to plan your personalized treatment based on your values, priorities, tolerance for side effects and desired quality of life. Your care team could include:
Second opinion for prostate cancer at Cleveland Clinic
If you find out you have prostate cancer, you want to have the very best medical team on your side. That's why, at Cleveland Clinic, we encourage second opinions. Our specialists are happy to talk over your diagnosis and give their expert opinions on the best treatment plan for you. We'll take the time to answer your questions and offer support.
Second opinions can give you the confidence you need to move forward with treatment and the peace of mind knowing you're in the most capable, compassionate hands. And because you shouldn't have to wait to get help, we do our best to schedule an appointment with you as soon as possible.
Providers Who Treat Prostate Cancer
Locations
Our prostate cancer surgeons see patients at convenient locations throughout Northeast Ohio and Florida.
Prostate Cancer Treatment at Cleveland Clinic
If we confirm you have prostate cancer, we'll work with you to decide what type of treatment (if any) will be the most effective for you. Because prostate cancer grows slowly, you might never need treatment. But if you do, there's good news — most prostate cancers are highly curable. Here are a few of the treatment options your provider might recommend:
Active surveillance
If we choose to follow this approach, you'll see us for screenings, scans and biopsies every one to three years. This lets us keep a close eye on your prostate and see if the cancer grows.
Watchful waiting
Similar to active surveillance, watchful waiting means fewer appointments and focuses more on managing your symptoms.
Brachytherapy
Designed to preserve surrounding healthy tissue, brachytherapy (internal radiation therapy) involves placing permanent radioactive seeds inside your prostate. This helps us better target cancer cells and helps protect surrounding healthy tissue.
External beam radiation therapy
In radiation therapy, we send strong X-ray beams directly to the tumor to destroy cancer cells.
Systemic therapies
If the cancer has spread outside of your prostate gland, your provider may recommend treatments that kill cancer cells throughout your body, like:
Focal therapy
A newer form of treatment, focal therapy involves only treating the area of your prostate affected by cancer. It can be an effective option if your cancer is in just in one area of your prostate and hasn't spread to other parts of your body.
Prostatectomy
We'll remove your entire prostate gland in a prostatectomy. Depending on your cancer and health, we might do:
Single-port radical prostatectomy.
Fertility considerations
If your future plans include having biological children, you'll be referred to a fertility specialist before starting certain treatments for prostate cancer.
Taking the Next Step
While prostate cancer is common, it's also probably something you're hoping to avoid. But when you're having symptoms that just don't seem right, we're here to help. When you reach out to Cleveland Clinic, you're taking the first step toward peace of mind and the journey back to a healthy life — with expert cancer care and compassionate support from the day you're diagnosed to treatment and beyond.
Appointments
Getting an appointment with Cleveland Clinic prostate cancer experts is easy. We're here to help you get the care you need.
---
Billing & Insurance
Manage your Cleveland Clinic account. Find billing information and financial assistance, plus FAQs.
---
MyChart
Securely access your personal health information at any time, day or night.
---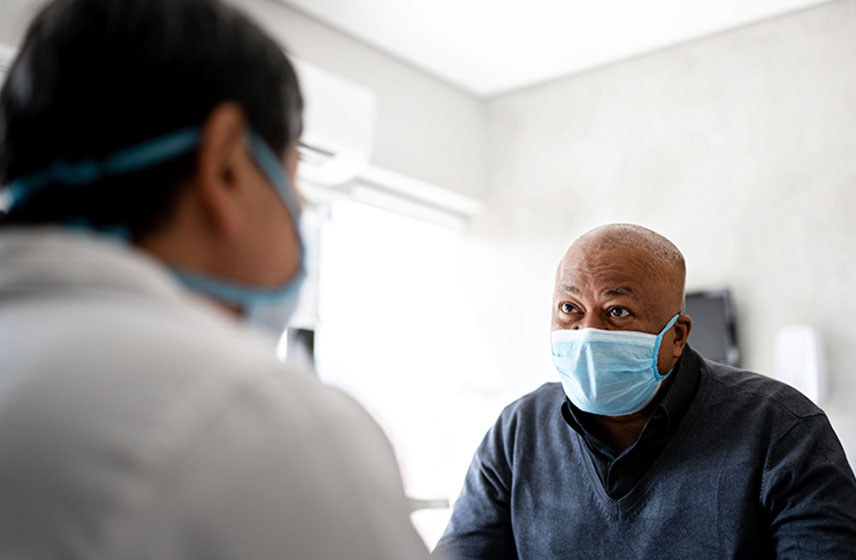 Survivorship
Learning you have cancer can be stressful, shocking and challenging. From the moment you get the news, you're a survivor. As you face the challenges that go along with cancer treatment and recovery — physical and emotional — we'll be right there with you.
At Cleveland Clinic, survivorship care is one part of your journey. We offer a wide range of services, resources, clinics and support groups to help with any physical, emotional, financial and spiritual needs you might have related to your cancer diagnosis. Lending a helping hand along the way, we want you to not only survive, but thrive on this journey and beyond.