Pain keeps gripping your middle. You're experiencing abnormal bleeding. Bloating and changes in your weight are throwing you off.
---
And although all of these things could be related to many common conditions, they're sometimes silent signs of ovarian cancer. And the diagnosis often comes as a complete surprise. If you've found out you have ovarian cancer, your mind might be in overdrive. "Why didn't I know?" "What's going to happen now?"
We're here to answer all of your questions and guide you through any testing and treatment you need. Cleveland Clinic's gynecological cancer experts work as a team to help you find treatment options that work for you. And along the way, we approach each day with compassion. This diagnosis may have been a shock. Our providers will focus on you and your specific needs throughout the entire process. You are at the center of your care.
Why Choose Cleveland Clinic for Ovarian Cancer Care?
Industry leader:
Cleveland Clinic is a national leader in cancer care. We've been recognized by the National Cancer Care Network and the National Cancer Institute. And we're a member of the most important cancer research networks in the world.
Specialized knowledge:
Our providers are fellowship-trained and board-certified in Ob/Gyn and gynecologic oncology. Our entire team specializes in ovarian cancer — including ways to treat the disease and manage side effects. Meet our team.
Innovation and research:
We participate in many of the latest clinical trials for ovarian cancer. Our patients can often take advantage of cutting-edge therapies that aren't yet available elsewhere.
High volume specialty:
Research shows that people with cancer achieve better outcomes at hospitals that care for a large number of patients. Cleveland Clinic treats thousands of patients each year with ovarian cancer. Seeing so many patients gives us the experience to provide you with the best possible care.
Virtual visits:
Not all appointments have to be in person. If you're not feeling up for a drive to your provider's office, they can often see you virtually from the comfort of your home. All you need is a smartphone, tablet or computer.
Caring approach:
Our specialists aren't just experts at their job, they're also compassionate and understanding. They know that cancer is hard, and they want to be there for you every step of the way.
National recognition:
Cleveland Clinic is a trusted healthcare leader. We're recognized in the U.S. and throughout the world for our expertise and care.
Ovarian Cancer Diagnosis at Cleveland Clinic
For many cancers, there are screening tests to find cancer early — often before you have symptoms. Think about regular tests you might get, like Pap smears, mammograms or colonoscopies. At this time, there aren't any screening tests for ovarian cancer. So that means testing starts when you notice things aren't quite right. For you, they might be things like pain or lumps in your belly or pelvis. Maybe it's bloating, changes in your appetite or diarrhea. It could also be abnormal bleeding or vaginal discharge.
At your appointment, your provider will do a physical exam, including a pelvic exam to check for abnormal growths or changes in your ovaries. They may also do these imaging tests:
Other tests might include:
Blood tests to see if a substance called CA-125 is in your blood. CA-125 can be a sign of cancer, but not always, so blood tests are always used with other tests to diagnose ovarian cancer.
Laparoscopy is a minimally-invasive surgery that places a thin camera (laparoscope) through a small incision (cut) in your belly to find cancer, do biopsies and sometimes even remove ovarian tumors.
Genetic testing
Certain changes (mutations) to your genes can make you more likely to develop ovarian cancer. If ovarian cancer does develop, we want to catch it as early as possible.
Some people find out they have a genetic mutation after a family member develops cancer or through testing from a healthcare provider or home test kit. If you have a mutation, it's important to talk to an expert about how to watch it and protect your health.
We'll develop and recommend a monitoring plan that may include regular blood tests for cancer, pelvic exams or transvaginal ultrasound imaging tests.
Getting a second opinion for ovarian cancer
Finding out you have ovarian cancer isn't easy. Making sure you have the very best medical and support team on your side is the first important step toward recovery. That's why, at Cleveland Clinic, we encourage second opinions.
Our expert cancer team is there for you. We're ready to answer questions, explain treatment options and offer recommendations. And because we know that cancer doesn't wait, we always try to schedule your appointment with us as soon as possible. If you've been diagnosed with ovarian cancer, getting a second opinion on treatment can give you peace of mind, knowing that you're in the most capable hands.
Meet Your Ovarian Cancer Care Team
When you seek ovarian cancer care at Cleveland Clinic, your team may include:
Doctors certified in Ob/Gyn and gynecologic oncology, who recommend and guide treatment.
Nurse practitioners, who follow you throughout your care and are available for questions and urgent appointments.
Care coordinators, who organize your appointments, check up on you regularly and track test results quickly.
Genetic counselors, who help you understand genetic mutations and what that means for both you and your family.
Dietitians, who help you learn how to plan healthy meals.
Palliative care specialists, who can help manage symptoms and side effects.
Psychologists and counselors, who teach you ways to cope with a cancer diagnosis and treatments.
Providers Who Treat Ovarian Cancer
Locations
Our healthcare providers see patients at convenient locations throughout Northeast Ohio and Florida.
Ovarian Cancer Treatment at Cleveland Clinic
Your journey with ovarian cancer is unique. Your circumstances, test results, other health conditions, personal goals and priorities aren't the same as anyone else's. That's why we'll take the time to talk with you. We'll craft a personalized treatment plan that works best for you. Your provider might recommend:
Surgery and chemotherapy
We typically treat ovarian cancer with a combination of surgery and chemotherapy. Sometimes we'll do surgery first. Sometimes you'll get chemotherapy first (adjuvant chemotherapy), then surgery and more chemotherapy.
We also might consider hyperthermic intraperitoneal chemotherapy (HIPEC) that sends a highly concentrated dose of chemo directly to where the cancer cells are. Your provider will let you know if this approach is best for you.
Chemotherapy can be very effective against ovarian cancer, but it often comes with side effects. Our providers will check in often to find out how you're feeling. If things get too tough, we can give you medications and offer tips to manage the side effects, so you can keep on your treatment plan.
Targeted therapy
Targeted therapies are the latest ovarian cancer treatment option. Target therapies send drugs to attack the cancer cells without directly hurting the healthy cells. At Cleveland Clinic, we're also involved in clinical trials to discover the newest targeted therapies. And we research the best ways to tailor these treatments specifically for you.
Preventive treatment
If you have a high risk of ovarian cancer, our experts can talk with you about preventive treatments that can greatly reduce or eliminate the chance of getting it. Bilateral salpingo oophorectomy (surgery to remove both ovaries and fallopian tubes) is one of those options.
Deciding to have preventive treatment is very personal. We'll take the time to talk you through the process and help you make the best decision for you. Some of the things we'll talk about include:
Family and personal history of cancer.
Overall health.
Type of mutation.
Your personal priorities and goals.
Ongoing Care and Support
In addition to the team of providers giving you medical care, we offer a variety of support groups and resources to help you throughout your journey with cancer — from diagnosis, throughout treatment and in recovery. In these groups, you can connect with others who share a similar journey. Together, you'll learn more about your condition and get tips for coping with treatment and side effects, and the challenges that even recovery can bring.
Taking the Next Step
Hearing a doctor say you might have ovarian cancer isn't easy news to digest. With symptoms that you can easily write off as random discomforts of everyday life, it can be shocking to hear that those symptoms added up to cancer. You probably have a lot of questions about what's going to happen next. At Cleveland Clinic, we're here not only to answer those questions, but help you through what comes next. We support you throughout your entire journey and help craft treatment plans that match your needs.
Request an Appointment
Getting an appointment with Cleveland Clinic ovarian cancer experts is easy. We're here to help you get the care you need.
---
Billing & Insurance
Manage your Cleveland Clinic account. Find billing information and financial assistance, plus FAQs.
---
MyChart
Securely access your personal health information at any time, day or night.
---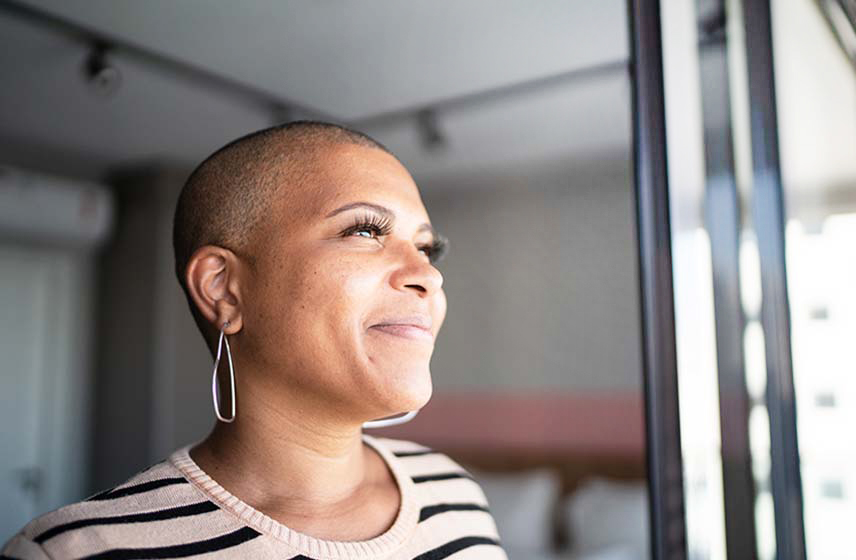 Survivorship
Learning you have cancer can be stressful, shocking and challenging. From the moment you get the news, you're a survivor. As you face the challenges that go along with cancer treatment and recovery — physical and emotional — we'll be right there with you.
At Cleveland Clinic, survivorship care is one part of your journey. We offer a wide range of services, resources, clinics and support groups to help with any physical, emotional, financial and spiritual needs you might have related to your cancer diagnosis. Lending a helping hand along the way, we want you to not only survive, but thrive on this journey and beyond.