Executive Sponsors
Executive Sponsors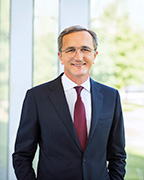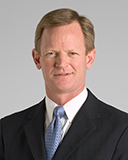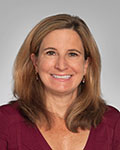 Program Director & Mentors
Program Director & Mentors
Brian Allyn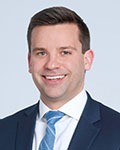 Program Director, Administrative Fellowship Program
Administrator, Department of General Surgery Digestive Disease and Surgery Institute
Brian Allyn is the Program Director for the Administrative Fellowship Program at Cleveland Clinic. Brian is also the Administrator for the Department of General Surgery within in the Digestive Disease and Surgery Institute at Cleveland Clinic. Brian oversees the strategic, financial, and operating performance of the ninety physician department that spans ten Cleveland Clinic hospitals and sixteen outpatient locations. Brian was an Administrative Fellow from 2015-2016.
Brian received his Master of Health Administration from George Washington University in 2016. Prior to receiving his master's degree, Brian graduated from Hobart College with a double major in Economics and Public Policy. Since his time as a fellow, Brian has been integrally involved in the fellowship program and is passionate about developing future leaders at Cleveland Clinic.
Andrea Kanter Jacobs, JD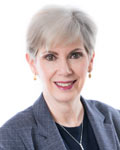 Executive Director, Operations
Andrea Kanter Jacobs, JD, was named the Executive Director of Cleveland Clinic Operations in August 2012. She provides executive leadership for the Operations Division's various departments: Buildings and Properties, Clinical Engineering, Hotels, International Operations, Marketing and Communications, Supply Chain & Patient Support Services, Philanthropy, and Protective Services. She leads initiatives related to strategy, policy, system integration and change for the health system, as well as collaborates with other local anchor institutions to develop inclusive economic development strategies that leverage resources to benefit our local communities. She co-Chairs Cleveland Clinic's United Way Campaign and serves on numerous Steering Committees across the enterprise.
Andi's experience since joining Cleveland Clinic in 2000 covers both clinical and non-clinical administration. She started her career at Cleveland Clinic as the Administrator of the Beachwood Family Health and Surgery Center. She later held several administrative positions of increasing responsibility including executive leadership in the Medicine Institute, Regional Hospital Administration, and as Chief Operating Officer of South Pointe Hospital. Prior to joining Cleveland Clinic, Andi was the VP of Administration and Planning for Montefiore, a not-for-profit health-care organization for seniors, and before that, practiced municipal law for 10 years. She currently serves on the boards of trustees of Evergreen Cooperatives (Vice Chair) and Jewish Community Housing. She is Past-President of the Board of Milestones Autism Resources.
Andi graduated summa cum laude from Tufts University with a bachelor of arts in economics. She has a Juris Doctor degree from Boston University School of Law.
Kris Bennett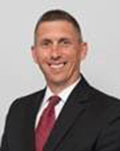 Executive Director, Regional Hospitals
Kris Bennett is Executive Director of Regional Hospitals. He has over 20 years of healthcare experience and is a leader in business development, operations, caregiver engagement and driving patient experience and quality outcomes.
He joined the Cleveland Clinic in 2010 as COO at Lutheran Hospital and was selected to be Hillcrest Hospital's COO in 2015. During his tenure at the Cleveland Clinic he has demonstrated leadership that has led to significant improvements in quality outcomes, caregiver engagement, financial outcomes, and growth.
Prior to joining Cleveland Clinic in 2010, Kris worked as a director in finance and operations for University Hospitals Health System.
Kris graduated from Marietta College in 1992 with a Bachelors in Accounting and in 2005 he graduated from Baldwin Wallace with a Masters in Business Administration.
Chad V. Minor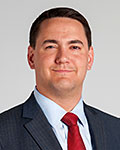 System Executive, Director of Nursing Operations
Chad V. Minor serves as the System Executive Director of Nursing Operations for the Stanley Shalom Zielony Institute for Nursing Excellence at Cleveland Clinic.
Mr. Minor is responsible for providing executive leadership for the Nursing Institute operations, business activities, financial performance, strategic planning, health system integration, and administrative activities throughout the Cleveland Clinic Health System. He oversees the operations of nearly 24,000 employees spanning multiple geographic regions throughout the country.
Through his leadership, the Nursing Institute has transformed to a fully integrated operating model with an annual operating budget of $785M and capital budget of $12M throughout the health system. In addition, Mr. Minor has established industry leading nursing benchmarks in both financial and operational performance which focus on "what matters most" and are utilized by all hospital Chief Nursing Officers to drive performance through leader standard work. Mr. Minor has also led numerous strategies focused around labor cost management, labor productivity, workforce planning, predictive analytics, system integration, and hospital activation. Mr. Minor serves on many health system committees and as executive sponsor for several nursing led initiatives.
Prior to his current role, Mr. Minor served as Institute Administrator, Finance Director, and Assistant Finance Director for the Nursing Institute. Additionally, he served as Senior Project Manager within Corporate Finance at Cleveland Clinic. Prior to Cleveland Clinic, he held positions at KPMG LLP where he provided risk advisory services to more than 25 domestic and international clients in healthcare and various other industries.
Mr. Minor is actively involved in community efforts and has served on charitable boards throughout his career. He is keenly focused on advancing education for our youth and improving the health of our communities. He presently serves on the Finance Committee of St. Edward High School, Executive Leadership Team of American Heart Association, and the Community Advisory Board of Cleveland Clinic Avon Hospital.
Mr. Minor received a Master in Business Administration from the Weatherhead School of Management at Case Western Reserve University. A Bachelor of Science in Business Administration with a triple major in Accounting, Information Systems Auditing & Control, and Management Information Systems from Bowling Green State University. In addition, Mr. Minor values executive education and has attended a program through The Wharton School at the University of Pennsylvania.
Mr. Minor resides in Avon Lake, Ohio with his wife and two children.