The Role of Virtual Reality in Medical Education
August 4, 2023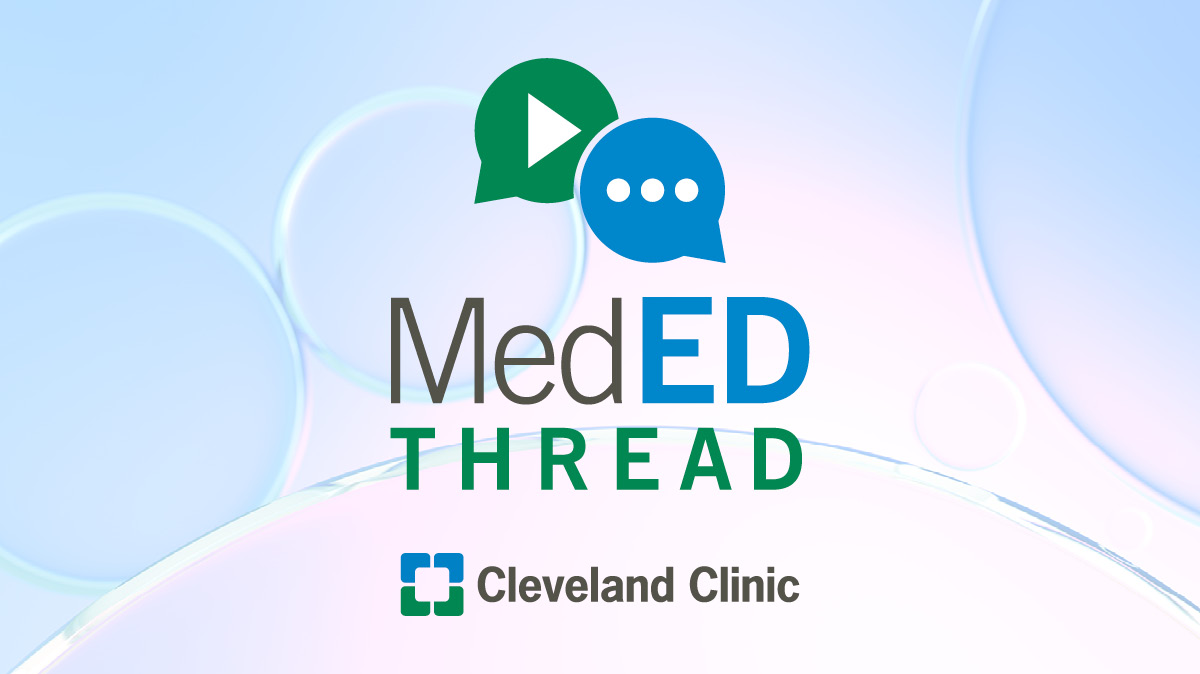 In this captivating episode, we delve into the world of medical education alongside esteemed guests Nichole Brown, MSN, RN, CHSE-A, ABD, PhD, Simulation Education Specialist and Jessica Rinard, Simulation Operations Specialist, within the Simulation and Advanced Skills Center. Join us as they unveil the pivotal role that virtual reality plays in shaping the future of medical education.
Subscribe: Apple Podcasts | Google Podcasts | SoundCloud | Spotify
The Role of Virtual Reality in Medical Education
Podcast Transcript
Dr. James K. Stoller:
Hello, and welcome MedEd Thread, a Cleveland Clinic Institute podcast that explores the latest innovations in medical education and amplifies the tremendous work of our educators across the enterprise.
Dr. Tony Tizzano:
Hi, welcome to today's episode of MedEd Thread. Today, we will explore virtual reality in medical education. I am your host, Dr. Tony Tizzano, director of student health of Cleveland Clinic. And with me today are Nichole Brown, simulation education specialist within the Simulation and Advanced Skill Center, and Jessica Rinard, simulation operation specialist within the Simulation and Advanced Skill Center. So please, if you could tell us a little bit about yourselves and what brought you to Cleveland Clinic, and what your role is here. And, and Jessica, if you'd get us started.
Jessica Rinard:
Yeah. So, my name is Jessica. I am a simulation operation specialist. I have been at the clinic since probably the end of 2020, so about two and a half years at this point. I started as a simulation technician, and then worked my way up to be more on the operations side. So essentially what that means is I kind of more of the behind-the-scenes person operating the mannequins while we are doing scenarios. But before that, I actually was trained in occupational therapy assistant, so I did work in assisted living and skill nursing facilities before moving here. How I kind of ended up doing this was when I saw a job post. I was like, "Hm, that sounds interesting. I think I'm just gonna apply and just see what happens." And two and a half years later, here I am.
Dr. Tony Tizzano:
Yeah. I can't imagine not seeing it and not being intrigued because it sounds so fascinating. And I'll bet you your real-world experience doing the things you did helps you, as well.
Jessica Rinard:
Absolutely.
Dr. Tony Tizzano:
Nichole, what about you?
Nichole Brown:
Yeah. So, I am Nichole. I'm one of our simulation education specialists. My background was, I was a nurse in the emergency room and coronary care when I first started, and I really was fascinated with education. I found a role at the Cleveland Clinic in nursing education 12 years ago. And about a year after starting, I was asked to learn how to operate simulation equipment. I was, "Okay. Never had done it before, but let's give this a go." And since that time, I have been working in simulation. Formally have been in this particular role for the last seven years, and it's been really exciting to see it move from mannequins, and task training, and standardized patient to really now incorporating virtual reality, this new and up-and-coming type of modality for simulation.
Dr. Tony Tizzano:
Well, great. I can see that it clearly has been evolving. So, what is the role today part and parcel of what we do in, in terms of learning, Nichole?
Nichole Brown:
So virtual reality is another type of modality in simulation. So, it all is going to start with what are your objectives, what are you trying to achieve, what are you trying to accomplish, and even including some of the feasibility things, where are your learners, what time of day, what are some of those things. And so virtual reality is a great tool to train people at the same time, but potentially in different locations, and fully immerse them in a scenario where they can work on assessments and decision making, and, teamwork, communication. The type of virtual reality that Jessica and I work with really is more focused on scenario based So while there are other virtual reality task trainers, that's not really what we're gonna be, you know, sharing in this podcast. So, because of that, VR, virtual reality, is not great for skills training. So that is kind of, to answer your question, it all depends on what it is that you're looking for.
Dr. Tony Tizzano:
So, it really is very specific. I like the idea that you bring in the idea of communication and teamwork. You know, the, the Cleveland Clinic's mantra is predicated on, you know, acting as a unit. And when I look at all my other experiences in healthcare over the course of a 30-plus-year career now, I always use sort of as my measuring stick do we function as a team? And it's one of the great things. The way we're designed is to be able to simply reach out, ask for help whenever you need it, and it's never a sign of weakness. So, you use a lot of terms that may not be familiar to everyone I know when I was kind of learning about this. So, Jessica, if you could kind of differentiate between simulation, virtual reality, and augmented reality.
Jessica Rinard:
Yeah. So, simulation, what we are trying to do is recreate situations in a more controlled environment. So, it can be really anything from doing an assessment and we are controlling, like, if we're doing mannequin-based training for example, we control what the learner is hearing, feeling, what responses the patient is giving them. Virtual reality is a lot of that, as well, but also, its computer based. So, it is a computer-generated environment. So, you are in an environment that is not physically there, but to your vision and what you can interact with, you feel like you are there. Augmented reality is more of a mix between the physical environment and the virtual environment. So, I would say, like, a classic example that maybe everyone is familiar with is Pokémon Go since that was a phone app that where you could see a Pokémon on your phone, but you also see the physical environment you are standing in. That's kind of like a version of augmented reality.
But more in medical simulation training, we do have a mannequin that is a birthing mannequin that you can both use the mannequin for the physical aspects as well as put on goggles and kind of see maybe the positioning of the fetus as the baby is being delivered, or whatever other medical situation might be going on. So, it kind of gives a more in-depth view of what is going on internally into your patient.
Dr. Tony Tizzano:
Interesting. So, I think of the generation of trainees now, certainly after me, having grown up with gaming, has that helped in terms of the way they embrace this sort of learning?
Nichole Brown:
My gaming experience was Mario Bros and Duck Hunt and a Nintendo Track and Field, so to me, no, but I think I'm probably more in that pre-gaming experience group. Jessica, what about you?
Jessica Rinard:
Yeah, I've grown up with gaming, so for me, it was definitely more of a natural transition to working with virtual reality equipment and controllers and how the software side of it works, because I've done it in my free time plenty of times, not the VR aspect of it, but just, like, using controllers to play different various things on different consoles.
Dr. Tony Tizzano:
Sure.
Nichole Brown:
Actually, one of the things that you have said about one of our hand controls for the equipment that we use, there's a joycon. And it's, like, a little circle on a peg, and it moves all around. And she will often give directions to learners, "Oh, use the joycon." I said, "What is that? I don't even know what that is." So having some of just that knowledge and experience is very helpful.
Dr. Tony Tizzano:
Closest to where I come is heavy, heavy equipment where we used to have foot pedals and hand controls. Now, we have a joystick, and the joystick does everything. You got a couple finger buttons. And once you get used to that, it's hard to go back. I have to think of my son. I took him to a meeting in Florida when he was nine, and the people in the equipment area were setting up to demonstrate the robot, which we of course are second nature to us now. And my son is, like, tugging at my sleeve saying, "Dad, do you think I'll be able to try? Will I be able to try?" And I'm there, before I could answer, the guy setting it up said, "You'll be the first to try." So, when they began the demonstration, they had him kneeling on boxes, because he couldn't reach the floor. And they had him with his head into the robot, and he had his fingers positioned. And as soon as he understood how to manipulate those tools, he was rowing stitches, moving rings through rings, and of course, everyone clapped when he was done. They said, "Okay, you've seen how the nine-year-old does it. Who wants to come up and try now?"
You know, he had no p- preconceived notion, he had no fear. So, along those lines, Nichole, you know, what kind of time does it take to get comfortable for someone like me who would come in and I've got to go through a scenario with something to try to get better at doing something or, or introduce a new topic?
Nichole Brown:
Yeah, so when it comes down to it, everyone has a different timeline for how they pick things up. And so, our team is really there to help guide people and be what it is that we need them to be. So, our standard orientation to the equipment involves a headset tutorial to understand how to use the specific equipment including the hand controllers and the, the items that you wear on your head because we're talking about the fully immersive virtual reality programs. Then we also put them in, most often, into a sandbox environment. And it's really as it sounds. It's a sandbox meant to just play around. And you just work through some of those basic things. And Jessica is frequently there to guide the learners to try these different things and help them through it.
But even though we allow a lot of experience, there's some scenarios that involve skills that are not covered. And so, where if you were to be doing simulation with mannequins where we're using the real equipment, we would expect people to know how to use scissors, and that's just expected. But in virtual reality, it's a little less about knowing how to do the skill and knowing that the skill is needed, because those are very different places. So, we decided that it's fine for us to tell people how to use the scissors, so they are able to perform the task, but it's, again, making sure that they know that scissors are even needed in the first place.
Dr. Tony Tizzano:
Got you. Very good. Jessica, I'm just listening to all this, and it strikes me that you can provide a very dynamic and versatile patient model and perhaps even bring things to bear that you wouldn't find in your average person. You know, how do you set this all up, and, and do you see that? Is that a true statement?
Jessica Rinard:
Yeah. I think virtual reality has the potential to truly incorporate populations that we cannot easily replicate either with standardized patients or with mannequins. So, for example, pediatrics, that is a hard thing to recreate. We do have pediatric mannequins, and some of them are very impressive at what they can do, but it's still not quite the same as having an actual pediatric patient in front of you. Standardized patient-wise, it's hard to find an adult to play the role of a child, because either they maybe look a little too old, or if you're really truly trying to, you know, have, like, a, an infant or a five-year-old, you're gonna be, you can't really do that with a standardized patient because you can't train a five-year-old to how to behave the same way over and over again consistently. So that is one area where virtual reality does show potential because you can have a patient program that is a, either like an infant or a child, and have them perform those same actions over and over again for different populations, and it's more immersive and more, I wouldn't necessarily say realistic, because the mannequins we have, too, can be realistic as well, but it just kind of puts you into that environment where you, you know, you believe it more that you are working with an actual child rather than a machine essentially.
Dr. Tony Tizzano:
Excellent. How about within the spectrum of neurodiversity where might you want to be looking at autism or an individual with down syndrome?
Jessica Rinard:
Yeah, absolutely. We definitely have the potential to kind of create more of those patient populations that are hard to recreate. I know with autism; we've had standardized patients play autism patients. But once again, it was more of an adult playing the role of a, you know, older t- teenager to fill that role. But with virtual reality, we can definitely, you know, change the age range of what we are able to accomplish those more neuro-divergent patients and maybe portray them a little bit younger than what we would actually be able to in real life.
Dr. Tony Tizzano:
So, Nichole, when you're interfacing with this virtual reality patient, are there some real-time changes that you can evoke during the course of the exercise so that it's kind of a dynamic experience?
Nichole Brown:
Absolutely. The scenarios are written very much like Nancy Drew, choose your own ending. And so, it depends on how and what a learner does in a scenario is how that virtual patient's going to respond whether it's verbal communication or vital sign changes, rhythm changes, all of those sorts of things. So, it is a very immersive experience.
Dr. Tony Tizzano:
Yeah. I guess it's at the very cutting edge of experiential learning when you look at simulation, virtual and augmented reality.
Nichole Brown:
Some of the feedback that we've received from people that have done both is while virtual reality may seem a little scary, and to the listeners, it may sound like virtual reality, they're never gonna be able to buy into it. It's a computer, it's not a real person, or they're not able to actually touch it like a mannequin. But the people that have been through it have found it is far more immersive than mannequin or even, you know, sometimes standardized patients. And it takes away some of the fears that someone might have of being watched. So, they become very anonymous. In the platform that we use, the characters are the, the learners are represented by, like, a bubble head and hands of different colors. So, it's not Suzie the nurse, and Tom the doctor, and Joe the respiratory therapist, and another name pharmacist, and they're gonna know me and know who I am and know how I practice. It's red, green, blue, and they're working together to be able to provide care.
Dr. Tony Tizzano:
And, and so we're learning perhaps then in a safer environment, as well, since we're not doing this with patients. Can we see them transpose the experience gained virtually to real life situations on patients? Do we see better performance?
Nichole Brown:
So virtual reality is one of the newest types of simulation to hit the healthcare education world. So, there's limited studies. There are limited best practices for this modality. We're functioning using best practices from simulation as a whole. But the literature that has come out has shown that virtual reality is equal to, if not superior to mannequin-based simulations. I mentioned earlier that we do have virtual reality for task training, but then also team. Task training, they, they have an improvement there. There's also an improvement in communications. So, there's, again, little pockets, but there's still a big call for research to really have some robust evidence for that.
Dr. Tony Tizzano:
So, work has yet to be done.
Nichole Brown:
Absolutely.
Dr. Tony Tizzano:
It, and I guess connected with all that and using these modalities, I came across the term cyber sickness. How often do you see that? Could you, could you frame that for a, a bit for us and, and do you see it?
Jessica Rinard:
We do see it, but not often. So cyber sickness is when you put on a headset, some people can feel disoriented, which can cause nausea. They can feel just not connected to the environment around them. They just can't really tolerate the headsets well. We've had a couple people that have come through and experienced that. And, you know, we always, you know, tell people before they even put them on, like, "Feel free to take these off at any time. We're, you're not required to be in this. We don't expect you to be. We don't want you to feel uncomfortable." So, we do try to take precautions and, you know, warn them ahead of time about this, if this happens, you know, just let us know. So, yeah, it does happen.
Dr. Tony Tizzano:
So, it's not like Kramer, though, on, on Seinfeld as he puts it on and flips over the couch.
Nichole Brown:
No.
Dr. Tony Tizzano:
Okay.
Jessica Rinard:
No.
Dr. Tony Tizzano:
Not quite so bad.
Nichole Brown:
No.
Jessica Rinard:
No.
Dr. Tony Tizzano:
They, they accentuated that a bit.
Nichole Brown:
From personal experience, I don't do well with frequent motion. I can't really tolerate roller coasters, turning my head really quickly. I get really dizzy. I tried a gaming version of virtual reality about a year or so ago, and I was immediately nauseous and said I would never wear one of these again. And here I am now working as a key person on our virtual reality program and have been in the headset multiple times, and I'm not ill. So, some of it is the equipment that we use for virtual reality. We have some very advanced types of equipment that are not incredible heavy on your head, so you don't get a lot of strain on your neck. It has six degrees of freedom. So, you are able to not only turn your head around but also your full body. So, they tend to be a little less in that cyber sickness world than maybe some cheaper versions.
Jessica Rinard:
Once people start moving around in the virtual environment, they tend to start to feel better. We find the most cyber sickness that people get is when we first initially get them into the virtual environment. It can be a little bit jarring, because you're not, you've never been in this environment before. You know, where you are standing maybe doesn't look exactly like where you're currently at, but in our scenarios, because you are moving around, you are interacting with your environment, you interact with one another, you can turn your head and see, and the headset follows. So, if you bend down to go pick up something, your vision also follows you. So, we find at least with our scenarios the software that the company we use has developed does help with the cyber sickness that people could experience. So, it probably would just really be dependent, like Nichole mentioned, on the hardware that you're using, so the headset, and also the software and what the capabilities of the software are, as well.
Dr. Tony Tizzano:
Thanks, Jessica. Uh, so along those lines, tell us a little bit about this idea of haptic feedback.
Jessica Rinard:
Yes. So haptic feedback, to explain it, is just when you are interacting with a screen as the tactile feedback you get back. For example, I think most people are, use cell phones that have touch screens where you can turn off the vibrations as you are texting. That is haptic feedback. So, in our virtual environment, the controllers that our learners are using will provide vibrations if there is something in the virtual environment that would call for it. So, for example, with our patients, they have pulses. They have carotid, radial, femoral, pedal, bilaterally. So, you can walk up to your patient and go feel for pulses. If you feel for pulses, perfect. Maybe their pulse is going a little fast, maybe it's a little slow, maybe we need to check that out. Maybe their pulses are completely absent. Maybe there's probably something else going on that we need to look more into. So, the technology that we have currently, although it might be a little bit limited with the haptic feedback, does provide some more, like information that you would experience in real life. And our learners are very surprised when we tell them to go over to their patient and just kind of put your virtual hand over that area and see what happens. They're like, "Oh, my gosh. I can feel their pulse."
So, yeah. And I'm sure as the years go on and technology gets more advanced, they will continue to work on that just to make being in the virtual environment so similar to being in the physical environment.
Dr. Tony Tizzano:
Fabulous. So, you're really giving us a good idea of this transition from virtual to live patient. Are there areas, Nichole, where it's not a good fit, where we should probably not be using virtual training?
Nichole Brown:
The answer's always yes. There are reasons that we should not be using different types of simulation every day. But it's usually because there's a better way to do it. And virtual reality is just another methodology for how we can achieve objectives. It's great if you want to work on, like I mentioned, decision making, communication, teamwork in some smaller groups and you have the space to do it. But that's not always the case. There are times that we have learner groups that are 13 people, and they have 30 minutes to rotate through because that's what the agenda and curriculum allow. Well, it takes a good amount of time to just get people familiar with headsets, and there's no way you're putting 13 people in a headset and let them move all around. So that's one of the reasons that virtual reality may not be appropriate.
Other things, depending on what your objectives are, maybe you're wanting to teach skills. Well, the type of virtual reality that we're working with, that's not gonna be a good fit, but that doesn't mean you can't combine different things and use virtual reality to assess the patient and communicate as a team, collect information, scene safety and all those sorts of things, and then turn your attention to a mannequin or a task trainer to do the interventions to make sure that there's that comprehensive understanding of assessment and action.
Dr. Tony Tizzano:
Okay. So, turning away from the procedural side of things and looking at something, for example, teaching anatomy where there's an enormous amount of information to be conveyed. And I know that case and so forth and the clinic has worked with HoloLens and the virtual cadaver, and which is probably the only thing I've ever gotten to look at but really didn't learn from. I just got introduced to it.
Nichole Brown:
Right.
Dr. Tony Tizzano:
How has that panned out?
Nichole Brown:
Yeah. So, it might be helpful to understand our journey to get to where we are in virtual reality. And just a high-level overview is we started by serving the people that use simulation. Want needs to they have? What are their most likely simulated events? Are they going to create something or enhance something that they already have? And when it came down to it, very few people that we surveyed, and our multidisciplinary approach needed anatomy because most of what we do in the Simulation and Advanced Skill Center is work with those clinicians that are already licensed in some way. And so, we didn't really have a need for anatomy. We didn't really have a need for procedures. It was really more on teamwork and team training. So that led us to looking at software companies that gave that type of information and those types of programs. And then we researched the different companies and looked at the different equipment and ultimately settled on where we are now.
So, yes, there are companies that are fabulous for anatomy. There are companies that are fabulous for just communication, and its only communication scenarios, and you're sitting across from a patient and talking. There are things that are fantastic for OR procedures and skills within the OR, but they were a little too limited for what the needs were of the Cleveland Clinic at the time.
Dr. Tony Tizzano:
Okay. Excellent. So, we will talk about all this equipment. Jessica, what's it cost if you're gonna get off the ground, what's the startup?
Jessica Rinard:
So, the startup would probably be several thousand dollars at minimum, because you have to think of the software. So, what software you're going with, whatever they charge for their programming. You need your hardware, so that'd be the headsets, which, I mean, on average probably run between $400 to 1500 dollars general range. You also need staff who know how to use the equipment. So, you need to pay their salaries. You also need to know the people who are educated about whatever the software provides. So, they need to be educated in whatever scenario you need to be using. If it's, like, more of a procedural type of scenario, you need to have people who are educated on how to educate with that software. So, I would say it's definitely several thousand. Now, it depends on how big your organization is and, you know, what your overall goals are as to how much you are going to be investing in it, but I would say it's not a cheap investment. But a lot with healthcare simulation, a lot of our equipment is not cheap. It is several thousands of dollars for task trainers, mannequins, even the medical equipment that goes with it. So.
Dr. Tony Tizzano:
So out the gate, who provides that? Does the industry where you're buying this equipment provide tutorials to get you rolling, or, or is it more homegrown?
Nichole Brown:
Yeah, there's some. Some places do have some level of training, but virtual reality is so new in this space that that's the part that is lagging behind more. There's not a standard of best practice for virtual reality simulation. There is not a standard training program for this is how you train for virtual reality. You always do this, and you will get this outcome. So much of this is homegrown, and we started by finding companies and things like that. But then we also set out defining what does virtual reality looks like at the Cleveland Clinic. And the virtual reality team wrote a playbook on what it looks like following standards of best practice using our own experience and our own knowledge, and then any research that we could find, any evidence that could help inform how long should someone be in a headset. Nobody really knows the right answer. Generally speaking, is it, Jessica, about 40 minutes?
Jessica Rinard:
About 45 minutes, yeah.
Dr. Tony Tizzano:
Okay.
Nichole Brown:
Before they might have some cyber sickness. However, we've had some people that have been in for well over an hour, and they're like, "No, keep me in, coach. I don't want to leave." So again, there's really no standard. Then how do you facilitate? How do you debrief? How do you train facilitators to facilitate and debrief? There's just a lot of unknowns that we've been really working through and are excited to be, like, cutting edge on this.
Dr. Tony Tizzano:
Boy, it sounds that way. No two ways about it. I listen to this, and when we talked about simulation previously, there's no question that we're at the front of this, and it's kind of a brave new world.
Nichole Brown:
Absolutely.
Dr. Tony Tizzano:
You know, where are we, how are we gonna use it, when it is important? So, look at COVID. Did COVID throw gas on the fire for you in terms of interest and people coming to you saying, "We need this, we need that"?
Nichole Brown:
Absolutely. We as an organization, we're talking about virtual reality, but more on a we should do this, let's have some companies come in, and let's see, but we really never were ready to pull that trigger. Now, there may be situations that I don't know about, and because I am not in a leadership role, but there was definitely some interest without a lot of drive to get it done. And then when COVID happened, it became very important for us to figure out how we can train. But now that COVID has really been better managed, we are seeing a massive uptick in the need for continuing systemness and education through the Cleveland Clinic as we have expanded. So, we are trying to make sure that we have good, standardized practices and care and understanding of how the Cleveland Clinic way is whether you're in Cleveland, Florida, Abu Dhabi, London. And so, on our list of to-dos for this year is to introduce those areas to virtual reality. And we're going to be sending headsets to those different education groups and introduce VR to them with the hope that we can actually run scenarios at the same time with learners in the same scenarios. So, someone in Abu Dhabi probably, you know, around nighttime for us in the morning, and then in London because we have to figure out the time zone, we can't overcome all the things, but in all the different. We'll be fine. So overcome those things, but it's doable. But we can be in all those different places and train simultaneously and train together. And that's really going to just really establish Cleveland Clinic in our practices and how we can be one despite being in multiple locations.
Dr. Tony Tizzano:
Yeah. I think there's little question that the Cleveland Clinic is the definition of systemness.
Nichole Brown:
Yes.
Dr. Tony Tizzano:
And, what we do at one place, we do at another. And, I mean, you can think about that in the restaurant world where you go to one. You want to have the same experience. So, I guess we could use the example of Wolfgang Puck at the airport.
Nichole Brown:
Yeah.
Dr. Tony Tizzano:
When you get a gourmet sandwich, you expect it to be like it would at his LA restaurant. And it comes close as you could to that. Not to bring us to the level of a restaurant, but the same principles apply. We shouldn't ignore them. So, this has been outstanding. So, I, I'm sure I've missed areas for either one of you, Jessica or Nichole, are there things that you see on the horizon or final thoughts that you'd like to share with our audience?
Nichole Brown:
Well, one of the things that I wanted to bring up that I haven't really heard us talk about is just, we've talked about patients and how we can simulate different types of patients and styles, but we also can simulate different environments. So there really is the ability to go from an ambulance scenario to an in-patient scenario of any different type of unit. There is a scenario that many of our teams have been very interested in that takes place at the foot of a cliff surrounded by mature trees. And so, it allows us to push a button and immediately be in a different location. But the programs and the software that we have do not necessarily have all the things that we need. And so, we are actively looking at developing our own cases, and we're looking to develop one on stroke because that is such a big need and there's so much training to be done around it. And so, we're working with a company and hoping to partner with several other very large national organizations to be able to, to, to write and define these cases to kind of put that forward as those best practices.
Dr. Tony Tizzano:
Excellent. Jessica, what about you? Something to add at the very end here?
Jessica Rinard:
Even just, like, hearing from the learners' responses, they are just I think immersed and they are excited about this new technology. We have had several comments saying how this would be a good addition to the training that they currently get, and it would be just another good way for them to kind of get that knowledge just seeped deeply into their brains, and, like, "Hey, you know, I experienced this scenario in virtual reality. We did this, this, and this, and this helped the patient. And, you know, we did this with mannequin-based training. I remember how to do this." Like, it's all come together. So, some people might take from one aspect of simulation, and other people might pull from another, but when we bring it together, it just kind of helps them overall just kind of get those skills and communication that they need in order to be effective caregivers.
Dr. Tony Tizzano:
Excellent. Well, I would challenge you both with just one comment made. You said that you're not in leadership. I think both of you are in leadership. I think that what you do and what you bring to the table is new to many of us and kind of telling the story and listening to stuff like this sparks interest, enthusiasm in areas that we may not know, and that you're already sourced to lead us in, in a direction that we are also interested in doing. Well, thank you both so much, Nichole and Jessica. This has been a great podcast. And to our listeners, thank you for joining us, and we'll see you on our next podcast. And have a wonderful day.
Dr. James K. Stoller:
This concludes this episode of MedEd Thread, a Cleveland Clinic education institute podcast. Be sure to subscribe to hear new episodes via iTunes, Google Play, SoundCloud, Stitcher, Spotify, or wherever you get your podcasts. Until next time, thanks for listening to MedEd Thread, and please join us again soon.
MedEd Thread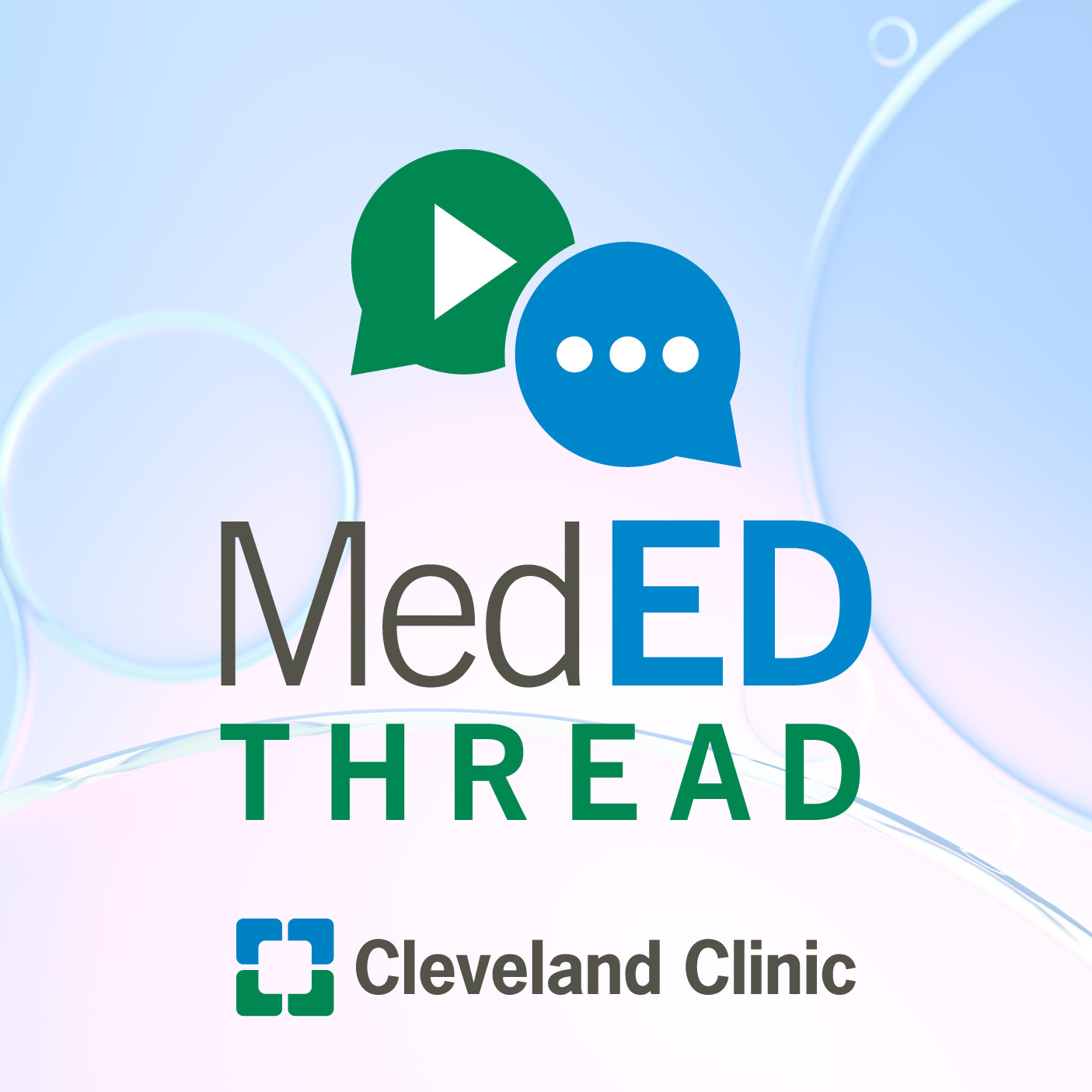 MedEd Thread explores the latest innovations in medical education and amplifies the tremendous work of our educators across the Cleveland Clinic enterprise.
Subscribe: