The Role of Simulation in Medical Education
July 19, 2023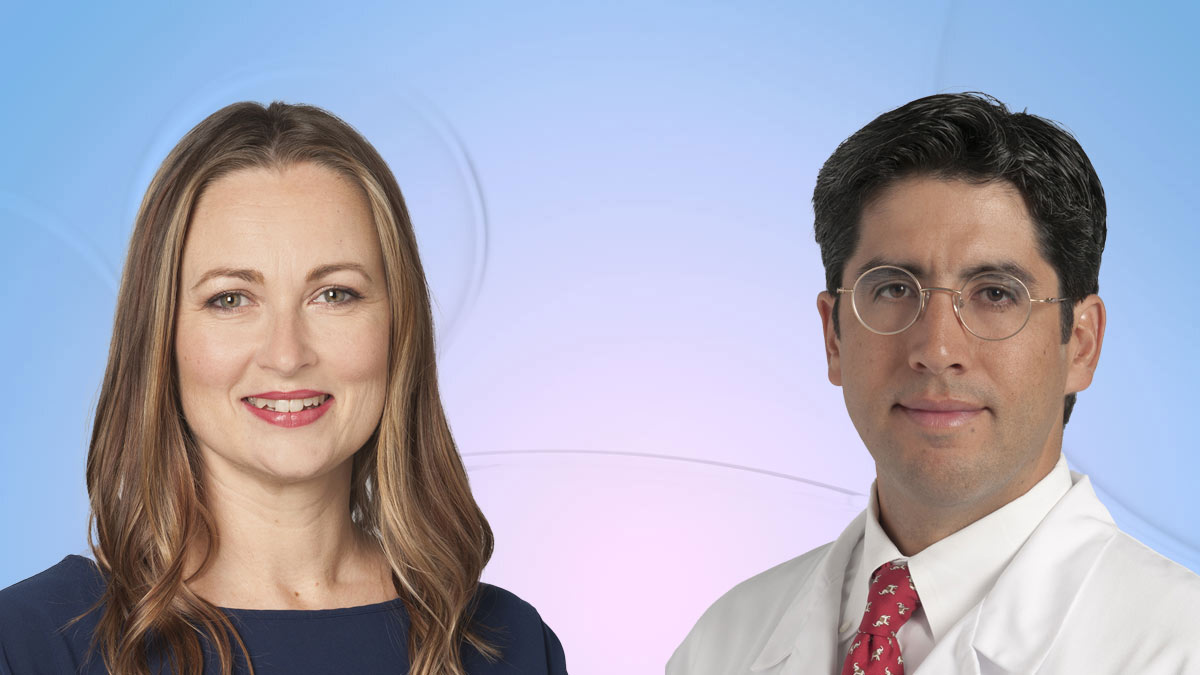 In this captivating episode, we delve into the world of medical education alongside esteemed guests Eduardo Mireles, MD, Director of the Medical Intensive Care Unit and Medical Director of the Simulation and Advanced Skills Center, and Nichole Brown, MSN, RN, CHSE-A, ABD, PhD, Simulation Education Specialist within the Simulation and Advanced Skills Center. Join us as they unveil the pivotal role that simulation plays in shaping the future of medical education.
Subscribe: Apple Podcasts | Google Podcasts | SoundCloud | Spotify
The Role of Simulation in Medical Education
Podcast Transcript
Dr. James K. Stoller:
Hello, and welcome to MedEd Thread, a Cleveland Clinic Education Institute podcast that explores the latest innovations in medical education and amplifies the tremendous work of our educators across the enterprise.
Dr. Tony Tizzano:
Hi. Welcome to today's episode of MedEd Thread. I'm your host, Dr. Tony Tizzano, Director of Student and Learner Health at the Cleveland Clinic. Here to join me today is Dr. Eduardo Mireles, Director of Medical Intensive Care Unit and Medical Director of the Simulation and Advanced Skills Center, and Nichole Brown, Simulation Educational Specialist within the Simulation and Advanced Skills Center. Dr. Mireles and Dr. Brown, welcome to the podcast. If we could get started by just giving us a sense of who you are, what brought you to Cleveland and what you do here?
Dr. Nichole Brown:
Hi. So yeah, I'm Nichole Brown. I am one of the simulation education specialists here at the Cleveland Clinic and I've been in, an employee at the clinic for the last 13 years, but have been working specifically for the Simulation and Advanced Skills Center for the last, I think it's seven years, and yeah, I grew up in the Cleveland area, so I've kind of just been here and always have heard of the clinic and wanted to work here.
Dr. Tony Tizzano:
Excellent. And before the Simulation Center?
Dr. Nichole Brown:
So, before the Simulation Center, I worked for Nursing Education, covering the Western region.
Dr. Tony Tizzano:
Oh, great. So, you've got some kind of boots-on-the-ground experience and perspective. And Eduardo, how about you?
Dr. Eduardo Mireles:
Tony, thank you very much for having us on this podcast today. My story starts in Mexico and finishes here in Cleveland at this time, gone through several layers of training for pulmonary critical care. And through that process, I came through simulation. It happened by just somebody asking me to help them with simulation, and once that I start getting in, involved in that, I said, "This is it. This is the way to help educate and improve the care of our patients." So that's the pathway. This happened when I was at the University of Arkansas, after I finished fellowship. My family and I went to Arkansas and the medical school had just started getting into simulation and they asked me to help them design a scenario, and that's where it all started.
Dr. Tony Tizzano:
Excellent. Ah, well, thank you very much. So, Eduardo, if you could help frame the topic of simulation in medical education, you know, when it began and kind of where we are now?
Dr. Eduardo Mireles:
Well, it started almost a century ago, but it, it was never a routine thing or a part of the curriculum. It has been done by centers to improve training in processes or in procedures. But it had not become part of medical education per se until the last decades, in which it started taking off first in certain centers. Some groups in the medical profession took it earlier than others. At, here at the clinic, the nursing group was the first one to, to take it and embrace it and start building upon it.
And that's actually a manifestation of our career at the beginning. I didn't have any medical simulation and it wasn't until I finished, uh, fellowship that I started getting involved into it, but right now, I think that the evolution has been that it had become an essential part not only of training, but also of process improvement, quality at the hospitals. It's hard for me to imagine developing processes or new areas for patient care without going through some sort of simulation. Training individuals into how do, to do a new procedure, it's now very hard to think about doing it first on a patient or a volunteer. You need to start with something that you cannot harm and that you can do through the process on your own page.
So, it has become essential, and I see it now as any hospital system that is thinking about it should be already on it, should be working and, uh, embracing and investing in it.
Dr. Tony Tizzano:
So definitely sounds like the way with the future and a way to keep patients safe during our training. So, Nichole, you know, how does simulation differ from virtual reality and augmented reality?
Dr. Nichole Brown:
So, I think that's a good, really great question is to first understand what simulation is and maybe what it isn't. And, so, as Dr. Mireles mentioned, in his training, he didn't have it. Eh, like him, he was initially starting, I would say, the same thing. I've been a nurse for 22 years, and when I was in nursing school, we gave each other IM injections. We had to wear shorts and T-shirts and lay in beds to work on bed changes. I never had the opportunity to work with mannequins or virtual reality or augmented reality, but technically I was still simulating an experience.
So, simulation really is defined as a modality or a, a method to teach, and it's rooted in experiential learning. So, it's not didactic. It's not meant to just give you information. It's meant for learners to experience it. So, when we talk about virtual reality, it's being able to experience something in an immersive, computer-generated world. That may be on a computer, but it also may be wearing a headset. Augmented reality blends the real world with that computerized world.
And in the Simulation and Advanced Skills Center, we just got some new pieces of equipment to help people work on an OB patient. So they can be caring for a mannequin that appears to be pregnant, but put on special glasses and observe the fetus above the abdomen so they can see how the fetus is laying, if maybe a cord is wrapped around its neck, and be able to put that image together with what they're seeing clinically through vital signs and the patient presentation, and it really creates a, also a very immersive experience, just in a different way.
Dr. Tony Tizzano:
So, it sounds like there's a lot of overlapping layers.
Dr. Nichole Brown:
Yeah.
Dr. Tony Tizzano:
You know, when you mentioned the OB mannequin, I think back to the 18th century, and they actually had obstetrical mannequins then because the forceps were evolving.
You know, it came into real prominence in about the middle of the 18th century, and it was very important that you applied the forceps correctly. So, the instructor would have a mock-up of a fetal head that showed the anterior and the posterior fontanelle. The person learning would be blindfolded. There'd be a pelvis with an opening, and they'd have to palpate the direction that the fetal head was assumed to be in and apply the forceps while the instructor would vary the position. So, it has been with us for a while and, you know, here we, I've kind of come full circle. Eduardo, when you think of the range of complexity of simulation, from the more basic to the most complex, it gives us kind of a picture of what that looks like.
Dr. Eduardo Mireles:
Absolutely. So, there are so many modalities, but I'll, I'll go from the, the most basic that you would think when organizing something. It would be, for example, a task trainer. Just a simple arm that has the ability for you to place an IV or an arterial catheter or do a lumbar puncture. So, there's mannequins that there's no interactions, it's just a physical object, just like what you described for the forceps, that allows you to do the psychomotor ability and feel it and see how it goes.
As you start moving forward, you start getting larger mannequins, full-size mannequins that, as time has evolved, you can find them from, they don't do anything, it's just a body and you can do p- for example, CPR on that body, to a full robot that can look at you, move the eyes, change the size of the pupils, have heart sounds, lung sounds, bowel sounds, have microphones and respond to, to cues that you're bringing out.
And then, as you move a little bit forward, there are also actually live patients. So, a modality of simulation is the standardized patient, so actors in which we train them to resemble a disease. And so, the learner can come, interact with them, and we can work on communication skills on the ability to do diagnosis, on how well they do physical exam and how thorough or how caring they are as they're going through this process.
And then, you move into getting out of the human environment into computers. And on computers, you can go from simulations that go in a simple program, asking you questions and putting a scenario, to a full virtual reality, as Nichole has described, in which we can completely immerse ourselves into environments and do distance learning. That's a key part of what we're exploring now that we're growing so much is how do we capitalize on the ability of now very good internet service and have people connect and learn without having to get in the car and drive or travel on an airplane and and get the same learning or different experience o- on learning.
So, very wide range. Not all simulations are the same. We use it for different things, for different modalities. Some of them are more effective for communication, some are more effective for procedural skills, and that's how we, that you have a simulation specialist like Nichole that helps the teams design and use the appropriate, uh, tool to be effective use all the time.
Dr. Tony Tizzano:
Excellent. So, in either of these cases, for either of you, are you actually controlling the simulation on the fly, so as a person is making this step or that misstep, that you've altered things?
Dr. Nichole Brown:
Well, people do it, but it's not necessarily a good practice, and the reason being is we want to make sure that what we are allowing learners to experience is what they were intended to et- experience. A great story one of my colleagues has shared, they wrote a scenario to look at how nurses were administering and responding to low blood sugar. Well, the nurses who were in the scenario did great and did all of the steps appropriately.
So, out of fear of wanting to not waste people's time, let's just change this up and make the patient have an allergic reaction to the medicine. And then it led to this whole other care path that the nurses did not actually do very well. So, then as the educator, you're left with, oh, wait, they came here to talk about this, but now I have to deal with that. And so, it becomes just a challenge. So really it, it's always better to have a specific curriculum and a specific plan for what you want to have learners experience, as well as then be able to reproduce it with other groups. The Cleveland Clinic is a vast organization and very few places require isolated training. Where there's a problem in one area, there's most likely a problem in others, and we want our training to be reproducible.
Dr. Tony Tizzano:
Excellent. So, in the case, for example, in obstetrics, is it possible that you might be training on how to do a C-section and there's a malposition, but all of a sudden, you'd thrown in the obstetrical hemorrhage, because that's always a surprise.
Dr. Nichole Brown:
Right.
Dr. Tony Tizzano:
We never expected that.
Dr. Nichole Brown:
Right.
Dr. Tony Tizzano:
You know, we'd like to say we're always prepared for it, but the honest truth is, you know, especially in smaller environments where we don't see a lot of deliveries, you know, it's, it's something you kind of have to go through, is there a mechanism for that as well?
Dr. Nichole Brown:
Absolutely. So, I guess to specify, the instructor may make a plan for things to change. The learners may still be surprised. So it's not about having the learners being able to have all of the expected outcomes ahead of time, but would it make sense for, and this is not my specialty, I was an ER nurse provider, would it make sense to have a hemorrhage in some, eh, in an OB patient that came in with, I don't know, a headache? Maybe it does. I don't know. So, you'd want to make sure that whatever is presented is something that actually would work so it allows the learners to make those connections and have that understanding of the things they need to be mindful of.
Dr. Eduardo Mireles:
And if I go a little bit further on this is actually a big deal in simulation, is you, you want to create scenarios that meet educational objectives very clearly. And so when you meet, you have to limit the amount of educational objectives that you want to achieve during that event, because what you will see is that you could go and teach about everything, from the moment that they walked in, what they did, all the way to how they answered X, Y or Z or how they administer a medication. So, we try to really focus on what you want to achieve. And we do dry runs before we activate the simulation to ensure that the scenario will guide our learners into it, because if they come in and something distracts them and they start going, oh, it's very easy to start thinking for a preeclampsia instead of thinking on hemorrhage, where the, it can take you, because you can simulate a lot, but the, it's not the same experience, so you have to be careful on how you design to achieve those objectives.
Dr. Tony Tizzano:
So, the design is really, is really critical. How do you go about picking and choosing what the next simulation is going to be? Like we need to do this. How do you identify those areas that are in need?
Dr. Nichole Brown:
Well, we are, um, mostly request-driven as a center, and so it is different users of simulation, different educators, different specialties, different practices, different locations request based on needs that they've identified. We also have worked really hard to establish a relationship with Quality Improvement and that whole department to be able to see what the organization needs to work on and, and work through. We have a very wonderful relationship with our CRRC, the Critical Resuscitation Committee at the different organizations for us to be able to look at resuscitation metrics and how can we as a simulation team support the organizations that may not be doing as great as they could be.
Dr. Tony Tizzano:
So, it's kind of measuring, going along and seeing where you have need and then going from there. So, you know, listening to both of you, and Eduardo, you started to mention this, it sounds like there is a piece of system that's in this that we want to do things from one end of the organization to the other, and you know, we're no longer local or regional, we're national and international. So, are there plans to do this in other areas?
Dr. Eduardo Mireles:
Absolutely. Actually, in all the hospitals, there's a degree of simulation occurring at different stages, and part of the work that we have been tasked to do is, and we have been working, actually, this is not a new thing, we have been working for several years on this, is how to connect further, how to start standardizing the processes across each one of our simulation centers.
It's an expensive resource, and the time that they take to train individuals has to be effective. So, creating best practices that we can use anywhere is key. We are certified and accredited by several organizations related to simulation, that gives you key standards that have been proven to yield better outcomes in terms of educational and safe environments for our learners. And I think that as we grow and as have, we placed different simulation centers elsewhere, we have to abide and do everything to do these best practices and standardization.
Dr. Tony Tizzano:
Excellent. So, you, you brought up the idea of cost. You know, for someone who's a boy, this is something we need to do, we have students, but we also want to keep our staff up to speed on new developments. What is the up start? I guess it depends on what you're going to do, but kind of a basic get-started, where does it usually start and what does it cost?
Dr. Eduardo Mireles:
Well, it all depends on what you're trying to achieve. So, the center that we have obviously is a top-of-the-line, start-of-the-art environment where you have multi-modality simulation. We can do essentially everything that we want. And the cost for that to the institution is high, without a doubt what the return on investment in terms of safety and wellness of our caregivers and our patients is very good.
However, I would say that you have to also think that simulation doesn't need the very expensive mannequin. You can do simulations with very basic resources. We actually, with devices that have expired or that your team is not using anymore, and with that, wield task trainers or develop scenarios in which you can actually have the team come together and simulate the scenario. So, there are ways to do this with r- very little budget and achieve still the result. So don't think that you need to have the very expensive equipment. It can be done at a lower budget, which we actually do.
Dr. Nichole Brown:
Yeah, I've actually done simulation for teamwork, playing a game of Sudoku. When people have to get together and they have to communicate, that's the same as when they are getting together to care for a patient, whether they are stable or critical, teamwork behaviors should be the same. But what frequently gets discounted in simulation, not necessarily at the Cleveland Clinic but just a, as a whole, is the importance of having skilled facilitators. The standards of best practice actually state that a simulation facilitator should be skilled and experienced and understand the principles of simulation and what is safe and what is not safe and what creates good learning and not, and how to create simulations that are truly experiential.
And then, without a skilled facilitator, people might just be playing the game of Sudoku, but it's that facilitator that's going to translate what they did in a very trivial game to how this actually applies in real life. So, that also, when you're talking about cost, you need to make sure that the people that are doing it are trained, so to, you know, Dr. Mireles's point, it's far more than the equipment that you use.
Dr. Tony Tizzano:
Got you. It makes a good point. So, how do you get this training? Where do you go? Of course, and on the job.
Dr. Nichole Brown:
So, our Simulation and Advanced Skills Center, we have a training faculty development program. It's our sim educator workshop. Myself and the other SCSs, Michelle Feliciano coordinates it, Maureen Washock, and then we have some adjunct facility as well from different disciplines, we have created the sim educator workshop, where it's an online version of about six hours of work and then two days in person, and we cover the basics of how to do a simulation, how to facilitate, how to debrief, and working through some of those situations.
We also have an advanced debriefer course that works on more challenges and difficult learners and some other scenarios, and understanding how a facilitator and their potential biases impact how in simulation works. We are working on some simulation educator workshop refresher series. That's why we do acronyms because it's just too many words to put together.
Dr. Eduardo Mireles:
There's other offerings that we were doing to build a group that does simulation and then we have a simulation fellowship that we have been running now for the last six years, seven years in which we have any member of the Cleveland Clinic family who can apply, and they drive a project that could be either in f- focused on research in simulation or simply on building and creating educational programs. And they go on for one to two years doing and building. And so they get not only the courses that Nichole mentioned, but you get the experiential part, and you're part of our advisory board and our journal clubs and our grand rounds so that you can get exposed to the, the simulation and see how not only the sim center works, how do you design high-quality simulation, but the inner workings.
We also have a simulation elective in which, let's say that you are interested on something that it's not working as perfectly on your, on your practice, and you say, "Well, it would be really good that we create a scenario for the obstetrical emergency to put something out there." And so, you approach her and say, "You know, I want to learn how to do this. Can somebody mentor me through the process?" And so, you can go into that elective, and it will drive you through the process until you apply it, mentored by our team.
Dr. Tony Tizzano:
So right here at the Cleveland Clinic, we have our own research and development. Are there institutions that provide the services well so that if you didn't have the extraordinary capacity that we are, you know, privileged to have, are there ways that you can buy that and give some, a company a problem and they will design something for you?
Dr. Nichole Brown:
I wouldn't say that I know of any program like that. There are other centers. The majority of simulation training has really been homegrown. The Society for Simulation in Healthcare is the organization that really puts us all together, and that's only been around for 23 years. So, in terms of healthcare, that's not that long.
Dr. Tony Tizzano:
No.
Dr. Nichole Brown:
So, most things are homegrown, and programs have offered people to attend for a fee. We also do the same. We have significantly reduced costs, and we just want to make sure people know how to use simulation compared to, you know, the cost speaking of compared to other groups and other places. But it really is just evolving and growing as we speak.
Dr. Tony Tizzano:
So, three questions that are kind of interrelated. When you go through these processes and you develop the simulation that you're happy with, do we see that learners take on this information better? Do they have a sense of safety going into it knowing they're not having to experiment on a living person? And do they do better with that procedure? And then is there a patient improvement outcome at the end? Which I guess is the ultimate goal.
Dr. Eduardo Mireles:
Well, the ultimate goal is the holy grail, right? You want to see that what you taught reached the patient and actually improved the outcome. There are several studies in many areas of simulation and in many procedural areas that demonstrate that people that go, and I'll just use, for example, in- intubation in patients that are in respiratory failure that are gonna go in the ward, that having that simulation experience improve performance of the caregivers.
Not only that, but it also improves the confidence and degrees of distress of the providers as they're coming into those scenarios because now, they know where things are, how to move, how to achieve those processes. We have seen changes in practice. For example, in our practice of intubation in the medical intensive care unit, using simulation and changing the protocol, we saw a complete change on how our teams were intubating, to the point that we realized that now we had to bring our staff in to train them on what we have trained the fellows because they were trained on a different pathway than the fellows were. So, you do see changes in practice.
How much of that change's patient outcomes is challenging to see because of all the variation that affects the outcome, but in terms of procedural skills, how they perform, confidence, how they achieve discrete tasks, absolutely, there's evidence for that.
Dr. Tony Tizzano:
Please, Nichole.
Dr. Nichole Brown:
Yeah, so I just wanted to share a story on how we have impacted patient outcomes with simulation. And it really is going to be a testament to selecting the right modality for the right need. And it involved stroke care in our emergency department. So, we have metrics. We need to have door-to-drug within, uh, an X number of minutes. At the time, it was 60 minutes. I'm not working with patients, I'm assuming that's still the same number, but we have done simulation with mannequins before with our ERs, and we found that they actually know what they're doing. They know what they should do, they know like the check boxes of all the right steps, but it's still, you know, we were just like missing the mark or close, but not quite there or barely making it.
So, we ended up using a standardized patient. So, we trained someone to simulate as if they were having a stroke in an undetectable way. And we came in by car. We had them pull up in a car and act like they had a stroke from the moment they got there. And what we did in that simulation was we identified that while everyone was doing the right things, they were not communicating as well as a team. They brought a patient right back to the room and started working but didn't tell anyone else in the team that that patient was there. So that then further delayed the physician coming, which further delayed the orders, which further delayed.
So, at that moment, we were able to get a patient receiving medication within 60 minutes, but it was like 59 minutes. So, we identified like I said that communication at the very beginning because the standardized patient, nobody realized this was a mannequin. Nobody recognized that this was simulation. So, we really captured actual behavior. And so, then when we identified that, some training was done with that staff. We went back several months later and repeated the process, and I noticed that they stopped in the triage area. They didn't do anything, but they stopped, and they radioed with their Voicera to the team that they had someone they thought might be having a stroke.
The entire team descended on the patient when they got to the room, and we ended up saving 14 minutes of door-to-drug time, which when you look in literature, actually had a substantial reduction or potential reduction in morbidity and mortality of patients with stroke. So, by identifying the right modality and the right objectives for what they were looking for, um, we were able to really impact some patient care in that situation.
Dr. Tony Tizzano:
And sometimes, having subtleties is just as important as having some staring you in the face. And what you just said resonates with me because my mother just several weeks ago had a stroke. And this presented to me over the phone, "I was putting on my shoes, and I can't put on my right shoe."
Dr. Nichole Brown:
Mm-hmm. Wow.
Dr. Tony Tizzano:
That was it. And I said, I thought to myself, is it possible? Then I thought, well, we can't take the chance. I'm in Wooster, she's in Chesterland. I said, "Please, let's call the squad." Squad got there: "We don't think you're having a stroke."
Dr. Nichole Brown:
Oh.
Dr. Tony Tizzano:
And I said, "Please take her to an emergency room. Take her to emergency" and she did have a stroke.
Dr. Nichole Brown:
Oh.
Dr. Tony Tizzano:
She had a small bleed, right hand, that's the only thing affected. So, you know, it can be very subtle.
Dr. Eduardo Mireles:
Yeah. Absolutely, yeah.
Dr. Tony Tizzano:
Do you think we're reaching a point where simulation is going to be prerequisite to appropriate training?
Dr. Nichole Brown:
Well, I know COVID has really impacted nursing care and nursing school. Nursing schools were not able to come in and have clinical hours, and so, a lot of people's training converted to remote simulation. And so, that really provided an opportunity, not that anyone necessarily liked it, but an opportunity to see how simulation can really impact our training.
Dr. Tony Tizzano:
Yeah, and, and has COVID, by, from what you're saying, has it brought more people to the table? Are you actually developing ways to reach out to broader audiences because you can do it virtually or remotely?
Dr. Eduardo Mireles:
Well, it accelerated the virtual conversion.
Dr. Nichole Brown:
Yeah.
Dr. Eduardo Mireles:
That's what I would say is we, we are definitely. Now we do training at a distance. Going back to your question of is, should it be required, I would say yes, and we require it at this time for procedural skills on our team. We don't let them start anything on a patient if they have not gone through simulation.
And, right, you, you made me remember a story about one of the simulations that we don't require, but that several of our team members take. I mean we do train them on airway management, but there's a lateral course that Sergio Bustamante, one of our anesthesiologists runs for emergent placement of cricothyrotomy tube in patients that you cannot intubate.
And one of our staff that had taken the course a couple of times had a patient that there was no way to get the tube into the airway. The patient was gonna die, and he performed a crike and he wrote a very nice email and actually, this increased the number of people that were put in through the course because that patient would have died eventually from that.
So, that's how you start realizing some things that you need to put into the curriculum because they are very low frequency, but you need to know how to do them, and it's, you cannot learn it from a video or a video chat. You have to grab it and feel it and do it and simulate it.
Dr. Tony Tizzano:
Oh, point well taken. You know, the other thing that emerges in my mind, I'm thinking to myself, for all these high achievers doing the simulations and wanting to know they're doing well, we talk about impostor syndrome where people worry that they're not good enough, and there's really no way to prove that they're good enough 'til they've been through it. So, you've done all this training, you may not have actually been alone in a room and had to do it. Is this perhaps a way that people can begin to say, "Boy, you know, I did okay. You're measuring my progress. You're debriefing telling me later, 'Hey, Tony, good job,' or 'You know, you got to work on this one point, but everything else was good.'"
You know, there's a lot of anxiety, burnout around impostor syndrome. Maybe, and, and I think it's the norm because about 80-plus percent of professionals feel at one way or another. Is that yet another way that we might actually help to learn?
Dr. Eduardo Mireles:
Absolutely. I, I think that that's part of the confidence that you gain when you do the procedure one time, and actually you get to see one, one of the things that we do when we start a simulation is we read a statement that the Center for Medical Simulation in Harvard made that essentially normalizes the environment, that we are all here to learn, that we are all intelligent, that we're all capable.
And when you bring everybody down to that level and then you see how they are performing, and you may have a staff physician, you have a, a seasoned respiratory therapist, because many of these are interprofessional, and you see that you can m- manage yourself through, through those environments, that raises your level of confidence. And the goal of many of the simulations is to try to get and recognize people that may need more help, right? That otherwise they would be at the bedside, and they said, "Well, you did one. Go do it at, on your own," and they, they are not there. Right?
Dr. Tony Tizzano:
Oh, great point. I always say, "Please give me a doctor who I want him to know a lot, but please give me a doctor who knows what they don't know." This has, this has been wonderful. So, to either of you, are there some areas that I may have missed that you want to touch upon?
Dr. Nichole Brown:
I would say we could talk about simulation all day long because it's the most engaging, experiential way to learn, but I do think we've given a nice broad overview of the things that are probably the most important.
Dr. Eduardo Mireles:
I would highlight for the listeners, one, that simulation is essential for medical education, and actually the performance of a hospital. It has its role in education, in performance improvement, in quality, in safety, and we should continue to build our teams, encourage our teams to be part of simulation, and support simulation to grow within and have special spaces for people to go train at their own time and/or with people that have been trained on how to do simulation.
Dr. Tony Tizzano:
I couldn't craft a better summary. Well, I'd like to thank you both, Eduardo and Nichole. This has been a great podcast. And I can't imagine that people won't be enthusiastic about it, and I only wish they could see what you do because it sounds extraordinary. And to our listeners, thank you very much for joining us, and we look forward to seeing you on our podcast. Have a wonderful day.
Dr. Eduardo Mireles:
Thank you. Thank you for having us.
Dr. Nichole Brown:
Thank you.
Dr. Tony Tizzano:
This concludes this episode of MedEd Thread, a Cleveland Clinic Education Institute podcast. Be sure to subscribe to hear new episodes via iTunes, Google Play, Soundcloud, Stitcher, Spotify or wherever you get your podcasts. Until next time, thanks for listening to MedEd Thread, and please join us again soon.
MedEd Thread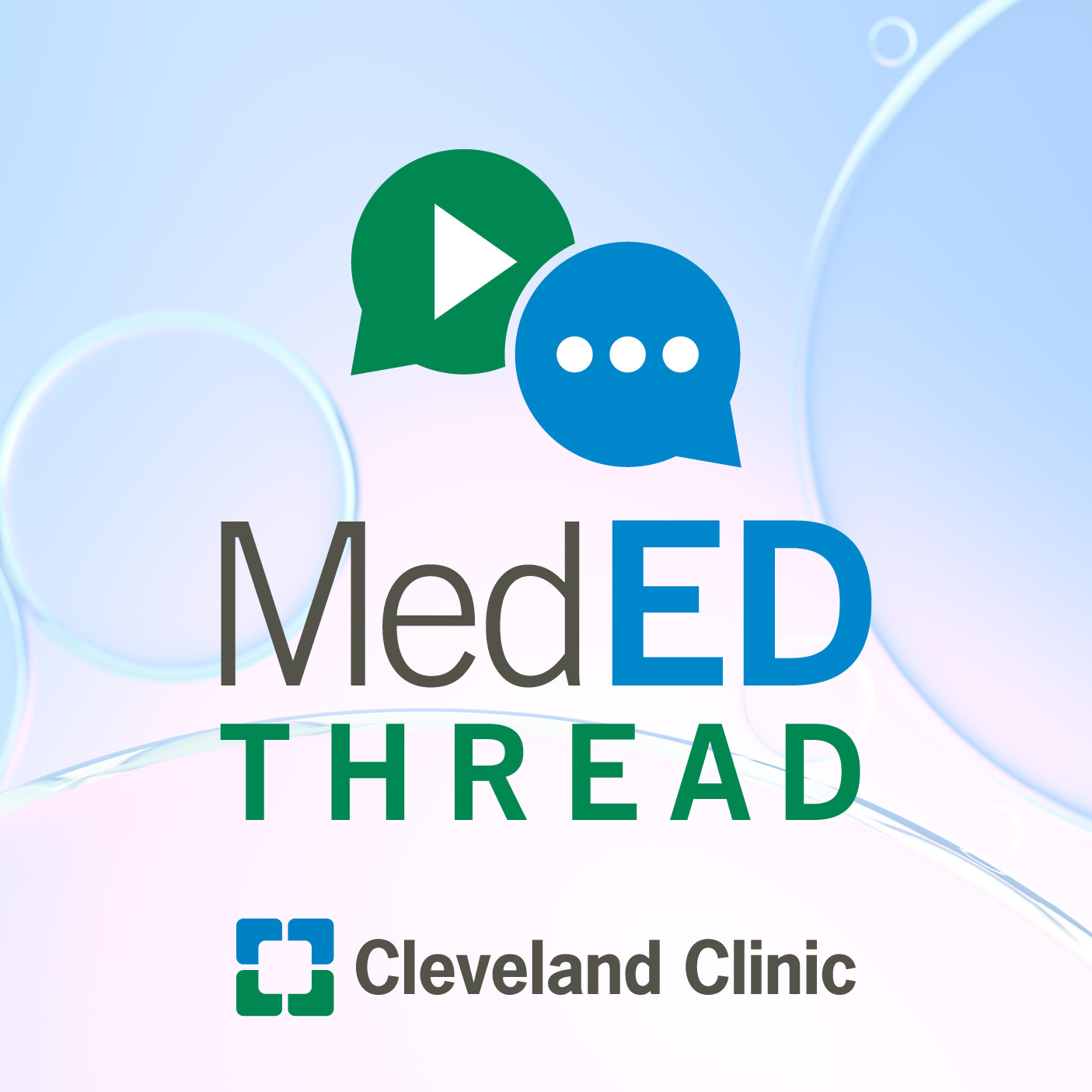 MedEd Thread explores the latest innovations in medical education and amplifies the tremendous work of our educators across the Cleveland Clinic enterprise.
Subscribe: