Revolutionizing Medical Education Through Evidence-based Assessments and Personalized Coaching
September 13, 2023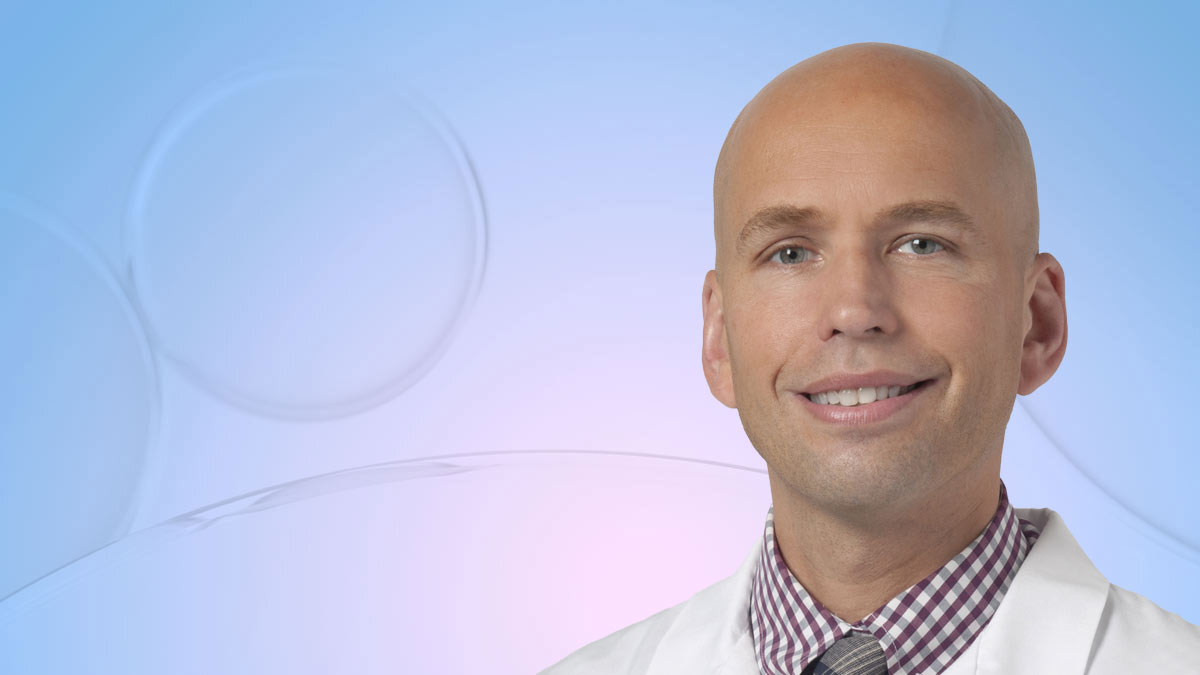 In this episode, we talk with Dr. Robert Wilson, Neurology Clerkship Director and Chair of Physician Advisors at the Cleveland Clinic Lerner College of Medicine of Case Western Reserve University, who discusses the critical impact of student advising and coaching during medical school and how the novel use of evidence-based portfolios, instead of traditional grades, encourages reflective practice and better reflects how students will be assessed when they become physicians.
Subscribe: Apple Podcasts | Google Podcasts | SoundCloud | Spotify
Revolutionizing Medical Education Through Evidence-based Assessments and Personalized Coaching
Podcast Transcript
Dr. James K. Stoller:
Hello and welcome to MedEd Thread, a Cleveland Clinic Education Institute Podcast that explores the latest innovations in medical education and amplifies the tremendous work of our educators across the enterprise.
Dr. Tony Tizzano:
Hello. Welcome to today's episode of MedEd Thread on the role of advisors and coaches for our medical students in the novel portfolio system used at the Lerner College of Medicine, part of Case Western Reserve University. I'm your host, Dr. Tony Tizzano, he/him, director of student and learner health here at the Cleveland Clinic in Cleveland, Ohio.
I am very pleased to have Dr. Robert Wilson, he/him, a neurologist in the department of neuromuscular medicine, it's neurology clerkship director and physician advisor and chair of physician advisors at the Cleveland Clinic's Lerner College of Medicine of Case Western Reserve University here to join us. Rob, welcome to the podcast.
Dr. Rob Wilson:
Oh, thank you for having me here today.
Dr. Tony Tizzano:
You know, to get started Rob, if you could give us a little bit of your background, what brought you to the Cleveland area and to the Cleveland Clinic and what you do here.
Dr. Rob Wilson:
Oh, thank you. I've been at the Clinic now for about 11 years plus. And I've been part of the education process since I've been here. Actually, medical education has been part of my work as a physician since I was an intern and a passion or calling. I think every physician at some level has a commitment or a duty. I think we all educate even with our patients. But that's been a big part of my role. I've been involved with the clerkship, the director, for the last few years. I'm also the director of the acting interns and the physician advisors now for a good chunk of item. The chair of the physician advisors for two years. I do feel it's my duty as a physician to keep medicine going and help the next generation.
Dr. Tony Tizzano:
Yeah. And I think in your role, I think you kind of have your finger on the pulse of how people feel, especially early and out the gate. And it's so important. It's not just what you see at the end, but how do you feel in the very beginning that makes us comfortable.
So, in the segment, we're hoping to explore the role of advisors and coaches for medical students. And also, this portfolio system of evaluation which I think is somewhat novel. Can you help frame that topic a little bit, so our listeners know how Lerner College is different?
Dr. Rob Wilson:
Yeah, it's a very unique process. And these students are very unique students. They're wonderful. There's no grades in our curriculum. The students are assessed by faculties, their own peers, they can be physicians, they can be researchers, basic scientists. And it's a process of constant assessment that's coming in through different vehicles in group learning, research, journal club, that's an offering in the first two years. There's often these sort of self-assessment questions they do.
Another thing called concept appraisals which are these problems they learn how to figure out and do on their own. Sometimes they work as a group, often very independent. Things that really get them ready for the clerkship years, the clinical years and just to be a physician, that whole thought process what it means to be a physician and problem solving and think.
And there's no grades. This process really gets them to acquire knowledge. All the competencies that you want to become a physician, communication skills, professionalism, knowledge for practice, teamwork, reflective practice.
Dr. Tony Tizzano:
Excellent. So, you know, this is very different to the way I was trained. But I have to tell you from just the exposure I have with the precepting the Art and Practice of Medicine class, it just has a wonderful result and this reflective writing and so forth.
So, when we look at the role of advisors in the college, what is that role?
Dr. Rob Wilson:
We're part of a team that really works with these students, these trainees, you know. And the students are part of this team because they are active members. They are truly involved. These are incredible young people who are part of becoming the next generation of medicine in a few years.
At the Cleveland Clinic Lerner College of Medicine, the physician advisor with that student is the only two that have full access to that student's academic record. Information's always coming through a portal of what is being obtained, achieved, growing knowledge of the student's competencies, milestones, information that's grown and what they're acquiring. Just that student and I or the other physician advisors. There's also Associate Dean of Student Affairs that is part of this process, but really, they don't have access. Other committees do not. It really is a physician advisor and a student.
So, the advisor will work with that student, say, "Hey, you're growing in this direction," and other aspects. It's a unique role. We don't assess the students, but we are advising them and guiding them. It's a very intimate relationship.
Dr. Tony Tizzano:
Yeah, I get the sense that it is a true partnership.
Dr. Rob Wilson:
Yes.
Dr. Tony Tizzano:
How do you set the stage for psychological safety so that they feel, because for their entire career so far in academics, they likely have been weighed and measured every step of the way with a number, a percentage, a class rank. And all of the sudden that all goes away, and they're left with their advisor coaches.
Dr. Rob Wilson:
Yes. As you were doing introduction, you had my mind thinking. I've had the privilege of working with people in medical training from the beginning, from pre-med through medical school, residency, fellowship and ongoing. Physicians, we are perfectionists, overachievers, eager to please. So, one of the things I do is when the students start on the first day when we meet them call the meet your physician advisor, I discuss one of the reasons why you have a physician advisor. Part of the reasons why that gets you into medical school, high achievers, hard-working, eager to please, can't say no, eager to say yes, might part of your success get you in trouble.
And so, we try to have them meet them, their physician advisor and then, maybe the first few meetings are getting to settle in to realize we are their ally. We are their coach, we're their team member. He can be their confidant. We're that person that's going to get to know them and really be on their side.
It is a unique relationship because we are going to power them to be this person to help drive their education and it works. They go and do, do incredible things with their career here and beyond.
Dr. Tony Tizzano:
Fabulous. You know, I think of this as a, in some ways as a form of mentorship. And I think back to my own training and the people and physicians I encountered. And I thought of some of them as very good mentors, others not so good. How do you pick and choose who are going to be advisors?
Dr. Rob Wilson:
So, it's a process. We have a team of 16 physician advisors. And we just acquired three new ones because people in their careers might be retiring over the next few years. And it's a key committee. We have wonderful people. First thing, be a good person.
And the advisors all pull from many experiences that have worked at the medical school, but all of them have experience in medical education. Some have been residency directors; people have worked the fellowships. People have worked in the curriculum in the medical school, clerkship directors, research, all different levels. And we all pulled together to have this experience. We work collectively. Even we have meetings once a week for an hour, an hour and a half, sometimes longer. As there's a challenging situation, we solve problems together with our pooled knowledge as a community.
Dr. Tony Tizzano:
Boy, that's outstanding. It's kind of another example of how function as a team, function as a unit at the Cleveland Clinic. And I can see it is important. You know, you encounter so many different things in these students. And it's easy-peasy when everything is going fine. But when, you know, something happens that in their personal life or in their academics or what have you, that becomes the measure of success to a certain degree. Am I on to something here?
Dr. Rob Wilson:
Well, you, I, you're absolutely right. I mean, we all have lives and lives happen. And look at the pandemic. We have people in medical training, they're in their 20s and their 30s. Live is going to happen. People have parents who get ill. People are married in medical school. Medical training's different than when, when you and I went to school. I went to a very conventional medical school with grades and rankings. We don't have this, a different parameter.
Maybe step one being pass/fails create different pressures now of scrutiny for them in the bigger view of residency. And life does happen, so there's pressure on these young trainees nowadays. People get ill. And again, the pandemic influence has many things. People who go to medical school, their family of origin they come from have economic constraints and restraints on them, so they can't necessarily rely on them for support financially. So, there's a lot that's going on that sometimes is not as obvious as people think.
As a physician advisor, we will get to know that with that student to help them besides the academic advising as a coach, as a confident. And maybe use other resources at the school to help the student.
Dr. Tony Tizzano:
So many layers. Clearly many, many layers.
Dr. Rob Wilson:
And, and what's good about that too is you can imagine a long run, this sort of internal code for a physician. And these students truly get a understanding of reflective practice. And this way of being I think helps the patient which is the bottom line. They understand the human condition in a way. And it, I can see as a clerkship director and being a person who runs the acting internships for the fourth year, fifth year, neurology curriculum, how they are with patients. There's this understanding of the human condition I think this curriculum brings to the clinical picture and it works for the patient.
Dr. Tony Tizzano:
Boy, I couldn't agree more with the experience I've had with our students, you know, at least third year students, which I get to see the most.
So, we talk about these different layers. What are some of the metrics that are considered by advisors? Some of the touch points along the way that they want to, you know, help their students imbibe or look for.
Dr. Rob Wilson:
So, I mean, I think for the first year right now, they're in this research block settling in Cleveland. They, they're doing journal club. We want to see how they are settling in, fitting in, working in teamwork, group dynamics, working with their research experience. N-, you know, setting into professionalism and how they're doing in that level. Because so much of being a physician is how do you get along with the team? How's your professionalism? How's your communication? And we'll work with them and say, "How is that for you?" And we will work through any issues with them at that level. That's a building block.
And as we get into the fall, the more curriculum of organ blocks happens. And they'll be ways of assessing that. And we can find trends that how's this going for you? Areas that might be uh, a gap or a struggle and coach them through that. And say, "Let's work through ways to get you where you need to go."
Dr. Tony Tizzano:
Yeah. I, you know, I like that word professionalism. I think the work we do as professionals is different than having just one job. And I don't mean to demean any other avenue of endeavor, but what when you look at professionalism, what are some of the markers? You know, we all think of appearance, professional appearance right out the gate. But there's a much more to it than that.
Dr. Rob Wilson:
You know, a lot of times of right in a rotation as a clerkship director and I'm writing letters for residency. And professional is a big concept that comes up. And it's, it's about integrity, isn't it? Ultimately, it's like doing the right thing when no one's around often and saying the right thing. It's about thinking about your actions and your words on the impact of others. And I think so much of this curriculum is ingrained into these students. They often arrive at us very well, mature, developed, and have this code about them already. When you're around them, it's like wow. They're very developed.
Dr. Tony Tizzano:
That's a good word. That's what I would say. Wow.
Dr. Rob Wilson:
Is wow. There's a wow factor about many of our students and ongoing. Even in the clerkship year right now, many of them just start the third-year clerkship. And some people say to me already, says, "It's hard to differentiate the ones who just ended the third-year clerkship and the ones who just started." Because their professionalism's there. But professionalism is sort of doing the right thing when no one's around. Your sort of j- standing up there, the how you handle yourself. Thinking about the weight of your words and actions on others.
Dr. Tony Tizzano:
Excellent. Points very well taken. So, you mentioned this portal. How does this information come to the advisors?
Dr. Rob Wilson:
Yeah, there's a thing called the e-portfolio, the physician portal. And each of your students is assigned to you. It's a constant stream. And for myself, it's a daily check-in and review. And like one of my students is actually doing his fifth year, it's a five-year program. Because one, the fourth year's research. Is on his acting internship right now for surgery. And before I came in here, I reached out to him. I say, "Way to go. And just got excellent feedback." And he said like, it's the best he's ever received on any clinical. So, there's a constant stream of feedback and communication. And you meet your students too. It's a very dynamic portal because you can actually view things in different aspects for teamwork, patient care, knowledge for practice and see how people are going and growing.
It's also a portal that you can actually window into, if something happens where suddenly someone is actually falling off. You can say then, "Hey, this is not my student. This is not this person." And you can figure out something's going on with this person. And you maybe say, "This person's going through some anxiety or depression. Or what's going with your life?" And I've actually used that portal to figure out my person is going through something.
Dr. Tony Tizzano:
So, is this feedback that is going to the clerkship person, their preceptor or to the student?
Dr. Rob Wilson:
So, this is to me.
Dr. Tony Tizzano:
Okay, got you.
Dr. Rob Wilson:
Yeah, the physician advisor. The physician advisor portal's only between myself this feedback and the student sees this feedback, yeah. That, that information that's coming in is being filled out maybe by a clerkship director or the clinic person or the in, first two years by their journal club committee member or something like that.
Dr. Tony Tizzano:
Excellent. You know, Rob, I heard the word TAFIs, targeted areas for improvement. And, you know, how are those identified? Are you helping them identify those or does a student identify them themselves? Is it a combination?
Dr. Rob Wilson:
Yeah. Yeah, it's, I mean it's a great thing. I think one thing we do is Dr. Beth Bierer who's key to our curriculum, I mean she's part of the infrastructure of the medical school. She does this fantastic seminar in early July with the students. And I joined her to welcome the assessment as a first year. And we discuss TAFIs, target areas for improvement that we all are a work in progress, right? We are all doing this. It's part of being a physician. And embrace them. And a TAFI is okay. And that how are you going to grow and learn?
I've had students who've taken their TAFI from first year, first few months and made it their mission. I have students who are about to graduate this coming year who their TAFIs from the first year have become their mission. And their growth has been outstanding. Yeah.
Dr. Tony Tizzano:
Yeah. It, it's not lost on me that as I begin to hear that, and I've learned more about the TAFIs within the context of the medical school, I've set them for myself. And I think there needs to always be one on the horizon.
Dr. Rob Wilson:
So, I think you, you nailed something very important. They, the, I think these students become our role models. You know, the, the student is the teacher for the teacher a saying.
Dr. Tony Tizzano:
Absolutely.
Dr. Rob Wilson:
And every time I'm around them, I feel like I'm a better person because of it. These are all these cliches, but there's a truth and an honor to all this. And as a physician, you know, that our ability to say, "Yes, I have a TAFI," or there's a misstep or whatever this is. And how you do this work to move forward is part of being a physician. So, we're taking people in the first few months and saying, "We're going to be a work in progress. You're going to have a TAFI. We're going to actually review ourselves. We're going to reflective practice."
So, by the time they graduate, we get the students through all the steps needed to become a physician by the time they graduate. So, they hit their residency, they're ready to have a nurse say to them at 2:00 AM in the morning, "I don't understand what's going on here. I, you need to clarify this question to me, or this medication." Or a family say, "Please explain to me why my relative is not well and maybe dying." Or they have a research question that's not being approved by the IRB. These students are very skilled at the difficult questions and the difficult demands because they went through this sort of process. They're outstanding. They're outstanding people.
Dr. Tony Tizzano:
It's an important life skill. There's no question about it.
Dr. Rob Wilson:
Yes.
Dr. Tony Tizzano:
You speak of advisors and coaches. Is there a difference?
Dr. Rob Wilson:
Yeah, it gets blurry lines because there's some things with this role that are truly as advisors, we need to really help with the academic process to get them to point on the road. It is like, I always say it's a journey. There is a goal for each part of the curriculum and through the year to get them say, "This is where you need to be." This is where it has to be and know where you are in this process. And knowing what the school needs and knowing what the credentialing needs and everything that needs to happen for them.
But a coach is a good word. And we use this because a coach is really helping someone optimize or get to where their potential is.
Dr. Tony Tizzano:
Boy, I like that, where their potential is. And sometimes not an easy thing to realize or recognize in oneself.
Dr. Rob Wilson:
It's different than a mentor. Some of my students are going to be surgeons. I'm not a surgeon. I'm a coach to some of them.
Dr. Tony Tizzano:
Perfect. So, when we look at this assessment model, this portfolio system, it seems for someone to first hear about it and think, "Wait a minute, I don't have grades. I don't have standardized exams." You know, what was the impetus for that? And how is it, how does it play out?
Dr. Rob Wilson:
I mean, it'll start many years ago before I arrive on the scene. But it's, it sounds more portfolios might seem for someone who's outside the system, might seem like an odd word. But view it as a thesis. And there's lots of evidence that comes through. The students will do many what you call formative portfolio before they actually end the year, submit a summit portfolio in first year, second year, fourth year.
During the clerkship year, they're always sending clerkship feedback at the end of the rotation. But the portfolio is this mass of evidence that's going to really speak of competencies of patient care, knowledge for practice, communication skills, intra-professional communication skills, professionalism, teamwork, patient care, reflective practice. It goes on. And the students really do write like a thesis where they cite evidence of evidence that came through over the years speaking of their growth, their development, their achievement. And the evidence has to be accurate.
And as their physician advisor, we review it with them and say, "This evidence is accurate. You are documenting this correctly." At the end of the summit portfolio, we will have to sign off and say, "This is an accurate documentation of this student's work." They might cite 100, 120 pieces of evidence. There's more in our electronic bank portal that's probably there to cite it. We say, "This is a good representation of their work, of their growth and development."
So, you mentioned something like TAFI. Like one student might start in their first year saying, "I felt too self-conscious to talk in my group learning. I was quiet. I took my TAFI of the year to learn how to be more interactive and learn that I can talk and get over my imposter syndrome," for example. One student made that theme of their summit portfolio. And builds a building block in their summit portfolio was a shiny star.
Dr. Tony Tizzano:
Boy, that is fabulous. I look again back at my own training. I think we always look at ourselves and say, "How does that compare to what I've done?" And I don't think there was any venue to even approach any of those ideas. And to come forward with something that you were concerned about.
Dr. Rob Wilson:
Yeah, yeah, yeah, yeah.
Dr. Tony Tizzano:
And something that we could talk about for a long time.
Dr. Rob Wilson:
And I want to say one thing too. I think when people hear it on the outside, they might sound fluffy. Because I hear it sometimes, I go to these meetings with people outside. There's a lot of hard evidence of knowledge for practice. So, all that basic science information people want to hear about who don't know this curriculum gets in there. So, these students have worked very hard to document over the year of their work to show that they're learning all that core knowledge that is needed to make them that physician that you want.
Dr. Tony Tizzano:
Yeah. I feel that this process and Lerner College is really at the cutting edge of something that is I hope a 21st century goal for medicine. I love medical history. I look at the 19th century. We were looking at procedures and you know, if we only knew how to wash our hands, many would have been more successful. And then in the 20th century, we had therapies and imaging. But now, and, and we also took the patient and put them on a pedestal. And took the physician and other caregivers off the pedestal and flattened that hierarchy among the caregivers which I think is so important. And I think we've done a decent job of addressing it at the Clinic and we're growing in that area.
But, you know, when it comes to this whole idea of empathy and the psycho-social aspects of medicine, including training, that's where I feel we're headed.
Dr. Rob Wilson:
You got it. You got two of the third years students of our program were in the neurology clerkship. And two of the patients both said to me about them, "I like how they think." I think building your point about where medicine's going. Because knowledge is everywhere. You need knowledge in your head as a physician. That's core. The how to think as a physician and all those parameters is where we're going.
Dr. Tony Tizzano:
It's complicated and it's growing at break-neck pace.
Dr. Rob Wilson:
Yeah.
Dr. Tony Tizzano:
The lexicon of medicine is exploding. So, when you look at this idea of advancement, we've got this medical school promotion review committee. What is that and how does that come into play?
Dr. Rob Wilson:
So, I think that's a great point you brought up. Sometimes it's very mysterious to people who, even on the campus here, are our friends and allies. I'm going to say that and they're great colleagues, I would with a lot of them clinically, research and at the medical school. So that's, that's a check and balance. You know, it makes us a good democracy.
So, then they will work with us. For example, the summative portfolio will go to them, and they review that evidence and say, "This student has achieved that goal for that year." And they'll sign off. And the student will receive this glorious letter that's very intimate and personal that speaks of what they've done over this year from their academics, their knowledge for practice, even some of their extra things they've done. Just shows of their teamwork. So, the MSPRC or medical school promotion review committee reviews that summit portfolio. It's the check and balance. It's healthy. It gives me this ability to show that I as physician advisor, that I'm in balance.
They also work with us sometimes if the student needs some help. You know, there's been times when the student gets ill or has a health issue during a pandemic time. When things were rough with STEP and site centers were closed. We had to make some extensions and changes. They work with us to figure out how to balance things out. They really are a friend and a balancing force for us. I think the title sometimes sounds intimidating to people. But they are our allies and they're good people on that committee.
Dr. Tony Tizzano:
Yeah. Well, it doesn't take a rocket scientist to see that once you get that very personal letter, the impact that that has and the reinforcing qualities it has compared to here's my class rank, here's my grade at the end of a of an academic year.
Dr. Rob Wilson:
I tell my students often, take that letter from that committee, put it somewhere. Put it away. Give it to your parents, give it to somebody you trust, and read it 20 years from now.
Dr. Tony Tizzano:
Yeah. Boy, I couldn't agree with you more.
So, when we look at students leaving their training here at Lerner and they're headed off to residency, in the application process for residency, how do these review committees look at these applicants who don't have a class rank, who don't have grade? Of course, I guess they have their standardized exams that they take steps one and two. But beyond that, there's so much more to an interview. How do you think it played out in the beginning and how has it changed over time?
Dr. Rob Wilson:
I wasn't there at the beginning. But I'm here now. I think so many of our students who graduated have gone on to such great things and are in the programs. I think the track record of our s- trainees speaks well in that we like them, they've done well, bring more forward. I think also the medical school performance letter speaks very well, explains the uniqueness of the program. I think that our students get very well guided by us and also by the deans how to promote themselves in the residency process.
When they get ready for residency, they have this very strong package for themselves of research, community service they do. Many excellent letters of recommendation that will speak of something very unique, special and important to themselves. That makes them a very good package.
Dr. Tony Tizzano:
So maybe it's actually providing a more holistic view of who these individuals are.
Dr. Rob Wilson:
Yes, yes.
Dr. Tony Tizzano:
As opposed to uh, kind of a numerical spreadsheet where you're checking off, they did this, they did, and you almost have a graph. I really like that. And I see more and more of the importance. And you know, I don't think it's lost in the world. I was uh, a decade ago, giving a talk at a national meeting in India.
Dr. Rob Wilson:
Oh.
Dr. Tony Tizzano:
And the first question that I got asked, and I was talking birth control. Was tell us about the Lerner College of Medicine.
Dr. Rob Wilson:
That's nice.
Dr. Tony Tizzano:
At Cleveland Clinic.
Dr. Rob Wilson:
That's nice.
Dr. Tony Tizzano:
So, somebody in the audience knew of it. And I'll admit, I, I don't think I gave an adequate answer. I knew some because we had the students, but I wasn't in a position where I saw how everything worked. But I can tell you that after that meeting I knew.
Dr. Rob Wilson:
Wow.
Dr. Tony Tizzano:
And so, I think that eyes are on us. And I think that it has gained a level of recognition from, as you say, how these students have done. So, when you look at the whole science of advising and assessment, what do you see on the horizon?
Dr. Rob Wilson:
That's a great question. I think one is being open-minded, being receptive. And I think th- one of the things that this curriculum has done is engage the students, what works, what doesn't work. And again, when you say that, people, some of the cynics might think, "Oh, that sounds dangerous." Our students want good knowledge. They want to be good physicians. Trust the process asking the people in training, what could we do better? And how they can make it better.
I think also being in tune with culture, how society's changing. There's a lot of things happening in society. I think with the pandemic, many things culturally, there's change in our, our society in the last few years. How that tie into where medicine's also is parallel.
Dr. Tony Tizzano:
Boy, I couldn't agree with you more there. And I feel like the students in the APM3 in our small group sessions are much more tuned and better tuned in to what's going on at a point in time than I am. You have so many other things that I do in the things that I, but they're focused on this, and, and they're trying to relate what they've learned to society and how it all needs to come together. And I'm so impressed by it.
Dr. Rob Wilson:
Exactly, exactly.
Dr. Tony Tizzano:
Well Rob, is there anything that I missed that, that you'd like to, to bring to our attention for our listeners?
Dr. Rob Wilson:
I think I would just add that, you know, this education process of our trainees here is a whole group effort, you know. That there's the people, the medical school, the clinical people. It really is a saying that the whole village. I mean, my chairperson supports me. My clinical team, my administrators. I mean it's something very I think underscored at the Clinic. There's sort of this team effort, smiling heart, everyone's trying to help. I can't tell you how often sometimes there's a, I've got to do this for the medical school and people are trying to figure it out. Because I think everyone here really wants this generation to go forward and populate medicine.
Dr. Tony Tizzano:
Yeah.
Dr. Rob Wilson:
It is, there is a team sport here to support these students to go forward into the world and be the next generation.
Dr. Tony Tizzano:
Yeah, there's a sincerity in leadership here that, you know, I never saw in medical school. If it was there, I wouldn't have seen it. But here, everybody sees it. And, and I feel that there's a transparency that I never saw in my education.
Dr. Rob Wilson:
Yeah, and I think also because the school here, though it's a separate building, it's right here on the campus. And these students right away become part of us. They're part of the clinic culture. Creates that feeling.
Dr. Tony Tizzano:
Perfect. Well, thank you so much, Rob. This has been a great podcast. It's been enlightening for me. I hope it's been enlightening for our listeners.
To our listeners, thank you very much for joining and we'll see you in our next podcast. Have a wonderful day.
Dr. Rob Wilson:
Thank you so much. Take care.
Dr. James K. Stoller:
This concludes this episode of MedEd Thread, a Cleveland Clinic Education Institute podcast. Be sure to subscribe to hear new episodes via iTunes, Google Play, SoundCloud, Stitcher, Spotify or wherever you get your podcasts. Until next time, thanks for listening to MedEd Thread and please join us again soon.
MedEd Thread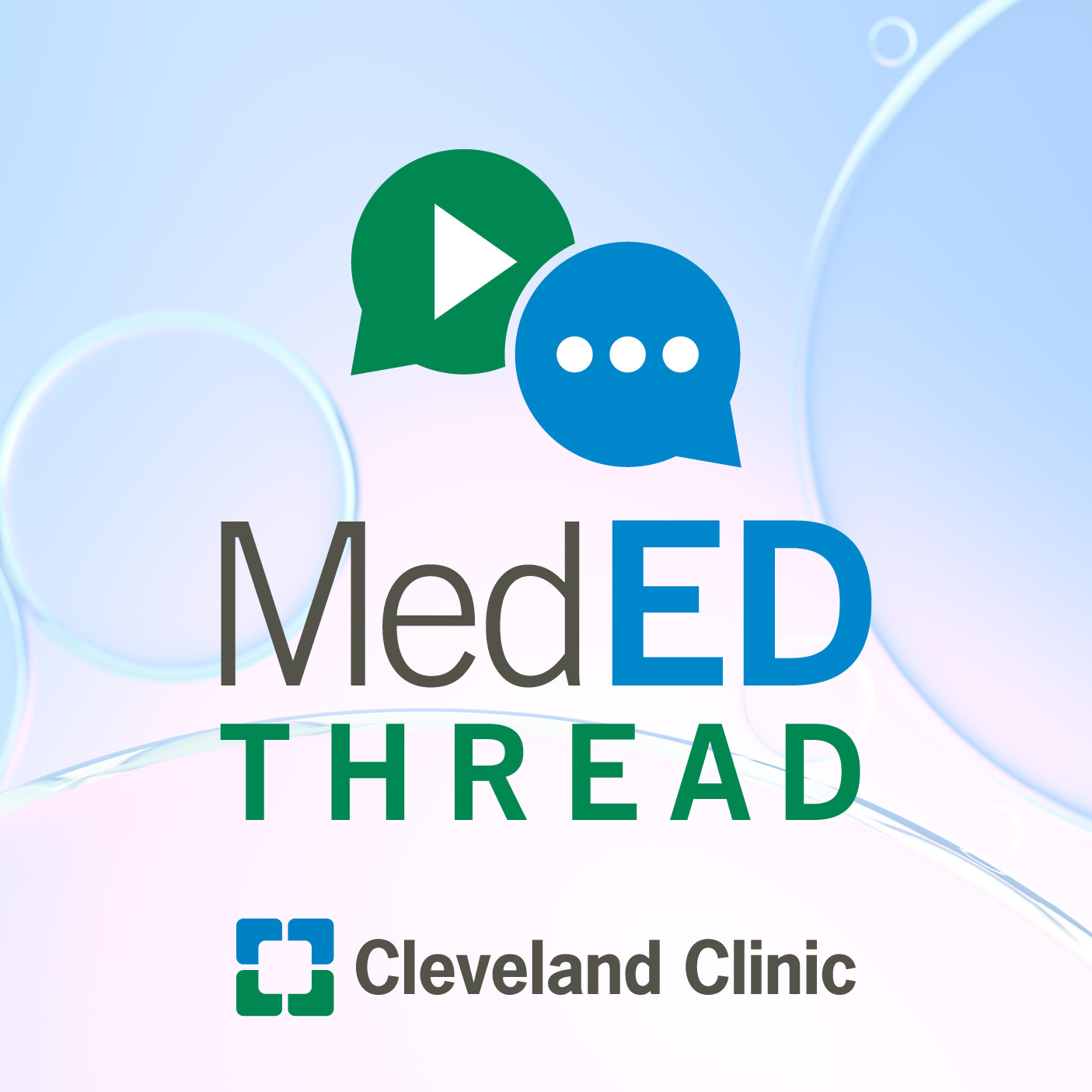 MedEd Thread explores the latest innovations in medical education and amplifies the tremendous work of our educators across the Cleveland Clinic enterprise.
Subscribe: