Heart Month: What Do You Know About COVID and Your Heart?
February 2, 2021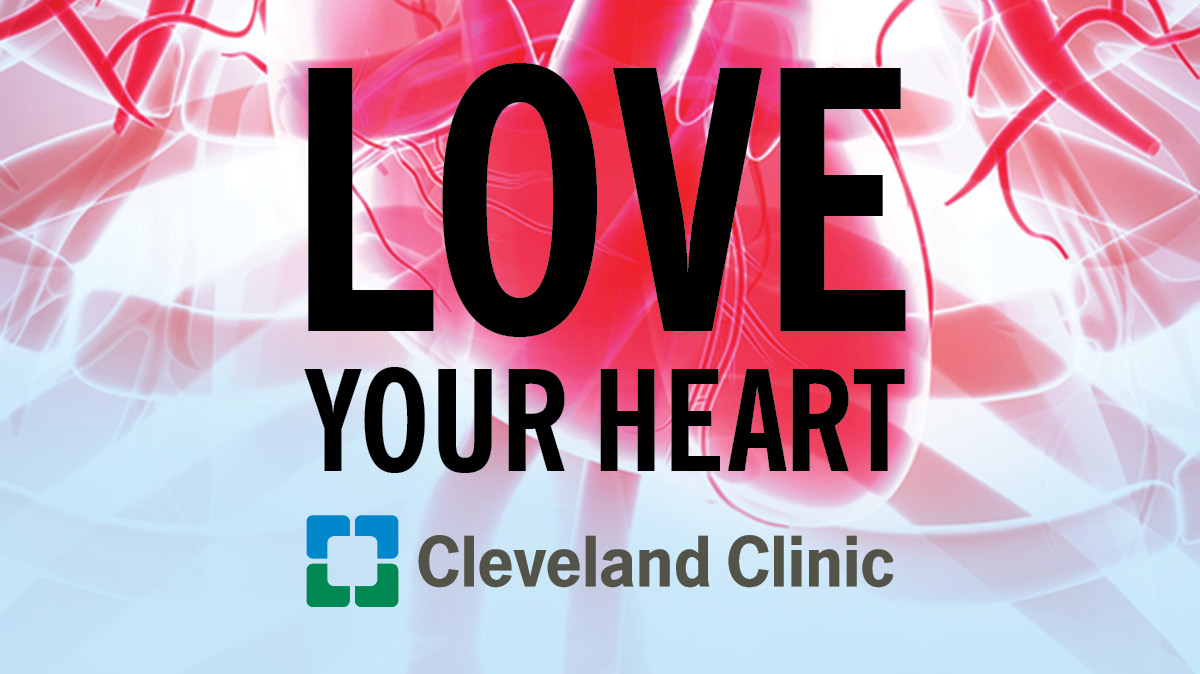 Every year to celebrate Heart Month, Cleveland Clinic performs a survey to see what people know about heart disease. This year's focus was COVID. Dr. Leslie Cho and Dr. Jerry Estep present the survey findings – highlighting what people should know about heart care during the pandemic, how COVID affects the heart, and what heart patients should know about the COVID vaccine.
Subscribe: Apple Podcasts | Google Podcasts | SoundCloud | Blubrry | Stitcher | Spotify
Heart Month: What Do You Know About COVID and Your Heart?
Podcast Transcript
Announcer:
Welcome to Love Your Heart, brought to you by Cleveland Clinic's Sydell and Arnold Miller Family Heart Vascular & Thoracic Institute. These podcasts will help you learn more about your heart, thoracic, and vascular systems. Ways to stay healthy and information about diseases and treatment options. Enjoy.

Dr. Leslie Cho:
Hi, my name is Leslie Cho and I'm the section head for Preventive Cardiology at Heart and Vascular Institute at Cleveland Clinic.

Dr. Jerry Estep:
Hello, my name is Jerry Estep. I have the privilege of being the section head of Heart Failure and Heart Transplantation at the Cleveland Clinic.

Dr. Leslie Cho:
And today we're really happy to present to you, some of our heart survey findings for 2021. Every year, the Heart and Vascular Institute at the clinic does a survey and this year, because of COVID and the pandemic and the overwhelming changes that we've seen, we decided to focus our heart survey on COVID. And some of our findings were surprising and also alarming for us. And so we're going to hit some of the highlights. So one of the things we found is that people were afraid of coming to see their doctors and that's alarming on many levels.

Dr. Leslie Cho:
So Jerry, maybe you can speak to that point.

Dr. Jerry Estep:
Yeah, I think what was striking, was that those surveyed, many felt that they would contact COVID and there was more risk, if you will, at developing complications from this infection or thereafter. And I think what's important to highlight is that, those patients, especially if they're having symptoms or they have underlying disease, need to maintain that regular checkup.

Dr. Jerry Estep:
Certainly for those with heart failure, there's a risk for disease progression and a risk of doing worse, than there is of acquiring COVID and having problems. Now, having said that we're very sensitive to that. And we've put in a number of measures related to social distancing, wearing masks, frequent hand-washing, controlling the flow in our clinics. In addition to virtual platforms to maintain interaction with our patients.

Dr. Jerry Estep:
There was one particular statistic in those that have underlying heart disease about being afraid to go to the clinic. And many of them stopping their medications because of this fear of needing to go and get a refill. And for me, that's a major alarm. It's an opportunity just to really highlight the message that seeing your doctor is important, taking your medications is important. We've learned that those with underlying heart disease, which we're going to talk about... It can do much poorer after acquiring COVID, than others.

Dr. Leslie Cho:
Yeah, I think that's a really good point. One of the things we saw people were presenting late into their heart attacks during the initial months of the pandemic. We continue to unfortunately see that. Getting a regular checkup, checking your blood pressure, getting your heart failure check, but also getting your cholesterol level done. All these things are important part of maintaining your health. Because one of the things we learned from COVID is that it doesn't just affect your lungs, but affects your heart. And people with heart disease are at an increased risk for getting COVID.

Dr. Leslie Cho:
The other interesting finding on COVID during this pandemic was, it's not a surprise that everyone's stressed out. I think, we all feel kind of stress and under duress, but that's translated into weight gain, that's translated into some unhealthy behaviors. Fortunately, there were some people who had healthy behaviors, they learned to exercise and all those things. But many people gained weight during COVID, which is not that great.

Dr. Leslie Cho:
Jerry, tell us, what does COVID do to the heart and what kind of side effects can people get?

Dr. Jerry Estep:
Yeah, that's a great question and we've learned a lot over the last several months. And I think concept number one is, COVID can definitely affect other organ systems other than the lungs. And in fact, one of the misperceptions from the survey was that 25% incorrectly believed COVID only affected your lungs and not your heart. And we've now know, based on imaging studies, looking at blood work, taken in consideration patient symptoms, we've learned that it can affect the heart muscle, the lining of the heart. It can certainly affect the coronaries and it can affect the nerves. Which can have some cardiovascular implications and it can affect the vascular system. And so the effects are several, if you will. There are some new information about the long term sequelae or effects.

Dr. Jerry Estep:
We know certainly that those with underlying high blood pressure, coronary artery disease, heart failure, these patients are at higher risk of more severe COVID and complications. Put it in a very simple way, higher risk of dying if you do get COVID because of cardiovascular complications. We are now learning even 60 days out that the majority of patients that have so-called recovered from their acute infection still have symptoms. And these symptoms can be fatigued, shortness of breath, chest pain. And so we're positioning ourselves to better understand what the underlying heart problem may be.

Dr. Jerry Estep:
One in four out of one and five may have inflammation in their heart, and this can create problems related to arrhythmias. It can create problems in terms of how the heart functions, and create fluid retention, or heart failure. And so there's an opportunity to learn more about that. And so we've positioned ourselves working with colleagues across the spectrum of primary care, urology, pulmonary, and we as cardiology generalist and cardiology sub-specialists, we've position ourselves to understand that these implications see patients develop a tailored management protocol and certainly a surveillance protocol to understand if they have any one of these heart vascular complications.

Dr. Jerry Estep:
So surely I think one of the take home messages is, COVID can certainly affect the heart vascular system and symptom burden can persist after getting over COVID and with our recover center and center of excellence, if you will, we're nicely positioned to help patients.


Dr. Leslie Cho:
So patients can find us through... The center is called recover center, or recover clinic, for people with long-term COVID who want more dedicated, more specialized follow-up. That's nice, actually.

Dr. Leslie Cho:
Let me ask you a question. There is initially this big concern about ACE inhibitors, like medications like lisinopril, ramipril, very commonly prescribed blood pressure medication, as well as heart failure medication, maybe having adverse effect during COVID, and people were taking themselves off of it. But for now we know that, that's not the case. So maybe you could speak about that.

Dr. Jerry Estep:
Yeah. There was concern as it relates to the virus, entering the cells and creating infection or a more adverse infection in those on these medications, ACE inhibitors or ARB, these are commonly used to treat high blood pressure, cornerstone therapy to treat heart failure syndrome. And so there was concerns that if those patients were on these important medications, whether they would fare worse in terms of acquiring infection or having more complicated infections.

Dr. Jerry Estep:
So our center, which investigated a lot in terms of creating a registry and research efforts, nicely defined that that is not the case. Those patients on these underlying important medications do not have a higher incidence of infection or worse complications with infection. And in fact, I think there's greater risk with stopping these medications and having rebound high blood pressure or worsening heart failure. And so the take home message is, and this is certainly been supported by us early on, as well as key societies across the country, continue taking your heart medications unless told not to by your physician. If there's a good reason to. And so, very important message, continue taking your heart medicines. There is more harm than good if you were to come off of it.

Dr. Leslie Cho:
And now that the vaccine is here and people are feeling hopeful, some people are having a little bit of a concern about, if they have heart disease, are they safe to take the vaccine or not? What are we telling our patients?

Dr. Jerry Estep:
Yeah, I think it's very important, especially for everyone in general, but those with underlying heart conditions. And based on our survey, atrial fibrillation, high blood pressure, peripheral vascular disease, I would throw in heart failure, certainly. Those patients are at higher risk to have more problems. And so the vaccine, whether it's the Pfizer vaccine or the Moderna vaccine, minimizing getting a severe complication is certainly worth it.

Dr. Jerry Estep:
The efficacy of this vaccine is very, very impressive and the side effect profile very, very low. And so what we're telling all our patients and highlighting similarly, and perhaps even more so for those with underlying heart disease, that we advocate support and want them to get the vaccine as soon as possible to mitigate that chance of having a more severe COVID infection, certainly compared to prepare to the others. So as the vaccine is becoming more and more available, the importance of getting in line and taking the vaccine with a thought that the benefits far, far, far outweigh the risks.

Dr. Leslie Cho:
I think one of the wonderful things we learned during this unfortunate challenging year is, the safety of coming to the hospital. I think, that's one good thing we've learned. I think places like the Cleveland Clinic and other reputable programs across the country, have really done an excellent job of maintaining patient safety if they need to come for a visit or for a procedure. And so, I think one important message we want to also send out is, see your doctor. And if you have complicated heart failure or coronary artery disease, don't be afraid to come in to see your physician.

Dr. Leslie Cho:
If you can do it virtually, there are many virtual platforms and we're happy to see you virtually. But it's safe to come to the hospital. And then the other thing is this, please don't stop taking your medicine because you can't see a doctor and you can't get a refill. I think that's one of the most important things we want to get out there, too. And if you are having unstable symptoms, it's really important to get seen and not wait too long at home with worsening heart failure or worsening heart symptoms. I think that's another very important message we want to put out there too.

Dr. Leslie Cho:
Is there another final thoughts you have before we end our podcast today?

Dr. Jerry Estep:
Yeah, I would highlight that this survey was part of an education campaign in celebration of American Heart Month. And I think it's timely to put COVID front and center and to understand these misperceptions and to continue, as you highlighted nicely, to see your doctor and take your medicines. And so, we're very proud to be part of this and certainly anticipate for it to be well-received.

Dr. Leslie Cho:
Great. Thank you so much.

Dr. Leslie Cho:
And that ends our podcast for today. And thank you all for joining us.

Dr. Jerry Estep:
Thank you.

Announcer:
Thank you for listening. We hope you enjoyed the podcast. We welcome your comments and feedback. Please contact us at heart@ccf.org. Like what you heard? Subscribe wherever you get your podcasts or listen at clevelandclinic.org/loveyourheartpodcast.



Love Your Heart
A Cleveland Clinic podcast to help you learn more about heart and vascular disease and conditions affecting your chest. We explore prevention, diagnostic tests, medical and surgical treatments, new innovations and more.
Subscribe: