Heart Failure Awareness Week: Heart Failure Update #Hfweek2021
February 16, 2021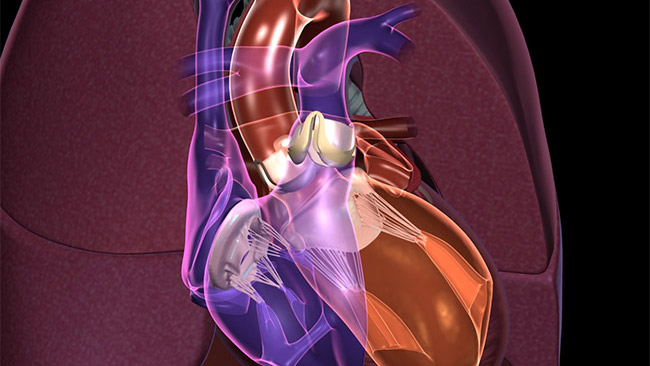 Heart Failure Awareness Week: Heart Failure Update #Hfweek2021
Podcast Transcript
Announcer:
Welcome to Love Your Heart, brought to you by Cleveland Clinic's Sydell and Arnold Miller Family Heart, Vascular and Thoracic Institute. These podcasts will help you learn more about your heart, thoracic and vascular systems, ways to stay healthy and information about diseases and treatment options. Enjoy.

Dr. Jerry Estep:
Good afternoon. My name is Jerry Estep, and I have the privilege of being the Section Head of Heart Failure and Transplant and the Medical Director of our Heart Failure and Recovery Center.

Dr. Edward Soltesz:
And hi, I'm Dr. Ed Soltesz. I'm a cardiac surgeon here at the Cleveland Clinic and I'm the surgical director of the Kaufman Center for Heart Failure and Recovery and one of the adult cardiac surgeons who perform transplants and LVAD surgeries.

Dr. Jerry Estep:
And we've come together today. We're very excited about highlighting heart failure awareness, and it's going to be celebrated the week of February 9th to the 15th. And it's an awareness activity, really is caught on over the several years, over a decade in fact. Well, we're truly trying to create awareness of this, what can be for many, deadly heart failure syndrome. And unfortunately heart failure doesn't discriminate. We see patients that are young, older, male, female, independent of underlying racial background, socioeconomic background.

Dr. Jerry Estep:
And really, unfortunately it affects millions of patients. According to the most recent statistics, if you will, more than 6 million patients have the heart failure syndrome. And the symptoms or tip offs, if you will, can be very non-specific from fatigue or shortness of breath, and for some people, chest pain or swelling, a sign a congestion. And when we think it's the heart as the culprit that can't keep up with the body's demand, we certainly pursue a formal diagnosis of heart failure. And while certainly these statistics are worrisome, what we're very excited about are the advances that have taken place in this realm of medical treatment and surgical treatment.

Dr. Jerry Estep:
And so Ed, if you don't mind just highlighting from your perspective, what have been advances in the field related to treating patients that may or may not need surgery?

Dr. Edward Soltesz:
Yeah. Jerry, the goal really is for everyone to live with their own heart. So that's why the Kaufman Center for Heart Failure and Recovery was renamed to include the name recovery, highlighting the fact that a lot of patients with heart failure have various degrees from heart failure to advanced stages heart failure, can actually benefit tremendously from surgical procedures or catheter-based procedures that can help various components of their heart that are leading to heart failure, whether that be valve issues, whether it be aortic stenosis or aortic regurgitation, mitral regurgitation, and of course, coronary artery disease, which is the most common cause of heart failure in the US and impacts the world.

Dr. Edward Soltesz:
So we have, over the past few years, advanced the ability to take patients who have very, very profound myocardial dysfunction and do conventional cardiac surgery with the assistance of temporary support devices. And that allows us to recover a patient post-operatively and gently recover their heart function. The goal, of course, is for patients to live with their own heart. But of course, not everyone can, and we have the ability now with the advancements of LVAD technologies, specifically the magnetically levitated HeartMate 3 LVAD, which has now been a common device we used for the past four years, we have the ability to return patients back to normal function with extremely low risk of complications. And of course, transplant. Transplant's always been around and we were advancing the ability to use transplants and in various different subpopulations of patients.

Dr. Jerry Estep:
Ed, fantastic. Appreciate that. And we certainly work with a large team to make that possible in terms of offering these end stage heart failure interventions available to those that need it, heart transplant and LVAD.

Dr. Jerry Estep:
Whenever I meet a patient with heart failure, I always like to reflect on the staging system and where we're at, and certainly we're aggressive to even mitigate, minimize developing heart failure in patients with risk factors like high blood pressure, known coronary artery disease. These patients are at risk to develop heart failure, classifies those patients where they don't have symptoms like shortness of breath or fatigue or swelling. They have normal heart size and function. Those are stage A patients. And patients can progress. They may remain free of symptoms, but develop remodeling. The heart can get big, or the heart function can become weak. Those are stage B.

Dr. Jerry Estep:
Stage C is a typical category where we're seeing patients with past or current persistent symptoms, again, shortness of breath and/or fatigue or swelling as the common symptoms. And for those patients, we're very aggressive on utilizing implementing guideline-directed medical therapy. And I see a lot of patients that are referred, that are quite symptomatic and we're thinking maybe they need surgery or maybe they truly have end-stage disease. And we're positioned to answer that question and use the medications. We have a large group and see a large number of patients, over 2,000 patients that are admitted with heart failure within main campus Cleveland Clinic, over 15,000 encounters in the outpatient arena. And to be able implement these meds, monitor closely understand trajectory that's based on patient's response, we leverage advanced practice provider input and management participation. We have a heart failure pharmacy co-management program, where they help us uptitrate, initiate and uptitrate these medications. And that's coupled with promoting self and optimizing nutrition status.

Dr. Jerry Estep:
And so, it remains exciting times, especially with these newer medicines. Beta blockers have been cornerstone. ACE inhibitors and ARBs have been cornerstone. Now, RNA or Entresto's certainly a standard meds. And we use MRAs and the newest ones are SGL2 inhibitors, which were used in patients with diabetes. And we've learned that incident heart failure's less when using these meds and now studied two randomized control trials, independent of diabetes status using this now fourth class of medicines, patients are living longer.

Dr. Jerry Estep:
And so, multiple opportunities for medicine optimization. There's more simple devices related to re-synchronizing the heart. CRT devices, what is called, coupled with the backup defibrillators, and now working with colleagues in structural heart to make sure we're having an opportunity to minimize valvular issues. So we're really excited about optimizing, and I think the concept of improving the heart with what we have is key in trying to minimize this progression to end-stage. And certainly, we're positioned nicely to offer these treatments with transplant and LVAD. And so, really appreciate the opportunity to highlight these efforts. And it's really based on a team approach. Ed, any last minute comments or thoughts related to this very important week of heart failure awareness?

Dr. Edward Soltesz:
Yeah, Jerry, I think it's just important for all providers and patients to know that we really want to work with them. We don't take over care. We work in concert with primary care doctors, with patients' cardiology team and with the patients to understand their wishes, to understand what their values are and work with the treatment plan based around that and with this support in concert with their own providers. So I think just like oncology providers have done over the many decades, they work together with patients' primary providers. So we're very happy to help with any patient to provide an opinion and we'll keep the communication lines open so that, again, we are working together with the patient and their group of providers in their local area.

Dr. Edward Soltesz:
And lastly, I want to mention that I think it's important to realize that there are a few events that really tip us off that there really is a problem with the patient. The patient gets admitted for heart failure in the hospital. That's a sentinel event. That is really an event. It needs to be understood within the context of how severe it is. And that's a time when it's really important to get us involved.

Dr. Edward Soltesz:
But Jerry, thank you. And I, again, want to say that this is a very important week to reflect, as Jerry had said, on the importance of heart failure in our communities and the fact that it does not follow any boundaries. It affects everyone. And we have new therapies and are continually advancing old therapies to help.

Dr. Jerry Estep:
So with that said, do your part, know your heart and celebrate heart failure awareness with education campaign such as this. We appreciate your attention.

Announcer:
Thank you for listening. We hope you enjoyed the podcast. We welcome your comments and feedback. Please contact us at heart@ccf.org. Like what you heard? Subscribe wherever you get your podcasts or listen at clevelandclinic.org/loveyourheartpodcast.


Love Your Heart
A Cleveland Clinic podcast to help you learn more about heart and vascular disease and conditions affecting your chest. We explore prevention, diagnostic tests, medical and surgical treatments, new innovations and more.
Subscribe: