Cardiac Sarcoidosis – Part 1: A Team Approach
December 7, 2021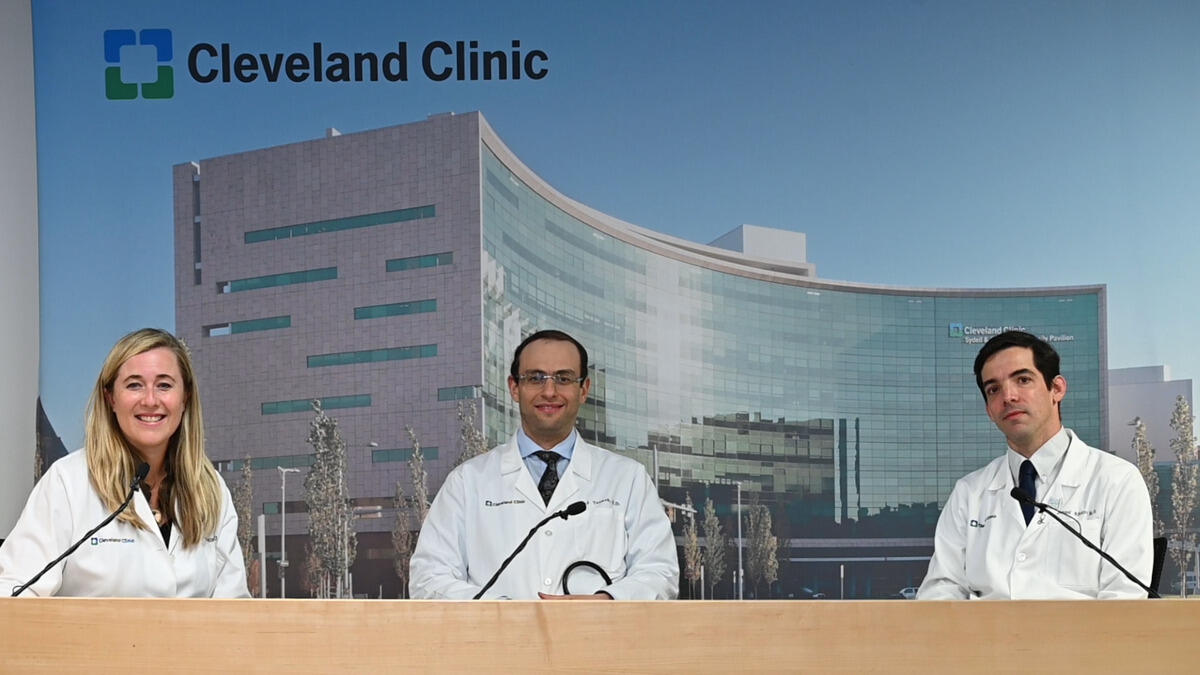 Cardiac Sarcoidosis – Part 1: A Team Approach
Podcast Transcript
Announcer:
Welcome to Love Your Heart, brought to you by Cleveland Clinic's Sydell and Arnold Miller Family Heart, Vascular and Thoracic Institute. These podcasts will help you learn more about your heart, thoracic and vascular systems, ways to stay healthy and information about diseases and treatment options. Enjoy.
Christine Jellis, MD, PhD:
Welcome. And thank you for joining us to the Heart, Vascular and Thoracic Institute, where today we have some experts with us who are going to talk about cardiac sarcoidosis. Now, cardiac sarcoidosis you may say, well, what is that? How can it affect me? What can I do to prevent it? There are so many questions and hopefully we're going to give you some of the answers today. So, I'd like to introduce two of our experts. We have a pulmonologist, Dr. Manuel Ribeiro, and a cardiologist, Dr. Ziad Taimeh. And they're going to tell us a little bit about what their jobs involve and how they manage, in a collaborative way, cardiac sarcoidosis.
Christine Jellis, MD, PhD:
My name's Christine Jellis. I'm also a cardiologist here in the HVTI of Cleveland Clinic. I'm an imaging cardiologist. So, I have the pleasure of working with these gentlemen on a regular basis in our multidisciplinary team, where we manage patients with cardiac sarcoidodis. So, Manny throwing across to you to start with, could you tell us a little bit about your role because you are the Director of Sarcoidosis and you manage patients with primarily pulmonary sarcoid but we know a percentage of those patients go on to develop cardiac involvement.
Manuel Lessa Ribeiro Neto, MD:
Correct, Chris. So, first of all, thank you for having me here. It's a pleasure and yeah, so I'm a pulmonologist by training, but the reason why I got involved into sarcoidosis is here we have very large Sarcoidosis Center and this was started many, many years ago by Dr. Dan Culver. And when I was training here many years ago, during my pulmonary fellowship, I focused on sarcoidosis in my last year of training. And the reason we do that is, even though sarcoidosis most of the time affects the lung as you mentioned, in a significant number of time, other organs can be involved. And our idea in our Sarcoidosis Center is to have one place for the patients to come and have their whole disease taken care of. And not only taking care of the pulmonary sarcoidosis, but also caring for the cardiac sarcoidosis or renal sarcoidosis. So, every problem that they have related to this disease, we try to take care in this one center. So, our role in the center is, of course, a lot to manage the pulmonary side, but also to coordinate. There's multidisciplinary care that we try to give.
Christine Jellis, MD, PhD:
Perfect. Thank you, Manny. And I think that's one of the nice aspects to this center is it really is multidisciplinary. Everyone plays to their strengths and hopefully with the patient always at the center of the focus. So, Ziad, tell us a little bit about your role because you're an expert in heart failure and sarcoidosis affects patients across a breadth of different manifestations and the sickest of our patients often present to your clinic. Do you mind telling us a little bit about what you do and how that benefits the team? And then I might throw back to Manny to give us a little bit more information on what sarcoidosis actually is.
Ziad Tiameh, MD:
Yeah, absolutely. Thank you for having us here. So, in essence, sarcoidosis is multi-organ involvement. In other words, effects multiple organs in the body. In up to 25% of the patients, they will get heart involvement of some sort. Could be mild, could be extensive. Up to 5% of patients, they get it clinically and they start feeling symptoms.
Ziad Tiameh, MD:
One of the challenges that we have sarcoidosis of the heart is the great masquerader. It can deceive us in diagnosis. And oftentimes we get those patients really late in the game when they have sarcoidosis in their lungs for so many years, affects their heart, but goes undiagnosed for many years. And as we know, it is inflammation in the body. It inflames the heart, it causes problems. But if that inflammation is not really treated, it results in scarring and fibrosis of the heart.
Ziad Tiameh, MD:
If you leave the fibrosis untreated for so many years, slowly, it will change into a basically scar the heart or the myocardium. Give it time, it will become big, thin and dilated. And that's where heart failure symptoms start to develop, where the body needs are not met by the heart function. And it continue to slowly deteriorate resulting in overt heart failure.
Ziad Tiameh, MD:
Unfortunately, we see it very common coming in our clinics. Patients with severe heart failure, dilated heart, dilated myocardium. And they are coming for heart pump or heart transplant evaluation. And at the bottom of their past medical history, they have a diagnosis of sarcoidosis some 30 years ago that went remission in the lungs, but it started to come back in the heart and went undiagnosed. So, our part here as a heart failure cardiologist really is to make sure that first of all, the cardiac sarcoidosis is diagnosed early enough with high index of suspicion and comfort. And then treated before they start developing heart failure. But when it starts developing, to treat that as much as we able to. In the most extreme cases we go for heart pump or heart transplantation. A matter of fact, sarcoidosis was found in heart samples, taking during pump implantation in more than three to five percent of patients that they were undiagnosed. Nobody knew they had sarcoidosis until we took that sample from the heart.
Christine Jellis, MD, PhD:
So, I think it's fair to say awareness is key. So, we need to really review those histories well. People who've perhaps had pulmonary sarcoidosis 20, 30 years ago and make sure that we keep that on our radar when we're thinking about, well, why are they having cardiac problems now? And you mentioned some interesting statistics there, that around 25% of people who have extra cardiac sarcoidosis will go on to have cardiac involvement. But, I think it's really important for our audience that we be reassuring that that 25% is really what we see on autopsy studies. And that of the 25%, only around 5% will actually manifest with symptoms like heart failure, conduction problems, and so on during their lifetime.
Christine Jellis, MD, PhD:
So, although we see a lot of this here at the Clinic, it is relatively rare. And then that proportion who go on to develop heart failure or need transplantation is an even smaller proportion of that 5%. So, we just want to make sure that we increase awareness of this condition, so we can diagnose this early in the piece, treat the inflammation. And then as you were talking about, Ziad, prevent the fibrosis that can lead to the long term dysfunction. So, Manny, when we come back to a more granular level, the question is, well, what is sarcoidosis? And when we hear about things like granulomas, what does that actually mean?
Manuel Lessa Ribeiro Neto, MD:
Yeah, so, Ziad mentioned most of the important things already. We work together closely. We discuss those things quite a bit. But, sarcoidosis, Chris, as Ziad mentioned and you, is a disease that causes inflammation in the organs. And more specifically, a type of inflammation caused by granulomas. And those granulomas are basically clusters of inflammatory cells. Those cells, they get together, they form this little cluster of cell. And when we look under the microscope, we call this granuloma.
Manuel Lessa Ribeiro Neto, MD:
There's some specific type of cells that form this granuloma. So, macrophages or histiocytes. They are usually in the center of the granuloma. Some of the medications that we use, they try to target those cells. But, around the granulomas, there are other types of cells from our immune system. Lymphocytes, for example. So, bottom line is a lot of cells from our immune system that get together, form this little cluster of cells. And depending on where those granulomas are, patients will have different types of problems. Most of the time, as we mentioned already, those granulomas will affect the lungs. So, 90 to 95% of the time, but any organ can be affected. And, as we mentioned, the heart is commonly one of them.
Christine Jellis, MD, PhD:
So, thinking about patients in two groups. So, primarily the patients that I see are early on in the phase. They have relatively preserved cardiac function. We want to treat that inflammation up front, so they don't have to come and see Ziad down the line. So, let's start with the initial treatment for treating the inflammation and have you, Manny, speak on that. And then I would love to have Ziad comment on what he would add on for patients who have more significant cardiac dysfunction. And then I might make you guys talk about some cardiac imaging, which is obviously my passion. So, Manny off you go.
Manuel Lessa Ribeiro Neto, MD:
Yeah, no, Chris, you're absolutely right. So, I like to say that time is muscle, right? We say there's a lot in sarcoidosis in cardiology and it's true for sarcoidosis as well. There is at least one study showing that the earlier that we treat, the better. And the first step is to treat the inflammation. We have a lot of different medications that we can use, but the first line is really steroids. Prednisone. Prednisone is very good in the beginning because it acts really fast and it decreases that inflammation in the heart. But, we have to be careful because if we use only prednisone for many months or years, patients usually have a lot of side effects. So, yes for a few months, that's great, but we have to combine prednisone with something else very early on.
Manuel Lessa Ribeiro Neto, MD:
Some centers like to do this a little bit later, maybe six months down the road. We here like to start those other medications from the very beginning, maybe in the first month of treatment, because this allows us to lower the dose of the prednisone, hopefully even stopping the prednisone a little sooner. So, again, first line will be prednisone steroids. Then those other medications, the second line agents or the steroid steering agents, some of the most famous ones are methotrexate or leflunomide. So, those are medications that we like to use soon in the treatment for cardiac sarcoidosis.
Manuel Lessa Ribeiro Neto, MD:
And then the last thing I'll say about this treatment of inflammation is sometimes we can't control the inflammation with those medications, steroids and methotrexate or leflunomide. So, there's a stronger class of medication called TNF blocker. And we have a few medications in that category that we use. So, those are stronger medications that we use to try to control the inflammation when those initial drugs don't work.
Christine Jellis, MD, PhD:
And that's, I think, been one of the advantages of us all working as a team, because a lot of those medications have side effects or have things that we need to monitor for. So, to be able to do that in a coordinated way and make sure people don't get lost to the system has really been, I think, a big advantage.
Christine Jellis, MD, PhD:
Ziad, when patients present later or they don't have a good response to inflammatory therapies and their cardiac function deteriorates, is the treatment that you give for sarcoid patients any different to the standard heart failure treatment? And what does the standard treatment encompass? Patients may be on a few different medications. And would you mind just highlighting what some of the main classes are and how can they can be a benefit?
Ziad Tiameh, MD:
Correct. Absolutely. Now, when sarcoidosis starts in the heart with a little bit of inflammation, it becomes unpredictable nature to see if it's going to really progress to overt heart failure. So, the faster patient goes in treatment, the better should be or would be the outcome. Once the inflammation goes on for so many years and heart started to remodel and get weaker, thinner, and bigger, then there are two sides of this for treatment. Number one is sarcoidosis cardiomyopathy, just like any other dilated heart disease, we have to address a specific cause, which is the inflammation. But, the other part is really to try to improve that scarring and prevent further damage from happening on the heart.
Ziad Tiameh, MD:
The medications that we typically use are guideline based medications that we use in other causes of heart failure as well. It includes ENTRESTO or sacubitril/valsartan, losartan, lisinopril as one class of medications.
Ziad Tiameh, MD:
The other class is beta blockers. Third class is aldosterone antagonist. And fourth class is SGLT II inhibitors, which we started using recently in those cases. And all these medications really tackle the heart from different angles to help with the scarring and the fibrosis. And like we discussed earlier, these medications most likely do work and they do good job, try to keep that heart controlled and at bay. But, unfortunately in a very small population, the heart function continues to deteriorate. That's where heart pump and heart transplantations comes in handy. And we oftentimes get asked this question, will sarcoidosis come back in my heart after transplant? And the reality it does. There are fewer reports that it does come back, but after transplantation patients are on immunosuppression to actually preserve the heart function from rejection and the same medicines would work to prevent sarcoidosis from coming back with vengeance. It might come in under the pathology in the pathology samples, but usually won't deteriorate the heart function.
Christine Jellis, MD, PhD:
Thank you Ziad. And I think that's been a wonderful overview. We've got so much to talk about. I think we might have to run this into a second session and perhaps invite you to come back and talk about my passion of cardiac imaging and also pacing and implantable defibrillators in the setting of cardiac sarcoidosis. So, perhaps guys, we can make this a series. But, thank you for joining me today. Appreciate your insights and certainly highlighting the advantage to working in our multidisciplinary team. We certainly love to see any patients with cardiac sarcoidosis who feel that they want to seek an opinion or seek some expertise from a group such as ours, where we really do strive to make sure that we do this in a very thoughtful and a multidisciplinary manner. So, thank you for joining us today. We hope that we'll see you again soon.
Announcer:
Thank you for listening. We hope you enjoyed the podcast. We welcome your comments and feedback. Please contact us at [email protected]. Like what you heard? Subscribe wherever you get your podcasts or listen at clevelandclinic.org/loveyourheartpodcast.
Love Your Heart
A Cleveland Clinic podcast to help you learn more about heart and vascular disease and conditions affecting your chest. We explore prevention, diagnostic tests, medical and surgical treatments, new innovations and more.
Subscribe: