How to Talk to Your Kids About Healthy Nutrition (And Why It's Important) with Dr. Christina Fink
April 14, 2021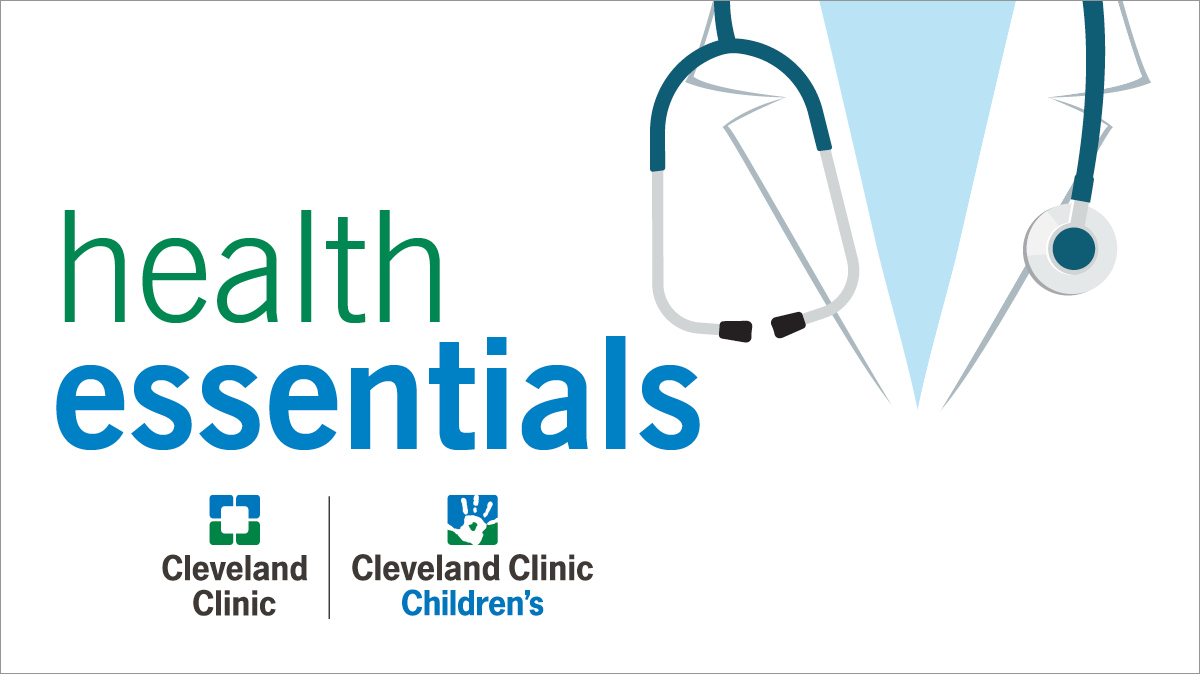 As a parent, you know the importance of modeling good behavior for your children. This is especially true when it comes to teaching kids about healthy eating habits. In this episode, pediatric cardiologist Christina Fink, MD, shares tips on teaching your children about making healthy food choices. She also provides advice on how to get them involved and how to introduce new food.
Subscribe: Apple Podcasts | Google Podcasts | Spotify | SoundCloud | Blubrry | Stitcher
How to Talk to Your Kids About Healthy Nutrition (And Why It's Important) with Dr. Christina Fink
Podcast Transcript
Nada Youssef: Hi and welcome to the Health Essentials podcast, brought to you by Cleveland Clinic. I'm your host, Nada Youssef. As parents, one of our goals is to make sure our children are eating healthy and equipped with all the right information to pick their own healthy foods. Poor eating habits can lead to childhood obesity, along heart problems and even high cholesterol so it's imperative for us to teach our kids about food that's good for their health and good for their heart. And today we are exploring this topic with Dr. Christina Fink. Dr. Fink is a pediatric cardiologist here at Cleveland Clinic Children's and she's here to talk to us about nutritious habits that can equip them for a healthy future. Dr. Fink, thank you so much for being with us today.
Christina Fink:
Nada, thank you guys so much for having me. I really appreciate it. This is a very important topic to me and to pediatricians not only in our country, all over the world. Thank you so much for this opportunity to talk about nutrition.
Nada Youssef:
Thank you. Thank you so much. And for our viewers, please remember this is for informational purposes only and it's not intended to replace your own physician's advice. Dr. Fink, first, can you start by telling us how nutrition factors into health for kids and especially why we should encourage heart healthy food choices while they're still young?
Christina Fink:
Absolutely. One way to look at food is it's the first type of medicine. You've probably heard the old adage or saying, you are what you eat. And that is absolutely true. We eat food to get nutrition, to grow and develop. If you're eating the incorrect types of food, your body, it can get out of order, disordered if you will. And with that disorder, we can see progression or development of health conditions as you mentioned, such as high cholesterol. We'll talk more later about how eating incorrectly and being overweight or because of inadequate or improper types of nutrition can lead to high blood pressure, insulin resistance or pre-diabetes. What you eat is foundational as far as being healthy and eating the right types of food in the right proportions.
Nada Youssef:
Great. Now, can we maybe get into the five major food groups and why they're very important?
Christina Fink:
Yeah, so the five major food groups are broken down and the different groups offer different types of nutrients. Dairy is one of the main five. That's what you'll often get your calcium. That includes milk, cheese products. Protein food group includes things like meat, eggs, nuts, beans. That's where you're going to get your protein essentially, which is one of the building molecules that your body uses to grow and develop. Next would be your vegetables, everybody is familiar with vegetables. You'll get many minerals and nutrients from vegetables. Fruits, also you get nutrients, minerals, vitamins from fruit as well. And then your grains, which would be your carbohydrates, your starches and you need some of all of these for proper growth and development. You need them in the proper proportions.
I think some of the issues that we've had in the past and we've even revamped how we recommend how we eat. If you recall, we used to have the food pyramid. It had a lot higher number of grains, which was at the bottom. Still had two to three servings of vegetables, two to four servings of fruit. And then as you kept going up a few servings of dairy, a few servings of protein. Well, we've totally changed our approach now.
Instead of the food pyramid, now you have the myplate, the dinner plate. In which on half of that, you should be having your fruit and vegetables. We've tried to increase the amount of fruit and vegetables and decrease the amount of grains. We found as Americans are getting far too many carbohydrates and as I said earlier, balance is the key to get the appropriate nutrition, the appropriate amounts. You're going to decrease the amount of starches and the grains and then we'll still have a similar amount of protein. You still need a certain amount. And Americans are pretty good at getting the right amount of protein in their daily diet. And then of course, next to the dinner plate, if you've seen that is a cup, which could be water or dairy.
Nada Youssef:
Speaking of dairy intake, is there a downside to drinking too much milk for kids to drink it every single day?
Christina Fink:
Well one of the main reasons that we have the dairy whites included in our food group is for the calcium intake. You're absolutely correct. You need about three glasses of milk a day as a child, a growing child. But as we've been talking about, everything in moderation. When you're drinking milk, you are getting some milk fats, you're getting some proteins, but if the child's already received the amount of nutrition, as far as the calcium from the dairy that they've gone for the day to drink extra milk, is just extra calories. It is just extra fat, extra protein. Some protein, which is not necessarily bad from a protein perspective, but from a fat perspective. That's when we talk about drinking enough water. For teenagers and adults, it's recommended actually drinking up to eight glasses of water per day. And we didn't really mention this earlier, but if you're getting enough hydration, sometimes people think they're hungry and they're actually thirsty.
When kiddos get home from school, instead of grabbing a snack right away, have them actually drink some water, especially if schools are not allowing them to have water at school. If they can only just get to the fountain, they can't have a water bottle, they may actually be thirsty. That's another thing to just be aware of and cognizant of.
But back to the dairy, as you mentioned. It really should be limited to about three glasses a day. And if children really are thirsty beyond that, I would just encourage them to do water. And as kids are getting older from the early toddler years, you want to really switch from whole milk to more low fat milk or even skim milk just because they don't need the extra fat from it. But as far as the calcium and the vitamins needed, you have to have adequate vitamin D. Vitamin D you can get through nutritional supplements and diet and also from the sun, but being in Northeastern Ohio, we definitely don't get enough sun, especially in the winter time. Making sure that they're getting their nutrition, if they need to be taking a children's multivitamin with vitamin D so they can use the calcium is very important.
Nada Youssef:
And what nutritional tips should we provide our children with to make healthier food choices?
Christina Fink:
Sure. I think some of the basic things to start with would be having set meal times, especially in our adolescents. Many children will start to skip breakfast and when they're trying to get ready in the morning. And breakfast is very important. It doesn't have to be large, just having something that's nutritious to get your body going, fuel your metabolism for the day. Eating as a family is always a good thing for social, emotional and developmental purposes as far as your child and how they're growing and developing. But when you have meals together, it's an opportunity to teach about proportions and showing your children, yeah about half of your plate should be fruits and vegetables. And you can monitor them what they're taking.
As far as other educational opportunities for children, you can start teaching them how to read nutrition labels. When you go to the store, you can show them the different types of foods. You can review things with them like, hey, we have to look at that fat content in this. Let's look at the carbohydrate or the sugar content of this. What type of sugar is it? Is it added sugar? Is it natural sugar?
And you can start to educate your children on making food choices like, oh, this food is healthier. And I think it just starts with them as well as us as a family members and parents, being aware of what's in our food that we're eating. As far as activity levels, that's another issue I think that's been affecting the American youth. We have these mobile devices. We have iPads, iPhones, video games, everything is so accessible. And when I talk to my patients, what I hear more often than not is they're not as active as kids maybe used to be 10, 20 years ago. The American Academy of Pediatrics recommends that children get 60 minutes of physical activity a day. Of that 30 minutes should be moderate activity, meaning that they should be breaking a light sweat when they're doing that. And for many of my patients who have had issues with weight, cholesterol, some who have higher blood pressures, that often is not the case. We're just not getting enough activity.
Nada Youssef:
Sure. And I like what you said to be a good role model and lead by example, because right now during the pandemic and being home all the time, it is difficult to set time limits for snacks or tell them to stop eating after one plate. Any kind of advice for that at all during these hard times?
Christina Fink:
Yeah. I think when it comes to snacks, naturally we like to eat food. We need it to live. And so it could be a challenge to stop eating or to stop eating after getting an adequate amount. I think sometimes people will eat out of boredom. I know what some parents have tried to do is they say, "Okay, we're going to limit it. You get X amount of snacks per day. You don't need any more than that." Snacks can be healthy and nutritious and we can enjoy them because they taste good. But as I mentioned before, everything in moderation. No need eat three snacks in the morning before lunch. We can fill that time with other activities that can be good for growth and development and just spending time with our children. But yeah, putting out the importance that just because you don't have anything else to do, eating is not the right thing to do at that time.
Nada Youssef:
Yes. Agreed. How should we approach the picky eaters? It's a big one.
Christina Fink:
Picky eaters, I think it starts at a young age. When you're introducing foods to your baby, start with the green baby foods, like your vegetables, those are not as sweet. If you start with the yellows and the orange colors, those tend to be sweeter tasting foods and babies will get used to that. They'll like those and then you try to switch to a green one like broccolis, peas. They may not like it as much. Starting young with that. Then the next step with picky eaters is when children are little especially, they're really exploring. They're learning about different types of foods. Things that parents can do is just talk about the food.
If you give them a piece of apple, look at the red color, look at the green color. Oh, it's crunchy. The child being little, toddler age may not know. They may not even try to eat it at first, but then introduce it to the child more than one time. It takes multiple exposures before a child will determine if they like a food or not. If you just do it once and say, "Oh, he or she doesn't like apples," that may not be true. Try a few more times, give it three or four chances. And then if it doesn't work, okay, try another food the next time to give your child. And then you can rotate back. It doesn't hurt.
And the exposure over time and the child becoming more familiar with it will improve their chance of trying it. Especially for older kids. It really just is trying different foods. Some of my colleagues, especially when I was in training, general pediatrics, recommended, they said, "Your child should try at least three bites of a food." This is an older child now, kindergarten or up to middle school age, try three bites. Just give it a chance before you can say you truly don't like it and give it a couple tries. Sometimes it's just trial and error of finding what your palette really likes. And you can do that with a lot of things that are healthy. That'll help you get the nutrition that you need.
Nada Youssef:
I like that. Stay persistent and give them options.
Christina Fink:
Yes, give them options.
Nada Youssef:
When they get a little bit older, kids will only eat nuggets, Mac and cheese and ketchup. How can we help them expand their palette? And when is becoming picky, can become an issue?
Christina Fink:
Yeah. I think the time that would be most concerned is if a child is underweight, if they're not getting enough nutrition. Continue to do what we've kind of talked about as far as introducing different foods, trying to see what the child likes. See if you can find something that like that's healthy, that's the key. Of course, macaroni and cheese tastes great. It's not the healthiest for us. Same with Dino Nuggets. Starting with fruits though. Sometimes other vegetables may be a little bit sweeter. Some carrots are a little bit sweeter, can start with that. But the idea is you also want to introduce them to the not as sweet ones, like we talked about in the baby food case. Just to kind of get the child exposed and see if maybe they'll like it. Because you want to give them a variety of foods.
When we talk about on the dinner plate, you want a variety of colors, orange, reds, yellows, greens. You want to hit all of those. And again, the persistence. There was a family member who I was speaking with recently and her son, when they were trying to eat healthier, he gagged. He would not eat beets. He said, "Oh, this is disgusting, mom." And she told me now that she grills them and she adds other different types of vegetables into their food and he loves them. He absolutely loves them. And he was in middle school. It is just persistence and maybe even trying a vegetable or a fruit or a certain type of food in a different way, preparing it in a different way, maybe a different texture and the child may like that better.
Nada Youssef:
I like that. And I've also heard to make sure that your kids always eat what they're smelling, with your cooking and don't make them anything separate on the side that they should be out of the dinner table. Is that true?
Christina Fink:
Yeah. They should be with the family. Yes. Unless there's a true dietary restriction, they should eat what the family is eating. Otherwise it teaches them that if I'm persistent and I hold out, I can get what I want. And that's not exactly the best thing for their health.
Nada Youssef:
That's what kids seem to do all the time anyways.
Christina Fink:
Definitely, definitely.
Nada Youssef:
I want to talk about fat. Fat is a little controversial when it comes to adults, but what about fat? Is it good or bad for children?
Christina Fink:
You need a certain amount of fat for development in your cells, your brain, certain organs, you'll need a certain amount of fat. The issue becomes when it becomes excessive. Typically in America, we don't get too little fat, it's usually opposite, we have too much. There are recommended amounts based on age. It does decrease as you get older, you're not growing as fast. And the other issue that we face as Americans is the type of fat. For patients who I see in my lipid clinic, so patients who have abnormal cholesterol, one of the recommendations we would make to them and I would make this to all my patients is check. Is there trans-fat? There shouldn't be. Trans-fat is not good. Is there saturated fat? You should limit saturated fats to less than 10 grams a day.
Nada Youssef:
That's for a child, correct? To 10 grams?
Christina Fink:
Yes, anybody actually. Yeah, 10 grams or less. Saturated fat is not good. What you want to do is instead try to substitute mono or polyunsaturated fats for your saturated fats, as you are able to. Meaning using oils. Typically again, this is not a be all and end all, but typically oils are healthier than fats that are solid at room temperature for you. Again, generality.
Nada Youssef:
Sure. Is the saturated fat amount, you said 10 grams a day?
Christina Fink:
Or less. Or less.
Nada Youssef:
Or less.
Christina Fink:
You want to limit that.
Nada Youssef:
And that is for adults. And then for children is the same amount then as they grow? Does that number change?
Christina Fink:
It's a general recommendation. You want to limit the amount of saturated fat.
Nada Youssef:
Okay. And if the child is overweight, should we limit fats in those kids' diets?
Christina Fink:
Yeah. I actually talked with one of our dieticians who works with me at the cholesterol clinic and the basic thing is that you just try to pick the healthy foods to make sure you're getting the nutrition that you needed in that amount. You try to use leaner meats. You try to pick the healthier fats. Again, substituting the mono and polyunsaturated fats for the saturated fats, limiting the saturated fats. For example, if you're having chicken, make the chicken, don't fry it. Prepare it without the skin on it. That's an extra source of fat that's not needed. And again, as we've talked about, if you condition your children to healthy eating, they'll become used to that. And sometimes if something's very fatty and they actually be like, "Ugh." You teach them what to look for, what's healthy. As they get older and they become young adults themselves, when they're on their own, they know. Okay, this is the healthier way to eat this type of food and prepare them.
Nada Youssef:
What is contributing to childhood obesity? Is it fat? Is it sugar? Is it both? Can we talk a little bit about fat versus sugar?
Christina Fink:
Yeah. Actually it even goes just beyond nutrition. It could be a combination of those and many other things or at least several other. We'll start with fats and sugar. Obviously if you're getting too much fat, that's a problem. It's not good for your diet. Likewise though, if you're eating too much sugar, certain types of sugars can be shunted down the fatty acid, if you will, pathway. High fructose corn syrup, anything in excess is bad for your body. And it can actually lead to abnormal, we'll say metabolism, abnormal use of the food. You want to eat the appropriate amount. You want to definitely stay within moderation, which is kind of been a theme of today's talk if you will. On top of that, exercise. As we mentioned before, exercise is key to maintaining good metabolism. It's good for helping maintain a healthy weight. And then which also goes along with the eating is sleep.
If you're not getting enough sleep, you're actually inhibiting some of the neuro hormones in your brain that affect the satiety center. Basically the center that says, "I'm full." If you don't get enough sleep, your body is actually telling you, "I'm still hungry," even though you may not be truly hungry or you don't need it. Getting enough sleep for children is another key component. Again, balance. It's balanced in life.
Nada Youssef:
Yeah, definitely.
Christina Fink:
When it comes to the fat versus sugar issue, again, either one can be a problem. Just because something is low fat or no fat, it may be very high in sugar. And you have to look at the type of sugar. You don't want to have a significant added or extra sugars. You want it preferably to be the natural sugars from the food products like fruit or vegetables, that would be okay. You really want to avoid excess sugars. A dietician whom I spoke with earlier in my training when I was in residency said, "Something that is a healthier choice is if the total carbohydrates, if less than half of it is sugar." Because other types of carbohydrates, including fiber, that you don't necessarily process but it actually helps with like passing food through your system, helps to preventing constipation. You want to have enough fiber in your diet.
Nada Youssef:
And then that's a good one for kids too, constipation. Because a lot of things can cause constipation and you mentioned balance, too much dairy, too much sugar or whatever's could cause it. We didn't talk a lot about fiber, but you did mention when you look at something that has carbohydrates and you see that it has fiber. That's a good thing. You just stay away from sugar when they're reading the labels for snacks, anything like that.
Christina Fink:
Looking at the types of sugar too. Again, if you're, if your total sugars is the majority of the carbohydrates, because sugars are a type, that tells you it's a higher sugar food. If you have a food that where less than half of the carbohydrates are sugar, that's a lower sugar food. And when you're picking your carbohydrates too, try to pick whole grains, instead of just white bread, those can take a little longer to be processed. Also consider, as we've mentioned too, with the higher fiber products are more your fruits and vegetables.
Nada Youssef:
Sure. Let's talk about children that maybe are underweight. How do we make sure they're gaining weight, the healthy, balanced way?
Christina Fink:
Sure. Obviously always try to introduce different foods to make sure they're getting enough. Some children, if they're underweight and this is something where you'd have to have a conversation with their pediatrician. There are food supplements for children that just don't want to eat or won't eat, whatever the issue is. They may also need to see other specialists involved to make sure that there's not some other physiologic, some other medical condition underlying if they're having trouble with weight gain. They may need to see other specialists. But one of the things that we can start with is our healthy supplements for the children. Some children will end up needing to drink a protein shake, but it's a nutritional supplement and your or other specialist would be the one to recommend that if the child truly is not getting enough nutrition to gain an appropriate weight and to grow and develop normally.
Nada Youssef:
Very good, very good. And we're talking about the food pyramid or my plate and the meats and everything they eat, but should kids be avoiding cholesterol? Is that something they should worry about?
Christina Fink:
That's a great question. I had to look at the most recent guidelines as far as what is it that we recommend for Americans. And we use the word diet a lot. They're calling it healthy eating patterns now. We're talking about healthy eating patterns. Your diet essentially is what you eat. It's not a fad diet, I'm going on the Atkins diet. We're talking about healthy eating patterns. What the recommendations are for Americans is that we should limit the cholesterol, but still make sure we get enough nutrition. You have to eat the foods that your body needs to make it through the day, live and grow and be healthy. But yeah, you should limit cholesterol. They used to have a number in the past. They've since gotten rid of that. In the past I think it's been about five to six years. They no longer limit it.
Now, if you're a patient, a child who has high cholesterol, again, my colleagues here don't necessarily give them a number. They say, "Try to eat nutritional foods in the appropriate quantities." Some organizations would say try to limit it for adults less than 200 milligrams of cholesterol. But these again are just recommendations and guidelines. The idea being, if you're eating the right foods in the right proportions, you can get that cholesterol to a better level.
Nada Youssef:
Okay. And I'm going to use your term. If kids are eating an unhealthy eating pattern, can blood pressure be increased? Can certain foods cause high blood pressure for children?
Christina Fink:
Sure. That's a great question. What we are seeing with obesity, it starts with, as we talked about, eating the incorrect amounts of foods. Eating too much fat or sugar, whatever particular type of food it is that's causing a child to be overweight, can serve to predispose you to other abnormal processes within the body. There is something that's very well known in the adult population called metabolic syndrome. And we are seeing that in more children.
That syndrome is composed of five main components. You have a person who's overweight or obese. They have a large abdominal girth, meaning their belly is big so they probably have fat that's been deposited in there. They can have elevated blood pressures as part of that. They can have insulin resistance, which I mentioned before. That's pre-diabetes, their body is not responding to the insulin that their pancreas is making, which is what helps you take the sugar into yourself to be used. The pancreas is making it, but the body's not responding so their sugar in their blood level is higher than it should be. Not responding to what their body's naturally making. Then they can have abnormal cholesterol levels. If you have three of any of these five components, you're considered as having metabolic syndrome.
In the past, I would say seven to 10 years or so, the number of children who have become overweight or obese has gone up and it's largely as a result of the diets and lack of exercise. And it was estimated probably within the past six, seven years, that up to a third of children were either overweight or obese in the United States. And at that time it was also estimated that about a third of adults were overweight and another third were obese. Actually the minority, if you will, were actually of a healthy weight.
It just shows that lifestyle is extremely important and a healthy family, being healthy as a family is important. If you want your children to have healthy habits, you as a parent needs to take on those habits too. That's going to increase your chance of being successful. As you mentioned before, being a role model. And of course, having healthy foods around the house, preparing healthy meals for you and your children, having healthy snacks, have a bowl of fruits, maybe a healthy granola or nutritious bar, instead of having the candies, maybe the fruit snacks. They look good but if you look at the sugar content it's a lot of hidden sugar in there. Have the real fruit instead. Just have the regular banana or half, we'll start with that. Having healthier foods accessible instead of having their crackers and cookies as snacks and chips, try to have other healthy fruit and vegetables that have a crunchy sensation to still give that satisfaction while you're eating, but still giving you better nutrition and not having higher excessive levels of fat, cholesterol or added sugar.
Nada Youssef:
That's great information. Now, many of us are diverting to takeout options now that we are always home, are there healthy, fast food options that we can sometimes indulge in as a family?
Christina Fink:
Well, you can't have the no joy diet or healthy eating diet. You can occasionally have something that's maybe not the healthiest. Having a burger, it's obviously not going to be the healthiest food choice, but it's okay. As we say, sparingly. Shouldn't be eating out three to four days a week, maybe once every couple of weeks, maybe once a week. But if it is, if you have a family that's constantly on the go, then it's really important to be cognizant of your options. Just because you're getting food that's fast, it doesn't necessarily mean it has to be unhealthy. You have to look at what can I order? What can I get? You can order salads. People are like, "I don't want a salad." Okay, fine. If you have to have your hamburger, what are your options?
This is where you can start to think, okay. If I'm having something that's a little bit unhealthy, can I counterbalance that? Instead of getting fries, first off, do I even need anything? Is it a really big burger? Can we just start with portion size? It's not like that. It's a big burger. If I am going to get a side, do I have an option to get a side salad? Do I have an option to get maybe depending on the restaurant beans or some other healthier foods? Do I have an option to get apples? I know in some of the children's meals that some of the restaurants are including apples as a side instead of fries. And instead of having the fruit punch or the soda, that's another huge thing I forgot to mention, the sugary drinks. Instead of choosing that choose, milk for water. If you're an older child, if you've already had your dairy content for the day two to three glasses of milk, drink water. Making those substitutions is very important.
And then speaking of sugary drinks, I forgot to mention that earlier. Juice tastes really good, but it's basically just extra sugar. You get more nutrition out of eating the fruit directly. You get the fiber, you get the other nutrients out of it that may not be present in juice. Juice should really be used sparingly, just like soda is considered a treat, juice should also be a treat too. Really, for kids it should be mostly milk and water. For people who are more athletic and in sports, you really don't need Gatorade unless if you're truly just sweating profusely but really stick with water. That is the main thing and that's the best thing for you.
There are some sports drinks that have no or low sugar and those would be better options if you really do like the taste of it and just don't like water. But the issue is with regular sports drinks, they do have added sugar and it's really of no benefit to you. Any exercise that you do in any calories you may have burned are just going to be canceled out if you will, by drinking the sports drinks afterwards with sugar in it and it's of no nutritional value.
Nada Youssef:
Wow. That's, that's very important information. And I wanted to kind of talk a little bit about the juice, because that was going to be my next question, because marketing can be deceiving when it comes to these juice packages. And then, my kids will look at it and say, "Mom, it's a 100% orange juice or a 100% apple juice." And so explain how juice, does natural mean that it's actually juice in there?
Christina Fink:
Sure. Well, I think that goes along the lines of what is natural? You could have an organic or a natural cookie. It's all organic. Whatever the criteria are for maybe minimal pesticides, however, but that doesn't necessarily mean it's healthy. It's still a cookie. It's still a treat. Just because something's natural, it could be made with natural components. You use fruits to make juice, but you've taken away as I mentioned, the fiber. You may lose some of the vitamin, nutrients. You may lose some of the minerals. If you have a vegetable juice, it's better to just eat the actual food itself. And then as the other issue being that you're just left with a bunch of sugar and some of it is not all natural, some of it is added. That's where looking at the labels is important, but really it's more of a treat. It should be used more of a treat.
Nada Youssef:
And Dr. Fink, can you talk about parents that maybe bribe their kids to finish their food when they're not hungry? You have to finish your plate before you leave the dinner table. Is that kind of behavior toxic for the kids to make them eat when they're not hungry?
Christina Fink:
That's a great question. And I remember growing up sometimes it'd be like, "Oh, eat a few more bites you can have dessert." That's not a good approach. It can actually be a little bit counterproductive because you're teaching your child if you just need a little bit more and you can have a little bit more. Dessert really shouldn't be a reward for eating all your food. It should be something that could just be planned. One or two desserts a week. Okay on this night, we'll have dessert. Children, especially toddlers are very good at self-regulating. They'll eat food until they're not hungry. I don't want to say force, but to encourage them to eat more than they're hungry for can actually introduce this pattern behavior of over eating. Even though it's not the intent of the parent and it was well meaning to actually get enough nutrition, young kids are very good at self-regulating. And again, using the dessert as a reward will end up being counterproductive in that way.
Nada Youssef:
That very good information. I wanted to kind of touch on what you mentioned earlier about kids when they're eating the apple, telling them to look at the red and the green and the crunch, feel it and all that. It kind of reminded me of mindful eating and seems to be kind of trendy topic right now. Can you talk a little bit about how we can use mindful eating to have our kids enjoy their food, not over eat?
Christina Fink:
Sure. You ever hear the saying, your eyes are bigger than your stomach? Kids put up a bunch of food on a plate and they just start eating it. When you eat fast, you don't realize that you become full and you very easily could overeat. It's not going to suffer, "Oh, I ate so much tonight." If you've heard some children saying things like that, I ate too much pizza. Eating slower, as you mentioned, being mindful, really just enjoying the process, enjoying the experience of eating. We eat because we need the nutrition, but food can taste really good. And I think just going slow and saying, "Hey, make sure you chew 20, 30 chews per bite." Really taste what you're eating, enjoy the combination. If it's a meat with the cheese or whatever it is, really just kind of experience and enjoy that flavor and the texture. And if you eat slower, you will realize and recognize when you become full so that it can help prevent overeating.
I know I personally am guilty if I'm running in between patients trying to grab a couple bites between lunch, I've often eaten more and I feel more full afterwards. When I eat slower, I notice I don't have this issue so much. I'm sure it's pretty similar for other adults and then also for kids.
Nada Youssef:
And Dr. Fink, how do we talk to our children about making a better healthy choices or healthy patterns? Especially if a child is obese without making them feel insecure, without causing any kind of food disorder, how do we make it more of a natural conversation?
Christina Fink:
That's a great question. I think it's a really important one, especially with a lot of the issues our teenagers are having with body image. When we talk about what we call a healthy weight, I think the way to best approach it with children is saying that we need to make some changes in how we eat and how we exercise to improve our health. When patients are overweight or obese, it means that the amount of weight basically for their body size is more than it would be considered healthy. As I've told parents in the past, it's not focusing on just the weight the number, it's focusing on other elements that we can use to help get the child back to a healthier weight per their body size. That focuses on eating healthier, exercising more, making sure that the children get enough sleep and saying that this is our lifestyle. We're making changes to our lifestyle.
And then as we've talked about too, having the family being on board with it, parents eating healthier, being active with their children. One of the things that pediatricians are aware of and may even talk to families about when talking with the parents is that if a child's overweight or obese, we don't want them to gain any weight at that point, just keep it the same. And then as the child becomes active, is eating healthier, hopefully they'll quote, if you will, grow into the weight that they are. And hopefully get to that healthier point.
Depending on the situation, if a child is very obese, we do have a specialized multidisciplinary clinic at Cleveland Clinic Children's called the Be Well Clinic. As part of that, we offer multiple specialists to help with these lifestyle changes. That includes a general provider who will evaluate the patient, the child, see if they have any other medical conditions that can be associated with obesity, such as having sleep apnea, having elevated cholesterol levels, if they have high blood pressure and if they have insulin insensitivity or pre-diabetes. Along with that, at the Be Well Clinic, they'll see a dietician to help educate patients and parents on the healthy food choices to make those better lifestyle changes. They'll see a physical therapist to assess the patient's strength, ability, talk to them about exercises they can do to be healthier.
They'll also see a behavioral specialist. Bad eating habits, poor eating habits or maladaptive, meaning some of the restrictive eating or binge eating. We have a specialist who can help with managing those kinds of behaviors and patterns. The Be Well Clinic is a very nice inclusive clinic and essentially as a preventative clinic. Once you identify if a child is overweight or obese, we want to prevent that potential for that metabolic syndrome, if you will. Making those lifestyle changes and getting the support that you need is the first place to be. First place to start. Be well Clinic is a great option I think for patients and families who are ready and want to make those lifestyle changes to get to a healthier point in their life.
Nada Youssef:
Excellent. Thank you again for your time, Dr. Fink. It's very, very informative information.
Christina Fink:
You're welcome. Thank you again for having me.
Nada Youssef:
Thank you. And if you'd like to speak to a healthcare professional with expert knowledge in childhood obesity, the Be Well Kids Clinic that Dr. Fink mentioned, works with children ages two to 18 and their families to develop strategies and create plans for a healthy lifestyle change. If you'd like to make an appointment with the Be Well Kids Clinic, please call (216) 444-5437 or you can visit our website at clevelandclinicchildrens.org.
Health Essentials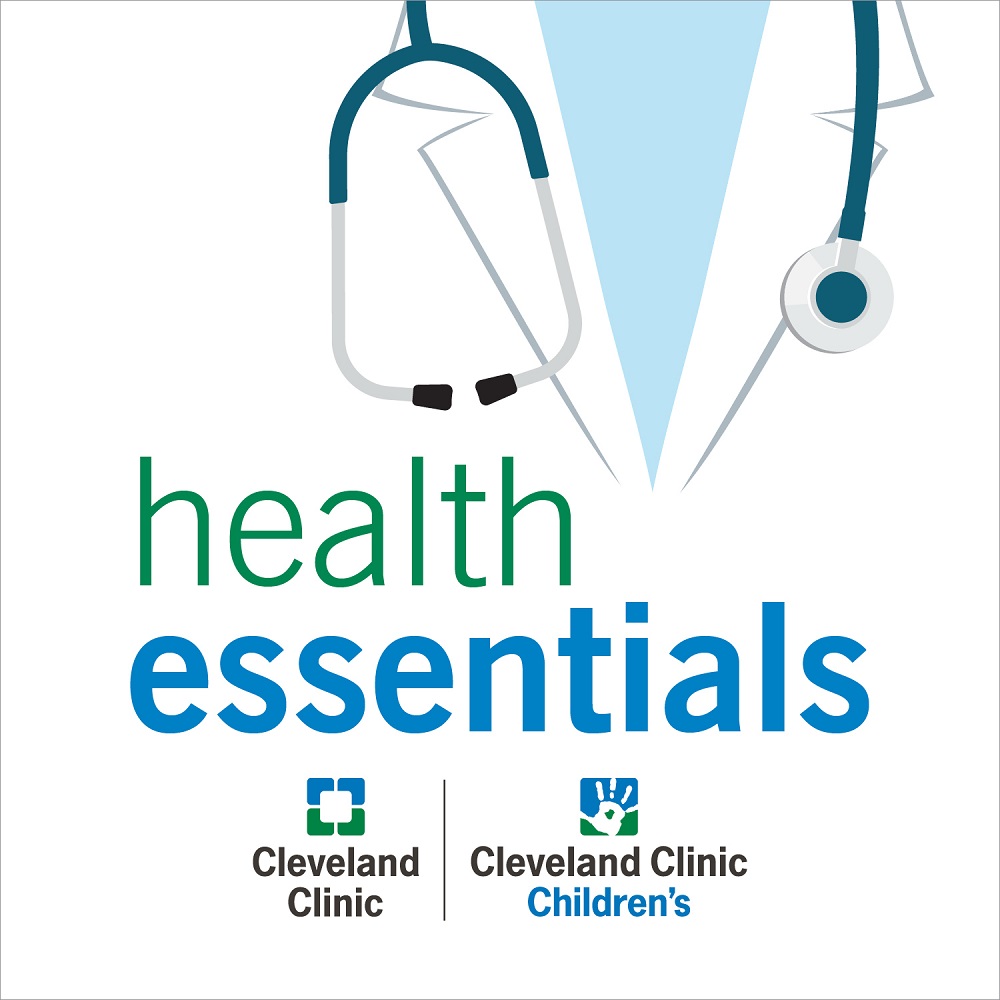 Tune in for practical health advice from Cleveland Clinic experts. What's really the healthiest diet for you? How can you safely recover after a heart attack? Can you boost your immune system?
Cleveland Clinic is a nonprofit, multispecialty academic medical center and is ranked as one of the nation's top hospitals by U.S. News & World Report. Our experts offer trusted advice on health, wellness and nutrition for the whole family.
Our podcasts are for informational purposes only and should not be relied upon as medical advice. They are not designed to replace a physician's medical assessment and medical judgment. Always consult first with your physician about anything related to your personal health.
Subscribe: