Overview
Overview
At Cleveland Clinic Cancer Center at South Pointe Hospital we care for the special needs of cancer patients with comprehensive and compassionate outpatient treatment, close to home. We offer our patients convenient parking and spacious treatment bays with a centrally located nursing station.
The South Pointe cancer program is accredited by the American College of Surgeons Commission on Cancer, and has been accredited for over 25 years.
Scheduling an Appointment
To schedule an appointment, contact us at 216.491.6438.
Cleveland Clinic Cancer Center at South Pointe Hospital provides the following services:
Medical Oncology
Breast Services
Urologic Oncology
Referral Services to Radiation Oncology services at Cleveland Clinic Cancer locations close to home
Learn more about the causes, symptoms, variations and treatment options for cancer.
Early Detection and Diagnosis
The best weapon against cancer will always be to identify it as early as possible and begin treatment to stop the disease from spreading. South Pointe Hospital features the leading technologies needed for accurate diagnosis of where and how much cancer exists.

CT Scan – Computerized Tomography scanners produce cross-sectional images at a high resolution in less than a second.
PET(Positron Emission Tomography)/CT Scan – Positron Emission Tomography scanners use color-coded imagery to map data about malignant tumors. The anatomical imaging of a CT Scan is combined with the molecular and cellular information provided by a PET Scan for early diagnosis and more accurate detection and precise localization of tumors. This test also offers improved biopsy sampling and better assessment of how patients respond to treatment.
MRI (Magnetic Resonance Imaging) – A non-invasive procedure that generates specific images of internal organs, tumors, blood vessels and soft tissue near bones and joints.
Nuclear Isotope Scan – A gamma camera or scintillation scanner pinpoints the physiologic function, location and diagnosis of abnormal organs or tissues.
Mammography – A type of imaging specifically designed to detect breast cancer.
Genetic Cancer Risk Assessment Referral Services – Access to special testing for individuals concerned about their family or personal history.
Treatment
Radiation Therapy Referals
Chemotherapy – Infusion and chemotherapy services provided under the direct supervision of board-certified oncology physicians.
Radiation Therapy – Small doses of high-level radiation can kill cancer cells or keep them from growing.
Brachytherapy – Injection of low-dose radioactive seeds directly into the diseased area. It is an alternative to surgery or daily radiation.
High-Dose Rate (HDR) brachytherapy – A safe, effective option for treating breast, prostate, cervical and uterine cancers.
Intensity Modulated Radiation Therapy (IMRT) – A method of giving concentrated radiation treatment with the goal of directing radiation to the tumor while sparing normal tissue and reducing side effects.
Mammosite™ – An applicator that delivers radiation directly to the area surrounding the tumor in breast cancer patients considering lumpectomy.
Cancer Genetic Counseling
Exploring your personal and/or family history of cancer can help assess your cancer risk. Ask your doctor for a referral to speak with a Certified Genetic Counselor.
For more information or to schedule an appointment, call 440.312.4569.
Support
The American Cancer Society
The American Cancer Society offers programs and services to help people with cancer manage their lives through treatment and recovery while finding the emotional support they need.
The Gathering Place
The mission of The Gathering Place is to support, educate and empower individuals and families touched by cancer through programs and services provided free of charge.
Social Services
Oncology social workers at the Cancer Center at South Pointe Hospital are licensed professionals. They are skilled in addressing the counseling, support and advocacy needs of patients with cancer and their families.
Patient Navigation
Many things get in the way of taking care of your health needs. At Cleveland Clinic Cancer Center at South Pointe Hospital, specially trained people, called Patient Navigators, are available to help you. The purpose of the navigation program is to help underserved patients overcome barriers that may impact their ability to get needed cancer screenings or treatments. Eligible patients for navigation are individuals who need assistance with scheduling appointments, financial aid, and any other barrier that would impact his or her ability to receive appropriate treatment. By utilizing resources available from Cleveland Clinic and throughout the community, the Patient Navigator can help to resolve the barriers to screening and treatment a patient may experience. Cleveland Clinic promotes our patients well-being, which is why our Patient Navigators will continue to follow up with each patient for his or her annual checkup.
Patient Navigators:
Address the financial, educational, cultural and/or psychosocial factors that create barriers for individuals in obtaining cancer screening and treatment
Increase patient access to care by guiding patients through the healthcare system
Provide ongoing support to patients throughout the continuum of care
Cancer Prevention and Outreach
Cancer Prevention and Outreach
Cleveland Clinic Cancer Center at South Pointe Hospital offers a cancer prevention, identification and outreach program designed to meet the needs of the diverse community we serve.
Minorities often seek treatment for cancer at later stages, giving them a lower chance at survival. Our goal is to help improve that. The program helps minority men and women:
Learn how to lower their risk of cancer. Through community education and partnering with community leaders, the program promotes healthier lifestyles, including smoking cessation, healthy eating and exercise.
Get cancer screenings in the community. Cancer screenings can include:

Mammogram for breast cancer
Prostate exam for prostate cancer
Colonoscopy for colon cancer
Skin check for skin cancer

Overcome barriers to healthcare. If cancer is found, our team will provide access to complete cancer care, using the latest treatments. A personal patient navigator, who understands the healthcare system and your special needs, will be with you through every step of your journey. These navigators can help people find transportation to medical appointments, help find assistance for prescription drugs and otherwise access the care they need.
Have equal access to cancer trials. Cancer trials are scientific studies that test new treatments to see if they're effective, safe and better than standard treatments. Samir Abraksia, MD, Director of the South Pointe Cancer Center, hopes to enroll more minority patients in national cancer trials through South Pointe Hospital. That means more people in the community would have access to the same leading-edge care available at major cancer centers.
Screening and Education
African Americans suffer significantly more cancer morbidity and mortality than the white population. According to the American Cancer Society, African Americans have the highest death rate and shortest survival of any racial and ethnic group in the US for most cancers.
In an attempt to address these daunting statistics, South Pointe Hospital, Government and Community Relations and the Cleveland Clinic Cancer Center Community Outreach Department partner together to provide programs that incorporate community participation and creative outreach opportunities to help reduce cancer disparities within the South Pointe community.
Community outreach efforts focus on education, awareness and screenings. Research has found that, among other strategies, providing access to convenient programming and screenings within the community setting is one of the most effective strategies to help reduce cancer incidence within a population.
To learn more about our screening and outreach programs for the community, please call 216.491.7108.
'Victory in Pink' Gala
'Victory in Pink' Gala
Highlighting Breast Cancer Awareness in our Community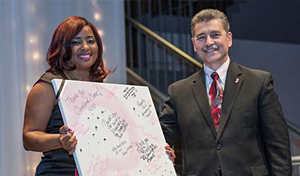 South Pointe Hospital Caregivers Play Vital Role in Making Program Possible
Cleveland Clinic's Taussig Cancer Institute joined forces with The Word Church, a multi-site ministry with more than 34,000 members, to establish the Victory in Pink program — an initiative aimed at educating African-American men and women on breast cancer prevention.
Beginning August 2014, more than 7,000 African-American men and women received education on breast cancer prevention through Victory in Pink's presentations and panel discussions held at The Word Church. In just 90 days, more than 150 women received breast exams and mammograms at several Cleveland Clinic facilities including South Pointe Hospital, Stephanie Tubbs Jones Family Health Center and the Langston Hughes Community Center.
Taussig Cancer Institute and its regional partners hosted a special gala on Nov. 8 to celebrate the program's efforts. The event featured Fox 8 News Anchor Wayne Dawson and Eleanor Hayes, director of communications, Human Resources, as emcees. They shared results of the initiative, awarded patients for their participation and thanked caregivers for their hard work and support. Karen Cooper, DO was the keynote speaker, sharing her own personal experience with breast cancer, emphasizing the need for women to talk to each other about breast cancer and the important of early detection.