Overview
Overview
Construction Alert
Construction continues on the new Lozick Cancer Pavilion at Hillcrest Hospital. As part of this, we have made changes to check-in and waiting areas. This remains in effect until the Cancer Center's new south-end entrance opens in spring 2024.
The Cancer Center's Lower Level Clinic reception desk and waiting area are now by the Emergency Room entrance. Check-in here for:
Radiation Oncology.
Thoracic.
Palliative Medicine.
Gynecology Oncology.
Genetic Counseling.
Lower-level Medical Oncology clinics.
If you have appointments with Medical Oncology on the 2nd floor, check in at the temporary reception desk and waiting area outside the current clinics' entrance.
Due to space constraints during construction, please bring only one guest to appointments. Thank you for your patience during this exciting construction project
Our longstanding commitment to excellence in cancer treatment has been proven and recognized nationwide. Cleveland Clinic Cancer Center at Hillcrest Hospital has been awarded the designation of Comprehensive Community Cancer Program by the American College of Surgeons Commission on Cancer. Hillcrest Hospital has been nationally recognized 11 times as one of America's 100 Top Hospitals, a designation based on extensive research of U.S. hospitals, as conducted by Thomson Reuters.
With expertise and advanced technology, Cleveland Clinic Cancer Center at Hillcrest Hospital emphasizes prevention, early detection, personalized, aggressive treatment and customized support.
Cancer services
Cleveland Clinic Cancer Center at Hillcrest Hospital includes the following services:
Medical Oncology.
Radiation Oncology.
Breast Program:

Breast Surgery.
Plastic Surgery.
Survivorship.

Gynecology Oncology.
Urologic Oncology.
Palliative Care.
Learn more about the causes, symptoms, variations and treatment options for cancer.
Accreditation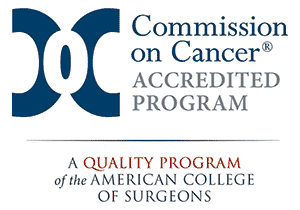 Hillcrest Hospital has earned accreditation from the National Accreditation Program for Rectal Cancer (NAPRC), a quality program of the American College of Surgeons.
Hillcrest Hospital has been accredited by the Commission on Cancer, a quality program of the American College of Surgeons, since 1972.
Detection and Diagnosis
Detection and Diagnosis
Early Detection and Diagnosis
The best weapon against cancer will always be to identify it as early as possible and begin treatment to stop the disease from spreading. Hillcrest Hospital features the leading technologies needed for accurate diagnosis of where and how much cancer exists.
CT Scan. Computerized Tomography scanners produce cross-sectional images at high resolution in less than a second. Hillcrest recently upgraded its equipment to include a 40-slice CT scanner that provides extensive anatomical detail.
PET/CT Scan. Positron Emission Tomography scanners use color-coded imagery to map data about malignant tumors. The anatomical imaging of a CT Scan is combined with the molecular and cellular information provided by a PET Scan for early diagnosis and more accurate detection and precise localization of tumors. This test also offers improved biopsy sampling and better assessment of how patients respond to treatment.
MRI (Magnetic Resonance Imaging) is a non-invasive procedure that generates specific images of internal organs, tumors, blood vessels and soft tissue near bones and joints.
Nuclear or Isotope Scan. A gamma camera or scintillation scanner pinpoints the physiologic function, location and diagnosis of abnormal organs or tissues.
Mammography. A type of imaging specifically designed to detect breast cancer. Hillcrest was the first Northeast Ohio hospital to install ImageChecker technology that digitally examines test images and marks regions of concern for further examination.
Genetic Cancer Risk Assessment. Special testing for individuals concerned about their family or personal history.
Treatment
Treatment
Treatment
Surgery. Traditional laparoscopic or laser surgery to remove a malignant tumor or extract tissue
Chemotherapy. Infusion and chemotherapy services provided under the direct supervision of board-certified oncology physicians
Radiation Therapy. Small doses of high-level radiation can kill cancer cells or keep them from growing
Brachytherapy. The injection of low-dose radioactive seeds directly into the diseased area, is an alternative to surgery or daily radiation.
High-Dose Rate (HDR) brachytherapy is a safe, effective option for treating breast, prostate, cervical and uterine cancers.
Intensity Modulated Radiation Therapy (IMRT) is a method of giving concentrated radiation treatment with the goal of directing radiation to the tumor while sparing normal tissue and reducing side effects.
The MammoSite applicator delivers radiation directly to the area surrounding the tumor in breast cancer patients considering lumpectomy.
Resources
Resources
Clinical Studies
People who participate in clinical trials help researchers evaluate a new medical treatment, drug or device. A clinical trial is a research program created to find new and improved methods of treating patients with various diseases and special conditions.
Hillcrest Hospital currently has trials for many disease sites in Radiation Oncology, Medical Oncology and Gynecology Oncology. For further information, contact the research department at 440.312.4532.
Cancer Genetic Counseling
Exploring your personal and/or family history of cancer can help assess your cancer risk. For more information or to schedule an appointment for cancer genetic counseling, contact a Certified Genetic Counselor.
Phone: 440.312.4569
Support
The American Cancer Society
The American Cancer Society offers programs and services to help people with cancer manage their lives through treatment and recovery while finding the emotional support they need.
The Gathering Place
The mission of The Gathering Place is to support, educate and empower individuals and families touched by cancer through programs and services provided free of charge.
Social Services
Oncology social workers at the Cancer Center at Hillcrest Hospital are licensed professionals. They are skilled in addressing the counseling, support and advocacy needs of patients with cancer and their families.
Community Services
Hillcrest Hospital sponsors a series of programs that can help reduce the chance of developing most forms of cancer:
Wellness Seminars. Featured topics cover a range of controllable risk factors, such as nutrition, age-appropriate exercise and environment. The Cancer Center at Hillcrest Hospital also partners with the American Cancer Society for Look Good Feel Better, a series of group workshops that teach beauty techniques to female cancer patients to help them combat the appearance-related side effects of cancer treatment.
Screening Programs. Basic testing for various cancers including skin and prostate to produce an individualized cancer risk profile. The Cancer Center at Hillcrest Hospital also is part of the Breast and Cervical Cancer Project (BCCP), which provides high quality breast and cervical cancer screening, diagnostic testing and case management services at no cost to eligible women in Ohio.
For more information about these programs, please call 440.312.5787.