Pay My Bill
Pay My Bill
Understanding Insurance and Our Billing Process at Cleveland Clinic Akron General
Learn More
Pay Online

Manage your billing account online, view your information, make payments, update billing information and more.
Please note:
Services on or before September 29, 2017 are managed by Akron General's Pay My Bill system.
Services on or after September 30, 2017 are managed by Cleveland Clinic's Pay My Bill system.
Select the picture below that looks like your invoice to view your payment options:
If your statement looks like the Akron General example below, you may also pay by phone: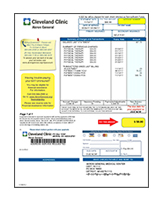 Get account information about your hospital bill by phone during business hours. Have your account number ready when you call.

330.344.1135
866.246.3472 (toll free)
Check your account balance
Obtain payment history
Request an itemized statement of your account
Update your mailing address
Make a credit card payment
Establish a payment plan
Obtain information about qualifications to receive free services
Obtain information about community resources available to help you
Update your insurance information
Request a refund or check the status of a refund
Hospital Charges
The State of Ohio requires that hospitals provide a list of charges on their websites.
Insurance
Insurance
Accepted Health Insurance
It's your choice. Make sure your plan includes the hospital you've trusted over the years for the healthcare needs of you and your family. We offer comprehensive tertiary care for adult health, with regional referral centers in Heart & Vascular Care, Neurosciences, Cancer Care, Orthopedics & Rehabilitation and Women's Health.
Akron General accepts the following health plans.
(List current as of Jan 15, 2018. List subject to change.)
Commercial Plans
Aetna
Anthem Blue Cross & Blue Shield
AultCare
Beacon Health Options - (formerly Value Options)
Cigna/Great West
Cleveland Clinic Employee Health Plan (CCEHP)
Cofinity
Cofinity/First Health/Coventry - (Lodi Community Hospital is the only entity in network)
Evolutions
HealthNet (Tricare)
HealthSmart/Emerald
The Health Plan/HomeTown
Humana Choice Care
Medical Mutual
Midwest Health Collaborative
MultiPlan
Quality Care Partners - (excludes Summa Employees)
Three Rivers Provider Network
United Behavioral Health
UnitedHealthcare
USA Managed Care Organization
Health Insurance Exchange Plans
Medicare
Anthem Blue Cross & Blue Shield (BCBS) - (includes Anthem BCBS MediBlue Prime Select HMO in collaboration with Cleveland Clinic)
Buckeye AllWell Dual Special Needs Plan (DSNP) – (note that this does not include Buckeye AllWell Medicare HMO)
Buckeye Community Health Plan
Buckeye MyCare Ohio
CareSource MyCare Ohio
Gateway Health Medicare HMO/HMO Dual Special Needs Plan (DSNP)/Chronic Care Special Needs Plan (CSNP)
Humana - (includes Humana Cleveland Clinic Preferred HMO and HMO Special Needs Plan (SNP))
Humana PPO - (does not include HMO plans)
Paramount
UnitedHealthcare MyCare Ohio
Medicaid
CareSource
Molina Healthcare
Paramount Advantage
UnitedHealthcare Community Plan
Please bring your insurance card with you, when you register. Your insurance information is maintained on file, but it's always a good idea to have it on hand, so that we can ensure accurate billing and simplify registration.
Financial Assistance
We know that a hospital visit, test or therapy is often unexpected. We also understand that the expense can become a worry to you. We take great pride in putting our patients first and that is the reason we participate in the Ohio Hospital Care Assurance Program (HCAP) and our CARE charity programs.
To qualify, patients must complete a Hospital Financial Assistance Program Application, apply and have their eligibility approved to receive free care under the HCAP or CARE programs. Call 330.344.2000 or 1.866.440.0257 for a financial assistance application.
Patient Price Information List
In compliance with state law, a price list is available containing the usual and customary charges for room and board, X-rays, Laboratory, Emergency Department, Operating Room, Delivery Room, Physical Therapy and Respiratory Services.
Financial Assistance
Financial Assistance
Cleveland Clinic offers financial assistance to those who qualify.