Robotically Assisted Tricuspid Valve Repair
Overview
Robotically assisted tricuspid valve surgery is a type of minimally invasive heart surgery performed by a cardiac surgeon, on the tricuspid valve with an endoscopic, closed chest approach.
Your tricuspid valve
There are four valves within your heart. They are the mitral, tricuspid, aortic and pulmonic valves. The tricuspid valve lies between the right atrium (upper heart chamber) and the right ventricle (lower heart chamber).
What is valve disease?
Valve disease occurs when your heart's valves do not work correctly. This can be caused by valve stenosis (stiff, fused, inflexible leaflets, limiting flow of blood) or valve regurgitation (leaky heart valve, occurs when the leaflets do not close completely).
Procedure Details
Tricuspid valve surgery
When the tricuspid valve does not function properly, it is often necessary to repair or replace it. At the Cleveland Clinic, tricuspid valve repair is the procedure of choice for most patients with tricuspid valve disease. In select cases, robotically assisted tricuspid valve surgery may be an option for patients who require mitral valve and tricuspid valve repair.
Resources
Which Cleveland Clinic physicians perform robotically-assisted heart surgery?
Robotically-assisted surgery is performed by our specially trained cardiovascular surgeons. Some of these surgeons perform only specific types of robotically assisted heart surgery. We would be happy to help you find the right surgeon to treat your medical condition.
If you would like to find out whether you are a candidate for robot assisted tricuspid valve surgery or learn more about minimally invasive heart surgery, please contact us to make an appointment with a cardiovascular surgeon in Cleveland Clinic's Heart, Vascular & Thoracic Institute. If you have questions, you can also talk to one of our Heart Nurses at 216.445.9288 or toll-free at 866.289.6911.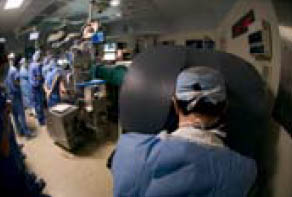 Robotically assisted heart surgeries
For more information about tricuspid valve disease treatments:
Department of Thoracic and Cardiovascular Surgery Images used with permission by © Intuitive Surgical, Inc.
Cleveland Clinic is a non-profit academic medical center. Advertising on our site helps support our mission. We do not endorse non-Cleveland Clinic products or services. Policy