Pacemakers: Leadless Pacemaker
Overview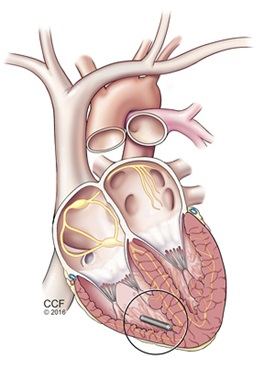 What is a pacemaker?
A pacemaker is a device that sends small electrical impulses to the heart muscle to maintain a suitable heart rate or to stimulate the lower chambers of the heart (ventricles).
Pacemakers are used to treat patients with bradyarrhythmias, slow heart rhythms that may occur as a result of disease in the heart's conduction system (such as the SA node, AV node or His-Purkinje network).
Learn more about permanent pacemakers
A leadless pacemaker is small self-contained device that is inserted in the right ventricle of the heart.
Who is a candidate for a leadless pacemaker?
Not everyone is a candidate for a leadless pacemaker. Currently, the device is available only for patients with certain medical conditions and a slow heart rate (bradycardia) who need single-chamber pacing only. Like all pacemakers, leadless pacemakers require approval by the Food and Drug Administration (FDA) and sometimes there are additional restrictions upon availability for an individual patient. Your doctor can tell you if you are a candidate for a leadless pacemaker after a review of your medical history, heart rhythm, and the results of medical tests. You may need an echocardiogram (ultrasound of the heart) or other noninvasive tests.
Learn more about what to expect after a permanent pacemaker procedure
Procedure Details
How is the leadless pacemaker implanted?
The pacemaker is put in place using a long, thin tube called a catheter. The catheter is inserted into the femoral vein through a very small incision in your groin. Your doctor will numb this area with local anesthetic (pain-relieving medication). Your doctor will use an X-ray machine to guide the catheter to your heart. Once the catheter is inside the right ventricle, your doctor will place the pacemaker into position in the heart. The device is tested to make sure it is attached to the wall and programmed correctly. Then, the catheter is removed and the incision site is closed by applying pressure to the area.
The procedure takes about 30 minutes to complete, although this can vary patient-to-patient based on individual anatomical consideration.
Learn more about what to expect before and during a permanent pacemaker procedure
What happens after the procedure?
You will need to lie flat and keep the leg straight for two to six hours after the procedure. This prevents bleeding from the access site. Do not try to sit or stand. A sterile dressing will be placed on your groin area to protect it from infection. You will spend the night in the hospital and will be able to go home after your device check and a chest X-ray.
Risks / Benefits
What are the benefits of a leadless pacemaker?
It does not require connecting leads (wires) or a generator, or a creation of a surgical pocket on the chest. These are the most common causes of traditional pacemaker complications over the long-term, and may affect up to 1 in 10 patients.
When the leadless device is in place, there is no lump under the skin on the chest or leads anchored to the muscle bed. Sometimes these cause minor discomfort for patients who live with traditional pacemakers. The incisional access for a traditional pacemaker and each generator replacement leaves a scar that is a cosmetic concern for some patients.
The procedure uses a catheter to place the device. The procedure typically takes less time than a traditional pacemaker implant procedure.
Because there are no wires or generator, you do not need to limit upper body activity after the implant.
What are the risks of a leadless pacemaker implant?
Every procedure has complications associated with it. The most common possible problems after a leadless pacemaker implant involve the incision site, such as swelling and bleeding. These are not typically life threatening but may lead to a longer hospital stay or slower recovery.
More serious but rare complications include the device moving out of place (dislodgement) or internal bleeding, such as pericardial effusion or tamponade. Your doctor will talk to you before your procedure about the risks and benefits of the implant.
Recovery and Outlook
Follow-up
Follow up after a leadless pacemaker is similar to a traditional schedule with noninvasive checks. For more information, follow this link: recovery and follow up after a device.
Resources
Doctors vary in quality due to differences in training and experience; hospitals differ in the number of services available. The more complex your medical problem, the greater these differences in quality become and the more they matter.
Clearly, the doctor and hospital that you choose for complex, specialized medical care will have a direct impact on how well you do. To help you make this choice, please review our Miller Family Heart, Vascular & Thoracic Institute Outcomes.
Cleveland Clinic Heart, Vascular & Thoracic Institute Cardiologists and Surgeons
Choosing a doctor to treat your abnormal heart rhythm depends on where you are in your diagnosis and treatment. The following Heart, Vascular & Thoracic Institute Section treats patients with Arrhythmias and implants leadless pacemakers:
Section of Electrophysiology and Pacing: cardiology evaluation for medical management or electrophysiology procedures or devices - Call Cardiology Appointments at toll-free 800.223.2273, extension 4-6697 or request an appointment online.
For younger patients with abnormal heart rhythms:
See: About Us to learn more about the Sydell and Arnold Miller Family Heart, Vascular & Thoracic Institute.
Contact
If you need more information, click here to contact us, chat online with a nurse or call the Miller Family Heart, Vascular & Thoracic Institute Resource & Information Nurse at 216.445.9288 or toll-free at 866.289.6911. We would be happy to help you.
Becoming a Patient
Abnormal Heart Rhythm Conditions
Treatment Guides
Diagnostic Tests
Diagnostic tests are used to diagnose your abnormal heartbeat and the most effective treatment method.
Anatomy
Webchats
Our webchats and video chats give patients and visitors another opportunity to ask questions and interact with our physicians.
Videos
Interactive Tools
Resource Links
Why choose Cleveland Clinic for your care?
Our outcomes speak for themselves. Please review our facts and figures and if you have any questions don't hesitate to ask.
Cleveland Clinic is a non-profit academic medical center. Advertising on our site helps support our mission. We do not endorse non-Cleveland Clinic products or services. Policy