Placental Abruption
Placental abruption is the premature separation (abruption) of the placenta from the uterus before childbirth. The causes, diagnosis and treatment of the condition are discussed.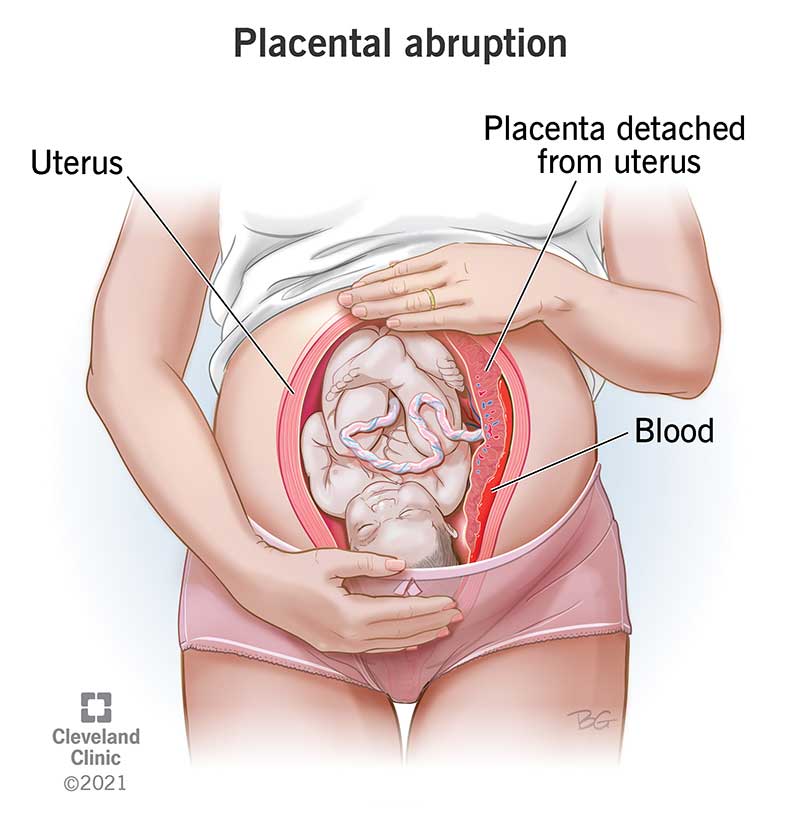 What is a placental abruption?
The placenta connects the growing baby to the mother's uterus. It acts as a "lifeline" that gives food and oxygen to the baby through the umbilical cord. Placental abruption happens when the placenta separates from the uterus before the baby is born. In most cases, the placenta stays attached to the uterus. In the case of placental abruption, this lifeline is placed at risk.
Placental abruption can be life-threatening to the baby and sometimes to the mother. It can lead to premature birth, low birth weight, blood loss in the mother, and in rare cases, it can cause the baby's death.
About 1 out of 100 pregnancies has placental abruption. This condition is usually seen in the third trimester, but it can also happen after 20 weeks of pregnancy.
What causes placental abruption?
Trauma to the uterus (such as a car accident) can separate the placenta from the uterus. Other reasons that can cause placental abruption include:
A prior pregnancy with placental abruption.
Cocaine use.
Pregnancy in older mother.
What are the symptoms of placental abruption?
Each woman can have different symptoms of placental abruption. However, the most common symptom is vaginal bleeding with pain during the third trimester of pregnancy. Sometimes the blood will be behind the placenta. In that case, there will be no bleeding. Symptoms also can include:
Uterine contractions.
Tender uterus.
Backache.
Remember, these symptoms also can be similar to those of other conditions. Talk to your doctor about any symptoms that you may be having.