Wolff-Parkinson-White Syndrome (WPW)
Overview
What is Wolff-Parkinson-White Syndrome (WPW)?
Normally, the heartbeat begins at the sinoatrial (SA) node, located in your right atrium. When the SA node fires, electrical activity spreads through the right and left atria, causing them to contract. The impulses travel to the atrioventricular (AV) node, which is the bridge that allows the impulses to go from the atria to the ventricles. The impulse then travels through the walls of the ventricles, causing them to contract. The heart's regular pattern of electrical impulses causes the heart to fill with blood and contract in a normal fashion.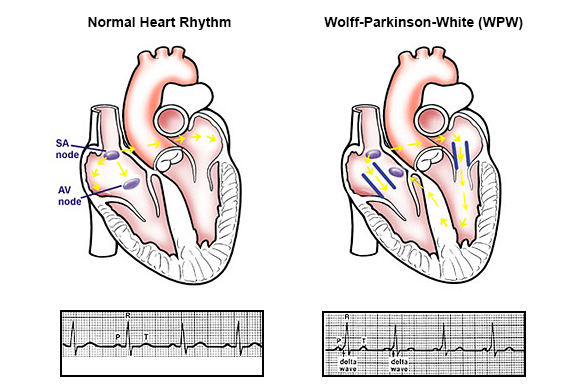 WPW is an electrical abnormality in the heart that may be associated with supraventricular tachycardia (fast heart rate originating above the ventricles).
When you have WPW, along with your normal conduction pathway, you have an extra pathway called an accessory pathway. They are normal heart muscle, not specialized electric tissue, and they may:
Conduct impulses faster than normal
Conduct impulses in both directions
The impulses travel through the extra pathway (short cut) as well as the normal AV-His Purkinje system. The impulses can travel around the heart very quickly, in a circular pattern, causing the heart to beat unusually fast. This is called re-entry tachycardia or SVT (supraventricular tachycardia).
Re-entry arrhythmias occur in about 50 percent of people with WPW; some patients may also have atrial fibrillation (a common irregular heart rhythm distinguished by disorganized, rapid, and irregular heart rhythm). Although rare, the greatest concern for people with WPW is the possibility of having atrial fibrillation with a fast ventricular response that worsens to ventricular fibrillation, a life-threatening arrhythmia.
History
In 1930, Wolff, Parkinson and White described a distinct electrocardiograph (ECG) pattern in healthy young people with short bursts of tachycardia. In 1933, other doctors noted the reason for this irregular rhythm was a faster passage of impulses traveling through the ventricles. In 1944, doctors confirmed the presence of extra pathways.
Symptoms and Causes
What are the symptoms of WPW?
People may first experience symptoms at any age, from infancy through adult years.
Symptoms of WPW may include one or more of the following:
Heart palpitations – a sudden pounding, fluttering or
Racing feeling in your chest
Dizziness – feeling lightheaded or faint
Shortness of breath (dyspnea)
Anxiety
Rarely, cardiac arrest (sudden death)
Some people have WPW without any symptoms at all.
What causes WPW?
Prevalence: WPW is a congenital heart abnormality. It is the most common type of ventricular preexcitation (preexcitation: the impulses travel to the ventricle earlier than what you would expect them to if they traveled down the normal pathway through the AV node).
WPW occurs randomly in the general population, occurring in about 1 to 3 per 1,000 persons. In the general population, men have a higher incidence of WPW than women do, and there is a higher incidence of multiple accessory pathways in men.
Some cases of WPW are inherited. Parents who have accessory pathways may pass them on to their children. One paper suggested the incidence of preexcitation in first-degree relatives could be as high as 5.5 per 1,000 persons. About 7 to 20 percent of patients with WPW also have congenital defects within the heart.
Diagnosis and Tests
How is WPW diagnosed?
WPW can only be diagnosed by reviewing an ECG (electrocardiogram). A holter or ambulatory monitor and exercise testing are also helpful in evaluating patients known to have WPW.
In the past, patients with WPW but without symptoms had been observed by a cardiologist for many years. Recently, new guidelines have been published for this group of patients. Your cardiologist may order a holter monitor or stress test to look for a persistent patter of WPW. If the WPW pattern persists, invasive electrophysiology testing is now recommended.
Your doctor will also ask you several questions:
Do you have symptoms?
Do you have a history of atrial fibrillation?
Do you have a history of fainting?
Do you have a history of sudden cardiac death or does anyone in your family?
Are you a competitive athlete?
The results of your diagnostic tests and the answers to these questions will help guide your therapy.
Management and Treatment
How is WPW Treated?
Treatment depends on the type and frequency of arrhythmias, associated symptoms such as syncope, and presence of structural heart disease. Typically a physician will recommend an ablation procedure to further define the characteristics of the accessory pathway, and ultimately, to eliminate the pathway entirely.
Observation - If you have no symptoms, you may not require treatment. Your doctor may choose to have regular follow-up without treatment.
Medications - A variety of drugs are available to treat arrhythmias. Because everyone is different, it may take trials of several medications and doses to find the one that works best for you. It is important to know:

The names of your medications
What they are for
How often and at what times to take them

Ablation - In people with WPW and symptoms of palpitations or syncope, an ablation procedure is recommended for two reasons: 1) to prevent symptom recurrence and 2) to prevent sudden cardiac death. During ablation, either heat (thermal) or cryoenergy (freeze) is delivered through a catheter to "destroy" the abnormal pathways.
Resources
Doctors vary in quality due to differences in training and experience; hospitals differ in the number of services available. The more complex your medical problem, the greater these differences in quality become and the more they matter.
Clearly, the doctor and hospital that you choose for complex, specialized medical care will have a direct impact on how well you do. To help you make this choice, please review our Miller Family Heart, Vascular & Thoracic Institute Outcomes.
How to find a doctor if you have WPW
Cleveland Clinic Heart, Vascular & Thoracic Institute Cardiologists and Surgeons
Choosing a doctor to treat your abnormal heart rhythm depends on where you are in your diagnosis and treatment. The following Heart, Vascular & Thoracic Institute Sections and Departments treat patients with Arrhythmias:
Section of Electrophysiology and Pacing: cardiology evaluation for medical management or electrophysiology procedures or devices - Call Cardiology Appointments at toll-free 800.223.2273, extension 4-6697 or request an appointment online.
Department of Thoracic and Cardiovascular Surgery: surgery evaluation for surgical treatment for atrial fibrillation, epicardial lead placement, and in some cases if necessary, lead and device implantation and removal. For more information, please contact us.
You may also use our MyConsult second opinion consultation using the Internet.
The Heart, Vascular & Thoracic Institute has specialized centers to treat certain populations of patients:
Learn more about experts who specialize in the diagnosis and treatment of arrhythmias
For younger patients with abnormal heart rhythms:
See: About Us to learn more about the Sydell and Arnold Miller Family Heart, Vascular & Thoracic Institute.
Contact
If you need more information, click here to contact us, chat online with a nurse or call the Miller Family Heart, Vascular & Thoracic Institute Resource & Information Nurse at 216.445.9288 or toll-free at 866.289.6911. We would be happy to help you.
Becoming a Patient
Treatment Options
Treatment Guides
Diagnostic Tests
Diagnostic tests are used to diagnose your abnormal heartbeat and the most effective treatment method.
Anatomy
Webchats
Our webchats and video chats give patients and visitors another opportunity to ask questions and interact with our physicians.
Videos
Interactive Tools
Resource Links
Why choose Cleveland Clinic for your care?
Our outcomes speak for themselves. Please review our facts and figures and if you have any questions don't hesitate to ask.
Cleveland Clinic is a non-profit academic medical center. Advertising on our site helps support our mission. We do not endorse non-Cleveland Clinic products or services. Policy