Wolff-Parkinson-White Syndrome (WPW)
What is Wolff-Parkinson-White Syndrome (WPW)?
Normally, the heartbeat begins at the sinoatrial (SA) node, located in your right atrium. When the SA node fires, electrical activity spreads through the right and left atria, causing them to contract. The impulses travel to the atrioventricular (AV) node, which is the bridge that allows the impulses to go from the atria to the ventricles. The impulse then travels through the walls of the ventricles, causing them to contract. The heart's regular pattern of electrical impulses causes the heart to fill with blood and contract in a normal fashion.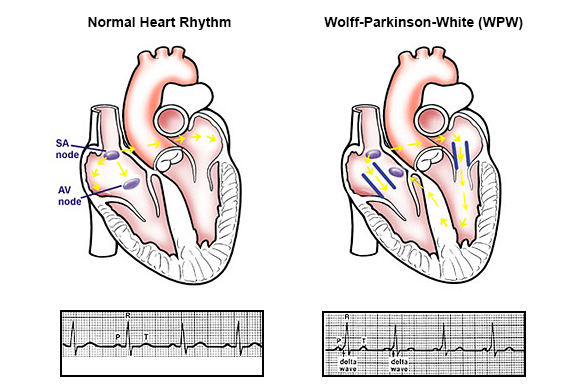 WPW is an electrical abnormality in the heart that may be associated with supraventricular tachycardia (fast heart rate originating above the ventricles).
When you have WPW, along with your normal conduction pathway, you have an extra pathway called an accessory pathway. They are normal heart muscle, not specialized electric tissue, and they may:
Conduct impulses faster than normal
Conduct impulses in both directions
The impulses travel through the extra pathway (short cut) as well as the normal AV-HIS Purkinje system. The impulses can travel around the heart very quickly, in a circular pattern, causing the heart to beat unusually fast. This is called re-entry tachycardia or SVT (supraventricular tachycardia).
Re-entry arrhythmias occur in about 50 percent of people with WPW; some patients may also have atrial fibrillation (a common irregular heart rhythm distinguished by disorganized, rapid, and irregular heart rhythm). Although rare, the greatest concern for people with WPW is the possibility of having atrial fibrillation with a fast ventricular response that worsens to ventricular fibrillation, a life-threatening arrhythmia.
History
In 1930, Wolff, Parkinson and White described a distinct electrocardiograph (ECG) pattern in healthy young people with short bursts of tachycardia. In 1933, other doctors noted the reason for this irregular rhythm was a faster passage of impulses traveling through the ventricles. In 1944, doctors confirmed the presence of extra pathways.
What are the symptoms of WPW?
People may first experience symptoms at any age, from infancy through adult years.
Symptoms of WPW may include one or more of the following:
Heart palpitations – a sudden pounding, fluttering or
Racing feeling in your chest
Dizziness – feeling lightheaded or faint
Shortness of breath (dyspnea)
Anxiety
Rarely, cardiac arrest (sudden death)
Some people have WPW without any symptoms at all.
What causes WPW?
Prevalence: WPW is a congenital heart abnormality. It is the most common type of ventricular preexcitation (preexcitation: the impulses travel to the ventricle earlier than what you would expect them to if they traveled down the normal pathway through the AV node).
WPW occurs randomly in the general population, occurring in about 1 to 3 per 1,000 persons. In the general population, men have a higher incidence of WPW than women do, and there is a higher incidence of multiple accessory pathways in men.
Some cases of WPW are inherited. Parents who have accessory pathways may pass them on to their children. One paper suggested the incidence of preexcitation in first-degree relatives could be as high as 5.5 per 1,000 persons. About 7 to 20 percent of patients with WPW also have congenital defects within the heart.