Cervicitis
Cervicitis is an inflammation of the cervix (the end of the uterus). Cervicitis often does not cause symptoms, but if they do happen, they may include abnormal vaginal discharge, painful intercourse, or vulvar or vaginal irritation. Antibiotics successfully treat cervicitis in most cases. For other cases, laser therapy or surgery may be required.
What is cervicitis?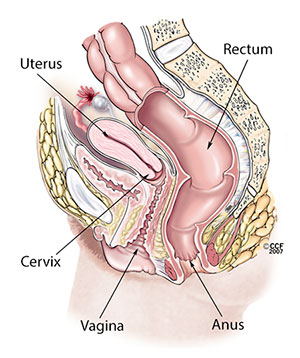 Cervicitis is an inflammation of the cervix (the end of the uterus). This inflammation may be acute or chronic in nature. Cervicitis might not have symptoms, or a woman with cervicitis may have abnormal vaginal discharge.
Who gets cervicitis?
Cervicitis is very common. It has been projected that more than half of all adult women will have cervicitis at some point. Women who engage in high-risk sexual behaviors and have multiple partners are at a higher risk for cervicitis. Women who have had sexually transmitted diseases, or who have partners who have had sexually transmitted diseases, are also at a higher risk for cervicitis. Sexual practices are far from the only cause of the condition, however.
What are the causes of cervicitis?
There are many causes of cervicitis. Acute cervicitis is usually caused by an infection. Chronic cervicitis is more likely from a noninfectious cause.
Infections can result from the introduction of staphylococcus or streptococcus bacteria into the uterus. The sexually transmitted diseases chlamydia and gonorrhea are also significant causes of cervicitis. It has been estimated as much as 40 percent of cases of cervicitis are related to chlamydia. Herpes simplex virus, trichomonas and mycoplasma genitalium are also sometimes a cause.
Noninfectious causes of cervicitis include exposure to chemicals or mechanical irritation. These include:
Chemical irritation from spermicides or douches or the latex used in condoms
Reaction to diaphragms, cervical caps, tampons or pessaries inserted
Radiation therapy or systemic inflammatory diseases
What are the symptoms of cervicitis?
Symptoms of cervicitis can include:
Abnormal vaginal discharge that may be yellow, white, or gray and have an unpleasant odor. This may persist for a long period of time.
Sexual intercourse may become painful.
Vulvar or vaginal irritation.
Cervicitis often does not have any symptoms, however. This is one reason why women should have regular gynecological appointments. It is especially important to seek an exam if you notice any of the above symptoms and/or have had chlamydia or another sexually transmitted disease in the past.