What is shaken baby syndrome?
Shaken baby syndrome is a type of brain injury that occurs when a baby or toddler is shaken violently. This can cause swelling, bruising and bleeding in and around their brain. Shaken baby syndrome may damage a child's eyes, neck and spine as well. Another name for the condition is abusive head trauma.
Infants' heads are very large and heavy in proportion to the rest of their bodies. When a child is shaken, their brain bounces back and forth against the sides of their skull. Shaking can cause bleeding in their brain or behind their eyes.
Shaken baby syndrome most often happens when a parent or other caregiver becomes frustrated or angry because of a baby's crying. It can occur from as little as 5 seconds of shaking. The resulting injuries can lead to brain damage, permanent disabilities and death.
Why does shaken baby syndrome happen?
Parents or caregivers may shake a baby because it's been crying for a long time. They may think that shaking the baby will make them stop crying. Some parents or caregivers may be under stress for various reasons. They may become frustrated and unable to cope with the responsibilities of caring for a child. Other caregivers may simply not know that shaking a baby can be so dangerous.
Crying is a normal behavior in babies. Your infant may cry inconsolably at times. Shaking, hitting or throwing a baby is never OK.
Who does shaken baby syndrome affect?
Shaken baby syndrome can affect anyone. People who are most likely to shake a baby have a direct connection to the baby (a parent) or an indirect connection (babysitter, secondary family members). Shaken baby syndrome can happen among families of any ethnicity, any income range and with any type of family composition.
Shaken baby syndrome most often affects babies younger than 1 year old. Infants between the ages of 2 and 8 months are most at risk. The condition doesn't typically occur in children over the age of 2, but children as old as 6 have been victims of this kind of abuse.
How common is shaken baby syndrome?
According to the National Center on Shaken Baby Syndrome, they are between 600 and 1,400 cases of shaken baby syndrome in the U.S. each year. This condition is the most common cause of child abuse death in children younger than 5 years old in the U.S.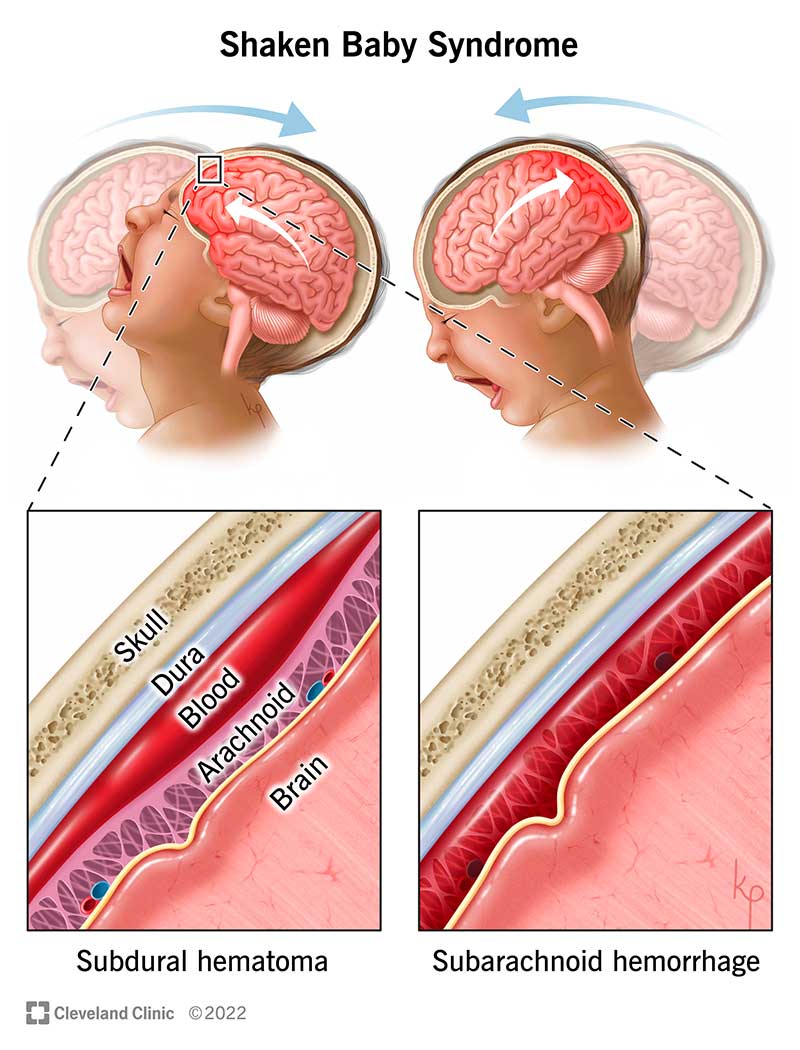 Shaking a baby can cause severe bleeding in their brain.
How does shaken baby syndrome affect my baby?
Shaken baby syndrome can cause severe medical issues, including:
Subdural hematoma: A collection of blood between the surface of your child's brain and their dura (the tough outer membrane surrounding their brain). This can happen when the veins that bridge your child's brain to their dura are stretched too far, causing tears and bleeding.
Subarachnoid hemorrhage: Bleeding between your child's brain and arachnoid (the web-like membrane surrounding your child's brain).
Direct brain trauma: This can occur when your child's brain strikes the inner surfaces of their skull.
Brain damage: Brain damage can result from a lack of oxygen if your child stops breathing during shaking.
Brain cell damage: This can occur when injured nerve cells release chemicals that add to the oxygen deprivation to your child's brain.
Retinal hemorrhages: Bleeding in the back of your child's retinas.
Neck and spinal cord damage: Injuries to your child's cervical spinal nerves.
Fractures: This may include skull fractures as well as fractures to your baby's ribs, collarbone, arms and legs.