Head Upright Tilt Test
Head Upright Tilt Test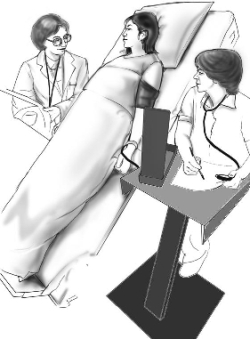 What you need to know about the Tilt Table Test
What is a tilt table test?
The tilt table test (also called a passive head-up tilt test or head upright tilt test) records your blood pressure and heart rate on a minute-by-minute basis while the table is tilted in a head-up position at different levels.
Why is this test recommended?
The results of this test will help your doctor determine what may be causing your symptoms of light-headedness or fainting spells (also called syncope).
The tilt table test results will help determine if other tests may be needed to help diagnose your condition. The test results also may be used to evaluate heart rhythm, blood pressure and sometimes other measurements with changes in position.
Lastly, the test results will help your doctor plan a course of treatment.
What are the risks of the test?
As with any procedure, there are risks of the tilt test. Your healthcare provider will discuss the risks and benefits of the procedure with you before the test is ordered.
If necessary, the test will be modified to minimize any potential risks.
One risk of the procedure during IV placement is bruising or swelling at the IV insertion site. These reactions are common. You may also experience pain or discomfort when the IV is inserted. Please talk to the lab staff if you are concerned about the IV insertion.
What is syncope?
Syncope (pronounced "sin ko pea") is the brief loss of consciousness and posture caused by a temporary decrease in blood flow to the brain. Syncope may be associated with a sudden fall in blood pressure, a decrease in heart rate or changes in blood volume or distribution. The person usually regains consciousness and becomes alert right away, but may experience a brief period of confusion.
Syncope is often the result of an underlying medical condition that could be related to your heart, nervous system or blood flow to the brain.
Reviewed: 09/13
This information is about testing and procedures and may include instructions specific to Cleveland Clinic. Please consult your physician for information pertaining to your testing.