What are the carotid arteries?
Arteries carry oxygen-rich blood away from the heart to the head and body. There are two carotid arteries (one on each side of the neck) that supply blood to the brain. The carotid arteries can be felt on each side of the lower neck, immediately below the angle of the jaw.
The carotid arteries supply blood to the large, front part of the brain, where thinking, speech, personality and sensory and motor functions reside.
The vertebral arteries run through the spine and supply blood to the back part of the brain (the brainstem and cerebellum).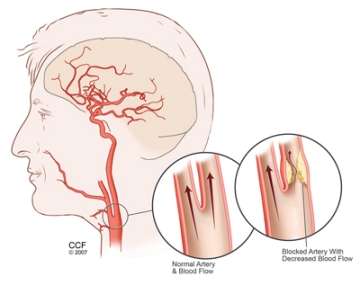 What is carotid artery disease?
Carotid artery disease, also called carotid artery stenosis, is the narrowing of the carotid arteries, usually caused by atherosclerosis. Atherosclerosis is the buildup of cholesterol, fat and other substances traveling through the bloodstream, such as inflammatory cells, cellular waste products, proteins and calcium. These substances stick to the blood vessel walls over time as people age, and combine to form a material called plaque.
Plaque buildup can lead to narrowing or blockage in the carotid artery which, when significant, can put an individual at increased risk for stroke.
What are the risk factors for carotid artery disease?
The risk factors that have been linked to the development of atherosclerosis include:
Family history of atherosclerosis (either carotid artery disease or coronary artery disease or elsewhere in the vascular system)
Age: In general, the risk of atherosclerosis increases as we age, and in particular, men under age 75 have a greater risk of developing carotid artery disease than women, but after age 75, women have a greater risk than men
High levels of low density lipoprotein (LDL, bad cholesterol) and triglycerides in the blood. However, this link is not as strong as it is for coronary artery disease
Sedentary lifestyle
Typically, the carotid arteries become diseased a few years later than the coronary arteries. People who have coronary artery disease, and atherosclerosis elsewhere (such as peripheral artery disease or PAD) have a higher risk of developing carotid artery disease.