Gifts Put Better Health and Opportunities on the Fast Track for Communities
Gifts Put Better Health and Opportunities on the Fast Track for Communities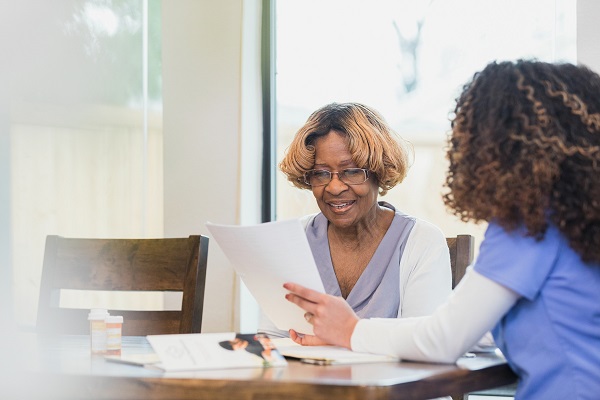 Jones Day and the Jones Day Foundation gifts totaling $8 million poised to make a lasting impact on community health
A single mom wraps up her shift and takes the bus home from work. Her decades-old car is in the shop again. All the way home she's thinking about the lump she found under her arm that morning. She knows she's at high risk for developing breast cancer — she lost her mom to breast cancer and her sister was also recently diagnosed, but her doctor's office is closed for the day. The days she had to take off work to care for her two young children left her with no more paid time off until next year. She can't afford to call in sick to get it checked out during business hours. A check-up will just have to wait.
Every day, scenarios like this are the reality for people living in disadvantaged communities. While navigating complex systems of care can be overwhelming, having access to care is just the first hurdle to achieving better health. Barriers such as lack of transportation, lack of knowledge of available resources or unstable living or work situations keep even more people from getting the care they need when they need it most.
"When patients have high medical needs — whether that be behavioral health, diabetes, high blood pressure or heart disease — they also often have high social needs, like access to healthy food, transportation, financial needs and insurance," says Nazleen Bharmal, MD, PhD, MPP, Associate Chief of Population Health at Cleveland Clinic. "And when you have both of those, it can be very, very difficult for an individual to figure out where to get help."
Dr. Bharmal believes Community Health Worker programs can change that.
Community Health Workers are certified, trusted members of local communities who share lived experiences with their neighbors and peers. They are experts in navigating complex systems of care, and serve as a link between clinical and community-based services and the people who need them the most. They play important roles as facilitators, translators, counselors and supporters.
Until now, the community surrounding Cleveland Clinic, which is among the poorest neighborhoods in the U.S., had no such program. A generous gift from the Jones Day Foundation is making it possible.
The Jones Day Foundation has committed a gift to launch a Community Health Worker program that will further enable Cleveland Clinic to take care of the neighborhood residents living just beyond the borders of its main campus. The hope is that the program can one day expand to neighborhoods surrounding other Cleveland Clinic hospitals as well.
Dr. Bharmal says the Community Health Worker program is built around trust. A Community Health Worker can visit the homes of patients who might have high chronic disease as well as high social needs, assist them with navigating resources and help explain things in a way that cannot be accomplished in a doctor's office.
"We want to meet people where they're at, not only in terms of geography, but also in their health journey. It's important to not only be able to explain medical information to people in a way that is understandable, but also to have it delivered directly from a member of their community who is culturally competent and culturally sensitive," she says. "This is all part of our overall community health strategy, which is to heal, hire and invest."
"Cleveland Clinic is a global healthcare leader that seeks to provide opportunities for better, healthier lives for the members of the communities it serves," says Chris Kelly, a Jones Day partner based in the Firm's Cleveland and New York offices. "Like Cleveland Clinic, Jones Day has a long-held belief in the transformative potential of giving back to the communities in which we live and work. The Community Health Worker program is intended to make a tangible difference for our neighbors who need and deserve access to health resources."
New Members of the Care Team
Studies have shown that when patients have access to legal services in a healthcare setting, they are more likely to take their medications as prescribed, have less stress and better mental health, and have greater access to financial resources.
To help individuals and families solve legal issues that impact health, the Jones Day gift will help to establish a medical-legal partnership. The Legal Aid Society of Cleveland will work on-site at Cleveland Clinic to resolve legal issues that are barriers to health for patients.Medical-legal partnerships integrate the unique expertise of legal aid lawyers into healthcare settings to help clinicians, case managers and social workers address structural problems at the root of many health inequities.
Through this initiative, Legal Aid lawyers will work hand-in-hand with Cleveland Clinic caregivers to recognize health-harming social issues and leverage the appropriate services and legal expertise to help overcome these barriers. It is envisioned that this medical legal partnership will also include opportunities for Jones Day lawyers to provide pro bono assistance where possible and appropriate in furtherance of the Firm's 32-year history of partnership with the Cleveland Clinic.
"Embedding lawyers into healthcare settings enables Cleveland Clinic to do what it is known for — providing a team of teams to work together, as one, to arrive at the best level of care for each patient," says Heather Lennox, Partner-in-Charge of Jones Day's Cleveland office. "In this new partnership, Legal Aid lawyers will work alongside Cleveland Clinic clinicians, case managers and social workers to address the structural issues at the root of health disparities prevalent in our communities."
Dr. Bharmal says the new legal-medical partnership is an evidence-based model of care that will better enable care providers to help their patients achieve healthy lives.
"There are times when clinicians meet with pediatric patients who have needs such as individualized education plans, neglect or abuse, or they live in a home where they are exposed to lead paint," she says. "Many clinicians don't know how to navigate the system to find the solutions. Having a legal member on the care team who understands those factors will help educate the providers. It's more than just offering legal advice; it's a sustained relationship to reduce health disparities."
Planting Seeds for the Future
Dr. Bharmal recognizes that change does not occur overnight, but over time. She believes that these new programs will move the needle in the right direction towards tackling the root causes of poor health.
"These partnerships are a new way of thinking for a healthcare system," she says. "Hospitals traditionally focus on sick care. This is about actually keeping people healthy and keeping them from needing to go to the hospital. It's fundamentally different. We know that economic prosperity and community health go hand in hand, and the Community Health Worker program along with the legal-medical partnership are getting at both of those issues."
Honoring a Legacy of Community Care
In providing the funds to begin the Community Health Worker program and the legal-medical partnership, Jones Day and the Jones Day Foundation are also honoring Pat McCartan, a distinguished leader of Jones Day and former member of Cleveland Clinic's Board of Trustees who was passionate about community care.
"Pat would be extremely proud to see these new community health programs moving quickly from vision to reality," says Steve Brogan, Managing Partner of Jones Day. "He knew the struggles faced by any community are surmountable by collective, compassionate action from inspired organizations and individuals. These programs are reflective of his vision and his compassion."
In recognition of the investments from Jones Day and the Jones Day Foundation, as well as the firm's desire to honor McCartan's leadership, he will be memorialized in the Patrick F. McCartan Centennial Gallery. This new welcoming space is a centerpiece in the front lobby of Cleveland Clinic's main campus that will provide an opportunity for calm and reflection to the thousands of patients, family members and caregivers at main campus each day.
"The Patrick F. McCartan Centennial Gallery serves as a testament to Pat's visionary spirit and commitment to Cleveland Clinic, its patients and the community," says Lara Kalafatis, Chair of Cleveland Clinic's Philanthropy Institute. "His compassionate leadership will live on through the impact of these new community health programs initiated with the support of Jones Day and the Jones Day Foundation."
AutoNation Gift Offers Hope to Florida Patients
AutoNation Gift Offers Hope to Florida Patients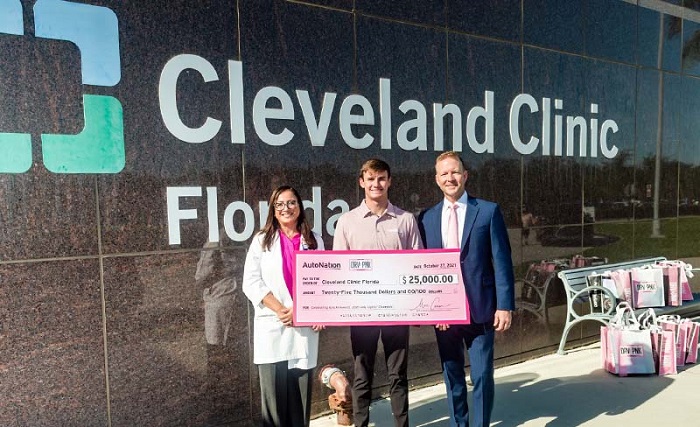 Every October for Breast Cancer Awareness month, AutoNation, Inc. associates unite on Drive Pink Across America Day (DRVPNK) to deliver thousands of comfort bags to patients battling cancer at treatment facilities. The automotive retailer visited Cleveland Clinic Florida's Maroone Cancer Center on October 27 to deliver comfort bags and a check for $25,000.
The generous donation will support Cleveland Clinic Florida's AutoNation Cancer Care Fund in honor of Indy Lights Champion driver Kyle Kirkwood, who presented the check to Zeina Nahleh, MD, FACP, Director of the Maroone Cancer Center.
"We take tremendous pride in the many partnerships we've forged through our fundraising efforts not only during Breast Cancer Awareness Month but all year long," says Marc Cannon, Executive Vice President and Chief Customer Experience Officer. "It's thanks to the generosity and commitment of our partners and associates that we're able to provide this substantial support."
To date, AutoNation's Drive Pink initiative has raised and donated more than $28 million to create awareness and support critical research and treatment through partnerships with cancer charities from coast to coast.
"Every gift offers hope to our cancer patients and survivors," says Dr. Nahleh. "Our goal is to provide patients with evidence-based treatment modalities that are proven to help them reduce the burden of cancer and transition optimally to life after cancer."
Gifts made to Cleveland Clinic Florida's Maroone Cancer Center support vital cancer research, innovative technology and holistic programs to give cancer patients and their families the best chance at fighting and thriving after a cancer diagnosis. Please make a gift today.
Focusing on the Future, Thanks to Good Care in the Past
Focusing on the Future, Thanks to Good Care in the Past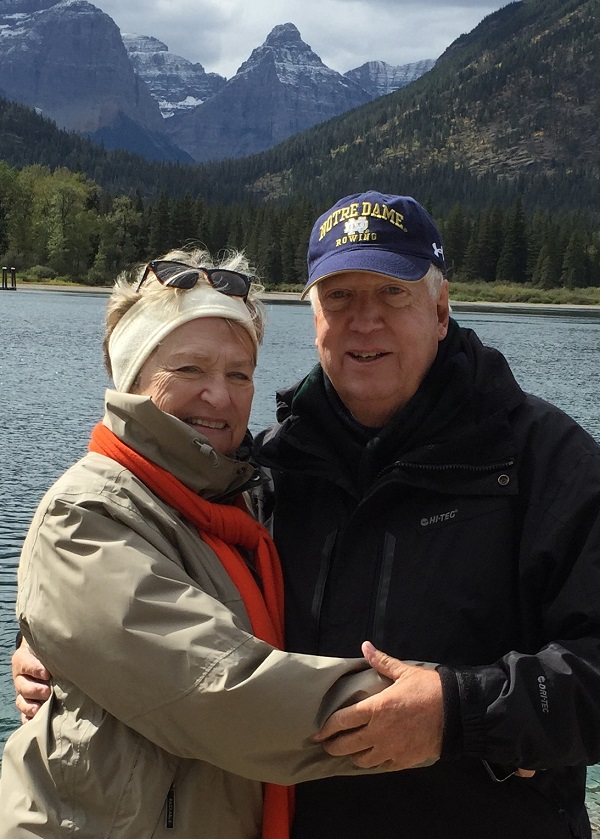 Tom Rush is the kind of man who doesn't dwell on the past. When something is over, fixed or otherwise completed, he puts it behind him and focuses on the future.
So while Rush, a resident of Charlotte, North Carolina, doesn't recall the specifics of his cancer surgery or his heart procedure at Cleveland Clinic, a few things about those experiences are ingrained in his memory.
"If somebody has a medical condition that is unusual, they would be very likely to get the best last word about what can be done about it at Cleveland Clinic," he says. "In my case, not only were they instrumental in correcting an undesirable condition, I've been able to lead a really good, quality life because of the care I received."
Experience Matters
His first visit to Cleveland Clinic, which he estimates was more than 10 years ago, was for prostate cancer surgery. Rush explains that he'd done his due diligence after his diagnosis, speaking with experts in top healthcare organizations across the country, and felt that Cleveland Clinic was best suited to meet his needs. At the time, a good friend of his who happens to be an oncologist recently had gone through a similar diagnosis and treatment. "He told me, 'Tom, you need to find a surgeon who does that kind of surgery all the time. He should've done the procedure 500 times with a high rate of success – and 1,000 times is better,'" recalls Rush. "The team who worked on me did everything they said they were going to do, and I couldn't have asked for a higher level of service. And there's been no detected level of any cancer since I had my surgery."
Congenital Heart Problem Needed Expert Attention
Rush was born with a heart murmur, but it didn't hold him back growing up. He played sports and led an active normal life. He went on to become a licensed Coast Guard captain and a licensed pilot who's logged thousands of miles. In the 1990s, he was diagnosed with atrial fibrillation, which was controlled by medication. Twenty years later, when the medication for his heart rhythm problems was no longer effective, Rush again turned to Cleveland Clinic. In 2017, Rush had a complex non-surgical procedure to fix his heart's rhythm. "I think if we hadn't gone to Cleveland Clinic for my cardiac problem, we would've always wondered if surgery would have been the best treatment." Rush says the team at Cleveland Clinic consulted with his cardiology team in Charlotte and both agreed that his situation could be handled more conservatively.
Gratitude for High-Quality Care
The success of his cardiac treatment has allowed him to stay active, spending time with his wife, Karen, and their children and grandchildren. The Rushes enjoy their mountain retreat in Roaring Gap, North Carolina, and, when the weather turns cold,take pleasure in boating and the beach at their home in Hilton Head, South Carolina. Rush is a firm believer in staying active; he's even picked up the fiddle, which he played in his youth, and joined a bluegrass music group.
In recognition of the outstanding care he received, the Rushes make an annual gift to support Cleveland Clinic. Most recently, their gift has benefited the Caregiver Catalyst Awards Fund, which was created in 2018 and is supported entirely by the generosity of donors like the Rushes.
The Caregiver Catalyst Awards Fund helps Cleveland Clinic caregivers implement their best and brightest ideas and positively impact patients and communities. Twice a year, caregivers from across Cleveland Clinic are invited to apply for Caregiver Catalyst Grants, which range from $10,000 to $100,000. Through a competitive process, these one-time grants are awarded to the project proposals that show the most promise for making an impact within one year.
How You Can Help
Gifts from the Rushes and other donors help Cleveland Clinic further its spirit of innovation while serving as a crucial link between current success and future groundbreaking medical discoveries, research and patient services and programs. Learn about ways to make a gift and make an impact.
Nashville Couple Helps Patients with Long COVID Syndrome
Nashville Couple Helps Patients with Long COVID Syndrome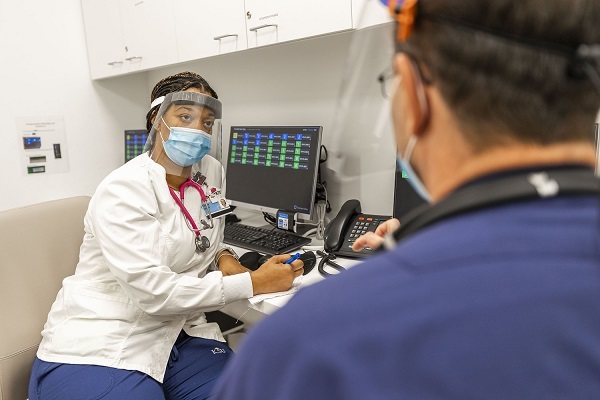 Cleveland Clinic patients who have persistent COVID-19 symptoms can now gain access to a wide variety of specialists and resources through a centralized reCOVer clinic evaluation and referral process.
The reCOVer clinic collaborates with Cleveland Clinic specialists from 18 different clinical areas, including cardiology, pulmonology, dermatology, ear nose and throat, and neurocognition to understand and address the individual needs of patients with COVID-19 symptoms lasting more than 28 days, known as long COVID or Post-Acute Sequelae of COVID-19.
Taking a Closer Look
"There is currently research going on to determine how many people with COVID-19 infections have symptoms that do not resolve," says Kristin Englund, MD, an infectious disease physician who leads the reCOVer clinic. "However, we know that patients with lingering COVID-19 symptoms aren't necessarily those who were hospitalized with severe cases initially. Many patients have had a fairly mild infection, yet symptoms have persisted more than four weeks or potentially worsened after time."
All patients in the reCOVer clinic, regardless of symptoms, will first undergo a series of evaluations and exams, which may take several weeks to complete. This includes an in-depth health history and questionnaires; cardiac, pulmonary and physical therapy tests; blood tests; and neurocognitive and behavioral health screenings. Once these are complete, patients will meet with reCOVer clinic providers to discuss the results and individual next steps. Depending on a patient's results, symptoms and needs, clinical experts will determine the best care path moving forward and connect the patient with Cleveland Clinic specialists with specific expertise in long COVID-19 for continued care.
A Commitment to Help
Philanthropic support is helping to make the new initiative a reality. The Kelly family of Nashville, Tennessee, recently made a generous gift to the clinic in honor of Michael Kelly's pulmonologist, Joseph Parambil, MD. "It's been such a tough year for everyone," says Wendy Kelly. "We knew there were COVID survivors out there still experiencing seemingly never-ending symptoms. We thought this would be a great opportunity to help."
"We are committed to helping these patients, whose lives have been interrupted for weeks or months due to long COVID-19 symptoms," says William Lago, MD, a family medicine physician who also was involved in the development of the reCOVer clinic. "Like COVID-19 itself, long COVID-19 can include a wide array of symptoms such as chest pain, shortness of breath, persistent fatigue and memory difficulties. However, many other factors also can contribute to what our patients are experiencing. This is a complex condition and one that we are understanding more about every day. By taking the time to perform multidisciplinary, comprehensive evaluations, we believe we can best partner with our patients in putting together treatment plans and setting them on a path to wellness."
The clinic sees adult patients who have had a positive PCR test result and have persistent COVID-19 symptoms that have lasted 28 days or longer after their initial positive PCR test result. The reCOVer clinic, while located at the Cleveland Clinic Independence Family Health Center, serves patients throughout Northeast Ohio via virtual platform. Currently, the clinic sees Cleveland Clinic patients by referral, but plans to expand services to any long COVID patient in the future.
For patients who aren't sure if they are experiencing long COVID-19 syndrome, Dr. Englund recommends they start by contacting their primary care physician.
Seed Funding Leads to $4M Grant for Cancer Research
Seed Funding Leads to $4M Grant for Cancer Research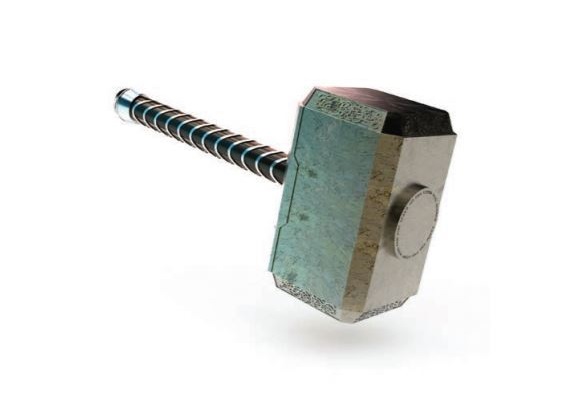 Like a shape-shifting super-villain, cancer evolves, growing stronger and foiling our most heroic efforts to stop it. That's why drugs that thrash tumors for a while eventually stop working.
Jake Scott, MD, DPhil, a staff physician-scientist in Cleveland Clinic's Department of Translational Hematology and Oncology Research (or THOR, like the Avenger who swings a mean hammer), plans to beat metastatic Ewing's sarcoma (ES), a drug-resistant bone cancer that mostly affects kids and teens, at its own evolutionary game.
As cancer cells develop resistance to one drug, that same process of evolution is creating vulnerabilities to other drugs. In Dr. Scott's lab, scientists are learning what those new weaknesses are to design a manual of novel treatments to fight ES—existing drugs we never thought of using against the hard-to-kill cancer. "Our underlying thesis is maybe we don't need to develop billion-dollar drugs," he says.
His project won enthusiastic support—and a$100,000 grant—from the Carson Sarcoma Foundation, spurring additional grants from the Alan B. Slifka Foundation ($80,000) and CHEMOWARRIOR: the eli sidler foundation ($20,000).
Dr. Scott's findings, made possible by this seed money, have been so encouraging, he has won a seven-year, $4 million grant from the National Cancer Institute to expand the scope of his research to include lung cancer. Imagine what other cancers we could crush with more seed funding?
You can make a gift in support of cancer research here.
In Memory of Mom and Dad
In Memory of Mom and Dad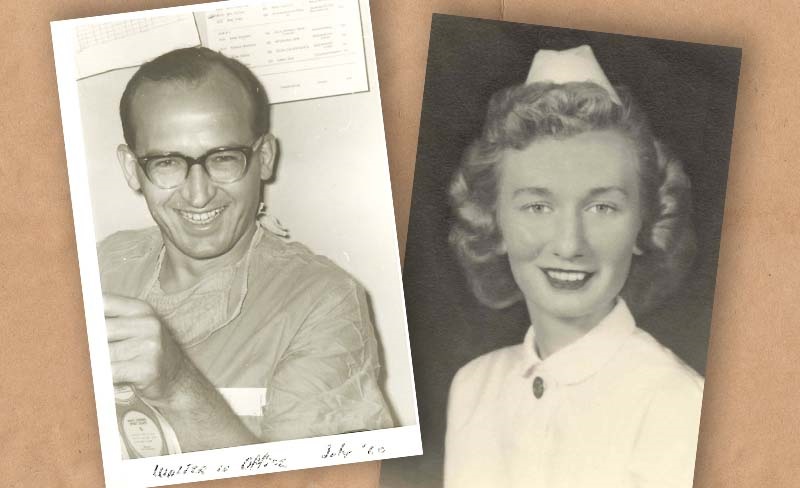 Drs. Walter and Isabella Laude are remembered by their daughter Maria for their affection for each other — a relationship that began at a Cleveland Clinic staff party in 1956.
Isabella, a nursing supervisor in the post-anesthesia recovery unit, and Walter, chief anesthesiology resident, were all business until that one fateful day when they shared a kiss under the mistletoe.
The couple eventually settled in central Florida, where Dr. Walter Laude became the first anesthesiologist at Lake Wales Medical Center. Dr. Isabella Laude became the editor of a national music magazine and authored several books, all while managing her husband's office and raising five children.
Their love for Cleveland Clinic inspired the Laudes — members of the Pyramid Legacy Society — to support future generations of medical professionals by donating to named scholarships, including the Cleveland Clinic Lerner School of Medicine.
Married for 59 years, the two passed away just months apart in 2016.
Today, their youngest daughter, Maria Elena Laude, is honoring her parents' memory by naming Cleveland Clinic in her estate plan and becoming a member of the Pyramid Legacy Society. A librarian, Laude is directing her support to the Cleveland Clinic Medical Library.
"My parents were voracious readers and thorough researchers, and those qualities guided me to becoming a librarian," says Maria. "Thorough research is necessary in today's world when searching for quality healthcare. I rely on Cleveland Clinic as my authoritative source of information and as a referral for locating healthcare providers here in Florida. The library is key to that research, and I am pleased to name it in my estate planning."