Overview
Overview
Cleveland Clinic Florida's Department of Hypertension & Nephrology provides comprehensive diagnostic and therapeutic services for patients with renal disease and hypertension. The department participates in an active renal transplant program, all modalities of dialysis care, and clinical research studies. In addition to unique diagnostic capabilities, the department offers specialty clinics in renal stone disease, renal transplantation, glomerulonephritis, chronic renal diseases, and hypertension.
A two-year nephrology-hypertension fellowship is offered within the department, with one fellow at each level. The fellowship program is open to those who have completed a three-year internal medicine residency accredited by the Accreditation Council for Graduate Medical Education (ACGME)
Program Director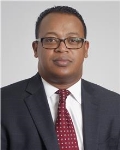 Surafel Gebreselassie, MD
Goals & Objectives
Goals & Objectives
To provide the fellows with skills in the practice of health promotion, disease prevention, assessment and management of inpatients, including critically ill patients, with a wide range of renal diseases, electrolyte and acid-base disorders, and hypertensive disorders.
To provide fellows with the skills needed to assess and manage patients seen in outpatient nephrology and hypertension clinic settings.
To develop proficiency in assessing and caring for dialysis patients (hemodialysis and peritoneal dialysis) in an outpatient setting.
Effective interaction with multidisciplinary team of health professionals, including PCP, consultants, allied health professionals (PA's, NP's, RN's, SW's, dietitians) in the care of patients with renal diseases.
To develop proficiency in dialysis catheter placements, urinalysis, analysis of 24 ABPM, and performance of kidney biopsies (renal procedures).
To learn and develop skills in the techniques of clinical research. Provide opportunities for clinical investigation with mentoring and assistance with presentation and abstract or manuscript submission.
To learn and develop skills in the use of appropriate clinical and academic resources.
To assist the personal career development of each and every resident physician participating in the program, so that they can practice successfully in a private practice or academic setting.
To provide appropriate education and preparation for fellows to facilitate success in the ABIM Nephrology Board Certification exam.
The Program
The Program
The main focus of our Nephrology Fellowship program is to provide advanced education to allow the fellow to acquire competency in the subspecialty with sufficient expertise to act as an independent consultant. We are committed to providing the tools and resources to accomplish this goal.
Education
In addition to education which centers around patient care interactions, the program has comprehensive didactic conferences. The fellows are required to attend weekly Nephrology Grand Rounds and Core Curriculum conferences, as well as monthly Journal Club, Pathology Conference, M&M, Research and Case Conferences.
Research
The fellow is expected to develop a research question under the guidance of a research mentor that will be executed throughout their fellowship. While there is considerable flexibility given the individual fellow's career objectives, it is expected that a research project of the fellow's own design is completed by the end of the fellowship training. This should result in a public, peer-reviewed presentation of the work, be it a poster at a national conference or publication in a peer-reviewed journal.
Board Accreditation
Upon satisfactory completion of fellowship training, the fellows apply and must pass the ABIM Nephrology Certification Exam. Our Nephrology Fellowship program holds an outstanding 100% passage rate on the first attempt on the ABIM exam.
Rotations
In first-year of fellowship, 8 months are devoted to clinical training with in-patient rotations (ICU, medical and surgical services) and 2 months are dedicated to outpatient hemodialysis and peritoneal dialysis experience. The remaining 2 months are divided into 1 month on the Renal Transplant service and 1 month of Research.
During the second year, the fellow spends 2 months on Renal Transplant, 4 months in in-patient Consultative Service, 2 months in outpatient dialysis rotation, 1 month in Interventional / Vascular Rotation, and 2 months doing research. There is a month elective rotation in which the fellow can choose a rotation based on his/her individual career objectives (Community Nephrology Rotation or an additional month on one of the other fellowship rotations).
Throughout the 2 years, their training is complemented by weekly out-patient continuity clinic.
Evaluations
The fellows receive oral and written evaluations monthly via MedHub.
Formal Program Director evaluation of fellow with feedback at least twice per year. Evaluation of staff and program at least twice per year.
Benefits
Benefits
Salary is at the PGY4-6 level plus fringe benefits as listed in the Resident/Fellow Benefits.
| | |
| --- | --- |
| Grad Level | Current Pay Rate |
| 1 | $52,474 |
| 2 | $54,341 |
| 3 | $56,265 |
| 4 | $60,734 |
| 5 | $62,983 |
| 6 | $64,408 |
| 7 | $66,498 |
| 8 | $70,762 |
Paid Time Away: Vacation, Maternity, & Paternity
Vacation: 3 weeks (15 working days) provided at the beginning of each academic year
Maternity: 6 weeks paid leave for natural childbirth or adoption; 8 weeks for cesarean section. Additional time off unpaid up to a maximum of 12 weeks under the Family Medical Leave Act.
Paternity: 2 weeks paid leave. Additional time off unpaid up to a maximum of 12 weeks under the Family Medical Leave Act.
Insurance
Healthcare: Cleveland Clinic Florida covers 50% of annual Healthcare Plans for Clinical Trainees and their families. Effective on the first day of training with no waiting period.
Dental and Vision Care: Cleveland Clinic Florida covers 100% of annual Dental and Vision Care Plans for Clinical Trainees.
Maternity Care: 100% coverage is provided through the health care plan that you select within the plan's guidelines.
Pharmaceuticals: As outlined by the Cleveland Clinic Florida Health Plan.
Malpractice: Paid by the Cleveland Clinic Educational Foundation/Cleveland Clinic Florida. Limited to activities within the training program.
Life Insurance: $25,000 term group policy.
Travel Privileges and Other Education Activities
Senior residents, chief residents, and fellows in ACGME and NON-ACGME programs that meet eligible criteria as outlined in the Graduate Physicians Manual may be approved to attend academic meetings for the purpose of presenting or engaging in leadership roles within national societies. They will be eligible up to 5 days per academic year with a maximum reimbursement of $1,200 per academic year.
Additional Benefits
Book Allowance: A $250 educational allowance per year is available to all clinical residents/fellows. Primary use is for textbooks.
On-call Meals: Breakfast, lunch, and dinner: Paid by Cleveland Clinic Florida when on in house night call.
Cell phones: Apple iPhone provided to all residents
Uniforms: Supplied by Cleveland Clinic Florida.
Staff
Staff
Program Director
Staff
Program Coordinator
Janine Rodrigues
Interim Program Coordinator
2950 Cleveland Clinic Boulevard
Weston, Florida 33331
Phone: 954-659-5229
Fax: 954-659-5662
Email: [email protected]
Current Fellows
Current Fellows
Class of 2019
Class of 2020
Class of 2021
Class of 2022