Overview
Overview
Cleveland Clinic Florida's Department of Geriatric Medicine, regionally recognized this year in U.S. News and World Report's "Best Hospitals" ranking's, provides a caring, team based approach to all our patients.
As geriatricians and geriatric care providers, we are fully committed to providing the full spectrum of medical services in a caring, compassionate manner to our patients. In addition to treating a wide range of internal medical issues, our providers have special competence and experience in managing the following:
Unsteady gait and falls
Urinary and fecal incontinence
Memory loss, forgetfulness, and dementia
Pressure ulcers
Functional decline, with assessment for the need for assistance in daily tasks
Management of polypharmacy
Pain management
Coordination of Homecare
End-of-life care
Program Director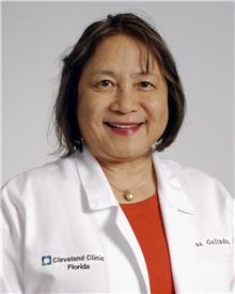 Diana Galindo, MD
Research
Research
The members of Cleveland Clinic Florida's Department of Geriatric Medicine are involved in multiple areas of research. Some areas of study include:
Cognitive decline and its impact on patient and family
Hip fractures and anemia
Balance and gait issues in older adults
Use of statins and other medications in older adults
Review of advance directives among older adults
Education
Education
The Department sponsors a well-regarded fellowship program in Geriatric Medicine, allowing graduate of Internal Medicine and Family Medicine residency programs to gain additional competence and expertise in caring for older frail patients. We are also actively involved in teaching both Internal Medicine residents as well as Medical students the basics of geriatric care
Benefits
Benefits
Salary
Salary is at the PGY4 level plus fringe benefits as detailed in the Graduate Physician Policy Manual and listed in the Resident/Fellow Benefits.
| | |
| --- | --- |
| Grad Level | Current Pay Rate |
| 1 | $52,474 |
| 2 | $54,341 |
| 3 | $56,265 |
| 4 | $58,284 |
| 5 | $60,673 |
| 6 | $63,145 |
| 7 | $65,840 |
| 8 | $64,073 |
Paid Time Away: Vacation, Maternity, & Paternity
Vacation: 3 weeks (15 working days) provided at the beginning of each academic year
Maternity: 6 weeks paid leave for natural childbirth or adoption; 8 weeks for cesarean section. Additional time off unpaid up to a maximum of 12 weeks under the Family Medical Leave Act.
Paternity: 2 weeks paid leave. Additional time off unpaid up to a maximum of 12 weeks under the Family Medical Leave Act.
Insurance
Healthcare: Cleveland Clinic Florida covers 50% of annual Healthcare Plans for Clinical Trainees and their families. Effective on the first day of training with no waiting period.
Dental and Vision Care: Cleveland Clinic Florida covers 100% of annual Dental and Vision Care Plans for Clinical Trainees.
Maternity Care: 100% coverage is provided through the health care plan that you select within the plan's guidelines.
Pharmaceuticals: As outlined by the Cleveland Clinic Florida Health Plan.
Malpractice: Paid by the Cleveland Clinic Educational Foundation/Cleveland Clinic Florida. Limited to activities within the training program.
Life Insurance: $25,000 term group policy.
Travel Privileges and Other Education Activities
Senior residents, chief residents, and fellows in ACGME and NON-ACGME programs that meet eligible criteria as outlined in the Graduate Physicians Manual may be approved to attend academic meetings for the purpose of presenting or engaging in leadership roles within national societies will be eligible up to 5 days per academic year with a maximum reimbursement of $1,200 per academic year.
Additional Benefits
Book Allowance: A $250 educational allowance per year is available to all clinical residents/fellows. Primary use is for textbooks.
On-call Meals: Breakfast, lunch, and dinner: Paid by Cleveland Clinic Florida when on in house night call.
Cell phones: Apple iPhone provided to all residents
Uniforms: Supplied by Cleveland Clinic Florida
Staff
Staff
Program Director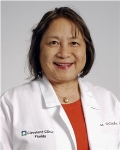 Diana Galindo, MD
Staff
Program Coordinator
Gloria Hernandez
2950 Cleveland Clinic Blvd.
Weston, Florida 33331
Phone: 954.659.6219
Fax: 954.659.6216
Email: hernang1@ccf.org
Fellows
Fellows
Class of 2019
Class of 2020
Jacqueline Cortizo-Hernandez, M.D.