Overview
Overview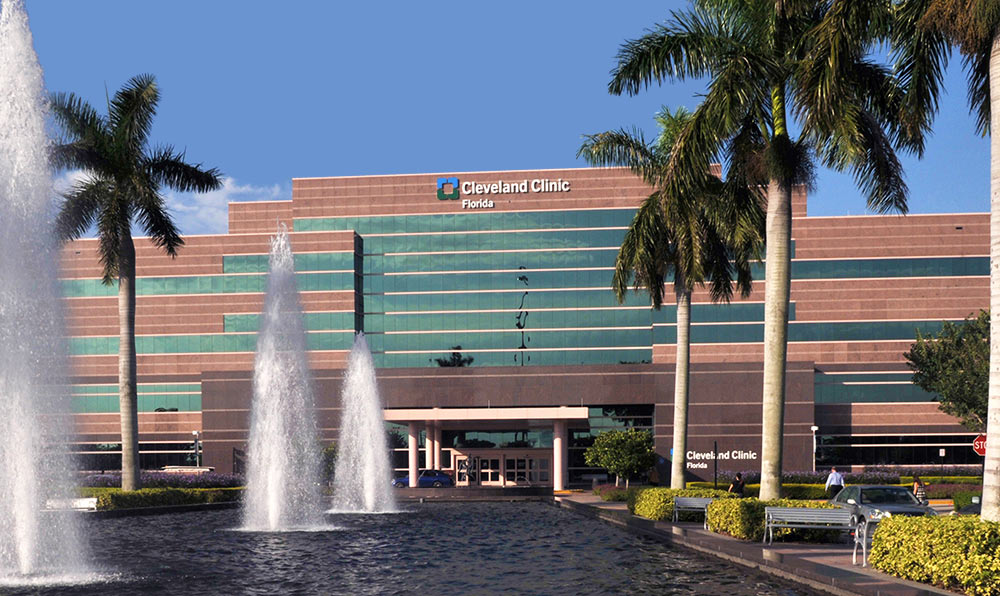 Why train at Cleveland Clinic Florida?
With a diverse patient population, group practice setting, and complex and unusual cases, Cleveland Clinic offers every resident a unique learning experience with its clinical electives program.
We offer several opportunities for visiting trainees, and they differ depending on if you're already enrolled in a U.S. graduate medical education program or if you're an international healthcare professional.
If you currently are a trainee enrolled in a U.S. graduate medical education program, you may be eligible to rotate at Cleveland Clinic during an elective time. At Cleveland Clinic, you can work with a particular staff physician or perhaps gain experience in an area not offered at your training institution.
Thank you for your interest in rotations at Cleveland Clinic Florida.
Available Training Programs
Available Training Programs
List of training programs available:
Allergy.
Anesthesia/ SICU.
Advanced GI/MIS.
Colorectal surgery.
Dermatology.
Cardiology.
Endocrinology.
Gastroenterology.
Gynecology/MIS.
Neurology.
Nephrology.
Orthopedic surgery.
Plastic surgery.
Pulmonary critical care medicine.
Radiology.
Sports medicine.
Transplant (limited) surgical and hepatology.
Apply for a Rotation
Apply for a Rotation
To submit a rotation request, you will need to fill out the application and submit the following information to visitingresidentsfl@ccf.org.
You will need to include in your email the following information:
Current CV.
Specific dates of rotation (a minimum of 4 consecutive weeks).
Current program director and program coordinator's name, email, and phone number.
Current training program.
PGY level.
Goals and objectives of elective rotation, provided by your training program. Document must be in Microsoft Word. No PDFs accepted.
Once received, an email will be sent to the program of interest for approval. If you are accepted for a rotation, you will receive an email link to Cleveland Clinic Florida's MedHub where you will be required to complete all onboarding tasks prior to the start of your rotation. Allot a minimum of 8 weeks for processing. An email will be sent to the program of interest.
If you are accepted for a rotation, the program coordinator will send you an email link to MedHub, where you are required to fill out additional information prior to your rotation. Processing time will be 8 weeks. Be sure to provide all information requested to the program coordinator to avoid delays.
FAQs
FAQs
Am I eligible?
All visiting trainees must currently be in an ACGME-accredited residency or fellowship and have approval from their program director to rotate at Cleveland Clinic.
What is the approval process?
Cleveland Clinic's GME Department and our individual staff physicians receive hundreds of requests for visiting trainee rotations each year. Requests are recorded in our database and forwarded to the program director in the department for which the rotation is being requested.
After reviewing trainee credentials and other training commitments, the program director will apprise GME of the department's ability to accommodate the request. The approval process takes about 8 weeks. The GME coordinator notifies trainees if their request cannot be accommodated or sends an email stating that the rotation has been approved.
What are the responsibilities of visiting trainees?
The level of responsibility for each visitor will be determined by the supervising physician in conjunction with the program director approving the rotation.
Do I need malpractice insurance?
In order to assume any patient care responsibilities at Cleveland Clinic, visiting trainees must produce proof of liability coverage from their home hospital. Proof of coverage can be in the form of a letter on letterhead from an official within your institution or a copy of the actual policy verifying liability coverage during the time you will be rotating at Cleveland Clinic. Proof of coverage must be provided prior to your arrival, or your status will be that of an observer only during your visit.
What type of license must I provide?
You are required to provide a copy of either your permanent Florida license or a copy of a Florida training certificate issued by the State Medical Board of Florida prior to beginning your rotation. Trainees from outside of Florida should apply early; the process takes approximately four to six weeks. You will NOT be able to function as a visiting resident or fellow if you cannot provide Florida licensure information; you will function as an observer only until this information is received.
How can I ensure my start date isn't delayed?
You'll be asked to upload documents in certain locations in MedHub by a specific date. Ensure your start date isn't delayed by uploading your documents:
In the correct location.
By the deadline given (or earlier, if possible).