Overview
Overview
Cleveland Clinic Florida's Department of Orthopedic Surgery is pleased to offer a one-year Adult Hip & Knee Reconstruction fellowship. Under the supervision of the distinguished faculty of Cleveland Clinic Florida, this fellowship offers an outstanding diversity of experience in all areas of adult joint reconstruction.
The fellowship requirements include completion of an Orthopedic residency training program and obtaining a Florida Medical License.
Fellows will be exposed to a wide-range of current reconstructive techniques for the hip and knee. This includes but is not limited to: robotic surgery, partial knee replacements, cemented & cement-less fixation, and direct anterior total hip arthroplasty. As a referral center for complex arthroplasty, the fellow will obtain extensive experience in revision arthroplasty, including metaphyseal fixation, augmented acetabular reconstruction, extensile exposures, osteotomies, and direct anterior revision hip arthroplasty. A weekly conference, quarterly journal clubs, cadaver labs, and research opportunities will round out the academic experience for the fellows.
Program Director
Aldo Riesgo, MD
Program
Program
Research
Extensive research opportunities exist with the support of a research coordinator and research fellows.
Participation in academic activities of the department and completion of at least one publishable research project are expected. There is protected time for research and academic pursuits.
Rotations & Call
Fellows will rotate through each service twice to provide a well-rounded and immersive educational experience with each surgeon. Each fellow will be on-call one weekend per month. There will be no weekday call responsibilities. Call responsibilities include rounding on inpatients and ER consults. Cleveland Clinic Florida is a Level-2 trauma facility.
Application
Application
The Adult Hip and Knee Reconstructive Surgery Fellowship participates in the San Francisco Match for all positions (SF Match ID 4920). You must complete all components of the SF Match application in order for your application to be considered complete and to be reviewed by the Selection Committee. Our application requirements are the same as the standard SF application:
Complete Application
Curriculum Vitae
Personal Statement
Medical School Transcript
USMLE Step I Transcript & Score > 220 is suggested with one (1) attempt/ COMLEX Level equivalent
USMLE Step 2 Transcript & Score >220 is suggested with one (1) attempt / COMLEX Level 2 equivalent
Three Letters of Recommendation
Benefits
Benefits
Please refer to the table below for new salary rates, effective July 1, 2023:
| Grad Level | Current Pay Rate |
| --- | --- |
| 1 | $61,609 |
| 2 | $63,685 |
| 3 | $65,743 |
| 4 | $68,315 |
| 5 | $70,591 |
| 6 | $73,368 |
| 7 | $75,798 |
| 8 | $77,276 |
Salary is at the PGY-6 level plus fringe benefits as detailed in the Graduate Physician Policy Manual and listed in the Resident/Fellow Benefits.
Paid Time Away: Vacation, Maternity, & Paternity
Vacation – 3 weeks (15 working days) provided at the beginning of each academic year
Maternity – 6 weeks paid leave for natural childbirth or adoption; 8 weeks for cesarean section. Additional time off unpaid up to a maximum of 12 weeks under the Family Medical Leave Act.
Paternity – 2 weeks paid leave. Additional time off unpaid up to a maximum of 12 weeks under the Family Medical Leave Act.
Insurance
Healthcare – Cleveland Clinic Florida covers 50% of annual Healthcare Plans for Clinical Trainees and their families. Effective on the first day of training with no waiting period.
Dental and Vision Care – Cleveland Clinic Florida covers 100% of annual Dental and Vision Care Plans for Clinical Trainees.
Maternity Care – 100% coverage is provided through the health care plan that you select within the plan's guidelines.
Pharmaceuticals – As outlined by the Cleveland Clinic Florida Health Plan.
Malpractice – Paid by the Cleveland Clinic Educational Foundation/Cleveland Clinic Florida. Limited to activities within the training program.
Life Insurance – $25,000 term group policy.
Travel Privileges and Other Education Activities
Senior residents, chief residents and fellows in ACGME and NON-ACGME programs that meet eligibility criteria as outlined in the Graduate Physicians Manual may be approved to attend academic meetings for the purpose of presenting or engaging in leadership roles within national societies will be eligible up to 5 days per academic year with a maximum reimbursement of $1,200 per academic year.
Additional Benefits
Book Allowance – A $250 educational allowance per year is available to all clinical residents/fellows. Primary use is for textbooks.
On-call Meals – Breakfast, lunch and dinner: Paid by Cleveland Clinic Florida when on in-house night call.
Membership – ACP membership paid for by the program.
Cell phones – Apple iPhone provided to all residents.
Uniforms – Supplied by Cleveland Clinic Florida.
Staff
Staff
Program Director

Aldo Riesgo, MD
Teaching Staff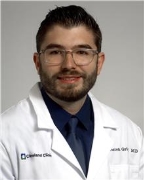 Preston Grieco, MD
Associate Staff
Senior GME Coordinator
Lauren Eadeh
2950 Cleveland Clinic Blvd.
Weston, Florida 33331
Phone: 954.649.7453
eadehl@ccf.org
Current Fellows
Current Fellows
Class of 2023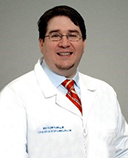 Matthew Broggi, MD
Emory University School of Medicine
Atlanta, GA

David Evans, MD
Brigham & Women's Hospital
Boston, MA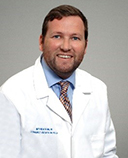 Matthew Kerr, MD
Orlando Health,
Orlando, FL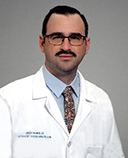 Joseph Palmer, DO
Broward Health Medical Center
Fort Lauderdale, FL
Alumni
Alumni
Class of 2023
Michael J. Canfield, MD
OrthoNY, Saratoga Springs, NY
Scott A. Galey, MD
Orthopaedic & Spine Center of the Rockies, Ft. Collins, CO
Justin Limtong, DO
Knee & Shoulder Institute, Las Vegas, NV
Jacob B. Wilkerson, MD
Animas Orthopaedics, Durango, CO
Class of 2022
James Baker, MD
University of Louisville, Louisville, KY
Garen Collett, MD
University of Texas Southwestern Medical Center/Parkland Hospital, Dallas, TX
Bruno Gross, MD
Orthopedic Specialists of Dallas, Rockwall, TX
Zachary Hubert, MD
Baylor Scott White Waxahachie, Waxahachie, TX
Class of 2021
Robert Avino, MD
Palm Beach Orthopedic Institute, Palm Beach Gardens, FL
William Braaksma, MD
Orthopaedic Associates of Port Huron, Port Huron, MI
Ardalan Sayan, MD
Mcleod Orthopedics, Florence, SC
Nicholas Talluri, MD
Kennedy White Orthopedic Center, Sarasota, FL
Class of 2020
Roby Abraham, MD
HCA East Florida Orthopedics, Ft. Lauderdale, FL
Tyler Britten, MD
Top of Texas Orthopedics, Amarillo, TX
Preston Grieco, MD
Cleveland Clinic Florida, Weston, FL
Class of 2019
Andrew Garber, MD
New Hampshire Orthopaedic Center; Nashua, NH
Qais Naziri, MD
Kings County Hospital, Brooklyn, NY
Tyler Newton, DO
Texoma Medical Center, Denison, TX
Class of 2018
Steven J. Cowart, M.D.
Valdosta Orthopedic Associates Valdosta, GA
Thomas Jacob Seales
Orthopedic Associates, Destin Florida
Class of 2017
Kyle McGivern, DO
Southwest Orthopedic Specialist
Miles Birmingham, DO
Orthovirginia, North Chesterfield,VA
Class of 2016
Raul Gosthe, MD
Jackson Medical Group, Miami, FL
Kristopher Sanders, MD
Erlanger Orthopaedics, Chattanooga, TN
Class of 2015
Ricardo Montanet, MD
Hospital De La Concepcion, Puerto Rico