Overview
Overview
The fellowship program in Pulmonary and Critical Care Medicine at Cleveland Clinic Florida is the newest ACGME accredited Pulmonary and Critical Care Medicine program in the state of Florida. The mission of our program is to provide an outstanding educational experience in an environment that promotes a balance between academics, clinical activities, and clinical research. The graduating fellow will possess the academic knowledge, clinical acumen, and procedural expertise required to become a successful pulmonologist/intensivist.
During the three-year training period, the fellows have exposure to the various disciplines of pulmonary and critical care medicine. There is strong subspecialty experience in pulmonary hypertension, interventional pulmonology, thoracic oncology, interstitial lung disease, bronchiectasis, and sleep medicine. The diversity of clinical material is further enriched through the collaboration with other departments at Cleveland Clinic Florida, such as Cardiothoracic Surgery, Radiology, ENT, Allergy & Immunology, and Pathology.
Program Director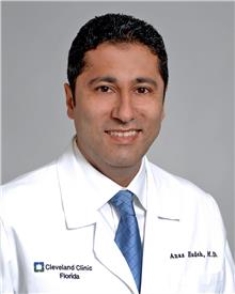 Anas Hadeh, MD
Goals & Objectives
Goals & Objectives
By the completion of your fellowship, you are expected to learn and develop expertise in the following areas of Pulmonary Medicine:
Obstructive lung diseases, including asthma, bronchitis, emphysema, bronchiectasis, and cystic fibrosis
Pulmonary malignancy--primary and metastatic
Pulmonary infections, including tuberculosis, fungal, and those in the immunocompromised host
Diffuse interstitial lung disease
Pulmonary vascular disease, including primary and secondary pulmonary hypertension and the vasculitis and pulmonary hemorrhage syndromes
Occupational and environmental lung diseases
Iatrogenic respiratory diseases, including drug-induced disease
Acute lung injury, including radiation, inhalation, and trauma
Pulmonary manifestations of systemic diseases, including collagen vascular diseases that are primary in other organs
Respiratory failure, including the adult respiratory distress syndrome, acute and chronic respiratory failure in obstructive lung diseases, and neuromuscular respiratory drive disorders
Disorders of the pleura and the mediastinum
Genetic and developmental disorders of the respiratory system
Sleep disorders
By the completion of your fellowship, you are expected to learn and develop expertise in the following areas of Critical Care Medicine:
Establishment of airway
Maintenance of open airway in non-intubated, unconscious, paralyzed patients
Oral and nasotracheal intubation
Breathing, ventilation

Ventilation by bag or mask
Mechanical ventilation using pressure-cycled, volume-cycled ventilators
Use of reservoir masks and continuous positive airway pressure masks for delivery of supplemental oxygen, humidifiers, nebulizers, and incentive spirometry
Weaning and respiratory care techniques
Management of pneumothorax (needle insertion, tube thoracostomy, and drainage systems)

Maintenance of circulation

Arterial puncture and blood sampling
Insertion of central venous, arterial, and pulmonary artery balloon flotation catheters
Basic and advanced cardiopulmonary resuscitation
Cardioversion

Pulmonary function tests to assess respiratory mechanics, gas exchange, and respiratory drive, including spirometry, flow volume studies, lung volumes, diffusing capacity, arterial blood gas analysis, and exercise studies
Diagnostic and therapeutic procedures, including thoracentesis, pleural biopsy, flexible fiber-optic bronchoscopy, and related procedures
Calibration and operation of hemodynamic recording systems
Ventilatory support, weaning, and respiratory care techniques
Examination and interpretation of sputum, bronchopulmonary secretions, pleural fluid/tissue, and lung tissue for infectious agents; cytology; and histopathology
Basic interpretation of imaging procedures including:

Chest roentgenograms
Computed axial tomograms
Radionuclide scans
Pulmonary angiograms
Other radiologic procedures

Sleep studies
Inhalation challenge studies
Thoracostomy tube insertion and drainage
Board Accreditation:
Since the inception of the Pulmonary/ Critical Care Medicine Fellowship Program at Cleveland Clinic Florida, we have had a 100% pass rate for first time takers, both in pulmonary disease and critical care medicine board certifications.
Evaluations
Evaluation of fellow with feedback to fellow at least twice per year.
Evaluation of staff and program at least twice per year.
Education & Conferences
Education & Conferences
Bronchoscopy Boot Camp
First year fellows are invited to attend a bronchoscopy boot camp in July in Cleveland, Ohio. The course is hosted by the Cleveland Clinic Ohio faculty and features a combination of didactics and hands on skill stations.
Ultrasonography Course
All fellows are invited to attend this course in September. Topics covered include thoracic ultrasound, cardiovascular ultrasound, FAST examination, vascular, and more.
Simulation Center
Cleveland Clinic Florida boasts a multispecialty simulation center. Fellows have access to a bronchoscopy simulator, allowing fellows to master basic bronchoscopy skills and airway anatomy. Fellows can also hone their technique in more advanced procedures, such as EBUS.
Educational Conferences
In addition to patient-centered education, the program provides a comprehensive didactic schedule. The fellows are required to attend two weekly core curriculum conferences. Additional conferences include Pulmonary Medicine Grand Rounds, a multi-institute journal club, an interdisciplinary ILD conference, Morbidity & Mortality Conference, research conference, board review, and an interdisciplinary Thoracic Oncology Conference. The Fellow Lecture Series takes place during the second half of the year and allows fellows to lecture on topics of their choosing. In doing so, fellows not only gain mastery of content but also refine lecturing skills to promote future success in academic environments.
Rotations
Rotations
Pulmonary Consults
Fellows will gain expertise in primary pulmonary pathology during this inpatient rotation. In addition to being exposed to a diverse spectrum of disease, fellows will also become adept in thoracentesis, needle aspiration, and inpatient bronchoscopy during this rotation.
Pulmonary Care Unit
During this rotation, fellows will manage acute primary lung disease. Fellows will be responsible for advanced pulmonary hypertension cases requiring intravenous vasodilators and rapid titration, acute ILD exacerbations, and other primary lung pathology.
Procedures
The purpose of this rotation is to gain expertise in advanced bronchoscopy techniques under the mentorship of our program's two interventional pulmonologists during a busy outpatient bronchoscopy schedule. Not only will fellows quickly gain mastery in basic bronchoscopy techniques, but they will also become comfortable with advanced diagnostic techniques such as endobronchial ultrasound (EBUS) and navigational bronchoscopy. There will also be exposure to advanced interventional bronchoscopy skills such as rigid bronchoscopy, bronchial thermoplasty, and other advanced techniques.
MICU
The purpose of these rotations is to gain expertise in the management of the critically ill patient. Our MICU encompasses standard medical, cardiac, and neurologically critically ill patients. Fellows will become comfortable with patients on advanced mechanical support (balloon pumps, Impella, ECMO).
Fellows will also gain vast procedural experience in endotracheal intubation (employing advanced techniques utilizing fiberoptic bronchoscopy and video laryngoscope), thoracentesis, chest tubes, central venous lines, arterial lines, and other procedures. Fellows can also be supervised in bedside tracheostomy by our interventional pulmonologists.
Night Float
The program boasts a night float system that eliminates the fatigue of a 24-hour call. Fellows have the opportunity to supervise the MICU team and respond to urgent pulmonary consults overnight.
Ambulatory
As a tertiary care center, Cleveland Clinic Florida has unparalleled outpatient exposure from both a domestic and international patient population. There is subspecialty expertise in almost every discipline of pulmonary medicine.
Surgical and Trauma ICU
The purpose of these rotations is to gain expertise in the differential diagnosis and management of critically ill surgical trauma patients. Fellows rotate in the surgical ICU here at Cleveland Clinic Florida and the Surgical Trauma ICU at Kendall Regional Medical Center, which is a Level 1 Trauma Center.
Electives
Cardiothoracic surgery
Radiology
ENT
Allergy& Immunology
Sleep
Pulmonary Hypertension
Research
Other: fellows are encouraged to be creative in finding an elective that they would find useful in their career as a pulmonologist/intensivist. Away electives are also possible.
Salary & Benefits
Salary & Benefits
Salary is at the PGY4-6 level plus fringe benefits as listed in the Resident/Fellow Benefits.
| | |
| --- | --- |
| Grad Level | Current Pay Rate |
| 4 | $63,034 |
| 5 | $65,272 |
| 6 | $68,426 |
Paid Time Away: Vacation, Maternity, & Paternity
Vacation: 3 weeks (15 working days) provided at the beginning of each academic year
Maternity: 6 weeks paid leave for natural childbirth or adoption; 8 weeks for cesarean section. Additional time off unpaid up to a maximum of 12 weeks under the Family Medical Leave Act.
Paternity: 2 weeks paid leave. Additional time off unpaid up to a maximum of 12 weeks under the Family Medical Leave Act.
Insurance
Healthcare: Cleveland Clinic Florida covers 50% of annual Healthcare Plans for Clinical Trainees and their families. Effective on the first day of training with no waiting period.
Dental and Vision Care: Cleveland Clinic Florida covers 100% of annual Dental and Vision Care Plans for Clinical Trainees.
Maternity Care: 100% coverage is provided through the health care plan that you select within the plan's guidelines.
Pharmaceuticals: As outlined by the Cleveland Clinic Florida Health Plan.
Malpractice: Paid by the Cleveland Clinic Educational Foundation/Cleveland Clinic Florida. Limited to activities within the training program.
Life Insurance: $25,000 term group policy.
Travel Privileges and Other Education Activities
Senior residents, chief residents, and fellows in ACGME and NON-ACGME programs that meet eligible criteria as outlined in the Graduate Physicians Manual may be approved to attend academic meetings for the purpose of presenting or engaging in leadership roles within national societies will be eligible up to 5 days per academic year with a maximum reimbursement of $1,200 per academic year.
Additional Benefits
Book Allowance: A $250 educational allowance per year is available to all clinical residents/fellows. Primary use is for textbooks.
On-call Meals: Breakfast, lunch, and dinner: Paid by Cleveland Clinic Florida when on in house night call.
Cell phones: Apple iPhone provided to all fellows
Uniforms: White coats and scrubs supplied by Cleveland Clinic Florida.
Staff
Staff
Ihab Alshelli, MD
Research Interests: Interventional Pulmonology, Lung Cancer Screening
Justin Dolan, MD
Research Interests: NTM, Bronchiectasis, and ILD
Sam Faradyan, MD
Research Interests: Molecular Biology, Pulmonary, Critical Care
Samantha Gillenwater, MD
Research Interests: PAH
Samuel Gurevich, MD
Medical Director of Respiratory Therapy
Research Interests: Sleep Medicine, Pulmonary, Critical Care
Anas Hadeh, MD
Program Director
Research Interests: Cystic Fibrosis, Bronchiectasis, Sleep Medicine
Christopher Lau, MD
Research Interests: ILD and COPD, COVID-19 and IP Trials
Nydia Martinez, MD
Research Interests: ILD, IPF, Sarcoidosis, Palliative Care
Jinesh Mehta, MD
Director, ICU Operations / MICU
Research Interests: Pulmonary Hypertension, ILD, Critical Care
Laurence Smolley, MD
Associate Program Director
Research Interests: Sleep Medicine, Pulmonary, Critical Care
Franck Rahaghi, MD
Chairman
Research Interests: Sleep Medicine, Pulmonary, Critical Care
Ivan Romero, MD
Interventional Pulmonology
Research Interests: Lung Cancer, COVID-19 and IP Trials
David Zisman, MD
Research Interests: ILD and PAH
Program Coordinator
Janine Rodrigues, MS, CNS Candidate, MLIS, Notary
Senior Program Coordinator
2950 Cleveland Clinic Boulevard
Weston, Florida 33331
Phone: 954-659-5229
Fax: 954-659-5662
Email: rodrigj17@ccf.org
Current Fellows
Current Fellows
Class of 2023
Andrew Kim, MD
Medical School: St. George's University, Grenada
Residency: Drexel University College of Medicine
Daniel Kotok, MD
Medical School: Volgograd State Medical University, Russia
Residency: University of Pittsburgh Medical Center
Tristan Pasek, MD
Medical School: Saint James School of Medicine University, Anguilla
Residency: Mount Sinai Hospital Medical Center
Class of 2024
Alibel Bello, MD
Medical School: Northeast Ohio Medical University
Residency: Cleveland Clinic Akron General
Miquel Gonzalez, MD
Medical School: Florida International University
Residency: Cleveland Clinic, Florida
Christopher Railwah, MD
Medical School: University of West Indies
Residency: Sunny Downstate Medical Center
Veronica Williams, DO
Medical School: Philadelphia college of Osteopathic Medicine
Residency: Philadelphia college of Osteopathic Medicine
Class of 2025
Ali Al-Tarbsheh, MD
Medical School: The University of Jordan
Residency: Albany Medical Center
Ramez Halaseh, MD
Medical School: Jordan University of Science and Technology
Residency: Medstar Washington Hospital Center
Daniela Trelles-Garcia MD
Medical School: University of Cuenca
Residency: AMITA Health Saint Francis Hospital
Alumni Fellows
Alumni Fellows
Class of 2018
Felix Hernandez, MD
Medical School: Ross University, Dominica
Residency: Cleveland Clinic Florida
Krunal Patel, MD
Medical School: Ross University, Dominica
Residency: Cleveland Clinic Florida
Class of 2019
Justin Dolan, MD
Medical School: Ross University, Dominica
Residency: Cleveland Clinic Florida
Saketh P. Shekar, MD
Medical School: Rajiv Gandhi University of Health Sciences, India
Residency: Morristown Medical Center, NJ
Class of 2020
Apurva Gandhi, MD
Medical School: B.J. Medical College, India
Residency: Abington Jefferson Health, PA
Fellowship: Sleep Medicine, Temple University Hospital, PA
Mustafa Akbiek, MD
Medical School: Jordan University of Science & Technology
Residency: St. Vincent Charity Medical Center, OH
Emad Alkhankan, MD
Medical School: Albaath University, Syria
Residency: Marshall University
Fellowship: Pulmonary Diseases, Marshall University
Phalgoon Shah, MD
Medical School: SMT NHL Municipal Medical College
Residency: Tripler Army Medical Center
Fellowship: Pulmonary Critical Care Medicine, Case Western University MetroHealth Medical Center
Class of 2021
Andrew Daya, MD
Medical School: St. George's University, Grenada
Residency: Drexel University College of Medicine
Fellowship: Sleep Medicine, Drexel University College of Medicine
Christopher D'Angelo, MD
Medical School: St. George's University, Grenada
Residency: Cleveland Clinic Florida
Raiko Diaz, DO
Medical School: Nova Southeastern University College of Osteopathic Medicine
Residency: Cleveland Clinic Florida
Fellowship: Pulmonary Disease, Aventura Hospital and Medical Center
Class of 2022
Samantha Gillenwater, MD
Medical School: Ross University, Dominica
Residency: Cleveland Clinic Florida
Melaine Lanza, MD
Medical School: Ross University, Dominica
Residency: Florida Atlantic University
John Woytanowski, MD
Medical School: St. George's University, Grenada
Residency: Drexel University College of Medicine
Fellowship: Interventional Pulmonology, Duke University School of Medicine