The process of heart transplantation takes a team effort from evaluation to recovery. Your heart transplant team consists of nurses, physicians, surgeons, dietitians, social workers, and cardiac rehabilitation specialists who work with each patient and their family to aid in the success of their heart transplant.
The more you and your family know about your heart transplant prior to heart transplant surgery, the better your long-term outcome after heart transplantation will be. Our goal is to relieve some of your anxiety about heart transplantation and help you enjoy the outcomes following your heart transplant.
The Heart Transplant Team is a group of physicians, surgeons, nurses, dietitians, exercise physiologists, social workers, and other health care team members who are experts in the field of heart transplantation. Cleveland Clinic's Heart Transplant Team is dedicated to a coordinated approach to the care of the heart transplant patient. This approach starts with the evaluation, continues through the heart transplant surgery, and follows through to recovery following transplant.
If you or your local cardiologist have questions or concerns related to heart transplantation, please contact your physician at Cleveland Clinic.
Following your heart transplant, any medical problems, questions, outpatient appointments, biopsy results, medication changes, etc. post-transplant will be handled by the heart transplant coordinators:
Phone: 216445.6590
Toll-free: 800.223.2273 ext. 56590.
If heart transplant personnel are unavailable, please leave a message and your call will be returned as soon as possible. Messages are checked frequently during the day.
Transplant Surgery
If a heart becomes available and you are not in the hospital, we will call you at home or on your cell phone. It is important that you are available at all times of the day or night. Please keep your cell phone nearby when you are not at home. We will ask you what number is best to reach you. You should be available 24 hours a day.
In some cases, the coordinator may arrange for transportation to Cleveland Clinic, or tell you to standby for further instructions. Be sure to notify the Transplant Coordinator if your phone number changes, or if you will be at another location. Always notify the transplant office of any other plans.
Once you are called, do eat or drink anything and keep your telephone line open.
When you get the call from your Transplant Coordinator that a donor heart has been located, you will need to come to Cleveland Clinic as soon as possible.
When you are told to come to the hospital, remember:
Do not eat or drink anything.
Bring all your prescription medications.
Bring a list of your medications and drug allergies.
Leave watches, money and other valuables at home or with the person who accompanies you.
Wear comfortable, easy-to-fold clothing. You will be given a gown to wear when you are admitted to the hospital. Your clothing will be given to the family member or friend who accompanies you.
Women should not wear make-up or nail polish.
Go directly to the intensive care unit for hospital admission. You will be met in the Cardiothoracic Intensive Care Unit (CTICU) by the nursing staff. If you are waiting for transplant in the hospital, the coordinator will notify you of transplant and you will be transferred to the CTICU.
The Surgery
You will be taken on your bed to the operating room. You can expect the operating room to be brightly lit, cool and somewhat noisy, with a lot of people getting ready for the surgery.
The donor heart
Up to three members of the transplant team will go to evaluate the donor heart. Once the staff member have seen and determined the donor heart is satisfactory, he/she will contact your transplant surgeon.
At this time your surgeon will receive details on when the donor heart will arrive. We will then proceed with your surgery. Your family will be notified that the donor heart has been accepted and that surgery is proceeding.
Dry Run
There is always a possibility that the donor heart is not functioning properly or the donor may become too unstable to continue with transplant. The surgeon will inform you of this event as soon as they are aware of the situation. Please do not be too disappointed if this happens. We always have your best interest uppermost in our minds. If you are an inpatient, you will be transferred back to your nursing floor. If you are an outpatient you will likely have your IV lines removed and be discharged to home.
Anesthesia
The cardiothoracic anesthesia team will start to administer your general anesthesia through one of your IV lines. You will begin to feel sleepy and heavy. You will fall asleep quickly. Hearing will be the last sense to leave you before you go to sleep.
The cardiothoracic anesthesiology team will be using state-of-the-art equipment and safety features, including monitors that ensure you are safely anesthetized and asleep throughout your surgery. The team will constantly monitor your electrocardiogram, pulse rate, blood pressure, respiration and other vital body functions.
The Surgery
The surgeon will make an incision through your sternum (breast bone). You will be placed on a cardiopulmonary bypass machine that will mechanically take over the functions of the heart and lungs during the surgery.
The donor heart is removed by cutting the aorta and pulmonary artery in the mid sections. The atria are excised from the veins leading into the heart. When the donor heart arrives in the operating room, the surgeons will remove your heart and the donor heart will be placed in proper position.
There are two methods by which this occurs.
Method 1 - Bi-atrial
The donor and recipient's left atria are connected. Then the right atria are connected. Finally, the aorta, pulmonary artery and pulmonary veins are sutured together.
Method 2 - Bi-caval
The donor and recipient's aorta, inferior and superior vena cava, pulmonary artery and pulmonary veins are sutured together.
The denervated heart
The donor heart comes with its own electrical system, the sinus node, and its own coronary artery supply.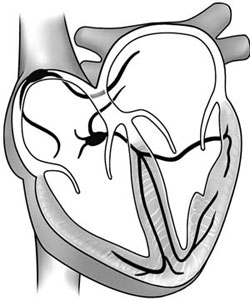 When the heart is removed from the body, the nervous system is disconnected. The heart continues to beat adequately, but without the external nerve supply. This is referred to as a denervated heart. Small temporary pacemaker wires are attached to your new heart during surgery, and brought out through the skin near the base of the incision in case a temporary pacemaker is needed after surgery to assist the heart rate. If they are not needed, they will be removed when staff feels it is appropriate, usually by post-op day five or patient depending.
The actual surgery may last from four to 12 hours, and sometimes longer. Each patient and each case is different. Please remember that if your surgery takes eight hours and another patient's surgery only took three hours, it does not mean that you are doing worse than the other patient.
The Transplant Special Care Unit
While you are in the hospital, your cardiologist may treat your heart failure symptoms in a special critical care unit. Physicians and nurses in this unit are specially trained to provide aggressive medical care and education to you and your family. Your transplant team will follow your progress and help you recover as quickly as possible.
Pain
In the nursing unit, you must ask for medications to relieve your pain or other symptoms (such as nausea). You should request medication to lessen your pain and keep you comfortable so that you may move around and increase your activity.
If you would like to use other methods of pain control, such as soothing music or relaxation tapes, small tape players with headphones are allowed in the CTICU and in the nursing units.
Deep Breathing and Coughing Exercises
Continue to practice your breathing and coughing exercises.
Changing Positions
Continue to change your position frequently while in bed.
Once you are able, get out of bed, sit in a chair or walk around the nursing unit as much as possible.
Activity
Your activity level will begin by sitting in a chair and progress quickly to taking several walks a day on the nursing floor.
The Cardiac Health Improvement and Rehabilitation staff will guide your progress and will give you a home activity guide to help you to gain strength when you leave the hospital.
As soon as you are able, you will be assisted to the bathroom to perform your daily hygiene routine (such as brushing teeth and washing up). To help you progress your activity, you will be expected to do this by yourself. If you need any extra help, please ask your nurse.
Self Monitoring
You will be asked to keep track of the fluids you drink (your "intake"), the amount you urinate (your "output") and your weight every day you are in the hospital. The nurses also will teach you to monitor your heart rate, blood pressure and temperature so you will know how to manage your care after you go home.
You will receive information about weight control, medications and self care expectations. Try to review this information and if you have any questions, please ask.
You will also take part in our "self-medication program." You will also administer your own medications and learn the side effects of immunosuppression.
Changes in Nutrition
After surgery, many patients complain of a poor appetite and changes in how foods taste.
Eating healthy foods is an important part of healing.
Try to eat smaller, more frequent meals and choose cold foods.
If you need help with food choices, ask to speak to a dietitian.
Difficulty Sleeping
You may have difficulty sleeping at night. The hospital is an unfamiliar place and some people complain of vivid dreams waking them. Nurses may need to monitor your vital signs (blood pressure and heart rate) at night, which can interrupt your sleep.
To sleep more comfortably, take your pain medication at bedtime. It may help to use several pillows to support your head, chest and back. Try not to sleep too much during the day so you will be able to sleep at night.
Discharge Plans
Most patients stay in the hospital seven to 14 days after heart transplant surgery. Remember, everyone recovers at a different pace. The transplant team will meet with you daily to update you about your progress and your discharge plan.
When you are discharged from the hospital, you will receive instructions about your home care from your transplant team and the nursing staff. It is important that you understand your treatment plan. If you have questions, please ask.
Caring for Your New Heart - at Home
A new heart is a precious gift. Only a small number of those who need a heart transplant receive them. You have been fortunate enough to receive a new heart.
It is up to YOU to take excellent care of yourself and to follow your medical plan.
Preventing Infection in the Hospital
After your transplant, you will be taking medications called "immunosuppressants." These drugs prevent your body's immune system from rejecting your new heart. However, they also increase your risk for infection.
During your hospital stay, you should begin to take steps to avoid infection. Many of these good habits will also help you prevent infection at home.
Practice good hygiene
Frequently wash your hands with soap and warm water, especially after using the bathroom and touching soiled clothing or bedding. Lather well, rubbing your hands back and forth together, to clean all surfaces, including the nail beds and the webbing between your fingers.
You will have bedside baths for about the first week in the hospital. After that, it is recommended that you shower every day. If you have oily hair, try to keep it clean and pulled away from your face.
Wash your face in the morning and at bedtime, using a mild soap and washcloth. To help prevent acne, keep your skin as clean and oil-free as possible.
Take care of your mouth and teeth
Examine your mouth and gums daily.
Use dental floss daily.
If a mouth sore develops, eat foods that are warm or at room temperature and avoid eating acidic foods and beverages (such as tomatoes and oranges) Also let your care team know.
See your dentist regularly every six months.
Protect your skin from scratches, sores and other irritations that might lead to infection
If you have a cut (even if it is small), clean the area will with soap and water or hydrogen peroxide, dry your skin, and cover the cut with a sterile bandage.
Your friends and family can help prevent infection. They can:
Not bring any food from outside sources, including from home. Plants, balloons and flowers (fresh or silk) are allowed.
Follow the transplant unit's guidelines about hand washing.
Not visit if they have cold or flu symptoms (such as fever, cough or runny nose). They may visit when they are feeling well.
Signs of Infection
If you have symptoms of infection, notify your health care provider right away. Look for these signs:
Fever over 101 degrees Fahrenheit (38.4 degrees Celsius)
Sweats or chills
Skin rash
Pain, tenderness, redness or swelling
Wound or cut that will not heal
Red, warm or draining sore
Sore throat, scratchy throat or pain when swallowing
Sinus drainage, nasal congestion, headaches or tenderness along upper cheekbones
Persistent dry or moist cough that lasts more than two days
White patches in your mouth or on your tongue
Nausea, vomiting or diarrhea
Flu-like symptoms (chills, aches, headache or fatigue) or generally feeling "lousy"
Trouble urinating: pain or burning, constant urge or frequent urination
Bloody, cloudy or foul-smelling urine
Acute Heart Failure Specialty Unit and Self-Management
While you are in the hospital, your cardiologist may treat your heart failure symptoms in a special critical care unit. Physicians and nurses in this unit are specially trained to provide aggressive medical care and education to you and your family.
You may be asked to keep track of the fluids you drink (your "intake"), the amount you urinate (your "output") and your weight every day you are in the hospital.
You will also be provided with written handouts about weight control, medications and self care expectations. Try to review this information and if you have any questions, please ask. If your hospital stay is long, you will also take part in our "self-medication program."
Nutrition in the Hospital
Nutrition therapy is an essential component of your transplant medical care at Cleveland Clinic. We provide three meals a day with snacks, as requested or designed by your dietitian.
The meals you receive are calculated for the amount of fat, sodium, and fluid that are specific to your needs. The foods you eat work in conjunction with your medications and other medical therapies for an optimal health outcome.
Therefore, it is important that you do not receive foods from an outside source—including restaurants and vending machines throughout the hospital, food from home, as well as food from neighboring restaurants—because we are not able to specifically determine the fat, sodium or fluid content of these foods. In addition, we are not able to determine if other foods were prepared safely.
The Nutrition Therapy Department and your health care team appreciate your cooperation with this important guideline.
If you have any questions about this, please talk with your dietitian.
Balloon Pumps and Assist Devices
An intra-aortic balloon pump is a temporary mechanical assist device placed in patients with severe heart failure who do not respond to oral or intravenous (IV) medications.
The balloon pump helps to reduce the workload of the heart muscle. It consists of a large balloon catheter that is inserted into an artery in the groin. The catheter is connected to a computer console placed next to the bed. The computer coordinates inflation and deflation of the balloon.
While the heart is at rest (in between heart beats), the balloon inflates, enhancing blood flow to the arteries that supply the heart muscle. During the heart's contraction, it deflates, allowing the heart to squeeze out more blood with less work.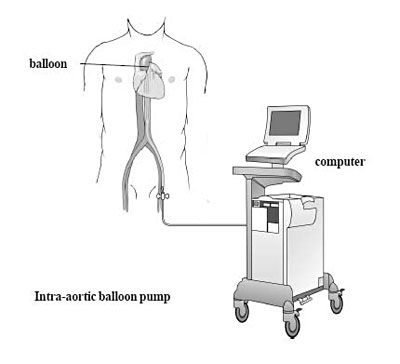 While the balloon pump is in place, it is very important to lie flat in bed. The nurse will assist the patient in turning from side to side to help increase comfort. While this device is in place, a pumping sound will be heard which can be scary to some patients. It is the sound of the machine, not the heart pumping. In most instances, the use of a balloon pump is limited to one week or less.
An implantable left ventricular assist device (LVAD), (called the HeartMate II) is a pump, weighing a few pounds. The pump is surgically implanted in patients with very severe heart failure. The inlet portion of the pump is connected to the tip of the heart.
The outlet portion of the pump is connected to the aorta inside the chest. As such, LVAD implantation is a major surgical procedure. Unlike the intra-aortic balloon pump, the LVAD allows for increased mobility over time.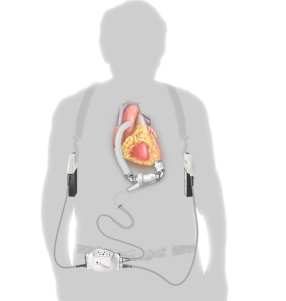 After a recovery period, patients begin to gradually increase their activity, begin to care for and manage their device, and may eventually leave the hospital. These patients are listed as Status IA/B candidates.
Rights and Responsibilities of Heart Transplant Patients
Cleveland Clinic is committed to providing you with respectful care as we meet your health care needs during your heart transplant. For this reason, we want you to have a summary of your rights as a heart transplant patient.
You have a right to considerate and respectful care as you go through the heart transplant process.
You have the right to participate in the development and implementation of your plan of care. You will not be denied access to care due to race, creed, color, national origin, sex, age, sexual orientation, disability, or source of payment.
You have the right to information about your heart transplant diagnosis, condition, and treatment in terms that you can understand in regard to your heart transplant or any medical procedure at Cleveland Clinic.
You have the right to refuse treatment to the extent permitted by law and to be informed of the possible consequences of the refusal.
You, as a heart transplant patient, are entitled to be free from all forms of abuse or harassment. You have the right to make or have a representative of your choice make informed decisions about your care.
You have the right to formulate advance directives prior to your heart transplant and have them followed.
You have the right to have your family or representative of your choice and your own physician notified of your admission to the hospital for a heart transplant.
You have the right to appropriate assessment and management of pain.
You are entitled to be free from any forms of restraint or seclusion as a means of convenience, discipline, coercion, or retaliation. Seclusion and restraint for behavior management can only be used in emergency situations.
You are entitled to information about rules and regulations affecting your care or conduct.
You have the right to know the names and professional titles of your physicians and caregivers.
You have the right to know that Cleveland Clinic is a teaching institution. Resident physicians, student nurses, and other supervised health care providers in training may become involved in your care and treatment before, during, and after your heart transplant.
You can request a change of provider or second opinion if you choose.
You have the right to personal privacy and to receive care during the heart transplant process in a safe environment.
You have the right to prompt and reasonable response to any request for services within the capacity of the health care facility.
You have the right to express concerns or grievances regarding your care to the hospital staff or to the Ombudsman office.
The confidentiality of your clinical and personal records will be maintained.
You have the right to see your medical record within the limits of the law.
You have the right to an explanation of all items on your bill.
You have the right to be provided with information about your continuing health care needs and planning for care after you leave the hospital and, as appropriate, after an appointment with your physician or other caregiver.
Patient's Responsibilities – General
This is a summary of your responsibilities as a patient at Cleveland Clinic.
It is your responsibility to provide accurate and complete information about all matters pertaining to your health, including medications and past or present medical problems.
You are responsible for following the instructions and advice of your healthcare team. If you refuse treatment or do not follow the instructions or advice, you must accept the consequences of your actions.
It is your responsibility to notify a member of the healthcare team if you do not understand information about your care and treatment.
You are responsible for reporting changes in your condition or symptoms, including pain, to a member of the healthcare team.
It is your responsibility to act in a considerate and cooperative manner and to respect the rights and property of others. You are responsible for following the rules and regulations of the healthcare facility. For outpatients, you are expected to keep your scheduled appointments or to cancel them in advance if at all possible.
It is your responsibility to pay your bills or make some arrangement with the facility to meet your financial obligations.
Patient's Responsibilities – As a hospital patient awaiting transplant
We believe it is important for you to be an active participant in your healthcare. This is a summary of your responsibilities in the hospital as you await your heart transplant.
You are responsible for weighing yourself daily, before breakfast, and recording your daily weights in your weight record.
You are responsible for keeping track of your fluid intake and urinary output every day. You will be given logs to record this information.
You are expected to follow your prescribed dietary guidelines and fluid restrictions. Please tell your family members and friends NOT to bring in food or snacks from home or from the vending machines. Please talk with your dietitian or healthcare team if you have any questions about this guideline.
You are expected to participate in the Cardiac Rehabilitation (CHIRP) program when you are physically able to participate.
You are expected to attend educational sessions provided by your healthcare team when you are able.
When your healthcare team provides the "ok", you will be allowed to have "off floor" privileges. This means you can leave the unit for about 20–30 minutes. You must notify your caregiver of your plans. It is your responsibility to return on time and to check back with your nurse when you return (by calling the unit secretary or physically checking in with your nurse).