Overview
Overview
Nursing is a profession with many possible career paths. Cleveland Clinic's Stanley Shalom Zielony Institute for Nursing Excellence offers nurses a Professional Nurse Career Pathway that allows them to identify opportunities, explore nursing specialties and create a plan for lifelong learning. Nurses in their first year of employment at Cleveland Clinic have many professional development opportunities that help them acclimate to their department and participate in available programs and initiatives. This allows them to determine areas of interest and get involved. After the first year, there are four career tracks as follows: Leadership, Clinical Expert, Advanced Practice, and Specialty Nursing. Each track features developmental courses, experiential learning, and supporting activities.
Year One
Year One
Whether you are a new graduate beginning your career as a professional nurse or an experienced nurse beginning your first job with Cleveland Clinic, the first year involves many adjustments as you learn a new culture and organizational structure, department expectations and new patient populations. This is also the time to develop relationships with peers and members of the interdisciplinary team and to begin your professional development journey as a Cleveland Clinic nurse.
In addition to completing orientation and residency (for new graduates), the Nursing Career Path guides first year nurses to professional development opportunities that help them acclimate to their department and available programs and initiatives, allowing them to explore, determine areas of interest, and get involved.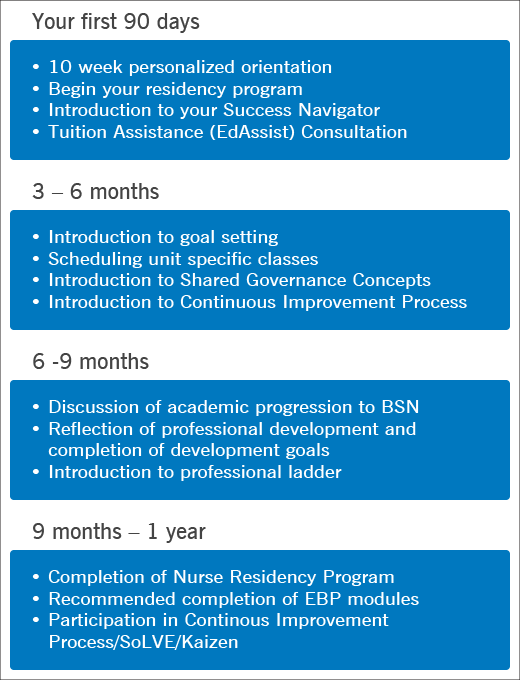 Leadership Track
Leadership Track
The leadership track is for aspiring nurse leaders at all levels of leadership. Within this track, staff/clinical nurses, assistant nurse managers, nurse managers and other nurse leaders can browse through all of the educational offerings and leadership experience/exposure opportunities to create a plan that meets their professional leadership goals.
Staff/Clinical Nurse
Assistant Nurse Manager
Nurse Manager
Education
Education
Education

Recommended Leadership Courses:

Shared Governance Boot Camp
Preceptor Class
Lead the SuperCharge
MAGNUS - Clinical Empowerment Experience

Elective Courses:

Personal Mastery and Professionalism
Healthy Teams for Individual Contributors

Recommended Courses (in first 6 months in role)

Shared Governance Boot Camp
Preceptor Class
Lead the SuperCharge
Basic Strategies for New Nurse Leaders
HR Fundamentals for Managers
Personal Mastery and Professionalism

Recommended Courses (at 7 to 24 months into role)

Building an Empowered Team
Performance Coaching
Managing Relationships
Interprofessionalism

Elective Courses - many offerings

Recommended Courses (in first 6 months in role)

Basic Strategies for New Nurse Leaders
Finance and Productivity
Managing Relationships
Performance Coaching
Building an Empowered Team
HR Fundamentals for Managers
Personal Mastery and Professionalism

Recommended Courses (at 12 to 24 months into role)

Influencing
Interprofessionalism

Recommended Courses (at 12 to 24 months into role)

Guiding Interactions
Transformational Leadership

Elective Courses - many offerings

Experience/Exposure to Leadership Activities
Experience/Exposure to Leadership Activities
Experience/Exposure to Leadership Activities

Join or chair Shared Governance Council
Participate in continuous improvement project
conduct quality audits
Obtain professional certification
Precept new nurses and/or students
Lead huddles
Serve as charge nurse
Apply for Professional Ladder
Become a clinical expert

Support unit Shared Governance Council
Participate in unit finance/budget meeting
Participate in unit rounding
Lead performance improvement project
Participate in interviews
Apply for Professional Ladder
Obtain professional certification
Lead unit meetings or education sessions

Serve as a mentor
Participate in interdisciplinary teams
Encourage innovation
Learn about succession planning
Participate in unit and/or nursing business plan
Join hospital and/or enterprise-wide committees
Lead change management projects
Become involved in community initiatives
Clinical Expert
Clinical Expert
Clinical nurses serve on the frontline of healthcare, leading and coordinating the care of multiple patients. At Cleveland Clinic, clinical nurses are encouraged to engage in professional development activities and to consider opportunities to become unit-based experts. With training offered in more than 10 different areas of clinical expertise, nurses have a wealth of training options open to them. For nurses seeking to challenge themselves by exploring a different clinical specialty, Cleveland Clinic offers an abundance of specialties from which to choose. See below for a sampling of clinical specialties available.
Clinical Expert
Education
Exposure/Experience Activities

Attend training to become a Clinical Expert, Resource Nurse or Unit Champion in the following:

Pain Management
Diabetes Mentor
Vascular Access Resource Nurse (VARN)
Skin Care Resource Nurse (SCRN)
Geriatric Resource Nurse (GRN)
Stroke Resource Nurse
EPIC Superuser
Blood Borne Pathogen Specialist
Lactation Consultant
SANE Nurse
Palliative Care/End of Life Resource Nurse

Become a Preceptor for new nurses and/or student nurses

Preceptor Foundations Course
Experienced Preceptor Development Course

Obtain professional certification
Obtain mentor
Shadow clinical expert
Lead a performance improvement initiative in your area of expertise
Develop a research proposal in your area of expertise (with research mentor)
Submit an innovation idea
Conduct quality audits on your unit
Join the hospital or Cleveland Clinic Nurse Practice Council
Join or chair your unit Shared Governance Council

Learn about Different Clinical Specialties

Ambulatory
OR Nursing
Post Anesthesia Care Nursing
Ambulatory Surgery Nursing
Emergency Nursing
Orthopaedic Nursing
Medical/Surgical Nursing
Pediatric Nursing
Pediatric Intensive Care Nursing
Neonatal Intensive Care Nursing
Home Health Nursing

Mother/Baby Nursing
Neurology Nursing
Neuro Intensive Care Nursing
Cardiac Intensive Care Nursing
Medical Intensive Care Nursing
Surgical Intensive Care Nursing
Forensic Nursing
Hospice Nursing
Oncology Nursing
Critical Care Transport Nursing
Rehabilitation Nursing
Advanced Practice Nursing
Advanced Practice Nursing
The Advanced Practice Registered Nursing track is for nurses who are or are aspiring to be advanced practice registered nurses. This track provides advanced practice registered nurses with professional development activities that support their ongoing growth and development. It also provides nurses who may be interested in becoming an advanced practice registered nurse with resources to understand the different types of APRNs, educational requirements, and roles and responsibilities.
Professional Development Opportunities for Advanced Practice Registered Nurses
Leadership
Education
Research
Quality

Join the APRN Council

Join your APRN professional organization and consider serving in a leadership position

Attend Nurse Leader Development Courses

Building an Empowered Team

Managing Relationships

Interprofessionalism

Guiding Interactions

Personal Mastery and Professionalism

Influencing for Impact

Transformational Leadership

Coaching for Performance

Participate in the Distinguished Educator Program

Attend Education Essentials Courses

Attend Simulation

Apply for Simulation Education Fellowship

Attend R.E.D.E. Series Courses

Participate in APRN Journal Club

Attend APRN continuing education courses, seminars and conferences

Serve as an APRN preceptor

Complete CITI Training and other required courses for research

Obtain a research mentor

Develop and submit a research proposal to the IRB

Conduct an IRB approved research project

Write and submit a manuscript to a peer-reviewed journal

Submit an abstract for presentation at a national conference

Lead a continuous improvement project

Participate in interprofessional rounds

Join a committee

Participate in quality audits

Participate in a SolVE project

Explore Advanced Practice Registered Nursing Roles
Resources Provided by Cleveland Clinic

Tuition Reimbursement

EdAssist Advising

Education Fairs

APRN Clinical Preceptors

Continuing Education to meet certification requirements

Standard Care Arrangements

Advanced Practice Registered Nurse Roles

Certified Registered Nurse Practitioner (CRNP or CNP)
Certified registered nurse practitioners work in collaboration with physicians to provide preventive or primary care services to patients of all ages in a variety of settings both inside and outside the hospital setting. Nurse practitioners can specialize in a variety of areas, including neonatology, pediatrics, family, adult, women's health, mental health, geriatrics and acute care. The nurse practitioners specific scope of practice is based upon their area of specialization and certification.

Clinical Nurse Specialist (CNS)
Clinical nurse specialists are advanced practice nurses who provide and manage the care of individual patients or groups of patients with complex health problems. They are clinical experts in a specific patient population such as acute care/critical care, community health, gerontology, neonatology, occupational health, oncology, women's health, medicine/surgery or psychiatry/mental health.

Certified Nurse Midwife (CNM)
Certified nurse midwives provide preventive and primary care services to adolescents and women. They may follow women prior to, during and after pregnancy and delivery. They manage and care for women during the normal birthing process and postpartum period. They may also provide gynecologic and primary healthcare to women of all ages.

Certified Registered Nurse Anesthetist (CRNA)
Certified registered nurse anesthetists administer anesthesia under the collaboration and supervision of a physician in a variety of settings. They provide comprehensive care for the patient from the pre-anesthetic evaluation through the post-operative period. CRNAs provide anesthesia care in multiple settings, including hospitals, outpatient surgery centers and physician offices. Additionally, CRNAs manage acute and chronic pain in the perioperative period, though they are not eligible to prescribe.

Responsibilities of Advanced Practice Registered Nurses
Advanced Practice Registered Nurses at Cleveland Clinic provide the following services (based on role):

Complete history and physical exam
Develop a plan of care in collaboration with a physician
Order and interpret diagnostic tests and therapies
Prescribe medications, within the guidelines of the law
Coordinate care
Reassess and revise plan of care
Provide patient and family education
Consult with other members of the healthcare team in the development and management of a plan of care

These services are provided according to a standard care arrangement (SCA) developed between the APRN and their collaborating physician(s). This SCA is a formal written agreement and is required by Ohio law. It must be reviewed and signed every 2 years.
Specialty
Specialty
The Specialty Track is for nurses who aspire to specialize in an area of nursing practice outside of direct patient care.
Specialty Nursing Track
Specialties
Exposure/Experience Activities

Nursing Education and Professional Development

Shadow Nurse Professional Development Specialist (NPDS)

Seek NPDS mentor

Participate in unit training program

Host a journal club

Offer to teach a class

Serve as a preceptor for new nurses

Research MSN in Education programs and requirements

Join hospital or Cleveland Clinic Nursing Professional Development Council

Nursing Informatics

Shadow Nurse Informatics Specialist

Join hospital or Cleveland Clinic Nursing Informatics Council

Become an EPIC super user

Volunteer to be a super user for rollout of new technology

Investigate MSN in Informatics programs and requirements

Nursing Quality, Risk Management, and Accreditation

Shadow a Nurse Quality Program Manager

Conduct unit audits

Participate in Stroke Certification, Joint Commission, or other accreditation surveys

Participate in a quality improvement project

Join hospital's Nursing Quality Committee

Attend Enterprise Quality Council meeting

Serve as reviewer for local policies and procedures

Participate in a clinical case review

Infection Prevention

Shadow an Infection Preventionalist

Become a CAUTI/CLABSI prevention champion

Become a Blood Borne Pathogen Unit Specialist

Attend continuing education courses in infection prevention

Participate in infection control audits

Care Management

Shadow Care Manager or Social Worker

Learn about patient resources in the community

Participate in interdisciplinary rounds

Participate in discharge planning

Nursing Research

Complete CITI training and other requirements for conducting research at Cleveland Clinic

Obtain a research mentor

Explore research questions and develop a research proposal for IRB submission

Investigate PhD educational opportunities and requirements