Coaching Program
Coaching Program
Our Resident Coaching Program (RCP) is modeled after the original resident coaching program at Massachusetts General Hospital and developed under the direction of the Cleveland Clinic Staff Coaching Program. Our goal is to promote resident awareness of their growth and development, enhance resiliency, and improve trainee confidence in their own self-assessment and self-directed learning. We are dedicated to helping all residents reach their full potential and ability and this program is designed to provide the tools and support to get there. Residents are matched with coaches, all of whom are Cleveland Clinic staff physicians. Coaching is distinct from mentoring and specifically designed to promote self-reflection and focus on individual strengths with the purpose of enhancing growth within your career as a resident physician. The RCP is about taking you from good to great and maximizing your potential.
FRAME
FRAME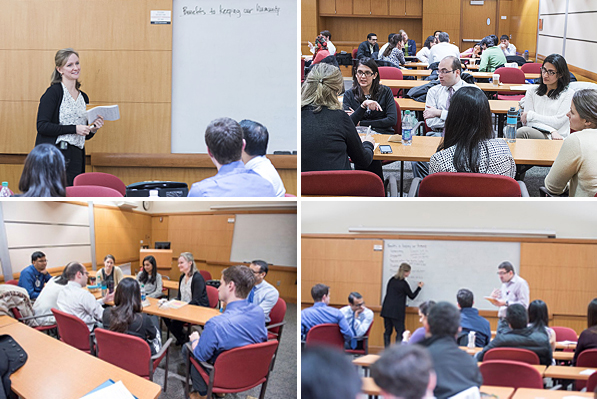 Foundations of Resident Assessment, Mentorship, and Emotional intelligence (FRAME) is an innovative conference series of small group interactive educational sessions within the Internal Medicine Residency Program. Our key goals are to:
Foster longitudinal and strong relationships among residents and program staff
Create learning structures and social environments in which residents identify and belong
Cultivate a comfortable setting in which residents examine and explore less traditional curricular elements congruent with the program's mission
Incorporate new and important competencies into the curriculum such as emotional intelligence, teamwork, and resilience
Promote empathy, self-care, humanism, relationship building, and self-awareness
Residents participate in interactive, small group, discussion-based experiences that are guided by senior physician faculty and chief medical residents. Curricular elements discussed include medical teaching, emotional intelligence, communication and empathy, professionalism, teamwork, leadership, ethics and humanism. Residents have the opportunity to share experiences with each other and reflect on these topics by reviewing related articles, essays, or other media and by maintaining a FRAME portfolio. This online resource will collect written reflections and provide a home for selected references. Enriched relationships within these small groups provide a natural avenue for meaningful and individualized observations and feedback from program leadership. This feedback may occur within a number of clinical settings such as oral presentations, difficult communication events with patients or families, transitions of care, and clinical teaching skills.
What residents say about FRAME
"I look forward to it!"
"I appreciate how openly I could talk about my opinions."
"The open discussion cultivated an environment of learning."
"I learned that we're all in the same boat in this residency and profession. We all face similar circumstances and challenges."
"I was surprised to learn that burnout is real among physicians, and how much our program truly cares about it."
"It is nice to have group discussions and to be able to speak our minds freely."
"I was surprised to hear the heart-felt stories and profound personal experiences that the group shared."
"Good small group and large group discussions with opportunities for reflection."
"I loved the energy faculty brought to the session, and the way the activity was structured was interesting."
"Awesome time! Keep it up!"
"Tolerance and great listening made the session stellar."
"Pleasantly surprised by how much everyone had to share - truly a topic that affects everyone."
"I was surprised by the depth of the conversations. I did not think the conversations were superficial."
"I can really relate to my colleagues' stories."
"Love it. Enlightening."
"I was surprised by how much the session made me internally reflect."
"This is a more personal, introspective process of learning."
Conferences
Conferences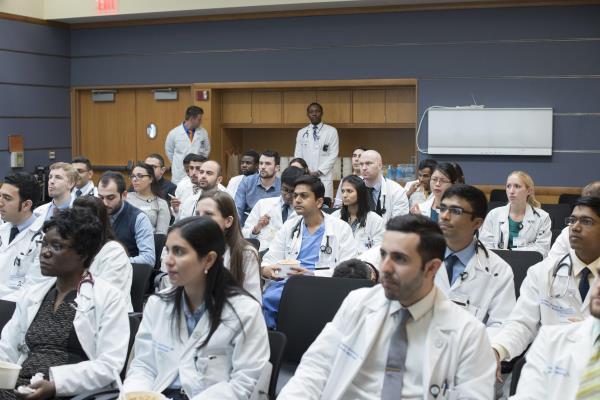 Clinical Reasoning Conference led by "Teacher of the Year"
Clinical reasoning is an essential skill for the expert clinician. But what is clinical reasoning? The dual process thinking model was proposed as a framework for clinical and diagnostic reasoning. When facing an unusual clinical scenario, clinicians have the ability to switch from a reflective, intuitive, and fast system one mode into the more thoughtful, deductive, yet time consuming system two process. As such, clinical reasoning is not merely a more elaborate system 1 or an exhaustive system 2, it also includes the ability to proficiently and efficiently switch between the systems.
Utilizing game-based instruction, interactive small group discussions, and large group exercises; this conference helps the residents reflect on clinical cases that highlight cognitive biases. In an engaging and fun learning environment, the residents develop a heightened awareness of their thought process and the myriad cognitive biases that challenge our clinical reasoning. Through this reflection, the residents equip themselves with metacognition as a strategy to prevent cognitive and diagnostic errors and hence improve their clinical reasoning.
Quality and Safety Morbidity and Mortality Conference
Quality and Safety Morbidity & Mortality is an interdisciplinary and interprofessional Conference held monthly in conjunction with the Medicine Institute. Planned and presented by our resident-led M & M leadership team with an associate program director mentor, our M & M is a fresh take on the time-honored M & M conference. Conferences typically address an adverse patient outcome or a "near miss," but rather than taking a more traditional "blame and shame" approach, emphasis is placed on the systems factors that underlie most medical errors, and ways to intervene on these in order to effect systemic improvement. The conferences place a premium on audience engagement and interaction, and are highly multi-disciplinary and interprofessional. Recent speakers/discussants have involved: patients and family members, pharmacists, diabetic educators, social workers, clinical risk staff, enterprise quality and safety leaders, nursing, in-house attorneys, and patient sitters, in addition to a wide range of physician clinical and safety content experts.
Multiple innovative quality improvement projects have arisen from our M & M Conference since it was redesigned and launched in 2014, and it has proven to be an effective vehicle for teaching basic principles of quality improvement and patient safety, including completing fishbone diagrams, root cause analyses, planning steps in the PDSA cycles, and answering the "5 whys."
ACLS Curriculum
ACLS Curriculum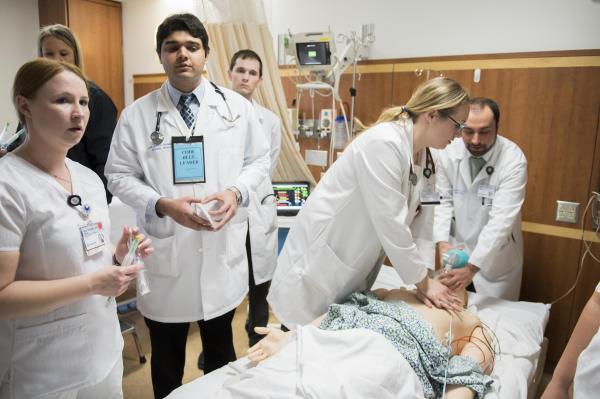 Cardiac arrests occur regularly, especially at the #1 cardiac center in the world, Cleveland Clinic which cares for one of the most complex and sickest patient populations in the country. When patients' become clinically unstable, our residents are at the front line of the critical response efforts, and knowing the algorithm is only half the answer. As code team leaders' residents must be explicit in their communication with team members, comfortable with resuscitation priorities, and confident in their "muscle memory." To ensure acquisition of this important competency we have partnered with the CCF Simulation Center, Adult Emergency Response Team (AMET), and leadership in Medicine Nursing and Hospital Medicine to deliver what is one of the largest scale and most advanced in-situ ACLS Curriculums in the country.
Twice a month, the Cleveland Clinic SimCenter sets up a $66,000, third generation SimMan mannequin in a real patient hospital room on the medicine floors, somebody screams for help, and a first responder into the room pulls the Code Alarm. When residents respond, experts from the Sim Center, AMET, and leaders in Hospital Medicine guide them through steps in critical response and resuscitation. Residents that log enough real or simulated code leadership experiences over the first two years become eligible to recertify with ACLS for Experienced Practitioners at the beginning of their PGY-3 Academic Year.
This is just one more way that we demonstrate our commitment to patient care, education, and training our caregivers to excel in teamwork.