Overview
Overview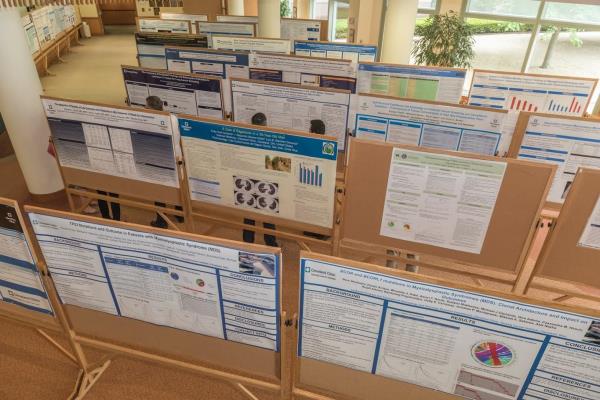 Scholarly activity is a cornerstone of Cleveland Clinic's mission and an integral part of each internal medicine resident's clinical training. We believe that physicians must be able to:
Access, critique and synthesize medical data from the literature and apply it to patient care, and
Ask appropriate questions and generate and test hypotheses based on their own experiences.
We also believe it is imperative to effectively share information with patients and other professionals both orally and in writing. We have developed an exciting program to assist residents in completing their scholarly activity requirements.
Minimum Requirement
The three-part Cleveland Clinic requirement for all categorical internal medicine residents includes:
Completion of a 30-60 minute oral presentation
Completion of a one-on-one teaching session with a reference librarian, and
Completion of a written project suitable for publication or presentation at a national meeting
Residents can use a variety of study designs for their written projects including, but not limited to, retrospective chart review, prospective study, meta-analysis or clinical trial. A medical education, medical history, quality improvement, or cost-effectiveness study may also be an appropriate project.
Classes are available to residents in the medical center to help them acquire the skills necessary to complete their scholarly activity requirements and to prepare them for a lifetime of self-directed learning and enhanced competitiveness in the academic or job market arenas.
Clinical Scholar Track
The Clinical Scholar Program (CLINSCHOP) is a specialized, four month experience that offers selected residents interested in a career in academic medicine extra dedicated time for research.
Our goal is to provide insight about a career in academic medicine to residents who have a genuine interest but limited experience in clinical research. CLINSCHOP residents participate in a four-month block of research* and course work in their second year. This includes clinical research course work, a small group journal club, and seminars in clinical teaching, biostatistics, and medical writing.
Intern applications for this program are accepted in March for the following academic year. Applicants submit a personal essay, research proposal and letters of recommendation from both their research mentor and advisor.
*All residents in the residency program may receive up to four weeks in their second year of training for research. Additional time—up to four weeks—may be provided based on the resident's productivity achieved during their initial four weeks of research.
Support of Resident Research
Cleveland Clinic Internal Medicine Residents are not only mentored in their research but are also strongly encouraged to present their data at regional and national meetings and publish abstracts, articles and book chapters. Our 115+ medicine faculty include many nationally and internationally known clinician researchers and educators who are available to serve as research mentors. The program has funds to facilitate 2nd and 3rd year resident presentations at national research meetings.
In the past 3 years, our IM residents have authored...
More than 75 journal articles
Over 150 abstracts
And over two dozen book chapters……
Our residents were funded to attend and present their work at the following Conferences….
American Heart Association, Digestive Disease Week, American College of Cardiology, American Society of Clinical Oncology, American Society of Hematology, American College of Physicians, National Institutes of Health, Society of General Internal Medicine, American College of Gastroenterology, American Association for the Study of Liver Diseases, Infectious Diseases Society of America, American Society of Nephrology, American College of Chest Physicians, American Society for Laser Medicine and Surgery, American Society for Radiation Oncology, American Association of Clinical Endocrinologists, International Association for the Study of Lung Cancer, European Society of Endocrinology, Society of Nuclear Medicine, Endocrine Society, American Epilepsy Society, American Academy of Dermatology, American Academy of Allergy, American College of Allergy and Immunology, American Thoracic Society.
Our residents published their work in the following Journals….
Nature, PLOS One, BMJ, JACC, JAMA, NEJM, Chest, Gastroenterology, Lancet, Surgery, Cleveland Clinic Journal of Medicine, Journal of Immunology, Obesity Reviews, Thrombosis Research, JGME, Journal of Cellular Physiology, Pulmonology, BMC, American Journal of Clinical Oncology, Dermatology, American Journal of Cardiology, American Journal of Clinical Oncology, Cancer Research International, Journal of Cancer, Neurocritical Care, Medicine and Science in Sports and Exercise, Clinical Endocrinology, Transplantation, Gastrointestinal Endoscopy.
Activity Day
Activity Day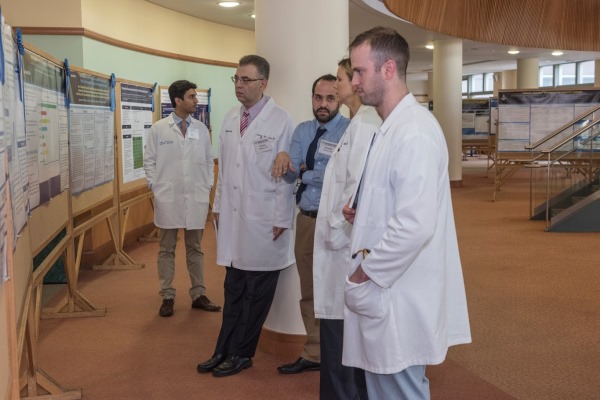 Annual Cleveland Clinic Internal Medicine Resident Scholarly Activity Day and Reception for Poster Presentations
Held in the late Spring, the Internal Medicine Residency Program sponsors a poster session and reception showcasing resident research. The reception is attended by staff, research mentors, and residents. Projects run the gamut of medical specialties and general medicine including basic science, quality improvement, medical education, and clinical research.
The Annual Scholarly Activity Day 2018 featured posters, a food and wine reception, and music.
Visiting Professor
Howard Weitz, MD, MACP, FACC
Bernard L. Segal Professor in Clinical Cardiology
Director of Division of Cardiology, Jefferson Heart Institute
Senior Associate Dean, Sidney Kimmel Medical College
Executive Vice Chairman of the Department of Medicine, Master Clinician of the Department of Medicine, Thomas Jefferson University Hospital
"The Patient with Heart Disease who Undergoes Non-cardiac Surgery: Separating Fact from Fiction"
Internal Medicine Resident Research Competition Medicine Grand Rounds Presentations
2019 Award Winners
Saja Almaaitah, MD
"Variation in Patient Smoking Cessation Rates among Health Care Providers"
(Mentor: Michael Rothberg, MD – General Internal Medicine)
Arooj Khan, MD
"Incidence of Non-Acute Coronary Syndrome Diagnoses in Patients with Mildly Abnormal High-Sensitivity Troponin: A Real-World U.S. Experience"
(Mentor: Venu Menon, MD – Cardiology)
Lady Katherine Mejia Perez, MD
"Endoscopic Submucosal Dissection vs Endoscopic Mucosal Resection for Treatment of Barrett's Related Superficial Esophageal Neoplasia: Multicenter Retrospective Study in the West"
(Mentor: Amit Bhatt, MD – Gastroenterology)
Honorable Mentions
Shimoli V. Barot, MD
"Impact of Eltrombopag on Clonal Evolution in Refractory Aplastic Anemia"
(Mentor: Jaroslaw Maciejewski, MD, PhD – Hematology/Oncology)
Himanshu Deshwal, MD
"Assessing Predictive Quality of Diastolic Pulmonary Gradient in Precapillary and Postcapillary Pulmonary Hypertension"
(Mentor: Gustavo A. Heresi, MD – Pulmonary)
Ji Yoon Yoon, MD
"The Prevalence and Significance of Jejunal Polyposis after Duodenectomy in Familial Adenomatous Polyposis"
(Mentor: Amit Bhatt, MD – Gastroenterology)
Scholarly Lecture Series
Scholarly Lecture Series
Introduction to the Scholarly Activity Program
Introduction to Library Resources and Services
Library Resources Part 2
Medical writing – Part 1 – Authorship
Medical Writing – Part 2 – Plagiarism
Medical Writing – Part 3 – Creating a Poster
Introduction to QI Research
Introduction to IRB
The Numerical Language of Clinical Epidemiology
Lies, Damn Lies, and Statistics: Sources of Non-causal Statistical Relationships
Introduction to Statistical Comparison of Groups
Introduction to Redcap Database