Overview
Overview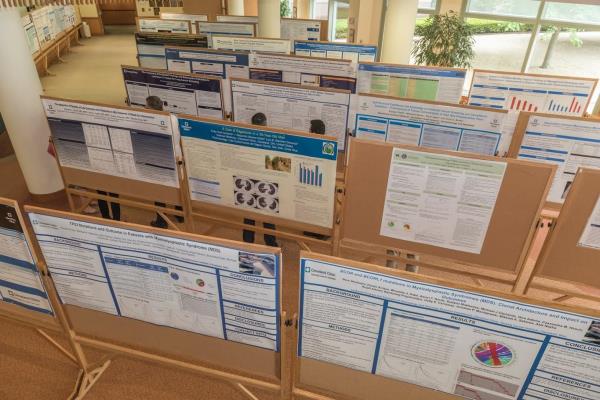 Scholarly activity is a cornerstone of Cleveland Clinic's mission and an integral part of each internal medicine resident's clinical training. We believe that physicians must be able to:
Access, critique and synthesize medical data from the literature and apply it to patient care, and
Ask appropriate questions and generate and test hypotheses based on their own experiences.
We also believe it is imperative to effectively share information with patients and other professionals both orally and in writing. We have developed an exciting program to assist residents in completing their scholarly activity requirements.
Minimum Requirement
The two-part Cleveland Clinic requirement for all categorical internal medicine residents includes:
Completion of a 30-60 minute oral presentation and a one-on-one teaching session with a reference librarian, and
Completion of a written project suitable for publication or presentation at a national meeting
Residents can use a variety of study designs for their written projects including, but not limited to, case series, meta-analysis or clinical trial. A medical education, medical history, quality improvement, or cost-effectiveness study may also be an appropriate project.
Classes are available to residents in the medical center to help them acquire the skills necessary to complete their scholarly activity requirements and to prepare them for a lifetime of self-directed learning and enhanced competitiveness in the academic or job market arenas.
Clinical Scholar Track
The Clinical Scholar Program (CLINSCHOP) is a specialized, four month experience that offers selected residents interested in a career in academic medicine extra dedicated time for scholarly experiences.
Our goal is to provide insight about a career in academic medicine to residents who have a genuine interest but limited experience in clinical research. CLINSCHOP residents participate in a four-month block of research* and course work in their second year. This includes clinical research course work, a small group journal club, and seminars in clinical teaching and medical writing.
Intern applications for this program are accepted in March for the following academic year. Applicants submit a personal essay, research proposal and letters of recommendation from both their research mentor and advisor. Participants will have reduced clinical elective time. Applications are reviewed by a committee and selected in April.
*All residents in the residency program may receive up to four weeks in their second year of training for research. Additional time—up to four weeks—may be provided based on the resident's productivity achieved during their initial four weeks of research.
Support of Resident Research
Cleveland Clinic Internal Medicine Residents are not only mentored in their research but are also strongly encouraged to present their data at regional and national meetings and publish abstracts, articles and book chapters. Our 115+ medicine faculty include many nationally and internationally known clinician researchers and educators who are available to serve as research mentors. The program has funds to facilitate 2nd and 3rd year resident presentations at national research meetings.
In the past 3 years, our IM residents have authored...
More than 150 journal articles
Over two dozen book chapters
And over 300 abstracts……
Our residents were funded to attend and present their work at the following Conferences….
American Heart Association, Digestive Disease Week, American College of Cardiology, American Society of Clinical Oncology, American Society of Hematology, American College of Physicians, National Institutes of Health, Society of General Internal Medicine, American College of Gastroenterology, American Association for the Study of Liver Diseases, Infectious Diseases Society of America, American Society of Nephrology, American College of Chest Physicians, American Society for Laser Medicine and Surgery, American Society for Radiation Oncology, American Association of Clinical Endocrinologists, International Association for the Study of Lung Cancer, European Society of Endocrinology, Society of Nuclear Medicine, Endocrine Society, American Epilepsy Society, American Academy of Dermatology, American Academy of Allergy, American College of Allergy and Immunology, American Thoracic Society.
Our residents published their work in the following Journals….
Nature, PLOS One, BMJ, JACC, JAMA, NEJM, Chest, Gastroenterology, Lancet, Surgery, Cleveland Clinic Journal of Medicine, Journal of Immunology, Obesity Reviews, Thrombosis Research, JGME, Journal of Cellular Physiology, Pulmonology, BMC, American Journal of Clinical Oncology, Dermatology, American Journal of Cardiology, American Journal of Clinical Oncology, Cancer Research International, Journal of Cancer, Neurocritical Care, Medicine and Science in Sports and Exercise, Clinical Endocrinology, Transplantation, Gastrointestinal Endoscopy.
Activity Day
Activity Day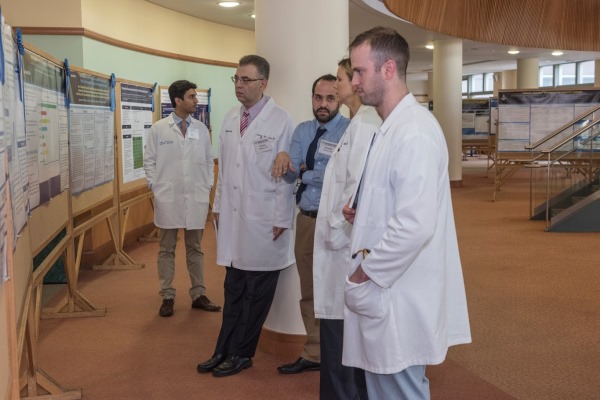 Annual Cleveland Clinic Internal Medicine Resident Scholarly Activity Day and Reception for Poster Presentations
Just prior to graduation each year, the Internal Medicine Residency Program sponsors a poster session and reception showcasing resident research. The reception is attended by staff, research mentors, and residents. Projects run the gamut of medical specialties in both basic science and clinical research.
The Annual Scholarly Activity Day 2017 featured posters, a food and wine reception and music.
Visiting Professor: Michael R. Zile, MD
Professor
Director of Cardiology, Ralph H. Johnson VA Medical Center
Charles Ezra Daniel Chair in Cardiology
Medical University of South Carolina
Charleston, SC
"Heart Failure with a Preserved Ejection Fraction: "It's not nearly as confusing as the "Cognoscenti" advertise"
Internal Medicine Resident Research Competition
Medicine Grand Rounds Presentations
2017 Award Winners
Karam Al-Issa, MD
"Incorporation of Molecular Data into the Current Prognostic Models in Treated Patients with Myelodysplastic Syndromes, Which Model is the Best?"
(Mentor: Aziz Nazha, MD – Hematology & Oncology)
Ghaleb Khirfan, MD
"High Density Lipoprotein Cholesterol in Chronic Thromboembolic Pulmonary Hypertension"
(Mentor: Gustavo Heresi, MD – Pulmonary & Critical Care Medicine)
Jamal Mahar, MD
"Anticoagulation and the Risk for Cardiac Tamponade in Patients with Pericardial Effusions"
(Mentor: Allan Klein, MD – Cardiovascular Medicine)
Honorable Mentions
Amr Barakat, MD
"Initial Experience with Non-Vitamin K Antagonist Oral Anticoagulants for Short Term Anticoagulation after Left Atrial Appendage Closure Device"
(Mentor: Ayman Hussein, MD – Cardiovascular Medicine)

Alejandra Gutierrez Bernal, MD
"Left Atrial Appendage Closure and Long Term Survival"
(Mentor: Mina Chung, MD – Cardiovascular Medicine)

Aditi Patel, MD
"Understanding Physician Treatment Decisions for the Management of Upper Respiratory Tract Infections"
(Mentor: Michael Rothberg, MD – Medicine Institute)

Poster Presentations
Cuervo, Lyda
Popular on YouTube: A Critical Appraisal of the Educational Quality of Information Regarding Asthma
Apps for Food allergy: a critical assessment
Use of Omalizumab for the Treatment of Antihistamine and Steroid Resistant Chronic Idiopathic Urticaria During Pregnancy
YouTube and CVID: A Critical Appraisal of the Educational Quality of Information
Nagpal, Sajan
Portal hypertension complications are frequently the first presentation of NAFLD in patients undergoing liver transplantation evaluation
Serum Cytokeratin-18 Fragment Levels Predict Development of Type 2 Diabetes Mellitus in Adult Patients With Non-alcoholic Fatty Liver Disease
Portal Hypertensive Gastric Polyps Presenting as Iron Deficiency Anemia in a Cirrhotic Patient
YouTube videos as a source of medical information during the Ebola Hemorrhagic Fever epidemic
Evaluation of Portal Hypertension and Cirrhosis in Patients with Hepatic Sarcoidosis: A Prospective Single Center Study
Polyp recurrence in patients less than 40 years of age: An area for concern
Qintar, Mohammed
Neurocognitive Function and Silent Cerebral Thromboemboli Following Atrial Fibrillation Catheter Ablation
Raeisi-Giglou, Pejman
Incidence and Causes of 30-day Readmission and Mortality in Patients with Critical Limb Ischemia Treated with Endovascular Therapy
Arora, Zubin
Etiopathogenesis of nephrolithiasis in ulcerative colitis patients with the ileal pouch anal anastomosis
Hypercontractile (Jackhammer) esophagus after lung transplantation
Risk factors for Campylobacter jejuni infection and impact on the disease course in patients with underlying ulcerative colitis
The hypercontractile (Jackhammer) esophagus. Do the numbers matter?
Antoury, Clara
Alpha-1 Antitrypsin Deficiency and the Risk of Hepatocellular Carcinoma in Patients With End-Stage Liver Disease
Thebo, Umera
Safety and hemodynamic profile of propofol and dexmedetomidine for sedation during intra-arterial acute stroke therapy
Intra-arterial therapy for acute ischemic stroke under general anesthesia versus monitored anesthesia care
Patel, Krishna
Predictors of exercise capacity in asymptomatic patients with significant primary mitral regurgitation undergoing stress echocardiography
Impact of Pre-operative Dobutamine Stress Echocardiography on Outcomes in Patients Undergoing Orthotopic Liver Transplantation
Treatment of Obstructive Coronary Artery Disease in Adult Patients Undergoing Liver Transplantation
Yield of lipid screening for primary prevention in a young cohort of non-diabetic patients using the 2013 ACC/AHA ASCVD risk calculator
Outcomes in Patients presenting with Hypertensive Urgency in the Ambulatory Setting
Probability of Developing Proximal Deep Vein Thrombosis and/or Pulmonary Embolism within One Year After an Isolated Episode of Distal Deep Vein Thrombosis of the Lower Extremities
Aman, Wahaj
Safety of the 56-hole open irrigation ablation catheter in pulmonary vein isolation for atrial ablation
Right Ventricular Dilatation Post Pericardiectomy Causes Tricuspid Regurgitation
Incomplete Revascularization and Peri-infarct area following Viability Assessment with Delayed Enhancement MRI Predicts Differential Survival in Patients with Severe Ischemic Cardiomyopathy
Masri, Ahmad
Outcomes in radiation associated cardiac disease patients that present with coronary artery disease: Comparison of PCI vs. CABG
Jegadeesan, Ramprasad
Endoscopic Features In Predicting The Risk Of Colon Neoplasia In Ulcerative Colitis Patients On Colonoscopic Surveillanse
Association between 25-Hydroxy Vitamin D and Risk of Cancer in Patients with Primary Sclerosing Cholangitis and Inflammatory Bowel Disease
Matar, Ralph
Utility of Hand-held Devices in Diagnosis and Triage of Acute Chest Syndromes
Shah, Gautam
Telemonitoring in a Low Income African American Population with Congestive Heart Failure: A Pilot Project
Bumma, Naresh
Comparison of Burkitt Lymphoma (BL) and B-cell Lymphoma, Unclassifiable with Features Intermediate Between Diffuse Large B-cell Lymphoma and Burkitt Lymphoma (BCL-U) Patient Outcomes: Intensive Therapy May Not Benefit BCL-U
Safety and Efficacy of Once Weekly Subcutaneous Bortezomib in High Cardiac Risk AL Amyloidosis.
Kafa, Rami
Improvement in left ventricular global longitudinal strain is associated with improved outcomes in severe aortic stenosis following aortic valve replacement
Priyanka, Pophali
Bulky Disease Does Not Adversely Affect Overall Survival in Early Stage Hodgkin Lymphoma: Role of Interim PET and Possible Omission of Radiotherapy in Select Patients
Tsutsui, Rayji
Natural History of Mitral Stenosis in Patients with Severe Mitral Annular Calcification
Precision of Echocardiographic Estimates of Right Atrial Pressure in Patients with Acute Decompensated Heart Failure
Left atrial function and its prognostic values in patients who have normal exercise stress echocardiography
Impact of Exercise to the Heterogeneity of Regional Left Ventricular Mechanics
Alkharabsheh, Saqer
Outcomes of Patients with Simultaneous versus Delayed Epicardial CIED Implantation after Extraction of Infection
Mentias, Amgad
Relationship of the Mitral Valve Annulus Plane and the Circumflex-right Coronary Artery Plane: Implications for Transcatheter Mitral Valve Implantation
Incremental prognostic utility of brain natriuretic peptide in patients with significant myxomatous mitral regurgitation and preserved left ventricular ejection fraction
Management of symptomatic Severe Aortic Stenosis in Patient with very Severe Chronic Obstructive pulmonary Disease
Impact of Baseline Pulmonary Pressures on Long-term Outcome in Myxomatous Mitral Regurgitation: Threshold or Progressive Effect?
Zarzour, Ahmad
Burden of Disease and Clinical Responses in Low and Intermediate-1 Risk Myelofibrosis Patients Treated with Ruxolitinib
Rates of Infection in Myelofibrosis Patients Treated with Ruxolitinib
Singh, Tavankit
Nerve Growth Factor (NGF) - p75 Neurotrophin Receptor Axis is Upregulated in Nonalcoholic Steatohepatitis
Markers of Macrophage Activation and Survival Correlate with the Presence of Advanced Fibrosis in Patients with Nonalcoholic Fatty Liver Disease
Is bariatric surgery safe and beneficial in patients with NAFLD and advanced fibrosis?
Sundaram, Suchitra
Risk of Arterial and Venous Thrombosis in Patients with "Indeterminate" Lupus Anticoagulant Testing
Singh, Janet
Real Time Monitoring of Reasons for Inpatient Admissions among Maintenance Dialysis Patients
Hammadah, Muhammad
A family history of premature coronary artery disease is associated with location and severity of angiographically defined coronary artery stenosis
Edwin, Natasha
Venous thromboembolism in patients with glioblastoma
Postoperative Thrombosis Among Patients Testing Indeterminate for Lupus Anticoagulant
Venous thromboembolism in patients with glioblastoma : risk factors and prognostic importance
Parashar, Akhil
Characteristics and Predictors of Mortality in Patients Undergoing Percutaneous Intervention for Perioperative Myocardial Infarction after Non-Cardiac Surgery
Renin-angiotensin blockade in patients without left ventricular dysfunction after percutaneous intervention for ST segment elevation myocardial infarction
Mani, Shylaja
Secular trends of blood stream infections in the 72 hours prior to death in allogeneic hematopoietic cell transplant recipients
The Day 1 Postoperative Platelet Count Predicts splenectomy Response in patients with Immune Thrombocytopenia (ITP)
Narkhede, Mayur
The Impact of Histologic Grade on Acute Graft versus Host Disease Response and Outcomes
Results of an Upfront Myeloma Carepath Pilot with Response-adapted Therapy
Tejwani, Vickram
New Nodule, New Etiology
Public Speaking Anxiety in Graduate Medical Education
The Natural History of Lung Function in Severe Deficiency of Alpha-1 Antitrypsin Following Orthotopic Liver Transplantation
Fialho, Andre
Vitamin D Deficiency in IBD Patients with Ileostomy
Barakat, Amr
Transvenous lead extraction at the time of device upgrade: Complexity, safety and outcomes
Fialho, Andrea
The Presence of PSC in Patients with Ileal Pouch Anal Anastomosis Increases the Risk for Vitamin D Deficiency
Sidana, Surbhi
Increased Risk of Secondary Acute Myeloid Leukemia Following Radio-Active Iodine Treatment for Well Differentiated Thyroid Cancer: A population based study
Effect of Early Non-Hematologic Treatment Toxicity on Complete Remission (CR) and Time to CR in Acute Myeloid Leukemia Patients undergoing Remission Induction Chemotherapy
Sawalha, Yazeed
Is rituximab suboptimally dosed in indolent B cell lymphoma?
Malik, Umair
A Single Centre Review Of Different Peri-Procedural Management Strategies In Patients on Dual Anti Platelet Therapy At The Time Of Invasive Procedures
Alzubaidi, Mohammed
Greater Than Once Daily Proton Pump Inhibitor Use Increases Risk of Small Intestinal Bacterial Overgrowth
Use of a Sleep Positioning Device Significantly Improves Nocturnal Gastroesophageal Reflux Disease Symptoms in Pregnant Women
Alcohol consumption does not increase risk of small intestinal bacterial overgrowth
Scholarly Lecture Series
Scholarly Lecture Series
Introduction to the scholarly activity program – Dr Brian Mandell
Introduction to library resources and services – Gretchen Hallerberg
Managing Bibliography with software tool RefWorks – Lorelei Woody (yet to be given)
Medical writing – Part 1 – Authorship – Dr Brian Mandell
Medical Writing – Part 2 – Plagiarism – Amy Moore
Medical Writing – Part 3 – Creating a poster – Amy Moore
Introduction to QI research – Dr Aaron Hamilton
Introduction to IRB – Dr Alan Lichtin
The numerical language of clinical epidemiology – Dr. Peter Imrey
Lies, damn lies, and statistics: sources of non-causal statistical relationships – Dr Peter Imrey
Introduction to statistical comparison of groups – Amy S. Nowacki
Introduction to Redcap data base – Amy S. Nowacki