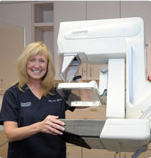 What interested you in becoming a Technologist?
I entered the field many years ago. I knew that I wanted a secure, good paying job working with people. The medical field has always been secure and I knew I did not want to be a nurse. Radiology was offered at the community college, was affordable, and upon completion you attain an associates degree that could be applied to further education.
What physical and/or soft skills do you need to have to succeed?
Radiology requires you to do physical work, so you must be in good shape. You must enjoy working with people and must be knowledgeable of anatomy and physiology, radiation safety, positioning, and medical terminology.
Specifically, mammography demands exceptional people skills. Very often, you are the only person with the patient when they are being told they may have cancer.
To specialize in mammography, you need one additional year of school, part time, with clinical experience. You have to complete a specific number of exams to qualify to take your registry.
What advice would you give to interested high school students?
Since the Rad Tech program is the first step towards any modality of radiology, research the program thoroughly. Research the college you will be attending and the degree you will attain. Investigate the time frame to completion, sites available for clinical experience, the class load and how to become certified. If you are still interested in the program, shadow several Technologists in several modalities.
What interested you in working at Cleveland Clinic?
I was so fortunate, by the luck of the draw that I was assigned to the Cleveland Clinic for my clinical experience. I was aware of Cleveland Clinic's exceptional reputation. During my training and throughout my career I truly recognized the high standards, excellent professional staff, cutting edge technology, and opportunity for advancement. Cleveland Clinic is an awesome place to work.
What excites you about working as a Technologist?
As a mammographer, I meet new people everyday. Women do not look forward to having their mammograms done, and most women are very anxious about breast cancer. As a mammographer, I have the opportunity to make what could be an unpleasant experience, much better.
I enjoy working side by side with the dedicated breast radiologists and, as in any modality, really mastering the craft of imaging.
What has been your most gratifying experience as a Technologist?
You might think it would be the recognition: the awards, good reviews, or promotions, and those are all good.
Nothing is as gratifying to me as doing an exceptional job of imaging a suspicious area, an area the doctors did not think could be imaged for any number of reasons, and then getting the patient on the fast track to a cure. Mammographers have this opportunity every day.
What career options do you have as a Technologist?
As a mammographer, as in most modalities, you can be a staff imager, performing routine and diagnostic mammography. You can become an imaging specialist (what I do), performing surgical procedures and biopsies alongside the radiologist.
Mammography is a modality that is closely monitored, so there is always an opportunity to work as a QC tech, performing calibrations and quality control tests to prepare for inspection.
Additionally, Cleveland Clinic is very supportive of continuing education. I am currently building on my associates in allied health, working on my bachelors in business administration and integrated health.
If you are willing to work hard the opportunities are endless.
Learn More