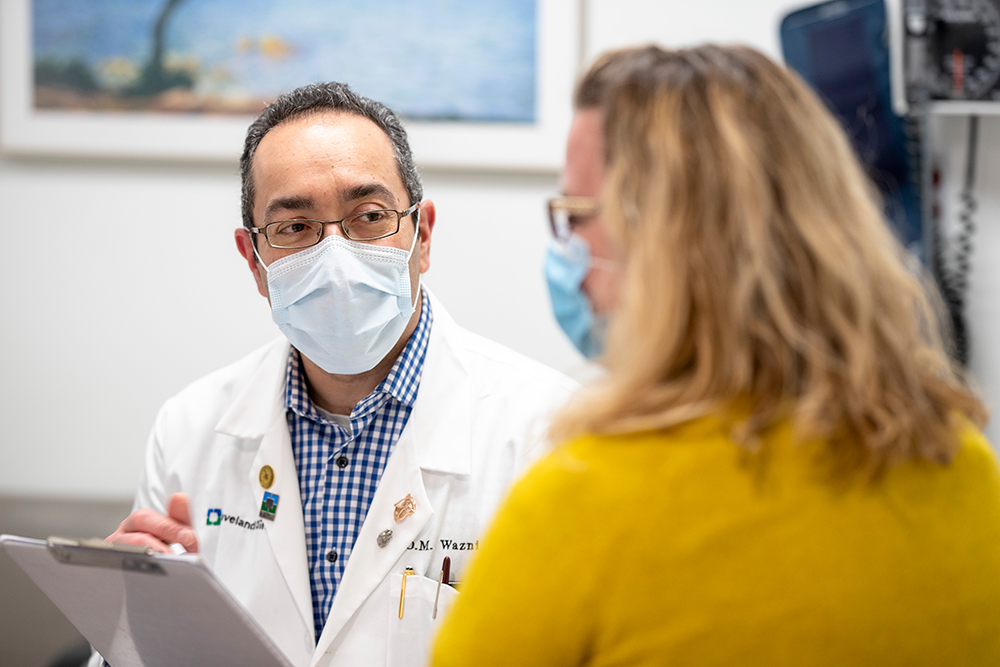 Why Choose CLEVELAND CLINIC ATWORK?
For more than 50 years, we've been partnering directly with employers to develop programs to better their employees' health. Cleveland Clinic is recognized in the U.S. and throughout the world for its expertise and care.
The CLEVELAND CLINIC ATWORK® employee health program provides a wide range of health and wellness services for organizations — from manufacturers to retailers — around the country. Our team of nurses, physician assistants, nurse practitioners and board-certified physicians in occupational medicine is here to help provide proven solutions to keep your employees performing at their best.
COVID-19: Getting Back to Work Safely
As you prepare your employees to return to work during the COVID-19 pandemic, CLEVELAND CLINIC ATWORK can provide you with the resources and support you need to reopen your business — safely and successfully.
On-Site Services
Preparing the work area for your employees' return is no easy task. Our health experts provide customizable options to help your team create a safe and secure work environment. These include:
Your own medical director: We'll set up a partnership with one of our physicians to help you with a broad range of health and safety procedures, both for COVID-19 and moving forward into the 'new normal'.
On-site clinics: Cleveland Clinic AtWork can set up in-person clinics at your place of business so your employees get easy access to healthcare services.
Facilities assessment: An occupational health physician can provide you with a half-day on-site assessment. You'll get both COVID-19 and general occupational health support.
On-Demand Services
Want help right now? You can also get our team's expertise exactly when you need us. We offer:
Online back-to-work tools and guides: You'll receive access to resources, guides and tools curated by Cleveland Clinic experts on how to appropriately handle your company's COVID-19 response.
Employer consult: You'll get a one-hour phone consult from one of our occupational health physicians to address any questions or concerns that your team has.
Other AtWork Services Available
Besides our COVID-19 services, Cleveland Clinic AtWork provides other health services to keep your employees healthy every day, including pre-employment physical exams, DOT exams, audiometry programs, drug screening and workers compensation injury care.
We offer both free-standing and on-site clinic options — as well as a mobile medical unit equipped with two exam rooms, a patient waiting area and lab, along with a bathroom for drug testing.
Whether you're a school district, manufacturer or corporate business, we can set up an on-site occupational health clinic to provide your employees with convenient healthcare services. Or if you prefer to send your employees off-site, we have two occupational health clinics in Northeast Ohio, located in Garfield Heights and Medina (and more opening soon).
Here's a full list of additional occupational health services ClevelandClinic AtWork has to offer:
Occupational Exams
Firefighter NFPA 1582 Exams
Ohio Police & Fire Pension Fund Exams
Secret Service Physicals
Law Enforcement Physicals
Department of Transportation (DOT) Exams
School Transportation Vehicle T-8 Exams
Fitness for Duty Exams
Independent Medical Exams
Second Opinion Exams
Medical Surveillance
Audiometry Testing
Professional Supervisor of Audiometry Program
OSHA Surveillance Exams (Hazardous Waste, Asbestos, Beryllium, Silica, and more)
Exposure assessments
Written exposure control plans
Biological Monitoring
Employer Exit Exams
OSHA Recordkeeping Assistance
OSHA Respirator Medical Clearance, Exams, and Fit Testing
Employment Drug Testing
Drug and Alcohol Testing
DOT Drug Testing
Random Testing Selection Services
MRO Services
Workers Compensation
Injury care and follow-up
Case Management
Return to Work Clearance
Transitional Work Program Coordination
Ergonomic Evaluations
Other Services
Medical Directorship
Onsite Clinic Development, Staffing, and Management
Health and Safety Walk Through/Consultation
Blood Born Pathogen Exposure Training and Management
Drug-Free Workplace Training
Health Risk Appraisals/Biometrics Programs
CPR/First Aid Training